by Ranger Kidwell-Ross, editor
WorldSweeper.com

Air Sweeping: The Low Hanging Fruit of Stormwater Runoff Abatement
Increasingly, those tasked with meeting EPA stormwater removal targets are realizing that power sweeping – with the 'right' type of sweepers at the 'right' frequency being operated at the 'right' speed – are the least cost method of pollutant removal. That's right: The latest findings show that power sweeping removes pollutants at a lower cost per pound than any other method. Although this may not be breaking news to those involved in the sweeping industry, it appears that stormwater managers around the U.S. and elsewhere are finally figuring it out.
Courtesy of stats developed by the City of Seattle, in this issue we offer yet another story that offers a definitive example of how cost-effective it can be to use air-based sweepers as the first line of defense against stormwater pollutants. Perched on Puget Sound, where water quality is in a rapid decline, Seattle leaders have been motivated to crunch the numbers and are now taking action.
The city's data show street sweeping costs 4-to-10 times less than treating polluted water with conventional, end-of-the-pipe stormwater treatments. That's why Seattle Public Utilities, in partnership with SDOT, will be doubling its sweeping program starting in 2016. As Shelly Basketfield, Seattle's Street Cleaning for Water Quality program manager says: "If you can remove the pollutant before it gets into water, it's cheaper. Once the pollutant is in the water, you have to treat all the water."
In recent times, we have been receiving an increasing number of inquiries from individuals trying to determine the best way to develop a 'sweeping for stormwater' program. Just in the last month, in addition to our exclusive podcast interview with City of Seattle officials, we assisted a Texas city in developing a stormwater sweeping RFP. I also wrote an article on that topic that is set to appear in the August edition of Public Works magazine.
If you're involved in developing a sweeping program – or work with those who do – steer them in this direction. The WorldSweeper website offers a host of articles that underscore how relatively inexpensive power sweeping is when compared to other runoff pollution abatement protocols.
Plus, sweeping requires no infrastructure modification so is perfect for the built-out environment that typifies most urban cities. If you want to make a positive water quality impact in your city then get with the program – an environmentally-sound, cost-effective air sweeping program.
Water quality in the U.S. and elsewhere is declining rapidly and if you don't realize the value sweeping can have in removing the nasty pollutants coming off today's urban streets then it's time you did. The problem is not horse poop runoff anymore, folks... Brake and clutch plate dust, car exhaust particulates, vehicle tire particles, phosphates from fallen leaves: These are just a few of the substances commonly found in the toxin-laden residue on streets these days.
As always, if you have any news of potential interest to the power sweeping community, please let us know. Between this publication, the WorldSweeper.com website, and the World Sweeping Association, we'll be sure to get the information passed along to interested readers.
Good Sweeping,



Editor, WorldSweeper.com
Executive Director, World Sweeping Association
PS If you haven't 'liked' our WorldSweeper Facebook page, what are you waiting for? That's where we offer industry previews and updates on an ongoing basis.


---
July Newsletter Contents
(Scroll down to read stories or click on links.)
---
City of Seattle Doubling its Sweeping Program to Address Stormwater Pollution

Because of Seattle, Washington's location on Puget Sound, the city is planning to increase its street sweeping program significantly in 2016 in an effort to reduce stormwater runoff pollution. Brake dust, remnants of auto exhaust and the zinc from vehicle tires are just a few of the substances commonly found in the toxin-laden residue on streets in the City of Seattle. All are among the major pollutants being targeted by an initiative that is being spearheaded by Seattle Public Utilities (SPU).
Seattle's current tab for street sweeping to reduce stormwater pollutants is $1 million. The planned expansion of the city's street sweeping program will almost double that figure, to $1.8 million. SPU will be partnering with Seattle Department of Transportation (SDOT) in the project, continuing a partnership that has already created a drop in the cost per mile of sweeping from $75/mile to $70/mile. Plus, the life cycle unit rate per pound of pollutant removed will be about $5.60, well under the cost of stormwater pollutant removal via traditional, end-of-the-pipe methods. Article includes a 25-minute podcast discussion.
Check out the article; listen to the podcast.
---
Town of Jun, Spain's Street Sweeper Operator Known for His Twitter Posts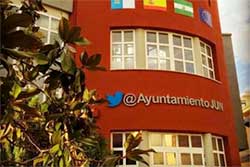 Many who use Twitter would call it an interesting but often frivolous social network. However, when managed correctly, the administration of Jun, Spain, is showing that Twitter can be used to run their small town. In Jun, Twitter is the main way the government communicates with the people who live there, and vice versa.
Jun is home to 3,500 people, and Twitter has been used by the local government since September 2011 to spread everything from local news and developments, to job opportunities and the latest school dinner menus. On the other side, Jun residents will book appointments with doctors, lodge complaints about local services, report crimes and generally become involved in the local community – all via the town's Twitter feed.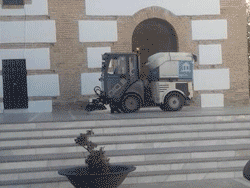 It's not just about basic communication either. Mayor Rodriguez Salas is frequently active through his own account. All the town's public services have their own Twitter account, as does the police force, even though there is only one police officer. The squad car has the Twitter account painted on the body and, seemingly everywhere one looks, the Twitter bird logo can be seen. One of the people at the forefront of the Twitter-feed forefront is the street sweeper operator, who is known for his cheery and amusing messages, which he posts along with before and after shots of his best work. What's in your town's Twitter feed?!
Check out Jun's Twitter feed (of course it's in Spanish!).
---
Air Sweeping for Stormwater Runoff a Requirement of Court Settlement

A recycling facility in Framingham, MA, is being required to sweep with an air sweeper, strengthen its protocols to monitor stormwater runoff and pay $50,000 to a group that promotes the health of the Sudbury River after being named in a legal complaint by environmental group Clean Water Action.

E.L. Harvey & Sons recently reached an agreement with the Massachusetts chapter of Clean Water Action to resolve allegations it failed to comply with federal requirements for assessing and cleaning stormwater runoff.
---
'Machines For All' Wants to Take Hassle Out of Equipment Selling
George Lundberg, CEO of Machines For All Corporation, said he developed his company to "take the hassle and large expense" out of listing all types of construction equipment. Recently, the company has taken steps to include sweepers and forklifts as part of the 11,000+ listings on the site.
---
Featured Contractor: Mister Sweeper, One of America's Oldest and Largest Sweeping Companies
Mister Sweeper is one of the oldest and largest power sweeping companies in the United States. The company was founded in 1965 by David Franklin, prior to when most property managers had even heard of the concept of sweeping commercial properties. Franklin became a quadriplegic when he hit a rock while diving into a lake in an attempt to save a drowning child in about 1975. Nonetheless, with a fervent group of employees he built the business into a U.S. powerhouse.
We have an amazingly tenured employee base," said Jodie Thompson, who purchased the company in January of 2006. "Our 87 employees represent about 650 years of combined experience running a sweeping operation. Mister Sweeper has its home office in the Dallas/Ft. Worth market area, with a satellite office in Houston, as well. These are the largest two markets in Texas.
Read about Mister Sweeper and listen to the podcast interview at the World Sweeping Association website.
---
Elgin Announces Chevron Belt Now is Standard for its Mechanical Broom Line

Elgin Sweeper has expanded the availability of the Chevron conveyor belt by offering it as a standard feature for its family of truck-mounted mechanical street sweepers. The Chevron belt provides improved hopper loading, better tracking, superior debris pickup, stronger belt cleats, reduced sticking and quieter operation.
"The revolutionary design of our Chevron conveyor belt is another example of Elgin Sweeper providing unmatched sweeping performance in all operating conditions and environments, and greater value to our sweeper customers," said James Crockett, sweeper products manager at Elgin Sweeper.
---
Not Exactly Sweeping: WSA Presents Top Ten Tips to Prevent Road Rage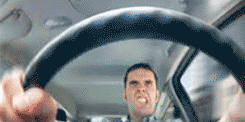 The extreme temperatures of summer contribute to heat of many kinds, including the heated tempers that can trigger road rage. The National Highway Traffic Safety Administration (NHTSA) states that road rage "involves a criminal act of violence, whereas aggressive driving can range from tailgating to speeding to running red lights." The number of deaths related to road rage is difficult to track, but NHTSA estimates that aggressive driving accounts for about one-third of all crashes and about two-thirds of the resulting fatalities.
Increasingly congested roadways are a growing source of driver frustration, but studies suggest the real root of aggressive driving lies within each of us. Drivers can cope by taking an honest look at their driving behavior and attempting to reduce their stress level behind the wheel. We offer this as a reminder to all of the sweeping managers we reach to remind your operators – and yourselves – to eliminate road rage. One good way to start is by using this 'Top Ten Ways to Prevent Road Rage' list, provided in the interest of safety in the power sweeping industry by the World Sweeping Association, as part of your next safety meeting.
Get WSA's 'Top Ten Ways to Prevent Road Rage' Handout as a PDF file.