by Ranger Kidwell-Ross, editor
WorldSweeper.com

When Operating a Sweeper Anything Can Happen
Sweeper operators from disparate parts of the world were in the news this past month, though for equally disparate reasons. What occurred to the three sweeping industry newsmakers could definitely be classified as "the Good, the Bad and the Ugly."
First, the Good: A sweeper operator in Kirkland, Washington, received a Citizen's Award for his heroic actions. Kris Hardie, from Best Parking Lot Cleaning, Inc. was traveling on the I-405 freeway near Seattle when he witnessed a motorcycle accident. Hardie donned his safety gear, crossed the median and assisted a state patrol officer in applying a tourniquet to the accident victim's leg. The quick action of the two is credited with saving the man's life, as you will read in our story and audio podcast with Hardie in this issue.
The Bad took place when 48-year-old Jerry Mitchell was using his sweeper to clean the parking lot at the Gateway Center Mall in Brooklyn. Mitchell allegedly said he "had a hankering for some candy" so drove his sweeper "around the corner" to get some. However, Mitchell says he "got lost." That's when he was seen driving erratically by other drivers and was ultimately cited for driving without a license and having a blood alcohol level of twice the legal limit. Not exactly the kind of publicity needed by the sweeping industry, let alone L. Peres & Associates, the Edgewater, New Jersey, property management company Mitchell reportedly worked for.
The truly Ugly stemmed from reports that a street sweeper operator in Paris, France, was injured in connection with the Charlie Hebdo massacre that ultimately left at least 17 people dead. Apparently, the sweeper operator was in the wrong place at the wrong time and was shot by one of the assailants. However, if s/he was only injured, as current reports indicate, s/he was also fortunate since, at the same time, a female police officer was reportedly killed. As of the time this editorial was written, there was no word about how serious the sweeper operator's injury was or their likelihood of survival.
Given the above, combined with the fact that today we celebrate the legacy of Martin Luther King, Jr., I thought it appropriate to include the prescient words of Dr. King when he cited the job of a street sweeper in his famous quote about doing one's job well. This quote, which I have used on my sweeper-oriented websites for over a quarter-century – and which has been on the WorldSweeper.com homepage since the site's inception almost 10 years ago – is a good reminder to us all.
Especially today, when we are torn in so many directions, it's important to step back and remember to follow Dr. King's counsel. His words are an excellent mantra for all of our lives, both personal and professional. They are printed below.
"If a man is called to be a street sweeper, he should sweep streets even as Michelangelo painted, or Beethoven composed music, or Shakespeare wrote poetry. He should sweep streets so well that all the hosts of heaven and earth will pause to say, here lived a great street sweeper who did his job well."
– Martin Luther King, Jr.
As always, if you have any news of potential interest to the power sweeping community, please let us know. Between this publication, the WorldSweeper.com website, and the World Sweeping Association, we'll be sure to get the information passed along to interested readers.
Good Sweeping,



Editor, WorldSweeper.com
Executive Director, World Sweeping Association
PS If you haven't 'liked' our WorldSweeper Facebook page, what are you waiting for? That's where we offer industry previews and updates on an ongoing basis.



Go Seahawks!!


---
January Newsletter Contents
(Scroll down to read stories or click on links.)
---
Emerging Best Management Practices in Stormwater: Street & Surface Sweeping to Reduce Stormwater Pollution

"Stormwater is a leading contributor to water quality pollution in Washington state." So begins an excellent overview by the Pacific Northwest Pollution Prevention Resource Center (PPRC) on how the sweeping of paved surfaces can reduce stormwater pollution runoff.
Via producing this well-researched document, the PPRC's stated commitment is to help businesses navigate a tangle of emerging sink-reduction technologies and techniques to achieve acceptable storm water quality. As an unbiased, nonprofit resource, PPRC is seeking to promote storm water practices that are both economically and environmentally beneficial. The focus of the report is to showcase the efficacy of sweeping practices as a best practice methodology for reducing storm water pollution.
---
Sweeper Operator Heroism an Example of When Safety Meetings Pay Off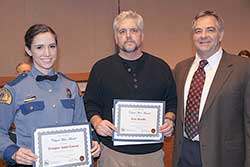 The City of Kirkland, Washington, and the Kirkland Fire Department presented the Citizen Hero Award to Washington State Patrol Trooper Anna Gasser and Kris Hardie, from Best Parking Lot Cleaning, for their quick actions at an incident on the I-405 freeway in Kirkland.
The award and recognition given to sweeper operator, Kris Hardie, is an example of what kind of outcome can occur when sweeper operators have correct safety training and company support. Includes a link to a 10-minute audio interview with Hardie.
Read the article and listen to the audio podcast.
---
Nite-Hawk Promotion Effort Done to Benefit DAV.org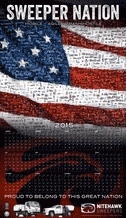 NiteHawk Sweepers has again produced a sweeper-oriented calendar it is giving away to customers. However, according to Jake Hoerman, the company's marketing director, the calendar giveaway is part of a much larger promotion the NiteHawk organization is doing to raise funds for a favorite nonprofit, Disabled American Veterans (DAV).
The calendar has a unique 'Sweeper Nation' design that features sweeping industry logos that are utilized as a background for its stars-and-stripes theme. It's a wall-sized calendar that is 11" x 17", and is designed as shown in the graphic to the right. (If you click on the image you can see a larger-sized view that shows some of the logos. Note this will open into a new browser window).
Although we're glad to send those in the industry a calendar if they go to our website and request one," said Hoerman, "the calendar is only a small part of the larger picture. We have once again created a wide variety of military-oriented gear as part of our 2015 program designed to benefit disabled U.S. veterans. We will have a new version one of our specially-wrapped sweepers at the upcoming National Pavement Expo, and will be sending a donation to DAV for each wrapped sweeper purchased.
---
Featured Contractor: New York's Hi-Lite Airfield Services Becoming an International Powerhouse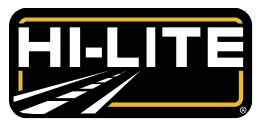 When Calvin McNeely began Upstate Sweeping Service in 1979, he could only have dreamed it would become the colossal airport services company that his once-fledgling firm now represents. Initially, the company mandate was to provide parking lot sweeping services. However, it was only a year later when McNeely added striping and seal coating services.
Today Hi-Lite offers a complete line of airfield maintenance services, including power sweeping. Their clients span the globe. Hi-Lite has on-site business units in the U.S., Canada, Latin America, Middle East, and the Caribbean. Whether they send a crew across town or across the world, Hi-Lite's main objective is to enhance airfield safety, and minimize runway incursions and excursions, making it safer to fly for every man, woman and child that boards a plane.
---
Schwarze Industries Adds HP Fairfield as Street Sweeper Dealer in New England
HP Fairfield, one of New England's largest municipal equipment and truck upfitting companies, announces the addition of the Schwarze street sweepers to their product lines. The new expanded line of Schwarze streets sweepers makes HP Fairfield the largest source for sweepers in New England.
John Briare, VP of Sales for HP Fairfield states, "For the first time, HP Fairfield will have a complete line of street sweepers... From small contractor models designed to fit in the bed of a pickup truck to large scale, high-speed airport runway sweepers. We are genuinely excited about this new partnership with Schwarze Industries and are proud to share this environmentally-friendly product line with our contractor and municipal customers in the years ahead."
---
World Sweeping Association Offers Seminars at National Pavement Expo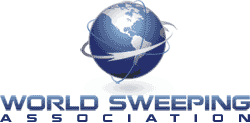 The World Sweeping Association (WSA) will be offering seminars at the upcoming National Pavement Exposition (NPE) in Nashville, Tennessee. "Top 10 Safety Practices for Pavement Maintenance Contractors," conducted by U.S. safety expert, John Meola, will be held on Wednesday, January 28th. Meola also provides monthly safety bulletins to WSA Members each month.
The second seminar sponsored by WSA is "How to Make Third-Party Providers Work for Your Business." This seminar will feature a panel discussion by two owners of third-party vendor companies and two long-time sweeping contractors. The discussion will be moderated by the Executive Director of WSA (and editor of WorldSweeper.com), Ranger Kidwell-Ross. The seminar, the intent of which is to help contractors gain a better working relationship with third-party vendors, will be held on January 30th. Both are free to contractor members of the World Sweeping Association.
At the NPE's Sweeper Roundtable at 4:30pm on January 30th, Kidwell-Ross will also give out the WorldSweeper.com/World Sweeping Association's annual "Award of Excellence in Power Sweeping." We will provide a feature story about this year's recipient in the February WorldSweeper e-newsletter.
Get more info on the seminars.
---
Jack Davenport Sweeping Featured in PAVEMENT Magazine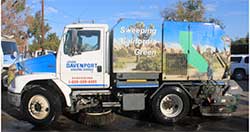 Jack and Shirlyn Davenport started the company in 1979 with one parking lot sweeper. They now oversee 25 employees and 20 units that provide street sweeping, parking lot sweeping, pressure washing, day porter and junk hauling services throughout California.
California probably leads the U.S. when it comes to progressive environmental regulations. That's no problem for his sweeping company says Jack Davenport: "We've been 'Sweeping California Green' for over 35 years."
Read more about Jack Davenport Sweeping.
---
The Trust Edge Trainer Certification Announcement for Schwarze's Greg Heyer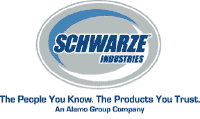 Horsager Leadership Incorporated announced that Greg Heyer, Vice President of Sales, Marketing, Customer Service, and Product Management at Schwarze Industries, successfully completed the company's elite certification process to deliver The Trust Edge Experience, the education suite based on the research and best-selling book "The Trust Edge," written by David Horsager.
David Horsager, CEO of Horsager Leadership Inc., says of Heyer: "Greg has the requisite character, experience and competence to join our elite and highly selective team of professional instructors and facilitators whose passion and mission is to help organizations achieve faster, better results with an immediate and sustainable impact. The Trust Edge Experience has helped organizations such as the New York Yankees, FedEx, the Salvation Army and the US Department of Homeland Security to gain the advantages of building trust within their organization and with their customers."
Read more about Heyer's certification.
---
Washington State University Studying Green De-icer Alternatives


Roadways made slippery by snow and ice are a big problem in the northern United States. According to The Salt Institute in Alexandria, Virginia, about 17 million tons of deicing salt is applied to roadways in the U.S. each year. Researchers at Washington State University are working on environmentally friendly ways that use less salt to reduce snow and ice on roads.
The U.S. spends $2.3 billion each year to remove highway snow and ice, plus another $5 billion to mitigate the hidden costs associated with the process, Shi said. Hidden costs include long-term impacts of salt, sand and chemical deicers on the environment, roads and vehicles – including the street sweepers tasked with removal of the material in the spring.