by Ranger Kidwell-Ross, editor
WorldSweeper.com

Hanging Out With the Cream of the Industry
It's typically inspiring to go to the National Pavement Expo and this year was no exception. The event allows time to become reacquainted with long-time friends in the industry as well as to meet others who may be just starting out. Either way, these tend to be the people who are doing things right, since they have the inclination to invest in themselves and in their companies to keep learning about both new practices and the latest equipment.
NPE is often the place where new sweeper models will be unveiled, as well, and in that regard this year was no exception. Attendees got their first look at the first-ever mechanical broom sweeper by Johnston North America. Also new this year was the formidable Vacall sweeper/catch basin cleaner and MASCO had a booth this year, too. One of NiteHawk's camo-wrapped sweepers, which are sold to provide a benefit to the Disabled American Veterans organization, also got lots of looks.
NPE is also where we present our Award of Excellence in Power Sweeping each year. Hard to believe this marked the 2oth year of giving out the award! The recipient, 78-year-old Les Hulicsko, who is the recently retired inventor of the Sweep-Rite line of power sweepers, wasn't able to attend personally. However, as part of our coverage I subsequently conducted what became a three-part audio podcast interview with him which we have linked in our coverage area. What an inspiration this man is! He escaped from Cold War Hungary in 1956 with the grand total of $2 in his pocket and then went on to revolutionize at least three different industries, including sweeping. You'll definitely want to read about and hear Hulicsko's amazing story.
New this year was that the NPE officials designated a 'Sweeping Contractor of the Year.' The first-ever award was given to Nashville-based, The Hearthstone Group. This is a company that we showcased as our Featured Contractor last June and I'd be very surprised if that story didn't enter into the NPE's decision-making. If you didn't read our Hearthstone story at the time, I strongly recommend that you both read it and listen to the accompanying podcast.
This contractor is pioneering some amazing technological innovation, customer networking and much more. Although our Featured Contractor articles are normally available only to World Sweeping Association Members after 60 days, in this instance we decided to make this article available to all once again.
I hope our NPE coverage of new sweeping models and inspiring individuals helps to inspire you in working with your own organization, whether you're a sweeping contractor or work for a municipality, DOT or similar. They are all examples of innovation spurred by dedicated people striving for excellence. May their stories be a lesson for us all.
As always, if you have any news of potential interest to the power sweeping community, please let us know. Between this publication, the WorldSweeper.com website, and the World Sweeping Association, we'll be sure to get the information passed along to interested readers.
Good Sweeping,



Editor, WorldSweeper.com
Executive Director, World Sweeping Association
PS If you haven't 'liked' our WorldSweeper Facebook page, what are you waiting for? That's where we offer industry previews and updates on an ongoing basis.


---
February Newsletter Contents
(Scroll down to read stories or click on links.)
---
Coverage of the 2015 National Pavement Expo

Our coverage of this year's National Pavement Expo includes a wide variety of information, including presentation of the WorldSweeper.com/World Sweeping Association Award of Excellence in Power Sweeping for 2015. You'll be fascinated by the life story of this year's winner, Les Hulicsko, founder of the Sweep-Rite Sweeper line, who in 1956 escaped from Hungary to Austria with just $2 to his name, and later emigrated to Canada with $75 in his pocket. We also have exclusive video of the award presentation for the first-ever NPE Sweeping Contractor of the Year, Tennessee-based, The Hearthstone Group.
We additionally offer walkaround video presentations of four of the sweepers at the show, machines built by Johnston North America, MASCO, NiteHawk and Vacall. You'll find out about the winners of the World Sweeping Association's drawing for 18 8x10 photos of vintage sweepers from the WorldSweeper.com archives. We also offer a slideshow of images taken at the show and you can even see the World Sweeping Association's booth up close and personal.
Check out the information from NPE.
---
Middle Village NY Street Named After Late Sweeper Operator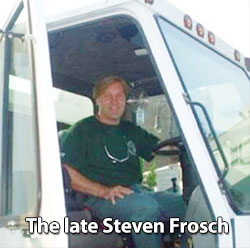 In our July newsletter we reported on the tragic accident that ended the life of Steven Frosch in a sweeper backing accident that occurred in the shop of the New York public works facility where he worked.
New York Mayor, Bill de Blasio, recently signed a law naming a street in Middle Village after Frosch. The bill, known as Intro No. 620, co-names 67th Drive between 78th and 79th streets in Middle Village after Frosch.
Read article in the Queens Times Ledger.
---
Featured Contractor: Best Parking Lot Cleaning Earns Its Name Every Day

Best Parking Lot Cleaning, Inc. was founded in 1977 by the parents of Richard Hamilton and Rebecca Craig. In 1990, with the death of their parents, the company was inherited by the couple's four children. About 15 years ago, Rebecca and Richard bought out their two other siblings and have been running the organization ever since.
Best Parking Lot Cleaning's website boasts that the company is the "largest combined street sweeping, eductor truck, snowplowing and deicing company in the state of Washington." Hamilton estimated that about 70% of their company business still comes from sweeping, with emphasis on construction and municipal work. They also do some nighttime parking lot sweeping and then, in addition, run vactor trucks and do snowplowing, as needed.
---
Elgin Sweeper Offers Peterbilt Cabover Chassis Option for Air and Mechanical Sweepers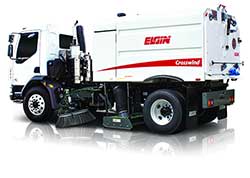 Elgin Sweeper has introduced a medium-duty Peterbilt Model 220 cabover chassis option for its line of air and mechanical street sweepers. The cabover Class 6 and 7 chassis feature numerous enhancements to performance and operator comfort.
The Peterbilt right side steer only chassis is available for Elgin Sweeper's air and mechanical sweepers. A dual-steer version of the Peterbilt chassis option will be available for the company's air and mechanical sweepers later in 2015.
---
AccuSweep & Landscape Inc. Discusses Add-on Value of Powerwashing
Like many first efforts, AccuSweep's initial foray into power washing was a learning experience, but one that has since served them well. "Power washing is a nice add-on, an easy add-on for most contractors," says owner, David McCaskill, in a recent issue of PAVEMENT & Reconstruction Magazine.
McCaskill owns three Mystic Washer 30-in. model pressure washers, and he says the size is ideal for parking lot and shopping center power washing. The unit produces 4 gpm of water at pressures adjustable up to 4,000 psi. "Sidewalks are generally 3-feet wide so a 30-in. unit works well for those," McCaskill says. "If you have a 24-in. wide washer you're doing extra work because it doesn't cover as much area and you end up going back and forth too much." On the other hand he says using units larger than 30-in. diameter covers too much area "and it's going to make a big mess. You're going to have water and worse all over the place."
Read about the value of adding power washing services.
---
Liberty Brush Welcomes Back David Svoboda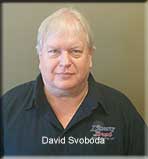 After a six-year absence from the company, Liberty Brush Manufacturing welcomes back one of its co-founders, David Svoboda. Starting in 1994, Svoboda was a manager for a Minnesota contract sweeping company. Then, in 1999, he moved into management of Liberty Brush, a sweeper and scrubber brush manufacturing firm. Those who attend industry trade shows will recognize his as a familiar face at NPE and APWA since 1994.
---
Sweeper Operator Finds 'Military Grade' Trash in Parking Lot
When Jacksonville, Florida sweeper operator Brandon Bullard saw a bag of trash in the parking lot of the mall he was sweeping, he got out to toss it into the back. That's when he saw the bullets on the ground next to the container that had held the trash bag. He was stunned when he looked inside and saw that it contained "a bunch of bombs, grenades, M-18s and mortars."
Bullard, who is 23, set the bag down and called his boss, who called the Jacksonville Sheriff's Office. Police blocked public access to the surrounding area of the shopping center and called in the bomb squad. By noon, the 'military grade' contents of the bag had been 'rendered safe' and removed for proper disposal, said Lt. Victor Pacheco.
Read an article on this story in the Florida Times-Union.
---
Elgin Sweeper Hosts Visit by Illinois Congressman Peter Roskam

Elgin Sweeper, a division of Federal Signal Corporation, recently hosted a visit by Congressman Peter Roskam (R-IL), who represents the 6th District of Illinois. During his visit to Elgin Sweeper, Roskam toured the manufacturing plant, viewed the assembly of the company's street sweepers and met with employees. A strong advocate for manufacturers in Illinois, Roskam complimented Elgin Sweeper's success domestically and internationally and congratulated the company on its impressive 101-year history.
---
Not Exactly Sweeping: Combating Influenza With a Street Sweeper... Almost 100 Years Ago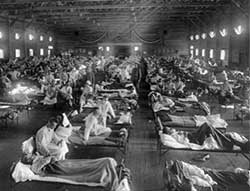 Since the spread of infectious diseases has been at the top of the news, we decided to revisit one disease, influenza. The reason? Prior to when any type of vaccine was available for the dreaded flu, combating it in Pendleton, Oregon, involved a sweeper. It's a journey back to 1918, when Spanish influenza circled the globe in three waves killing an estimated 40-100 million people. They often died quickly, drowning in their own body fluids, their skin turning a ghostly blue.
In early November of that year, the Pendleton, Oregon, City Council voted to require that flu flags be flown at the homes of quarantined influenza victims. An emergency flu hospital was established in the library room at the city hall to handle the rise in flu cases. The East Oregonian began listing the names and addresses of newly quarantined people. City officials, desperate to quell the epidemic, were open to novel approaches. They heard that the town of Brawley, California, had stamped out the flu in five days after disinfecting city streets with a sheep dip solution. On Dec. 27, the town's street sweeper crew started spreading the solution throughout the town at a rate of three gallons per block.