by Ranger Kidwell-Ross, editor
WorldSweeper.com

Our Year's End Wish: A Continued Increase in the 'Profile' of Power Sweeping
If there's one central thread that has cropped up again and again this year, it's that the stormwater community appears to finally be starting to understand how cost-effective sweeping is when compared to other, end-of-the-pipe, stormwater pollution solutions. I say "finally" because this type of recognition has been a long time coming, for whatever reason.
When I started American Sweeper magazine over 20 years ago, my driving force was to educate public works' directors about the value of using air sweepers as a first line of defense for improving stormwater runoff. For the most part, at that time those in public works conducted their business as though they were still engaged in removing horse droppings from the pavement, rather than the brake linings, clutch plates and myriad other pollutants then on the roadways.
Hamstrung by the poor results from the 1980's era NURP studies concerning what mechanical broom sweepers could pick up to address runoff pollution (very low small micron pickup ability), the sweeping industry has faced an uphill struggle ever since. However, with the latest studies and analysis from Seattle, for example, showing that sweeping is a 4-to-10 times more cost-effective way to remove pollutants than the next best alternatives, the idea of increasing air sweeping to combat pollution is clearly gaining traction as a BMP. Seattle, for example, is doubling its sweeping program in 2016.
If your organization performs street-type sweeping – whether as a contractor or as a municipal-type entity – I encourage you to do a thorough review of the articles in our Street Sweeping/Best Practices and Street Sweeping/Studies areas, as well as the info in our Environmental website area.
As I write this, the United Nations Conference on Climate Change has just wrapped up. Those of us in the power sweeping industry can do our part by educating ourselves, and then those around us, about how sweeping is a better solution for combating stormwater runoff pollution than is any other initial methodology. The end result, when the science if followed, is an increased frequency of street sweeping in order to reduce the implementation of more costly, end-of-the-pipe, solutions.
As always, if you have any news of potential interest to the power sweeping community, please let us know. Between this publication, the WorldSweeper.com website, and the World Sweeping Association, we'll be sure to get the information passed along to interested readers.
Good Sweeping,



Editor, WorldSweeper.com
Executive Director, World Sweeping Association
PS If you haven't 'liked' our WorldSweeper Facebook page, what are you waiting for? That's where we offer industry previews and updates on an ongoing basis.


---
December Newsletter Contents
(Scroll down to read stories or click on links.)
---
Carefully Consider Chassis' Feature Set When Choosing a Sweeper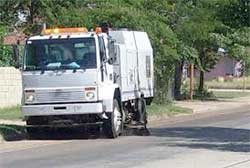 When a sweeper is purchased, more than likely it will be on some type of standard production chassis that is in widespread use by other industries. Many times, the primary market for the chassis will be for 'short hop applications' such as deliveries, where the drivers have a reason to exit the cab on a periodic basis.
In this article written in conjunction with WorldSweeper's editor, Eric Fullan, Safety Officer for the City of Hillsboro, Oregon, weighs in with considerations he feels would improve the comfort and safety of sweeper operators. His suggestion is that at least as much consideration should be given to the chassis a sweeper is mounted onto as to the sweeper itself.
---
Is LA's Sweeping Day Car Removal Program a 'Racket' as Some Claim?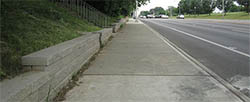 The City of Los Angeles has come under fire over the last several years over its parking ticket program. Tickets in the city, which today average about $63, have been called a "regressive tax" by the Parking Freedom Initiative.
More recently, LA's practice of ticketing cars that are on the street during hours posted for street sweeping – but after the sweeper has gone by – are renewing the furor over the City of LA's ticket procedure.
---
Chinese Sweeper Causes 'Cars to Fly'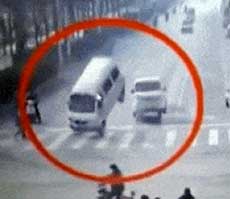 This story from China is a good illustration of the venerable mantra "If something can go wrong, it will." On the other hand, this makes China one of the first countries to invent levitating cars!

A Chinese phone company crew was installing a telephone pole which, when set, would have a wire that crossed a major street. During the installation process, the crew left the wire on the ground on the side of the street where the pole was being installed. The other end was already attached to a pole on the other side of the road. The installation crew figured cars would simply drive over the flat cable. That's when the street sweeper went by...
---
New York Contractor Helps Others in Holiday Season
We're proud to report that NY-based WSA Member, East Coast Industrial Services, Inc., provided an early Christmas present to an area veteran of WWII, Ellsworth "Sparky" Wayman. One of East Coast's employees read about the indigent man having wrecked his car and that a fund had been set up to assist him in buying a new one.

Jay Presutti, VP of East Coast, said their organization decided to donate $500 to the fund as one of their company's 'giving events' this Christmas Season. In addition, East Coast is donating $500 to Toys for Tots, an amount that will be matched by Toys-R-Us.
Here's a Link to an article written about the company's donation in their local newspaper; includes a video of the presentation.
---
Featured Contractor: Scott's Clean Sweep and Snow Removal
Our World Sweeping Association Contractor Profile for December features Nevada-based, Scott's Clean Sweep and Snow Removal, a company story that provides inspiration to the sweeping industry.
In 1978, Scott Perasso was a carefree 22-year-old mechanic. Then, his fiance's father secured the parking lot sweeping contract for the MGM Grand Hotel and Casino in Sparks, Nevada. At the time, this was the largest such enterprise in the world. He moved from California to South Lake Tahoe, bought a used FMC sweeper and was suddenly making big money for 1978: $100/night.
Then, just five months later, Scott was struck by a drunk driver, which required an above-the-knee amputation of his right leg. Although friends stepped in to try and keep his MGM account, after five weeks in the hospital and further recovery time before he could work, the couple had lost the contract. Our feature story is one of battling back to regain and maintain their business, which Scott and Sherry Perasso continue to operate today, 37 years later. Article includes a 32-minute podcast interview between the company owner and WorldSweeper's editor.
Read about Scott's Clean Sweep and Snow Removal and listen to the podcast interview at the World Sweeping Association website.
---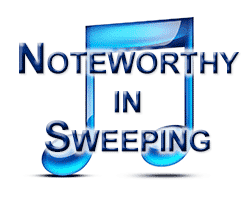 Noteworthy in Sweeping: Norwegian Town Honors Beloved Street Sweeper with a Statue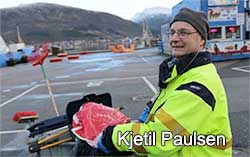 For more than 20 years, Kjetil Paulsen has been cleaning the streets of Sortland. Now the citizens of Sortland would like to honor him and his relentless dedication for the city by erecting a life-sized statue in honor of his retirement.

.
---
Not Exactly Sweeping: WorldSweeper's Editor Featured in DIY Channel TV Episode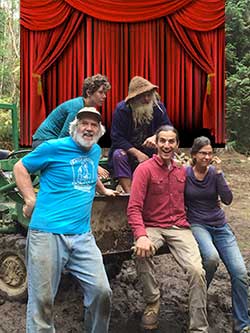 This past summer the rural Pacific NW property of WorldSweeper's editor, Ranger Kidwell-Ross (front left in photo), was selected as the location for an episode of DIY Network's 'Building Off the Grid' television series. For six weeks starting in late August and ending on October 8th, Kidwell-Ross was joined by renowned alternative builder, Sunray Kelley and his assistant Sierra Sandra-Hewitt, as well as a two-person builder team based in Ithaca, NY, Carolyn Peaches and Matteo Lundgren.

The one-hour show was directed and produced by Alan Madison, of NYC-based Sharp Entertainment. No photos of the process or the completed building may be shown prior to airing of the show, which is why the building itself is covered by a curtain in the photo. However, we can tell you the design and materials' utilization have, as far as is known, never been done prior to the building of this very unusual structure. Tune in to the DIY Network on January 19th for the 10pm show, which is being called 'Mud Men.'