To read this WorldSweeper Newsletter in your web browser, click here.

by Ranger Kidwell-Ross, editor
WorldSweeper.com

Earth Day 2015 Editorial:
Water Pollution and Availability Issues Will Increasingly Affect Power Sweeping Industry
Recent news stories have highlighted the many facets of the emerging problems that have to do with water. California has declared a drought emergency, as have the states of Washington and Oregon. Scientists think this may have to do with a 'blob' of unusually heated water, as reported in the Washington Post. Because the sardine population has fallen an estimated 91% since 2007, the west coast fisheries industry for sardines was recently cancelled. Just one outcome: 90% of this year's sea lion pups appear to be starving.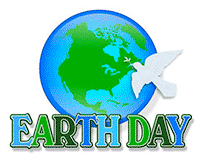 In related news we cite in our "Not Exactly Sweeping" section at the bottom of this issue, stormwater runoff pollution samples taken by the City of San Diego ALL show a residue of Neonicotinoid pesticides. This is the pesticide that has been scientifically linked to honeybee colony collapse and that the European Union and a few non-EU European countries banned in 2013. Here's how these two some disparate issues relate to the power sweeping industry.
As the availability of fresh water becomes increasingly scarce, cities will become more reluctant to foul millions of gallons of water by using it in sweeper dust suppression systems. If they haven't already, now is the time for sweeper manufacturers to start ramping up their R & D programs to get effective, water-free dust suppression systems available for all models.
As for the Neonicotinoid pesticide pollution: The pervasiveness of this and a host of other emerging stormwater pollutants underscore the need for sweepers to start doing an even better job of pollution removal. Public works professionals need to get educated about the comparative low cost of more frequent sweeping – as compared to other end-of-the-pipe solutions – when it comes to stormwater runoff pollution removal. They need to recognize that up to 60% of pollutants coming off their streets are attached to the smallest 10% of street dirt (up to 250 microns). Along with the need for less stormwater runoff pollution new generation sweepers need to do an even better job of small-micron particle removal.
There appears to be little question we are moving into uncharted territory with regard to keeping our waterways clean and our potable water safe, no matter what continent we inhabit. Whether you're a contractor or represent a municipal sweeping agency, get educated on best practices and the outcome of sweeping studies so you can provide a better environmental result when you sweep. Sweeping is the first line of defense when it comes to stormwater pollution abatement, but only when the streets are cleaned via best practices with the right equipment and at the right frequency.
As always, if you have any news of potential interest to the power sweeping community, please let us know. Between this publication, the WorldSweeper.com website, and the World Sweeping Association, we'll be sure to get the information passed along to interested readers.
Good Sweeping,



Editor, WorldSweeper.com
Executive Director, World Sweeping Association
PS If you're doing something innovative for Earth Day that involves sweepers, be sure to let us know!


---
April Newsletter Contents
(Scroll down to read stories or click on links.)
---
Victory Sweepers Introduces 'CXG Pro' Parking Area Sweeper
Victory Sweepers has announced its new 2015, CXG PRO. "We are now mounting our tried-and-true CXG sweeper onto the all new Dodge RAM 2500 Promaster chassis," said Mark Schwarze, President of Victory Sweepers, Inc. "In addition, we have replaced the air-cooled, 27 horsepower auxiliary engine with the high performance and fuel efficiency of Kohler's 30 horsepower, liquid-cooled engine."
The new CXG Pro offers a 20-inch, long life HardOX armor fan as standard. Although this is one of the smallest fans in this size sweeper, the company reports that the overall performance is far and above similar size sweepers with 24-, 26- and even 28-inch fans due to use of a straight flow-though fan housing and computer-modeled hopper air flow. Victory's CXG Pro also has a full-width, hydraulically-opening dump door and full-width hopper screen that, coupled with the 2.7 yard hopper, testing has shown reduces screen blockage.
Read all about it and see photo slideshow..
---
World Sweeping Association Solicits Scholarship Applications and Donations
Now in its third year of operation, the World Sweeping Association's Member companies now number over 150. Although many of WSA's programs are available only to WSA Members, including its twice-a-month members-only email updates and ever-expanding roster of membership benefits, one of WSA's efforts, the Carl J. Austin and Dale McCaskill, Sr. Memorial Scholarship program, is designed to enhance the entire power sweeping industry and is available to both WSA Members and non-members alike.
Each year since its inception, WSA has offered a $1,000 scholarship in the name of each of these late sweeping industry icons. Students who are pursuing any type of higher education and who are also 'connected' to a sweeping company in some manner are eligible. These may be children of employees (but not principals) – or even current employees themselves. Also, if a winning recipient is connected to a WSA Member company the scholarship amount is doubled, to $2,000.
WSA is actively soliciting donations to fund the ongoing effort, as well as applications for this year's two scholarships. Use the links below to get info about the availability of the scholarships as well as to view past winners, as well as to download a printable notice you can put onto your bulletin board or elsewhere in your sweeping company office. If you'd like to learn more about donating toward future scholarships, use the other link to access the details and/or make a donation online via credit card.
Get Scholarship Notice and/or Apply or Check out WSA's Donation Link
---
Joanne Sullivan: Boston's 'Hokey Extraordinaire'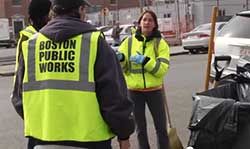 Our editor has been involved with the power sweeping industry for almost three decades and only recently learned that a 'hokey' is the term used by Boston's Department of Public Works to describe someone who uses a broom and dustpan to rid Boston's streets of the mess left behind by that city's sanitation trucks and street sweepers.
One of Boston's hokey's, Joanne Sullivan, was recently highlighted by Boston.com. Sullivan was even featured in a video the city shot to highlight the relatively unknown role. Sullivan is "one of a few full-time hokeys who work the entire year," according to Bonnie McGilpin, a spokesperson for the mayor's office.
From the three-minute video, it's easy to see what an impact employing hokeys can have in the overall cleanliness of a city's streets. Due to the recent winter storms, Mayor Marty Walsh recently approved "20 additional seasonal hokeys who will assist with the removal of "trash left over from the storm," McGilpin said. They will be employed for 16 weeks and will focus their efforts on "clearing major arteries and intersections where snow has melted and trash has been left behind." If you want to see how it works, use the link below.
Check out Boston's Hokey System.
---
Featured Contractor: Father and Son Team Blanketing Kentucky With Service

For the first time ever, the WorldSweeper/World Sweeping Association Featured Contractor for this month is not one company, but two. Lexington Pavement Sweep was founded in the late 1980s by Jim Blackerby, Jr., to serve the Greater Lexington, Kentucky, market area.
By contrast, Louisville Pavement Sweep was founded by his son, Jim Blackerby III, only about a year-and-a-half ago. You will find that our feature is, in large part, the story about how a sweeping contractor of high ideals has inspired his son to follow in his footsteps.
---
Schwarze Industries and WorldSweeper Offer April Fool's Day 'New Product Announcements'
On April 1st, Schwarze Industries unveiled its new Human-Powered SuperVac BreezeTM parking lot sweeper. Although the new SuperVac Breeze has only a 1.0 cubic yard hopper, the machine does sport Swivelogic Chassis Technology and Tractionmaster 2-Wheel Drive Differential to go along with its unique, human-powered power source. If you're in the market for a low-cost sweeper at impossible-to-match pricing, this is the machine for you!
On the same day, WorldSweeper also wrote about the new collaboration between Google and Dyson to build the first-ever self-driving street sweeper, the AutoSweep 4115. We reported that the Google/Dyson self-driving sweeper project was spearheaded by the Google Advanced Technology Division, while the Dyson Vacuum Consortium developed the associated sweeping system. The integrated sweeper design is the first entry by noted air technology leader Dyson into the field of large scale vacuum systems.
Read about the Google/Dyson AutoSweep 4115 or read about the Schwarze SuperVac Breeze.
---
New Counting Video Added to WorldSweeper's Toy Section
This posting is a reminder that our WorldSweeper 'Toys' section offers a variety of sweeper-oriented links to books, toys, apps and so forth for the little sweeper operator wannabes you know. We recently discovered a two-minute YouTube video that is designed to help kids count from 1 to 10. Resist the temptation to offer the link to your sweeper operators that appear math-challenged on their paperwork...
You'll find this link to be a good one when you're looking for birthday, Christmas and other gifts for kids who are growing up around the sweeping industry.
Check out the kid-oriented sweeper toys, games and apps.
---
Italy's Pulire Cleaning Tradeshow Celebrating 30 Years May 19-21
Pulire is the largest professional cleaning industry trade show in Italy and plays host to a complete range of machinery, chemical products, equipment and components for professional cleaning and hygiene in indoor spaces. Pulire is the second largest cleaning industry tradeshow in Europe and one of the most influential globally. Pulire attracts 300 exhibitors and more than 10,000 visitors to its more than 17,000 m2 (183,000 sq. ft.) of display space.

This year, Pulire organizers are offering the show as an interactive event available on smartphones and tablets for both the iOS and Android operating systems, with two applications, one for exhibitors and one for visitors. For more information check out the English version of the Pulire website, linked below.
---
Solid Links to Neonicotinoid Pesticides in Stormwater Runoff and Bee Deaths Now Seen


After years of testing for pesticides in urban runoff, and having spot detections of various compounds here and there, the City of Santa Barbara Creeks Division is now seeing neonicotinoids in every storm sample they collect. At the same time, there is more research coming out almost weekly about their potential impact on ecosystems, leading some scientists to say they are the "new DDT" (without the direct human-harm component).
Jill Murray, Ph.D., Research Coordinator for the City of Santa Barbara Creeks Division, suggests that public works departments consider testing runoff in their area if they can allocate the extra funds/time/staff. She provided us with a PDF file from the City of Santa Barbara, entitled "NEONICOTINOID PESTICIDES: NOT JUST A BEE PROBLEM," which includes a number of scholarly references. Jill also invited agency personnel to contact her directly via email if they need information about sampling or if they wish to forward results (including non-detects) for a future compilation.
The additional link, shown below, is to a recent article in the New York Times that covers this same topic in a more anecdotal fashion.