by Ranger Kidwell-Ross, editor
WorldSweeper.com

Teaching the Value of Debris Removal
In late August I participated in an informative Pacific Northwest non-profit event now in its third year called the Whatcom Skillshare Faire. The two-day event featured a total of 65 area artisans who provided displays and seminars on their particular areas of expertise. These covered a wide spectrum of mostly rural-oriented specialties.
I volunteered to coordinate events and games designed to involve the children of the participants and attendees. Toward the end of the second and last day of the Faire, one of the final events was a scavenger hunt. However, the format I proposed was a little different than the usual: What the kids were instructed to find were pieces of micro-litter on the ground of the approximately two-acre county park where the SkillShare Faire was being operated.
Although the grass looked basically clean, I had organized the 'game' because I had noticed quite a number of very small pieces of trash amidst the park's grass. Almost none of it was from the SkillShare folks; rather, it was an accumulation of who knows how many months and years during which no truly detailed cleanup had been done.
Prizes were offered for whoever found and picked up the most litter: three personal water balloons for the winner, two for the runner-up, and one for the kid coming in third. Although that may not sound like much as far as prizes go, I assure you the kids were very excited at the prospect. More importantly, I was also able to get them excited over the fact they were cleaning up the park on a 'pay it forward basis' for whoever would be there next.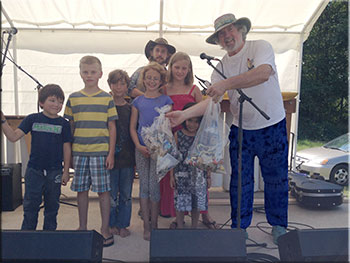 I had the six children participating spread out and we walked over the entire area. Whenever they found pieces of debris they'd pick them up, deposit them into the bags I carried, and I'd help them keep track of their running total.
Astonishing to everyone, in less than half an hour we were done and they ended up with a total of 1,044 litter pieces collected. When I took them onstage to announce what we had done, they couldn't have been prouder of their accomplishment as they received a hearty round of applause from the audience.
I decided to use this as my editorial to remind you, my readers, to find ways to get involved in promoting your chosen field in your local community. If I'd been a sweeping contractor I'd have received an enormous amount of free publicity for my company. Because of the amount of debris we removed from what most thought was an already clean field, what we accomplished became the talk of the event. Parks Department personnel became interested in organizing similar 'scavenger hunts' in other of the county parks.
If you're a World Sweeper, then I encourage you to find ways and places to showcase your craft. And, keep in mind you don't always have to receive publicity to make it the right thing to do. Although the power sweeping industry is mostly unknown and under appreciated, debris removal is an enormous task and one that definitely helps make the world a better place to live. Be proud that you're a part of it!
If you have any news of potential interest to the power sweeping community, please let us know. Between this publication, the WorldSweeper.com website, and the World Sweeping Association, we'll be sure to get the information passed along to interested readers.
Good Sweeping,



Editor, WorldSweeper.com
Executive Director, World Sweeping Association
PS If you haven't 'liked' our WorldSweeper Facebook page, what are you waiting for? That's where we offer industry previews and updates on an ongoing basis.
---
September Newsletter Contents
(Scroll down to read stories or click on links.)
---
How Well is Your Organization Prepared for a Sweeper-Related Accident?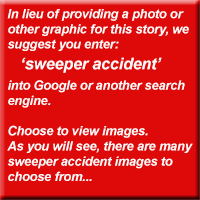 How's this for a scenario: You have a sweeping company that conducts highway road sweeping three-to-five times per week on a four-lane highway that has a middle turn lane. Since there's less traffic at night, the sweeping is done then. In addition to the standard truck lighting, your sweeper has alternating amber LED flashers on the back and an amber beacon on top, in addition to work lights, broom lights and regular truck lights. Your driver is sweeping at less than 5mph.
One night at around 2am and with no prior warning, your operator feels a hard strike against the rear of the sweeper. When s/he stops and gets out to investigate, s/he discovers that a motorcycle has rear-ended the sweeper at a high rate of speed. The motorcyclist has been killed. When you read what happens next, you will likely take steps to ensure that your organization is better prepared for the worst.
Check out the rest of the story.
---
Italy's Comac CS140 Sweeper Offers Waterless Air and Broom Sweeping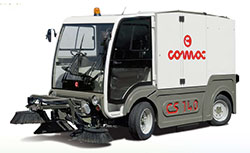 The Comac CS140 sweeper was developed to clean urban and industrial areas in a unique fashion from most all other types of sweepers. Not only does it sweep without the use of water for dust suppression; in addition, the CS140's 'twin action' system combines the performance of both mechanical broom and air sweeping into one single sweeper.
In our ongoing features that offer insight to sweeping around the world, we spotlight this unique, Italian-made sweeper that emphasizes year-round sweeping at speed and with air-based removal of dust produced by its main broom and curb broom systems.
Check out the Italian sweeper.
---
Using Sweepers as 'Curbline Plant Removal Machines'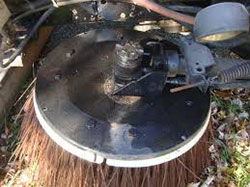 WorldSweeper's editor was recently asked to provide his professional opinion on the advisability of requiring that a street sweeper be used to remove growing plant material from a curbline. This means plants in the cracks of the curbline, not plants sprouting in dirt that has been lying in the curb for an extended period of time.
The opinion was requested to solve a dispute between a municipal authority – which sought to have the language in its contract – and the contractor tasked with the job. If you have questions or comments after reading the information, be sure to let us know and, if applicable, we'll provide them to the bottom of the article.
Read the professional opinion.
---

Property Manager Tips to Ensure 'Sweeping Success'
Wearing his hat as Executive Director of the World Sweeping Association, Ranger Kidwell-Ross penned this article about how to choose a sweeping contractor for parking area cleaning. Covered in the article, which was published in the magazine Retail Facility Business, are items like how to assess a sweeping contractor's capabilities.
The article also provides an overview on types of sweepers to request or choose from, the value of contractor ethics, use of GPS, the advantages of air sweeping to remove grit – even how to develop a scope of work and how to evaluate the all-important consideration of pricing. The article is available for non-WSA Members to read for a limited time. Then, it is available as an ongoing World Sweeping Association handout.
See article at the Retail Facility Business website.
---
Python Manufacturing Changes Name to SuperiorRoads Solutions

The manufacturer has announced that the company producing the (former) Python line of street maintenance equipment has a new name, SuperiorRoads Solutions. SuperiorRoads' sweepers include the S2, formerly known as the Python S2000, and the S3, formerly the Python S3000. Both sweepers have been designed for tough sweeping conditions and for ease of operation – even by inexperienced operators.
Check out the press release.
---
Featured Contractor: Ross Industries Has Found Its Market Niche

Bradley Ross grew up in the parking lot line painting business his father owned, working weekends and after-hours. After high school he went off to college and after graduation got drafted and served during the Vietnam conflict. When he came home in 1972, Ross decided to start a business doing what he already knew how to do: parking lot line painting. As a result, his business plan included no intention of performing power sweeping.
It wasn't until 1992 that Ross recognized sweeping as a business opportunity he could take advantage of. During his investigation of the potential in sweeping, Ross saw an ad by now retired contractor, Tom Ostuni, and ended up buying two Mobil sweepers in March of 1992. "I didn't have any [sweeping] jobs," Ross reminisced, "none whatsoever. But I bought the two Mobil sweepers to make sure that if one broke down then I could still provide service with the other. Although for years line painting made up 80% of the company's work, with 20% coming from sweeping, today those percentages are reversed.
---

Cygnus Business Media Sells Heavy Construction and Logistics Groups to AC Business Media Inc.
Cygnus Business Media announced in August that it sold its Heavy Construction and Logistics Groups to AC Business Media Inc. for an undisclosed amount. The transaction was handled by Corporate Solutions, Inc. All employees related to these businesses were retained by AC Business Media Inc.
According to Cygnus CEO John French, "We are very pleased to have found a buyer of these highly profitable multi-platform properties serving the heavy construction and logistics industries that will utilize the current team's creativity and experience."
AC Media will now be the owner of the National Pavement Expo and PAVEMENT Maintenance & Reconstruction magazine, as well as other publications and properties of potential interest to the power sweeping community.
---

Protecting Workers During a Pandemic

A pandemic is a global disease outbreak and can be caused by a variety of agents, including influenza and coronaviruses. During a pandemic, transmission can be anticipated in the workplace not only from patients to workers in healthcare settings, but also among co-workers and between members of the general public and workers in other types of workplaces. With that comes concern for what steps would make sense should Ebola, influenza or another widespread disease become a localized problem.
At the moment, there is a significant buzz about the prospects of the Ebola virus making it out of its current African country-based locations and becoming a pandemic in the Western world. This time of year we also being the influenza season, which can also rise to pandemic proportions. We have linked to an OSHA website location that provides employers with the steps to take, along with a number of training and control measures. Just in case...
---