by Ranger Kidwell-Ross, editor
WorldSweeper.com

Toronto Sweeper Fiasco Underscores Importance of Regular Sweeper Maintenance
We gave kudos to the City of Toronto when City managers decided to utilize sweeping Best Management Practices to help reduce Toronto's air pollution problem. After a long, arduous and somewhat contested testing and selection process, in 2007 the City went with a fleet of 50 'dustless' sweepers provided by TYMCO at a reported expense of $15 million. So far, so good.
The sweepers were delivered and initially worked great. According to City documents, the TYMCO machines removed about twice the dirt and debris as had the City's previous broom sweeper fleet. In both 2008 and 2009 those figures were about 18,000 tons of material that was taken off the streets and disposed of properly.
However, by 2010, those same records show a dramatic fall-off in removal, down to an annual low of 7,857 tons in 2012. Although there was an increase last year, documents unearthed by the Toronto Star's investigative reporter, Kevin Donovan, show serious maintenance issues were occurring due to both infrequent servicing and the use of aftermarket parts. Both parts and service are being supplied by UAP, Inc., the company chosen as a sole source supplier, and which Donovan said is a division of NAPA Auto Parts.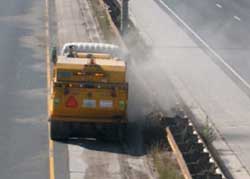 Sweepers should not be considered just a cosmetic solution anymore; rather, city managers everywhere should follow the City of Toronto's lead in specifying a type of sweeper that will minimize pollution, whether air-borne or carried by storm water runoff. However, this story – actually more like an expose – truly underscores the importance of routine and preventive maintenance when it comes to keeping sweepers in tiptop condition. Let it serve as a reminder to all reading this that if you scrimp on maintenance on your sweepers you should expect the worst to occur.
What has occurred in this situation is truly a cautionary tale about Toronto's lack of qualified maintenance and apparent use of sub-standard, will-fit (but apparently didn't fit...) parts. The parts-and-labor service contract is for all City vehicles, and it sounds as though specific training for sweeper preventive maintenance and repairs did not occur. Plus, the servicing company also appears to have been the recipient of a sole source, sweetheart, deal. This story shows in stark reality what to expect when untrained personnel, using non-OEM parts, are in charge of repairs. If you follow that recipe, you are very likely to end up with a similar disaster no matter what make and model of sweepers you are utilizing.
If you have any news of potential interest to the power sweeping community, please let us know. Between this publication, the WorldSweeper.com website, and the World Sweeping Association, we'll be sure to get the information passed along to interested readers.
Good Sweeping,



Editor, WorldSweeper.com
Executive Director, World Sweeping Association
PS If you haven't 'liked' our WorldSweeper Facebook page, what are you waiting for? That's where we offer industry previews and updates on an ongoing basis.
---
October Newsletter Contents
(Scroll down to read stories or click on links.)
---
Toronto, Canada's, 'Clean Roads to Clean Air Program' Under Fire

About a decade ago the City of Toronto decided to do something about the small-micron pollutants – also known as 'ambient dust' or PM-10s – that had been identified as degrading the health of the City's residents. Recognizing that the newer technology air sweepers should be able to counteract the problem, Toronto air quality managers incorporated a performance standard into sweeper purchase requirements.
In 2007, TYMCO ultimately ended up providing 50 air sweepers to the City of Toronto. Before that, the company came out on top of a hotly contested and widely debated testing protocol to determine which sweeper manufacturers' products appeared to be best at removing particulates without redistributing them into the air. Now, however, the City of Toronto's entire sweeping program is under fire because the sweepers are not doing the job, even though this appears not to be due to the use of TYMCO sweepers. Rather, the root of the problem appears to be that the TYMCO machines are not being kept up to OEM specs due to a sole-source repair and maintenance contract for all City vehicles – including sweepers – that was given out to UAP, Inc. (NAPA Auto Parts).
How bad is it? The Toronto Star reports that the 'dustless' TYMCO 600s are supposedly serviced every two months; city auditors found that some of the sweepers had gone more than seven months with no service, preventative or otherwise. Initially, according to reports in the Star, City documents show that the Tymcos sucked up twice the amount of dirt and debris as the predecessor broom machines. By 2008 and 2009, city records show about 18,000 tons were being swept up each year. After that tonnages began to decrease dramatically, reaching an annual low of 7,857 tons in 2012. Use the link below to read about this controversy.
Check out the story in the Toronto Star.
---
Ravo Offers Rebuttal to Using Sweepers for Curbline Plant Removal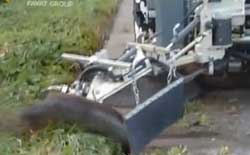 As reported in our last edition, WorldSweeper's editor was recently asked to provide his professional opinion on the advisability of requiring that a street sweeper be used to remove growing plant material from a curbline. His response was that doing so was not particularly feasible.
We received a response from Cees van der Put, Ravo's Export Sales Manager. Cees rebutted this notion via information about how RAVO has addressed the issue with the addition of an out-front curb broom. The unique dual-action, swiveling broom was added initially, Cees told us, to remove plants growing between close-set stanchions that separate the street from sidewalks in Amsterdam. I know from my own visit to Amsterdam that the cleaning of the city's waterways was cited as being of utmost importance to the government there.
Additionally, we have learned that Global Environmental Products also offers a similar articulating front brush on its front steer three-wheel Global M3. The end result is that we have modified the previous article to account for the new information. We look forward to any additional comments and, if appropriate, will include them in future publications of this newsletter.
---
TYMCO Announces Full Availability of Natural Gas-Powered Model 500x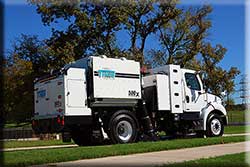 TYMCO® has announced full availability of the company's 100% Compressed Natural Gas (CNG) powered Model 500x. The sweeper is a high side dump, regenerative air street machine. Since its introduction, the Model 500x has only been available in a configuration powered by a diesel auxiliary engine. However, the sweeper has proven its performance and reliability in the government, contractor, construction and industrial markets.
"TYMCO is a pioneer when using alternative fuels – starting with propane (liquefied petroleum gas [LPG]) in the 1980s and first introducing the Model 600 CNG in 1993," said Bobby Johnson, TYMCO's Vice President, Marketing. "With over 9 years of the Model 500x being successful in the field, offering this sweeper in CNG was the next logical evolution for this product."
---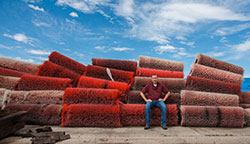 Repurpose Marketplace Offers Value to Buyers and Sellers
REUSE: It's that all important third of the Reuse/Reduce/Recycle circle of arrows that have become so familiar. However, when considering what might be reused, it's important to consider both sides of the reuse equation.
RETHINK: First, what items that are no longer needed might be submitted to the reuse/repurpose instead of being landfilled or recycled? Secondly, what needed items might you be able to procure from the reuse – or repurpose – marketplace?
In this interview with the president of one of America's largest repurposing organizations, you can learn about the types of materials – besides the sweeper main brooms you see in the photo above – that there is a market for in the repurpose, second-usage marketplace. Not only can you save landfill expenses; in addition, you'll get the positive press and bragging rights that come with keeping no longer used waste products and wear items out of the waste stream.
---
Raw Material Increases Likely Indicate Higher Prices for Poly Brooms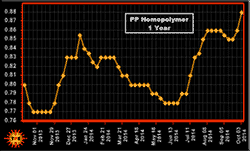 Jack Moran, of U.S. broom supplier Keystone Plastics, sent us a link to The Plastics Exchange's weekly information about polypropylene pricing. The bad news is that poly prices will be going up at least $.05/lb and perhaps as much as $.10/lb just in the near term. In June and July of this year poly prices hit a six-month low at about $.77/lb.
Since then, as may be seen in the graphic, wholesale prices have been steadily rising. The near term rise in wholesale prices is over 10% at just the wholesale level, so there's little doubt that the price increases will translate to higher poly broom pricing across the industry. Industry insiders predict the potential for monomer shortages toward the first of the year, so now may be a good time to stock up for the winter season.
Check out The Plastic Exchange info.
---
Featured Contractor: Mallary Maintenance

Scott Mallary is a man with both a maintenance company and a mission. Scott founded his company, Mallary Maintenance, in 1986 in the outskirts of Annapolis, Maryland. Initially the firm did pressure washing, but Mallary found that too seasonal when he and his wife, Lynne, decided to have children and she would no longer be working. In 1996, the couple bought their first sweeper, a Schwarze parking lot machine. Through the subsequent years Mallary Maintenance has added a number of other business services, as well.
The feature article on the company discusses Mallary's insight into why he operates two employees per sweeper, how his employees notify his customers about vandalism, maintenance and security issues, and more. However, we also provide information on the all-volunteer nonprofit organization, Truckin4Troops.org, that Mallary founded in 2010.
Your heart will be touched and, perhaps, your pocketbook willingly lightened a little, as you read about what the Mallary's are doing to assist wounded veterans. "I've learned that, although I can't put wounded veterans' arms and legs back on, there are ways we can put a smile on their faces," said Mallary. The end result is a feel good story that you won't want to miss.
---

Strati is World's First 3-D Printed Vehicle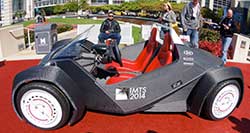 Now that a 3-D printed car has been produced, can a 3-D printed sweeper be far behind?! This 3-D printed car is big news in the world and is predicted to foreshadow how vehicles of the future are produced. The vehicle, which is made with ABS plastic reinforced with carbon fiber, is only composed of about 50 parts, as compared to the thousands of parts that make up an average vehicle being built today.
The Strati has been chosen by Popular Mechanics as winner of the publications 'Breakthrough Award.' The vehicle, which is being produced by Local Motors, is expected to sell for around $18,000 when it enters production in 2016 and is bound to revolutionize the way future vehicles are made. Whenever the first 3-D printed sweeper is produced, you can count on reading about it first at WorldSweeper.com!
---