by Ranger Kidwell-Ross, editor
WorldSweeper.com

June Brings Good, Bad – and Potentially Ugly – Industry News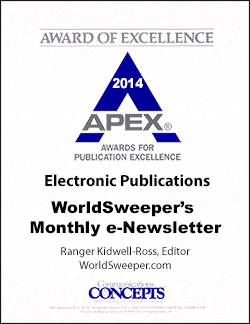 June has been a month marked with a spectrum of industry news. First, the good news for our World Sweeping Companies organization: We're pleased to report that we received two national APEX Awards for Publication Excellence. One was for the overall quality of information in this publication, our monthly WorldSweeper e-newsletter.
Only 14 other electronically distributed newsletters in the U.S. were deemed worthy of this award. We were honored that among them were such well known organizations as AARP, Lockheed Martin, National Institute of Justice, U.S. Army Corps of Engineers and The Washington Post. This marks the 7th year in a row the WorldSweeper.com website has won an APEX Award for Publication Excellence in one or more categories.
We're equally pleased to report that our other APEX was given to us in recognition of the quality of the extensive educational material at the website of our sister organization, the World Sweeping Association. Only seven other websites made the grade in this category, which truly underscores the information value the World Sweeping Association is providing to power sweeping contractors.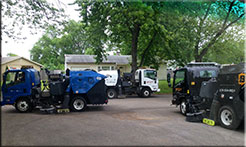 Our bad news this month was an increase in marketplace confusion brought on by Walmart re-bidding a large selection of its store locations in the East and Midwest. (Thanks to Tim Skinner, of Best Sweeping, for the accompanying photo of three of his sweepers going in different directions that I thought illustrated the current Walmart situation.)
According to a Walmart company representative, the firm is trying to weed out contractors who just sweep single locations, as well as reduce the Walmart account load of anyone whose business with that company comprises 40% or more of that contractor's total business. We can only speculate that the rest of the Walmarts in the country will follow; however, no one we spoke to at Walmart corporate would divulge that information.
One area of confusion was that a number of sweeping contractors who fit the above criteria did not get an invitation from Walmart to bid the work. Although World Sweeping Association Members were immediately notified and provided with the info they needed to sign up by the deadline, non-WSA Member contractors would have had no way to receive the information in good time. Just among the WSA's 125 Members, about 10% of seemingly qualified firms did not receive the emailed RFP from Walmart corporate.
Now for the potentially ugly: In addition, third party vendor Springwise is claiming that it will be representing Walmart accounts in New Hampshire. If so, this would represent a significant change by America's biggest retailer if it went back to a third party vendor system. Contractors grumble enough about having to do everything through ServiceChannel; most would consider having a third party vendor added into the middle to be even worse. At this point only time will tell.
If you're on the municipal side of the industry – or are a contractor with municipal accounts – please take the three minutes it takes to fill out our 'car removal during sweeping policy' info survey we first announced last month. So far, we do not have enough respondents to give us any statistical accuracy.
If you have any news of potential interest to the power sweeping community, please let us know. Between this publication, the WorldSweeper.com website, and the World Sweeping Association, we'll be sure to get the information passed along to interested readers.
Good Sweeping,



Editor, WorldSweeper.com
Executive Director, World Sweeping Association
PS If you haven't 'liked' our WorldSweeper Facebook page, what are you waiting for? That's where we offer industry previews and updates on an ongoing basis.
---
June Newsletter Contents
(Scroll down to read stories or click on links.)
---
PAVEMENT Maintenance & Reconstruction Magazine Designates Top 25 Sweeping Contractors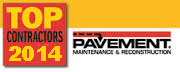 Allan Heydorn, Editor of PAVEMENT Maintenance & Reconstruction Magazine, has announced a Top 25 list of sweeping contractors in the U.S. Although other parts of the pavement maintenance industries have as many as 100 top contractors, the sweeping industry typically does not generate enough entries to have more than 25 companies so designated.
Still, just these 25 top sweeping firms account for over $41 million in total sales, giving them significant stature in the industry. Use the link shown below to see the Top 25 list of sweeping contractors, as calculated by this well-known pavement industry source.
---
WSA Wins APEX for Website's Educational Content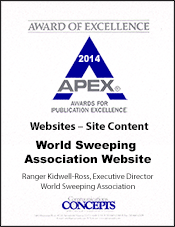 The World Sweeping Association won a national APEX Award of Excellence in the category of 'Websites – Site Content.' The WSA website, located at www.WorldSweepingPros.org, was one of only eight U.S. entries chosen in this category for 2014.

"I think it's unfortunate that many contractors think primarily of the many product and service discounts that they receive as a part of their $325/year WSA Membership," said Ranger Kidwell-Ross, who is both Executive Director of WSA and Editor of WorldSweeper.com. "However, this national award underscores the breadth of educational information available to our WSA Members on their Association website. We are very proud of the recognition this APEX Award offers and appreciate the stature it provides to both the World Sweeping Association and the power sweeping industry as a whole."

The educational portion of WSA Membership provided by the website is in addition to the bi-monthly email bulletin members receive; their included – and widely viewed – Contractor Locator listing here at the WorldSweeper website; and, of course, the WSA's discounts on a wide variety of industry products and services.

WSA Members receive exclusive access to more than 200 articles – spanning a total of 23 different topic areas – and most of these were written specifically for the sweeping contractor community. In addition, WSA Members have access to over 75 articles that include audio, which is a great way to learn. Most of these are audio interviews with sweeping contractors who discuss their individual success strategies and much more.

To find out more about the World Sweeping Association and some of the many reasons why its first-year renewal rate was over 90%, use the link shown below. If you are a contractor and are not yet a part of this fast-moving, professional organization, your investment is less than a cup of black coffee a day and there's no better time than the present to join!

Check out the World Sweeping Association.
---
Unique 'Water Sweeper' in Baltimore, MD, Effectively Cleans River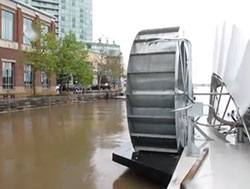 Thanks to Virginia contractor, Karl Stauty, for alerting us about this very unique sweeper operating in Baltimore, Maryland. The sweeper is actually a water wheel system that operates as a component of Baltimore's 'Healthy Harbor Baltimore' initiative. The machine took on its first major flow of trash on the morning of May 16th this year.
The water-powered pickup system collects floating material from the river and deposits it onto a conveyor belt which, in turn, offloads the debris into a dumpster. From the video, it may be seen that the water sweeper collected a wide variety of items – including a tire and wheel – in its first three hours of operation after a rainstorm. Take a look at the link to view a video of the water wheel-powered sweeper in action.
---
Profile of an Armenian Street Sweeper

Laura Atoyan works as a street sweeper in Artashat, Armenia, a town some 30 km southeast of Yerevan. She is just one of the many women in Armenia who keep the streets cleaned and, as a direct result, the towns looking tidy.
Like most who clean streets throughout Armenia, Atoyan uses what are called 'eco-friendly' brooms made of branches to perform her job. Throughout Armenia, mostly women sweep the streets of the country's towns, both large and small, as a way to make a living.
Read about how sweeping is done in Armenia.
---
Reminder: WSA Scholarship Application Deadline is July 1st

The World Sweeping Association is once again offering two scholarships to advancing students whose parents work for a power sweeping contractor. The scholarships, which were begun last year, are named for two late luminaries of the sweeping industry, Carl J. Austin and Dale McCaskill, Sr. Applying is easy and all the information you need to inform your employees – including a poster you can post on your company bulletin board – is available at the World Sweeping Association website. Each scholarship is for $1,000, an amount that is doubled to $2,000 in the event the chosen students are affiliated with a company that is a WSA Member.
We encourage all sweeping contractors, whether or not they are WSA Members, to visit the link and download the PDF bulletin board notice to give your employees an opportunity to offset their children's tuition cost for higher education. Students are eligible to apply who are attending any type of accredited, post-high school educational institution. Since time is so tight, we suggest you consider having the scholarship availability as an immediate employee meeting topic.
---
Vehicle Posting Survey Needs YOUR Participation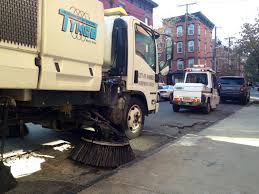 Our survey to collect information on how different municipalities handle parking restrictions during street sweeping has not received enough participants to provide relevant data.
Please complete our survey to document what your city or, if you sweep for a city, what your client does in that regard. Whether you are connected to municipal street sweeping or are a street sweeping contractor, please take the approximately 3 minutes needed to complete the survey, which is linked below.
---
Are Isuzu Fuel Tank Rust Issues Widespread?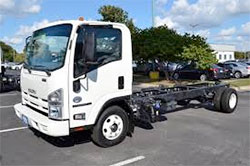 We have received inquiries concerning Isuzu chassis fuel tanks getting rusty. The issue appears to be rust accumulating in the fuel tank and then clogging the fuel lines and other fuel system components. Because the repair requires that the fuel tank be replaced along with the fuel lines, according to one contractor's internet research on the experience of others with the problem replacement costs have run from $3,700 to $6,000.
Our investigation so far points toward this problem probably having its root with 2006 and 2007 chassis that were stockpiled by dealers and/or sweeper manufacturers prior to the new emissions' standards that took place with 2008 model year chassis. Because many of these units sat for a year or longer outside without the fuel being changed out, it would appear that rust, corrosion and a kind of mold/bacteria had an opportunity to set in.
His company's research, he told us, also discovered that if the tanks are replaced with another OEM fuel tank, which usually is what is done, the problem can and has reoccurred over again. For this reason, it appears that either a plastic or aluminum replacement fuel tank may make more sense. We understand that Isuzu is aware of this situation and has a special type of filter, with an especially small micron rating, which is apparently designed to catch both bacteria and debris.
We're trying to get a handle on whether this is a widespread problem within the sweeping industry. If you have experienced this situation, please let us know. Although we contacted our usual sources at Isuzu, due at least in part to summer vacation scheduling we had not heard back from Isuzu representatives by press time. However, expect an update in our July newsletter.
---
Affiliated Grounds Maintenance President Wins National Award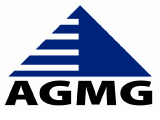 Third party vendor Affiliated Grounds Maintenance Group (AGMG), of Lake City, PA, has been honored with one of three 2014 NWBOC Eclipse Triumph Awards. The award was announced by Janet Harris-Lange, President, National Women Business Owners Corporation (NWBOC), which is a national WBE certifying organization.
Crystal Arlington, President of AGMG, received the award, which recognizes woman business owners for outstanding leadership, ingenuity, and perseverance in successfully navigating a challenge, barrier or obstacle affecting her company.
Crystal's husband, Richard Arlington, who is CFO of AGMG, will be one of the panel members for a seminar at the 2015 National Pavement Exposition entitled "How to Get the Most Out of Your Relationship with Third-party Providers." The seminar, which is sponsored by the World Sweeping Association, will also include another third party provider representative and two sweeping contractors. The panel discussion will be moderated by WSA's Executive Director, Ranger Kidwell-Ross.
Get more info on Crystal Arlington's award.
---
Featured Contractor: Spezio Property Services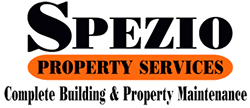 By the time he founded Spezio Property Services in 1985, Frank Spezio had been involved in doing all sorts of property maintenance on his own real estate property. It was at that point he decided to do the same for the owner of a nearby strip mall. His first foray into sweeping the property was done soon after. To handle the task, he initially employed someone who did the work with a broom and a dustpan.
However, it wasn't long until he realized he could achieve economies of scale – and get some additional customers – by purchasing a parking area sweeper. His choice for a first machine was a TYMCO 210, a decision he says he has never regretted.
Today, his firm is the largest independent maintenance company in central and western New York. Spezio Property Services offers over a dozen different services in addition to power sweeping. And, admirably, the company's website is front-and-center with the fact that all are backed with the firm's "No Questions Asked Guarantee."
For an interesting overview on how to become very successful in your marketplace, be sure to read this interview with Frank Spezio, as well as listen to the audio podcast. Both are provided to non-members for a limited time at our affiliated World Sweeping Association website.
---

Concrete Buffer Gone Wild...
Okay, we want to make clear that this 2:27 video of a concrete buffer on the loose would not be funny except nobody got hurt. However, since that's the case you may want to even offer it to your employee team as an example of the unexpected things that can go wrong at work. This is especially true if your organization performs more types of work than just power sweeping.
The video, which at last check had been seen a whopping 6,202,858 times and has garnered over 3,500 comments at its YouTube location, seemed to be a sensible choice for this month's 'Not Exactly Sweeping' column.