by Ranger Kidwell-Ross, editor
WorldSweeper.com

Are You and Your Organization Prepared for Catastrophe?
The fact that complete catastrophe can come at any time was brought home to me recently in less than a second's time: The insight occurred when the 8' ladder – on which I was standing on the next-to-the-top step – collapsed and I found myself falling with a running chain saw in my hand.
I reminisced about the accident a couple days later with Colleen, a friend who is a long-time safety manager for a local company. She had her foot in a brace as the result of an accident that occurred because she "didn't do a competent safety assessment for the situation" she was entering while on a 7-day rafting trip in the Grand Canyon the previous week. Though in serious pain even when I spoke to her after her return, Colleen had continued with the remainder of her trip in order to avoid being airlifted out at a personal expense of over $10,000.
Finally, someone many of you reading this have spoken with, my assistant Regina Wollenberg, is among the thousands who have been affected by the wildfires that have been ravaging eastern Washington State. Although her family's house is still standing, an estimated 200+ homes in their immediate vicinity have burned to the ground with little-to-no warning. And, residents and businesses in the area are being told to expect it will take up to a month for power to be restored. Since Regina works from her home office, this portends a huge impact on both her and on our World Sweeping organization.
There are many levels of being prepared, from backing up computers to having the right type of insurance to having a succession plan in place for your company. Of course, it's impossible to account for everything that might occur. However, ensuring you have a handle on the above three items will account for much that might take place. Also, preach, teach and practice proper safety assessment techniques in every aspect of your life, business and personal.
I can also give personal testimony to the concept of looking where you'll be landing and, if you can, to figuring out how to shut off your chain saw and move it away from your body before you hit the ground. Fortunately, I came out of my disaster with no broken bones. Now, on to better safety assessments in the future as well as to updating my own succession planning information. Perhaps this editorial will spur you to do the same, though without any similar bumps and bruises to body and ego.
Due to the vacation schedules of the correct Isuzu personnel we do not yet have a response from that company about the fuel tank corrosion issues we reported on in our June issue concerning 2006 and 2007 Isuzu chassis. We'll stay on it, though, and should have the Isuzu response in our August issue.
If you have any news of potential interest to the power sweeping community, please let us know. Between this publication, the WorldSweeper.com website, and the World Sweeping Association, we'll be sure to get the information passed along to interested readers.
Good Sweeping,



Editor, WorldSweeper.com
Executive Director, World Sweeping Association
PS If you haven't 'liked' our WorldSweeper Facebook page, what are you waiting for? That's where we offer industry previews and updates on an ongoing basis.
---
July Newsletter Contents
(Scroll down to read stories or click on links.)
---
Elgin Celebrates 100 Years With Company-Wide Event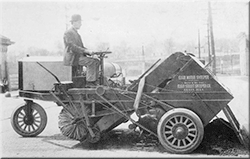 Driven by a desire to address the health hazards caused by streets and roads filled with filth and debris, pioneering automobile enthusiast John Murphy, who was a resident and alderman of Elgin, IL, brought his design for the first mechanized sweeper to American Tower and Tank Company of Elgin.
After two years of trials with the original design, the company was ready to go to market. The first motor sweeper, a three-wheeled machine, was sold in April 1914 to the City of Boise, ID.
"One hundred is a monumental accomplishment," said Mike Higgins, Elgin Sweeper Company's vice president and general manager. "We wanted to celebrate with the employees and their families. It's good for them to see what we do here. Considering that very few American businesses can claim such a unique distinction, we are immensely proud of our 100-year milestone, as well as our legacy of innovation and industry leadership. Through two World Wars, the Great Depression and significant economic challenges in recent years, the ingenuity and steadfast commitment of Elgin Sweeper's employees and dealer partners to serve our customers has been critical to our success."
---
WSA Scholarship Winners Announced

The World Sweeping Association has announced the winners of its 2014 Carl J. Austin and Dale McCaskill Sr. Memorial Scholarships.
The two scholarships are named for past leaders in the power sweeping industry. Each scholarship is available to students who are affiliated with power sweeping companies, either as employees or sons/daughters of employees. Each scholarship is for a maximum of $2,000, which is the amount awarded if the power sweeping company is a WSA Member company. Otherwise, the scholarship is awarded in the amount of $1,000. Choosing of the winning entry is done by the WSA Advisory Board, whose members decide the winners without knowledge of whether entries are from WSA Member companies or not.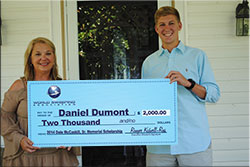 This year the winner of the Dale McCaskill Sr. Memorial Scholarship is Daniel Dumont of Harvest, Alabama. Daniel is a business major entering his senior year at Auburn University. He has worked part-time while going to school at PowerVac Services, which is located in Madison, Alabama. In addition to his strong work ethic and honor roll history, Daniel has built a strong track record with volunteerism in his local community. Daniel hopes to someday operate his own sweeping company or other, similar, type of company. Since PowerVac Services is a WSA Member company, Daniel Dumont's scholarship is in the amount of $2,000.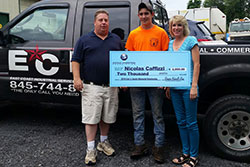 The winner of the Carl J. Austin Memorial Scholarship is Nicolas (Nick) Caffizzi of Walden, New York. Nick graduated from high school this year. His senior year also included attending an offsite school, CTech, for a class in heavy equipment repair.
After classes, Nick worked from 2:30 to 7pm for his sponsor company, WSA Member East Coast Industrial Services of Pine Bush, NY. Shown in the photo with Nick are the principals in that firm, Jay and Laurie Presutti. Nick will be attending Pennsylvania College for Diesel Mechanics to become a qualified diesel mechanic. Since East Coast Industrial is a WSA Member company, Nick's scholarship will be in the amount of $2,000.
To find out more about the award-winning World Sweeping Association and some of the many reasons why its first-year renewal rate was over 90% – in addition to the fact that WSA actively gives back to the sweeping industry – use the link shown below. If you are a contractor and are not yet a part of this fast-moving, professional organization, your investment is less than a cup of black coffee a day and there's no better time than the present to join!
Check out the World Sweeping Association's 2014 Memorial Scholarship winners.
---
Schwarze Industries' New SuperVac Updraft Now for Sale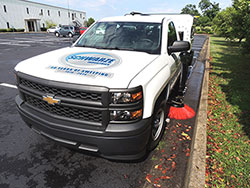 "The new SuperVac Updraft," said Greg Heyer, Vice President of Sales, Marketing, Product Management & Customer Service at Schwarze, "comes in response to customer feedback and ideas to better meet the needs of all sweeping contractors. We've spent time researching similar products in the marketplace and have worked closely with our customers to understand the design features and desired benefits that are important to them in this type of product.
"We are extremely excited about the new SuperVac Updraft. Our product development team has done a fantastic job of designing, engineering and testing such an innovative and cost efficient sweeper." The link below includes a 10-minute audio discussion with Heyer about the Updraft and its key components and applications.
---
Queens Sweeper Operator Killed in Tragic Safety Incident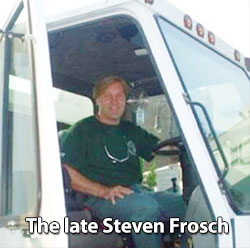 Because he cared for his family so much, Steven Frosch left his more dangerous job as an NYPD police officer in 1999 to take a job with the Sanitation Department. Frosch was killed in an accident June 21 while he was performing maintenance on a street sweeper when a second sweeper driven by a colleague accidentally pinned him between the two vehicles.
In a statement mourning Frosch's death, Sanitation Commissioner Kathryn Garcia was quoted as saying "Visits to his garage reveal a man deeply admired and loved by his colleagues, many of whom were his dear friends. This will be a week of mourning, but I have already seen the strength and compassion for our fellow employees as we grieve."
A page on the popular fundraising website Go Fund Me was set up in Frosch's name the day after his death, with a goal of $10,000. By the following Friday, just six days after the tragic accident, $54,385 had already been raised for Frosch's family, which included four children, one of whom was only two months old.
Read more or donate to the fund.
---
Survey Results: Street Sweeping Vehicle Posting Criteria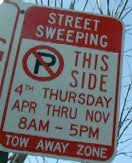 As a result of a request by an official at the City of Richmond, Virginia, we sponsored a survey on how cities handle parking restrictions on the days a sweeper will be going down a residential (or other) street. Since we could not find any data that existed on the topic, we designed a survey to document what other cities do in that regard.
Unfortunately, not many municipality representatives took the few minutes necessary to fill out the survey so we only are able to provide a small snapshot of information on the topic. That said, we have the results of the survey linked below. If you have input on this topic, let us know and, if appropriate, we'll append it to the survey results.
---
Johnston North America Promotes Todd Parsons to GM Position

Johnston North America is pleased to announce the promotion of Todd Parsons to the role of General Manager. In his new post, Todd will have full profit and loss responsibility of Johnston North America along with the day to day management of the North Carolina facility, lead sales and marketing, and overseeing and supporting the Johnston dealer network.
Parsons comes with over 20 years of extensive industry experience in distribution market sales, vast knowledge of the sweeper industry and through understanding of the dynamics of two–step distribution. Johnston North America is confident that Todd can lead the company as a whole toward a future of growth and success.
Check out the Johnston press release.
---
Featured Contractor: Arizona's Swept Away LLC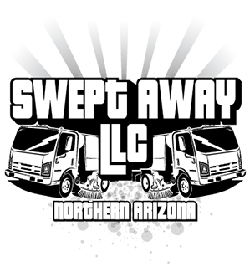 Now thirty-one years old, Justin Paluszcyk actually has been involved in the sweeping industry for half of his life, since he started driving a sweeper for his dad's company when he first got his license at age 16. After working for his father for several years, Justin and his wife, Elissa, branched off in 2007 by starting their own company in the nearby Prescott, Arizona, area.
The pair started with one account and a somewhat beat-up 1995 TYMCO 210 sweeper. They first turned their energies to canvassing their market to convince prospective customers that they could offer a level of service unavailable elsewhere. The couple's success has been significant: In the ensuing 7+ years, Swept Away LLC has become the largest sweeping and pressure washing company in the Northern Arizona region.
Paluszcyk credits the company growth, in part, to his and his wife's commitment to operating with a high degree of integrity. As he says in the article, in part: "Integrity is a dying practice these days. I think a lot of contractors are struggling because they don't posses integrity. Integrity is a conscience act of doing what's right even when no one is watching, it's what makes us 'whole' as a person."
To read the article about the company, as well as to access a 35-minute audio podcast between Justin Paluszcyk and WorldSweeper's Editor, Ranger Kidwell-Ross, use the link below. Both are provided to non-members for a limited time at our affiliated World Sweeping Association website.
---

The 5 Gyres Need to be Swept From the Worlds Oceans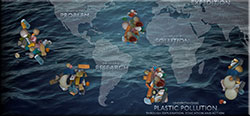 The 5 gyres located in the world's oceans are swirls of mostly plastic that are enormous in scope. For example, the one located between the west coast of the U.S. and Hawaii is larger than the state of Texas. Here's the crux of the problem: Most of what we eat, drink, or use in any way comes packaged in petroleum plastic, a material designed to last forever yet used for products that we then throw away.
This throwaway mentality is a relatively recent phenomenon. Just a generation ago, we packaged our products in reusable or recyclable materials – glass, metals, and paper, and designed products that would last. Today, our landfills and beaches are awash in plastic packaging, and expendable products that have no value at the end of their short lifecycle.
The research vessel, the Sea Dragon, recently landed in Reykjavik, Iceland, after completing a three-week research expedition through the North Atlantic Gyre. The preliminary findings are stark: microplastic particles were present in every surface sample collected across 2500 nautical miles from Bermuda to Iceland.