by Ranger Kidwell-Ross, editor
WorldSweeper.com

Starting the Year at the National Pavement Expo –
In the Warmth of Florida, No Less!
This year's NPE, held in Ft. Lauderdale starting on January 8th, was a welcome change of venue for all attendees I spoke with. Not only was it much warmer than most everywhere else in the country, but the Ft. Lauderdale Convention Center also offered an area where machinery from many pavement-related industries could be demonstrated outdoors. This marked just the second NPE in my 20+ years of attending that offered a demo area.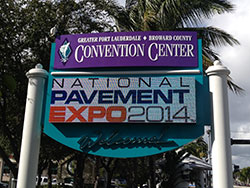 Another big change for me this year was that our affiliated World Sweeping Association had a booth at the show. The plan was that my assistant, Regina Wollenberg, would be at the booth while the exhibitor area was open, allowing me to do my normal routine of flitting from seminar to sweeper manufacturer booths to the other events throughout the show. Unfortunately, two days before we left Regina learned she had pneumonia and wouldn't be able to attend.
However, although I was forced to spend an inordinate amount of time at the booth, it turned out to be a fabulous – though much different – experience. While there, I was able to take part in insightful conversations with a number of the sweeping contractors who stopped by. So, although I didn't learn as much on the exhibitor/presentor side of the aisle, I came away with a better understanding than ever of the challenges being faced by today's sweeping contractor community.
Topping the list was, as one might surmise, the complex issue of third party providers. The tales I heard will lead us to redouble our efforts in this regard in the coming year via the vehicle of the World Sweeping Association. WSA already offers a listing of them, along with ongoing ratings available for many, but it's still difficult to know what actions to take regarding how a number of them operate, the outrageous contracts they want signed, etc.
However, having the booth helped in getting the word out that WSA is providing a host of ideas on this issue. While there I also proposed to NPE staff that WSA sponsor a panel discussion on the topic of third party vendors as a seminar at next year's NPE, which will be held January 28-31 in Nashville, Tennessee. I'm glad to say we have received approval from NPE management to do so.
Many of the feature stories in this issue are gleaned from this year's NPE, and we'll have more next issue. I'm glad to provide a 'small slice' of what you missed to those of you who did not attend. Remember that any time you have sweeping-related questions of any kind, you can let me know and we'll do the best we can to assist. After 25 years of writing and consulting for the power sweeping industry, chances are we've already covered the topic somewhere along the way.
Good Sweeping,



Editor, WorldSweeper.com
Executive Director, World Sweeping Association

PS GO SEAHAWKS!
---
January Newsletter Contents
(Scroll down to read stories or click on links.)
---
NiteHawk Sweepers Wins Award of Excellence in Power Sweeping for 2014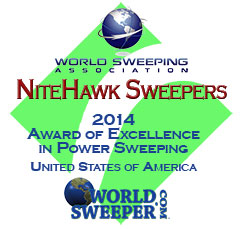 The Award of Excellence in Power Sweeping was begun in 1995 as a way to honor and recognize prominent sweeping industry individuals and companies for their contribution to the industry. Through the years, the recipients read like a 'Who's Who' of power sweeping. This year the Award was co-sponsored by WorldSweeper.com and the World Sweeping Association.
NiteHawk Sweepers was announced as the winner of the 2014 Award of Excellence in Power Sweeping during the recent National Pavement Exposition, held January 8-11 in Ft. Lauderdale, Florida. The Award was presented in a ceremony during the Sweepers Roundtable, where approximately 75 sweeping professionals were in attendance.
Although NiteHawk Sweepers is a relatively new sweeper manufacturer, having been incorporated in 1994, the company's roots extend back to 1975 when the inventor of single-engine sweeping technology, Jack Rogers, built the first known hydraulic parking area sweeper. Since then, NiteHawk has become the pre-eminent single-engine sweeper manufacturer in the parking area cleanup segment of the market.
However, the reasons the company was chosen for the Award extend much farther. Much of the reason for its being chosen is NiteHawk's commitment to helping others as part of its business model. For example, its gutter brooms have long been made by kids so they can secure money to go to Scout camp and other worthwhile activities. Many of the employees are also personally involved in a variety of charitable activities. This year the company is donating $1500 to the Disabled American Veterans for particular sweepers sold by the end of February, as just another example.
We invite you to read about the NiteHawk Team's commitment to excellence in sweeping and in community outreach in our coverage of this year's Award of Excellence in Power Sweeping.
---
Brian Giles Moves From Elgin to Become Schwarze's Product Manager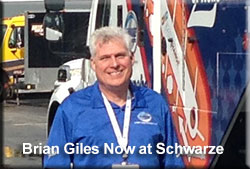 Elgin Sweeper's long-time Product Manager, Brian Giles, has taken the same job description at industry competitor, Schwarze Industries, Inc. Giles, who has long been one of the most recognized employees at tradeshows, as well as a primary media contact for Elgin, said he took the position because it offered new challenges in his professional career, as well as offered a move from a cold climate to the warmer Alabama location of the Schwarze factory.
Giles first became known personally to our editor, Ranger Kidwell-Ross, when he was the editor of American Sweeper magazine over a decade ago. That's when Kidwell-Ross covered the Junkyard Wars television segment that pitted two teams of sweeper builders, headed up by Giles of Elgin and Jim Adair of Schwarze, that each built sweepers from junkyard components. If you want to revisit one of the more interesting and off-beat events in the annals of sweeping, we suggest you take a look at our online archive coverage of the event from that time. Ironically, Adair and Giles will now be on the same team of sweeper builders.
To take a look at the official press release from the Schwarze organization about the move, use the link shown below. When we asked current members of the Elgin management team at the recent National Pavement Exposition if they had any comments about the situation, the responses were uniform about what a quality individual Brian Giles had been to work with and all provided their best wishes for him in his new position in the Schwarze organization.
---
2014 NPE Combines Florida Warmth With Sweeper Demonstrations

The National Pavement Exposition was held in the warmth of Ft. Lauderdale, Florida, this past January 8-11th. A uniform consensus of attendees we spoke with was an appreciation for getting an opportunity to travel to a warm climate for the show, although no one we spoke to cared for the show being so soon after the holidays.
The first-time venue for this year, which was hosted at the Florida Convention Center, offered room for outdoor demonstrations as well as the usual indoor seminars and tradeshow floor of vendors. The sweeper companies taking advantage of the opportunity were Schwarze Industries, which demo'ed its M6000 broom sweeper, and Elgin which demonstrated its Broom Badger machine.
In addition to short videos of both machines in action on milling-type material we offer several still photos of each sweeper.
---
World Sweeping Association's Inaugural Presence at NPE a Success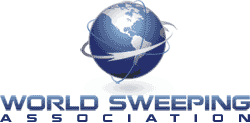 The 2014 National Pavement Expo marked the World Sweeping Association's first-ever tradeshow. The results were gratifying and the conversations insightful.
Although 90% of the sweeping contractors who attend NPE are the same year-to-year, nonetheless they represent some of the top contractors in the industry. As a result, the ideas and information – both presented in the seminars and gathered in casual conversations – are invariably insightful. Many of these were held in the WSA booth at this year's NPE, which will be food for both thought and future articles going forward.
As a direct result of listening to what contractors had to say, Ranger Kidwell-Ross – WSA's executive director and editor of the WorldSweeper.com website and this newsletter – proposed that the Association sponsor a panel discussion about and with third party vendors at the 2015 NPE event. While you wait... Use the link below to find out more about the WSA booth and concept that was presented at this year's National Pavement Exposition.
---
Advance SC1500TM REVTM Stand-On Floor Scrubber Wins Prestigious ISSA Innovation Award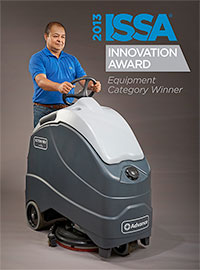 The Advance SC1500TM REVTM stand-on scrubber has been named the equipment category winner of the 2013 ISSA Innovation Awards. ISSA, the Worldwide Cleaning Industry Association, announced the award during the ISSA / INTERCLEANreg; North America conference in Las Vegas, NV. The award marks the second time in the past three years that Advance has been recognized, this year besting eight other entries in the equipment innovation category.
"Our goal for the SC1500 was to create the best stand-on scrubber in the business, and the ISSA Innovation Award affirms our ambitions," said Jeff Barna, President and General Manager of Nilfisk-Advance U.S. "We are pleased and honored that our customers and the cleaning industry have once again validated our continued commitment to superior product design and cleaning technology innovation."
Take a look at the complete info.
---
Victory Sweepers Offers an 'Alternative to NPE' Special
"We made a strategic decision not to attend NPE again this year," said Mark Schwarze, president of Victory Sweepers, Inc. "We understand that when we attend the show we are showcasing our sweepers to fewer than 100 sweeping industry contractors, the vast majority of whom are long-time friends and customers. So instead, we decided to invest the same amount of money providing discounts to actual customers of our sweeper models."
His announcement started the clock rolling on a unique rebate program the company is now offering. Starting on Monday, February 3rd, the company will offer a $2500.00 discount to the first 10 customers to purchase any of its new, chassis-mounted sweeper models. "I invite you to call your Victory salesperson," said Schwarze, "and negotiate your best deal on any new Victory chassis-mounted sweeper. Then, after your deal has been accepted, invoke the "NPE Sweeper Special" request. You will then receive an additional $2500.00 cash back.
"And, so as not to leave out our popular T-600, tow-behind sweepers, we are also offering a special guarantee of satisfaction for first-time buyers of the units. Purchase a T-600, then add it to your fleet and use it for 30 days after delivery. If you're not 100% satisfied with the machine, then receive 110% of your purchase price toward the purchase of any of our chassis-mounted models. We feel this guarantee of satisfaction will allow those who wonder if adding a T-600 to their fleet is a good idea, instead of going with a more traditional, chassis-mounted unit."
Both offers are available through the end of March, 2014 or, in the case of the $2500.00 rebate, until the first 10 customers take advantage of the program.
Learn more about the offer from Victory Sweepers.
---
Schwarze Industries Unveils New Customer-Focused SuperVac Parking Lot Sweepers at NPE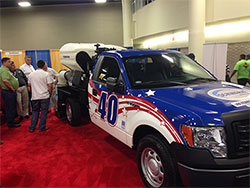 Schwarze Industries unveiled its new SuperVac UpdraftTM and SuperVac Aero HyDumpTM parking lot sweepers at the 2014 National Pavement Expo in Fort Lauderdale, Florida.
The new SuperVac Aero HyDumpTM is a twin-engine sweeper that provides the convenience of high dump with automatic dump door activation, full in-cab controls and an easy-to-access, rear-mounted sweeping head. Mounted on a fuel-efficient V6 chassis, the rotationally molded polyethylene hopper is highly corrosion and abrasion resistance and has an easy glide hopper interior.
The Schwarze® SuperVac UpdraftTM twin-engine sweeper, mounted on a choice of three fuel-efficient V6 chassis, has a durable, fully-welded, stainless steel hopper that offers a high level of corrosion and abrasion resistance along with increased structural strength. The Updraft also has all LED safety lighting, external stainless steel inspection door latches and easy-open lever to open the dump door from ground level.
Check out the complete details.
---
Davidson Macri Sweeping Wins World Sweeping Association Blower Giveaway at NPE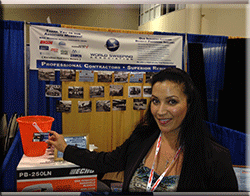 Bob Anderson, owner of Davidson Macri Sweeping in Seattle, Washington, was the lucky winner of an Echo blower at the National Pavement Show. The blower was given away in a prize drawing at the World Sweeping Association's booth at NPE.
A big thank you goes out to Michael Nawa, owner of Custom Maintenance Services, Inc. and an Advisory Board Member of WSA, who procured the blower for the raffle. To ensure fairness, Elaine Seth, National Coordinator for Atlantic Southern Paving, who was exhibiting in an adjacent booth, picked out the winning business card.
---

Creating The Orbital Equivalent of a Street Sweeper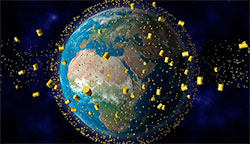 Texas A&M University engineers Danielle Mortari and Jonathan Missel have come up with a satellite design that cleans up orbiting space debris by capturing pieces and then slinging them into Earth's atmosphere, where they burn up upon reentry. The TAMU Space Sweeper with Sling-Sat (4S) would be propelled by the momentum generated by both these actions, lowering fuel use and extending its operational life. The team says they plan to spend the coming year optimizing their design.
The threat posed to satellites and spacecraft by the growing cloud of fast-moving debris is well known, but until now scientists haven't been able to create solutions that are workable, cost-efficient, and use existing technology.