by Ranger Kidwell-Ross, editor
WorldSweeper.com

The Promise – and Shortcomings – of Technology
The internet and other technologies are advancing many aspects of our personal and business lives on what seems like a daily basis. At the same time, many areas have not yet lived up to their promise, while others wait to be discovered and/or implemented. Agencies and contractors alike are faced with challenges as to which technologies, from which vendors, to adopt, as well as how to adapt their currently-used technologies to provide the best possible value.
On sweeping-related bulletin boards some of the most volatile topics are from citizens discussing some aspect of having to move their vehicles on sweeping days. There is no question that one of the most important environmental aspects of street sweeping is making sure cars get moved. However, as cities become more packed it is increasingly difficult to find somewhere to park, even temporarily.
A number of citizen complaints center around tickets received, many times because they either forgot it was sweeping day or because they moved their car back after the sweeper had gone by but still got ticketed. I'd be surprised if the technology to combat both of these problems isn't currently available or could be developed, given the widespread use of email and GPS. How tough could it be for cities to develop email notification apps to send a reminder about an upcoming sweeping day? These, one would think, could even be programmed to send an auto-notice once the sweeper has gone by a given address – to both the homeowner and to parking enforcement.
Citizen complaints about enforced parking restrictions have led a number of cities to either cut back on vehicle moving requirements or to not implement them in the first place. Yet, to gain the many environmental benefits of street sweeping there is no question that the vehicles must be moved. I urge those involved with street sweeping to investigate how the above type of systems might be employed. Or, if you have those or similar leading-edge systems in place, please let me know.
The more we can educate citizens about the many benefits of power sweeping, the better it will be for the industry, the citizenry and the environment. Pro-active education, plus a judicious use of today's technological advances, will go a long way toward providing the best possible outcomes.
Any time you have sweeping-related questions of any kind, please let me know and we'll do the best we can to assist. After 25 years of writing and consulting for the power sweeping industry, chances are we've already covered the topic somewhere along the way.
Good Sweeping,



Editor, WorldSweeper.com
Executive Director, World Sweeping Association
PS If you haven't 'liked' our WorldSweeper Facebook page, what are you waiting for? That's where we offer industry previews and updates on an ongoing basis.
---
October Newsletter Contents
(Scroll down to read stories or click on links.)
---
Schwarze® Industries unveils state-of-the art Schwarze Training Academy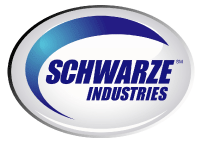 Schwarze Industries has unveiled its new Schwarze® Training Academy, located in Huntsville, AL. The facility, says Greg Heyer, VP of Sales and Marketing, is in response to an increased demand for more hands-on training and as part of their ongoing initiative to further strengthen customer satisfaction. The new facility will provide advanced, maintenance and hands-on training for all Schwarze products.
Our coverage includes an approximately 4-minute audio interview with Heyer, in which he discusses why the facility was built as well as the features it will offer in terms of training and support of the Schwarze product line.
---
Victory Sweepers' 'Scrubber Vac' Built to Handle Lead Abatement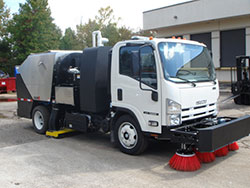 Victory Sweepers built the 'Scrubber Vac'SM as a result of a customer request. Now, the question is whether or not there is a further demand for the units.
"After 35 years of building power sweepers," said Mark Schwarze, president of Victory Sweepers, Inc., I've been requested to build sweepers to handle a variety of specific sweeping situations. However, this was the first time anyone has told me they needed to 'float' lead so it could then be picked up.
The Puerto Rican-based clients specified they needed an astonishing 80 gallons per minute of water put down ahead of the sweeper. Further, the surface of the pavement needed to be scrubbed prior to the water being added in order to float the lead particles out of the cracks and crevices. Finally, at least 10 minutes of run-time was needed. Check out the link to see how this was accomplished.
Check out the story. (Includes a 10-minute audio interview on the topic with Mark Schwarze.)
---
Fall Seasonal Safety Advisory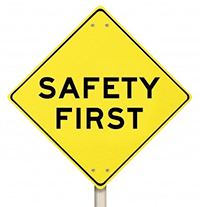 The World Sweeping Association is sharing, from safety expert John Meola, safety tips in three topic areas. These are targeted items to assist vehicle operators in coping with changes going into the fall season. Be sure to share them with your employees (and all of your and their family members!).
The topics include:
Early morning and late afternoon glare blindness
Tips for avoiding deer collisions
Proper hydration reminders – for the fall and year 'round!
---
Isuzu Offers Extended Warranty for Limited Time


Thinking about buying a new sweeper? If it will have an Isuzu chassis, now through the end of the year may be a great time!
Isuzu Commercial Truck of America will cover scheduled maintenance for two years or 60,000 miles on new Isuzu N-Series diesel trucks sold from October 1st through December 31st of this year. The company is providing the coverage through its 24/60 Covered Maintenance Program that includes an initial inspection at 4,000 miles followed by six services starting at 10,000 miles.
"We are already highly respected for lowering the cost of medium-duty truck ownership," Shaun Skinner, Isuzu executive vice president and general manager, said in a statement. Isuzu diesel engines carry a class-leading B10 durability rating of 310,000 miles, meaning that 90% of our engines should reach that mileage before requiring an overhaul," he said.
The plan also includes a maintenance service at 50,000 miles and air conditioning filter cleaning, wiper blade filler replacement as well as wheel bearing seal replacement and differential fluid replacement.
Download a PDF with all the info.
---
Advance SW4000TM Rider Sweeper Increases Productivity for Diverse Indoor and Outdoor Sweeping Applications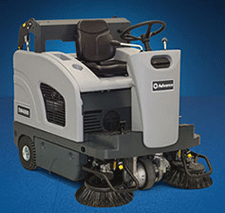 Advance's newest rider sweeper is designed to tackle demanding sweeping challenges. With a wide, highly maneuverable 49-inch cleaning path and long machine run-time of up to 4.5 hours on a single battery charge, the SW4000 provides high cleaning productivity and superior dust control for indoor and outdoor sweeping applications.
If you'd like to know more about Advance's new ride-on sweeper, use the link shown below.
---
CNG and LPG Fuel and Fueling Station Considerations

As part of our ongoing coverage designed to assist users of power sweepers with decisions concerning the use of alternate fuels, we offer this article from the fleet leasing component of the Ryder® organization. Ryder offered the following article outlining the company's experience with fleet filling utilizing both CNG (compressed natural gas) and LNG (liquified natural gas).
As the story relates, fleets that are considering buying natural-gas vehicles or retrofitting diesel rigs have many factors to consider beyond the cost of vehicles, fuels and the benefits of lower-carbon footprints. There are some additional basic considerations that merit further discussion.
The article includes several comparisons of the use of CNG vs. LPG that provide important information derived from Ryder's pioneering usage of both in its fleets.
---
Featured Contractor: Elite Maintenance Services, LLC

After 21 years of working for Anheuser Busch in the Atlanta, Georgia, area, Greg Coffelt felt ready to fulfill his dream of owning and operating his own small business. With a background of experience that included both marketing and finance, he felt equipped to do so.
Working through a business broker to assess various types of businesses currently available in his general area, Coffelt settled on an established parking area and general maintenance company called Elite Maintenance, LLC. The firm was located in nearby Charlotte, North Carolina. With only a modicum of training from the previous owner and a fleet of Nite-Hawk parking lot sweepers, Coffelt embarked on a new career centered around the commercial lot sweeping business.
Coffelt admitted to having a steep learning curve when he first purchased the business. This was made more difficult since he was also the one in charge of doing all the business development for the firm. However, he said that by making it a point to contact all of the current customers, and doing whatever it took to gain their confidence, he was able to transition his client base to become comfortable with the new ownership. "One of the challenges at the beginning was to make sure we met each of their individual expectations," he said.
Check out the article at the World Sweeping Association website.
---

A Handy Compendium of Average U.S. Salaries – Including Street Sweeper Operators

Have interest in the average salaries currently being earned by a variety of different job types, including that of street sweeper operators? If so, here's the place to look. You can even enter your city, state or zip code and get salary answers based on your geographical location.