by Ranger Kidwell-Ross, editor
WorldSweeper.com

May Brings Promise of Positive Change on Many Fronts
There's nothing like the springtime season to get contractors and municipalities alike rolling into another, higher-level, gear. Plus, there's the promise of the summer months stretching off in the horizon. However, this newsletter issue holds articles of equal promise on a variety of other fronts.
The environmental ability of street sweeping to reduce stormwater runoff pollution has long been one of my leading industry interests. Although an increase in air sweeping for cities has become more popular in some areas due to NPDES requirements, others have found air sweeping to fall into the category of best practices. Our audio interview and article with representatives of the City of Norfolk, Virginia, catalog how that city has found its addition of regenerative air sweeping to hold promise in both areas.
To learn more on the topic of what sweeping can do as an environmental best practice, be sure not to miss Roger Sutherland's "Clean Streets Means Clean Streams" webinar, which is being held this Thursday, May 23rd.
We also announce in this issue the internet auction site information for Victory Sweepers' T600 sweeper, which Victory's company president, Mark Schwarze, donated to the World Sweeping Association's Scholarship Fund. The money that will be raised holds promise, as well, for assisting with the further education of some worthy students of sweeping company employees. We are proud that our WSA affiliate is spearheading the first-ever scholarship effort in the power sweeping industry.
WSA also got a boost from Schwarze Industries, Inc.; the Schwarze organization is now providing a 15% Supervac product line parts' discount to Association members. This commitment by one of America's largest sweeping companies also strengthens WSA's ability to attract members, and so increase the reach WSA can have on behalf of the industry.
That commitment is already showcased by the WSA's first-ever survey and ratings of national service providers, which is unveiled in this newsletter edition. The WSA's listing format, which allows ongoing comment updates from its member contractors, will be especially valuable in helping decisionmaking about working for any of these specific third party vendors in the future.
The economy is improving; we're getting an industry handle on how individual third party vendors are operating; sweeping is advancing once again as an environmental positive. With budgets loosening and prospects for an ever-increasing economy on the horizon, municipalities and contractors have much to look forward to in the coming months.
You can count on the World Sweeper organization, both at WorldSweeper.com and with regard to the World Sweeping Association, to continue to lead the power sweeping industry in providing the education and information that will keep your organization on the leading edge of it all.
---
May Newsletter Contents
(Scroll down to read stories or click on links.)
---
City of Norfolk Sweeping Program Targets Chesapeake Bay Protection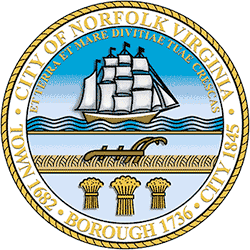 The City of Norfolk, Virginia, is the urban center of Hampton Roads with a total population of approximately 247,000 residents. The City managers are responsible for sweeping 1,900 curb miles per month via an extensive program that includes daily sweeping to monthly sweeping.
Street sweeping techniques and best practices are have come under greater scrutiny in recent times since the area is under the oversight of the 2012 Chesapeake Bay Total Maximum Daily Load (TMDL) requirements, as well as the standard USEPA Stormwater Phase I and II guidelines.
As a result, Norfolk city managers have been moved toward the leading edge of investigation toward the best management practices when it comes to utilizing sweepers as the first line of defense in minimizing stormwater runoff pollution.
---
Victory Sweepers' Provides T600 Sweeper to Auction for WSA Scholarship Fund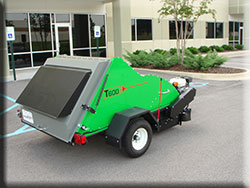 Mark Schwarze, the president of Victory Sweepers, Inc., has donated one of his company's T600 tow-behind sweepers to benefit the World Sweeping Association's Scholarship Fund. The sweeper normally has a sales price of $14,500 and is being auctioned off at EquipmentAuction.com with only $1,000 as a minimum bid. Further, the winner will have the choice of either taking the T600 or getting 150% of the bid amount (up to $10,000) off on any new chassis-mounted Victory Sweepers' sweeper model!
Because of Victory Sweepers' donation of the T600, a second WSA Scholarship Fund is being set up in the name of the late Carl Austin, who was a familiar face in the power sweeping industry for over 30 years.
"My father, Bob Schwarze (founder of Schwarze Industries, Inc.), taught me to give back to our industry and the sweeping contractors who buy our equipment," said Mark. "At Victory Sweepers, we believe the World Sweeping Association is going in the right direction with its Scholarship Fund designed to assist the children of sweeping contractor employees.
"I was a good friend to Dale McCaskill, Sr., for whom the current WSA Scholarship Fund is named. We also appreciate that our contribution has spurred a second scholarship to be added in the name of my former employee and long-time friend, Carl Austin."
Use the link below to go to the T600 auction listing. To find this particular auction, if you were at the main EquipmentAuction.com website, just put T600 into the search area. The auction is now live and will end on June 16th. This is for a great cause so bid early and often!
Link to EquipmentAuction.com's T600 listing.
---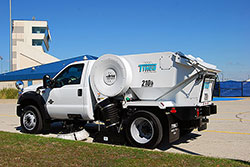 TYMCO Introduces New Model 210h on Ford Super Duty F-450/F-350
TYMCO® has introduced its new Model 210h® mounted on a Ford Super Duty F-450 or Ford F-350. The Model 210h is a Model 210® parking lot sweeper powered by the TYMCO hDrive® Power System. hDrive is an optimized hydraulic power system that gives Model 210h owners all the simplicity and low maintenance of sweeping without an auxiliary engine.
Ford Super Duty trucks offer the class-exclusive live-drive power takeoff (PTO) provision. Because it is integrated into the transmission's design, integrating the TYMCO hDrive Power System with this PTO is a simpler, more robust design and requires fewer truck modifications than a belt-driven hydraulic system design.
"Since its introduction, the Model 210h has been a very capable parking lot sweeper. With the hDrive Power System now taking advantage of the Ford live-drive PTO, we are able to deliver blower performance improvements of about 10% and gutter broom improvements of about 30% on the new 210h," said Bobby Johnson, TYMCO's Vice President, Marketing.
---
10 Ways to Get Honest Feedback From Your Employees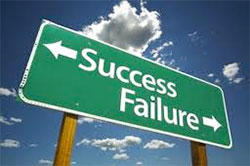 The Young Entrepreneur Council is an invitation-only organization composed of the world's most promising young entrepreneurs. Ten of these members were asked to provide their top method for working with their employees to gain honest feedback.
Because these entrepreneurs each approach working with their employees in a different fashion, you will find the ideas offered by them to cover a wide spectrum. We thought that made the concept more interesting and valuable, since different approaches cater to differing management styles. However, all are touted by their promoters as being helpful to bring out the best when it comes to eliciting honest employee feedback.
---
WSA Posts Results of National Service Provider Survey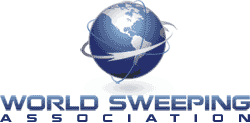 Thanks to all who participated in the survey of third party vendors conducted by the World Sweeping Association. The results have been collected and an individual page for each vendor company – from "Advanced Service Solutions" to "USI Services Group" – has been set up on the WSA Member website.
"Because of the importance of this survey throughout the industry," said Ranger Kidwell-Ross, Executive Director of WSA (who is also Editor of WorldSweeper), "I made the decision to provide the initial results to anyone who wants to see them. However, the true value in what we have set up will be that updated information will be added on an ongoing basis. Starting on June 10th, all of that information will become only available to WSA Members as another benefit of membership."
To view the WSA survey results, use the link shown below and follow the instructions on the page. From there, you will be able to access the individual results from all 23 of the third party vendor companies included in the survey. WSA membership is not required for access until June 10, 2013.
---
Oregon Community Naming New Schwarze Sweeper to Raise Citizen Awareness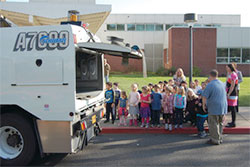 After the City of Lake Oswego, OR, purchased a Schwarze A7 Tornado, plans were formulated to raise community awareness about the work the equipment completes. The reasoning: Most residents of local communities might not be familiar with the work of street sweepers or the correlation between clean streets and quality water.
The city decided to hold a coloring contest and a contest to name the new sweeper. "We wanted to talk about a service we can all identify with, but one that we probably don't know why we do it," says Christine Kirk, public affairs manager for the City of Lake Oswego. "I don't know how many people know that we are also cleaning the streets to maintain the quality of our water.
"We want to convey how ratepayer dollars are used and what the staff and sweepers do and what we can all do to help them be more efficient." The city has now announced the winning names for all three of its new Schwarze sweepers, as well as the winners of its sweeper coloring contest. You'll have use the link below to find out all about it.
---

Schwarze Industries, Inc. Offers Latest WSA Member Benefit
Greg Heyer, Vice President of Sales and Marketing for Schwarze Industries, Inc., announced that Schwarze will offer members of the World Sweeping Association a 15% discount on Supervac (formerly S-series) parts.
"Schwarze Industries has a long history of supporting sweeping industry trade associations," said Heyer. "We believe that, through education about all aspects of the sweeping industry, contractors will make better decisions. This will allow them to be more successful which, in turn, helps promote our own success as one of America's top sweeper manufacturers.
"Once the program is coded into our system, WSA Members will receive an automatic 15% discount when they purchase Supervac parts. However, for about the next 30 days we will be working off the member list provided by WSA. We look forward to working with the World Sweeping Association as it expands its footprint throughout the sweeping industry."
You must be a WSA Member to qualify for the 15% discount on Supervac parts from Schwarze Industries, Inc. For more information about this and other benefits of WSA Membership, use the link shown below. To view a PDF that announces the benefit, click here.
Get more info at the World Sweeping Association website.
---
Featured Contractor: Nationwide Environmental Services (a Division of Joe's Sweeping, Inc.)

It was in 1968 that Joe Samuelian first got into the sweeping business, as an adjunct to his daytime lunch truck and nighttime janitorial and maintenance service. He named his new venture, appropriately enough, Joe's Sweeping, and bought a Wilshire ride-on sweeper to do the work.
Joe Samuelian's Mission Statement was "To provide quality sweeping services utilizing the latest state-of-the-art equipment and creating the highest level of customer service available." Because he truly lived his mission statement, Samuelian was loved by his clients and his company became a success. In fact, the company may well be the largest street sweeping company in America.
Check out the NES article and audio interview.
---

Bill's Sweeping Does the Harlem Shake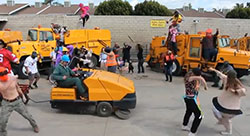 California-based, Bill's Sweeping, staged a brief video that involved sweepers, dancing and more. We suggest you click on the link to take a look at their 36-second final YouTube video where, as the company writes in the explanation, "we decided to let our hair down a little bit and make a fun Harlem Shake video."
---
WORLDSWEEPER'S FREE WEBINAR LINKS
Green Power: Expert Advice on Alternative Fuels

FREE: Presented by FleetOwner and Ryder
Thursday, May 23rd; 2:00 pm EST
Announcement reads: Faced with the high cost of diesel and gasoline, plus new environmental regulations, more and more fleet owners are considering their options – and alternative fuels top the list. The big question is: What makes sense for your fleet? Natural gas? How about propane? Or maybe hybrid trucks? And is there a 'tipping point,' when you know it's time to at least give alternative power a try?
If you're exploring alternative fuel options, register today for this special webinar and get some solid answers from one of the industry's leading independent consultants on alternative power, Erik Neandross, CEO of Gladstein Neandross and Associates, the producer of Alternative Clean Transportation Expo (ACT).
Where natural gas, hybrid and propane technology is today and where it's going
The operating characteristics of various alternative fuel/power options
The questions you should ask before adding alternative fuel vehicles to your fleet
Purchasing rationale and realistic ROI expectations