by Ranger Kidwell-Ross, editor
WorldSweeper.com

"Time Flies, It Doesn't Take the Bus"
I don't remember where I first picked up on the above saying, but I know it was many years ago. However, it seems ever more appropriate as time goes on. When I was just a kid, my Dad used to say, "Wait until you're my age, son. The weeks will just be Wednesdays and Saturdays." At the time, I had no idea what he meant. However, as the years have passed it's surprising how often it has been a Wednesday or a Saturday when I happen to recall his sage words.
If you are reading this issue of the newsletter when it was sent out, on the June 21st Solstice, you're helping to celebrate the eight-year anniversary of the WorldSweeper projects. Although I produced American Sweeper magazine for nearly ten years before that, and the Supervac Quarterly and more before then, the changeover to become an online resource with more of a worldwide reach was quite a change from what had gone before. Plus, it is a venture that began without the 'financial net' that the Schwarze family had provided to the previous print publications and their companion website.
During the past eight years there have been many changes to chronicle in the world of power sweeping, both in the U.S. and abroad:
Elgin branding its combinant equipment lines with Eco-InfusedTM technology;
Mark Schwarze's Victory Sweepers went from startup to a broad product line that pioneered joystick operation and huge toolboxes;
TYMCO becoming the leader in the alternate fuel marketplace with its entrenchment in California's AQMD-based territory;
the Schwarze organization going full circle with the re-branding of its parking area line back to the venerable SuperVac trademark;
Stewart-Amos offering both broom and air sweepers;
Nite-Hawk's recent debuting of its alternate fuel/ dual-fuel units; and,
Johnston, the world's largest sweeper company, for the first time establishing a base in North America with its current foothold in the Carolinas
There's more, of course. We've seen the messy fall of Allianz and then Global Environmental's successful rise from those ashes. There has been the brief promise of Green Sweeper's battery-powered sweepers and the exit of the Scorpion line. As of late there's been an increasing use of 'Made in China' parts by the major industry suppliers, as well as the beginning of having the first Chinese parts representatives at the U.S. trade shows.
At WorldSweeper, we've covered all these stories and many more over the past eight years. Along the way, we've garnered a total of nine national awards for excellence in writing and/or website categories. This includes APEX Awards of Excellence for the last five years in a row for the WorldSweeper.com website.
More recently, when it became apparent that there were a large number of contractors who wanted a new, more independent type of sweeping association, we have done our best, with the World Sweeping Association, to build one in such a way that 'they would come.' We're proud that has been the case; in just its first six months, WSA membership has reached 100 members.
I owe a big thank you to all who are reading these words, whatever your overall involvement in power sweeping. Your interest means you are a professional, someone who feels compelled to keep up-to-date with the latest news in your industry. Whether you are a contractor who owns a single parking area sweeper or manage a fleet of municipal street sweepers; help run a sweeper manufacturing firm or an industry support company; or, operate a backpack blower on a nightly route, we wouldn't still be here without you.
Thanks again to everyone in the power sweeping industry who has helped point the World Sweeper organization toward our best year ever. As always, if you have any information that might be of possible interest to the larger power sweeping community, be sure to let me know.
Good Sweeping,



Editor, WorldSweeper.com
Executive Director, World Sweeping Association
---
June Newsletter Contents
(Scroll down to read stories or click on links.)
---
Third Party Vendors: Cautions and Analysis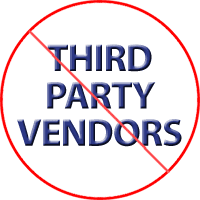 The World Sweeping Association's recent Third Party Vendor Survey provided a host of insights into the pitfalls that can occur when sweeping contractors sub-contract to a third party vendor. These companies are sometimes also called 'national service providers.'
However, they typically provide none of the actual cleaning or associated services. Rather, they provide 'arrangement services' to major buyers of exterior maintenance services like box stores and other large-scale owners of commercial real estate.
WorldSweeper's editor, who is also executive director of the World Sweeping Association, provides an in-depth analysis based upon the WSA survey results, as well as his conversations with sweeping contractors and representatives of the third party vendor firms themselves. The resulting article catalogs a litany of the troubles that can occur when dealing with some, though not all, of these national service provider companies.
The article is being made available to the sweeping contractor community for a limited time; then, it will be modified with any comments provided by readers and its content will be restricted to WSA Member companies. However, a PDF 'white paper' of the article has been linked at the story; this will remain available for distribution to any interested parties.
Information about the white paper's contents, as well as a link to download the PDF file is also now linked at the property managers link at WorldSweepingPros.org and has additionally been posted to three LinkedIn Forums that serve approximately 11,600 property management professionals. The intent of that was to help educate the property management industry to the potential pitfalls in working with third party vendors.
---
Safety Tips and Risk Management for Power Sweeping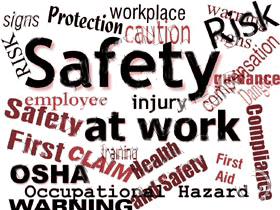 If there is someone in America who knows safety and risk management in the construction fields, it's John Meola. Currently the Safety & Risk Management Consultant with Invincia Insurance and The Louis Berger Group, Meola has been the safety manager for a variety of organizations. In addition, John was President of the American Society of Safety Engineers from 1993 to 2011. Through the years, John Meola has provided a number of general safety-related articles for WorldSweeper.com.
Because our industry requires a somewhat unique set of safety controls, most of which do not appear in OSHA or state safety codes, John consented to writing an article tailored specifically to the safety needs of power sweeping contractors. We present these safety tips along with a recommendation that they be adopted into the daily work activities of all in power sweeping, both municipal and contractors. These are practical tips and techniques, and represent Best Safety Practices for sweeping professionals.
Link to ten top safety tips article.
---

Auction of Victory Sweepers' Donated T-600 Nets $7,000 for WSA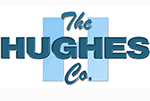 The auction for the model T600 sweeper donated by Victory Sweepers, Inc. to benefit the World Sweeping Association's Scholarship Fund ended on June 16th. The purchaser was Lee Hughes, of Alabama-based, The Hughes Company, who placed a winning bid of $7000.
In its initial year, WSA is offering two scholarships, one each in the name of Dale McCaskill, Sr. and Carl J. Austin. To be eligible, applicants must have a parent or legal guardian that is employed by a power sweeping company. Each scholarship is for the amount of $1,000; however, if the sweeping company that the parent works for is a member of WSA the scholarship amount will be increased to $2,000.
Use the link shown below to get complete information about the WSA Scholarship Program. The page on the WSA website includes full eligibility requirement details, application forms and an informational poster you can print out to place onto your company bulletin board.
---
Cerosky Re-enters Insurance Market as Consultant for Fairmont Specialty Programs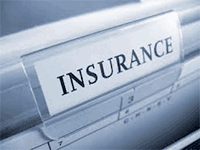 A new insurance program designed specifically for contract sweepers and pavement maintenance contractors is now available through Fairmont Specialty, part of Crum & Forster. The program, designed and implemented with the guidance of long-time industry insurance specialist, Scott Cerosky, offers a variety of contractor coverage including general liability, commercial auto, property and umbrella coverage. Cerosky is a consultant for the new effort and Garry McVay is program manager.
Cerosky originally founded and developed one of the industry's first national pavement maintenance programs, which has now been in existence for 20 years. Although Cerosky sold the program five years ago he has been involved in producing insurance for the pavement maintenance industry for more than 20 years.
Cerosky re-enters the sweeping/pavement maintenance insurance market as a consultant for Fairmont Specialty to assist in implementing what he describes as "a national program targeting customers in the power sweeping, porter service, catch basin cleaning, line striping, sealcoating, crack repair and pavement resurfacing industries."
"The beauty of this program is that contractors can not only get the coverage they need at a fair price but they can access it through their own local independent agent," Cerosky added. "This program enables contractors to maintain the relationship they already have with their local agent but the local agent is also able to affiliate with a national insurer to gain access to a cutting-edge program designed specifically for pavement maintenance contractors."
To reach Scott Cerosky, call 914-714-0787; his email is Scott.ac@comcast.net). Garry McVay is available at 800-233-2398 x6817, or email him at Garry.McVay@FairmontSpecialty.com).
---
North Sydney Resident Has Voluntarily Cleaned Streets for 30 Years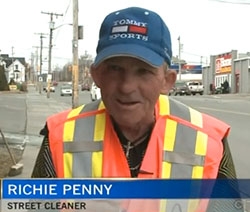 Richie Penny is known as 'the Street Sweeper' around his hometown of North Sydney, Australia. "I've been doing it all my life," says Penny. "Ever since I was a kid, everywhere I go, Ontario, Sydney, Frenchvale." Penny takes care of the roads in his area all year round.
According to CTV Atlantic, Penny says that he takes pride in keeping his community clean. "I've been doing it all my life, ever since I was a kid," said Penny. "I sweep all the doorways, walkways, parking lots, I sweep all the garbage from church parking lots. All around the sidewalks, all over the parks." And, if you ask him, there is no doubt it makes a difference.
"When the tourists are in town, the first thing they say when they go into a restaurant is, 'geez this place is clean, the doorways sure are clean here,'" he says. With his trusty kit of brooms and buckets, Penny serves North Sydney and nearby Sydney Mines. In nice weather, he walks from town to town. In winter, he takes the bus.
His work is appreciated in his hometown and he has become one of the community's most recognizable faces. Now a retiree, Penny can now spend more time on what he calls his true passion. "It kinda gives me a little high," he says. "Keeps my spirit going. People are blowing their horns and carrying on; I like that." Penny says he has been sweeping the streets for nearly 30 years now and has no plans to stop anytime soon.
---
Advance Advenger® REVTM Rider Scrubber Delivers High-Capacity Cleaning Performance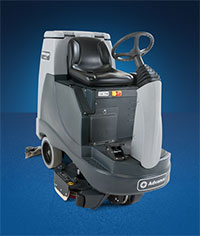 Advance introduces the Advenger® REVTM rider scrubber. Combining the superior daily cleaning performance and chemical-free floor finish removal of the company's innovative REV scrubber technology with the high productivity of a rider scrubber, the Advenger REV delivers quality, high-capacity scrubbing performance for large cleaning applications.
Featuring a wide 28-inch scrub path and 28-gallon solution tank, the Advenger REV provides up to 280 minutes of continuous operation per tank while removing floor finish and up to 140 minutes per tank when daily scrubbing. Advance's exclusive Random Orbital Scrubbing technology allows the Advenger REV to scrub deeper and more uniformly than conventional rider scrubbers, leaving a swirl-free, scrubbed surface—all while using far less water and chemicals.
---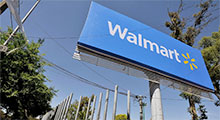 WalMart Receives Second Largest Environmental Fine in U.S. History
On May 28, 2013, Wal-Mart pled guilty to Clean Water Act violations that involved years of illegally and improperly handling hazardous liquids and pesticides in California and Missouri. The company is on the hook for $81.6 million in criminal environmental fines for violating federal laws and another $30 million to resolve state environmental law violations.
The speculation about implications for power sweeping include the possibility that the company will amend its extreme low-bid policy for contracted services, since those tend, as a result, to go to contractors who have more incentive to cut corners as a result of the low pay. It may also impact the water reclamation pressure washing policy where Wal-Mart requires reclamation in its contracts but reportedly provides little-to-no oversight to confirm its pressure washing contractors actually perform reclamation cleaning.
If you'd like to read the news about the fines faced by the mega-retailer, as reported in the NY Times, use the link below.
---
Featured Contractor: Cabo Pebble Pools (aka 'Larry the Pool Guy')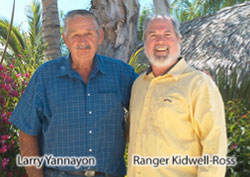 This month's Featured Contractor offers one element shared by none of the more than 60 that have come before: It's not the story of a sweeping company. However, the information about how this now-retired contractor was able to become super successful – becoming a legend in his market area, in fact – holds a vital message for today's American sweeping contractor community.
Beset by high equipment costs and the downward price per sweep pressure being exerted by third party vendors, a growing number of sweeping contractors are being tempted to cut corners in how they do business. They're sacrificing their reputation and ethics in order to get contracts that are barely sustainable, with little-to-no profit margin and even less margin for error.
Our intent in featuring the values-packed story of 'Larry the Pool Guy' is the hope that it will inspire better business methods and understanding of the value in building a company on the cornerstones of professionalism, quality work product and ethics.
---

Compactor Crushes Car Video: What's Not to Like?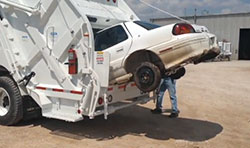 Garbage truck manufacturer New Way was looking for a way to show how strong the compaction system is on its Cobra MagnumTM Rear Loader model. The idea they came up with: crush a full-sized car in front of an audience of guys who would appreciate the results.
The result is a not-to-miss video that's only two minutes in length. Though it's not exactly sweeping, you're sure to find it enjoyable.
---