by Ranger Kidwell-Ross, editor
WorldSweeper.com

Industry Heating Up Along With the Weather
It appears our Pacific NW is about the only area of the country not in the throes of the current heat wave. As a reminder of the seriousness of what can happen when working in continued heat, here's a link to heat-related precautions you can print and post on your bulletin board. WSA Member, Millennium Power Sweeping, recently sent this information to its customers. A big thank you to David Ross, president of Millennium, for allowing us to link to it.
Fortunately, in most parts of the U.S. the demand for sweeping appears to be heating back up, as well. Manufacturers report an uptick in new sweeper sales, which reflects more demand in both the municipal and contractor marketplaces. Recent reports from contractors have been largely positive, as well.
Since tempers can flare during prolonged exposure to heat, one of our articles this issue covers what you need to know to keep your workplace safe, whether from employee friction or in general. A safe working environment is something all employees need and deserve, so if you have issues in this regard – or do not yet have this issue covered in your Employee Manual – be sure to read the information.
I know the summer is a time when a higher-than-usual volume of sweeping gets accomplished. Schedules become tight and overworking can become business as usual. That's why it's especially important to keep in mind all of your BSPs – Best Sweeping Practices. Sometimes, the best way to ensure ongoing safety and productivity is to go by the book in all you do.
Remember that any time you have sweeping-related questions of any kind, you can let me know and we'll do the best we can to assist. After almost 25 years of writing and consulting for the power sweeping industry, chances are we've already covered the topic somewhere along the way.
Good Sweeping,



Editor, WorldSweeper.com
Executive Director, World Sweeping Association
PS If you haven't 'liked' our WorldSweeper Facebook page, what are you waiting for? That's where we offer industry previews and updates on an ongoing basis.
---
July Newsletter Contents
(Scroll down to read stories or click on links.)
---
The Effectiveness of Sweepers as an Urban Stormwater BMP in Maryland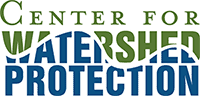 The Maryland-based Center for Watershed Protection recently released a study that evaluated which urban stormwater practices provide the greatest nutrient and sediment reductions for the lowest investment. Although designed to help localities in the James River watershed more cost-effectively achieve the pollutant load reductions required by the Chesapeake Bay TMDL, the article offers valuable insight to any stormwater manager trying to minimize TMDL issues.
Our interview with the head of the sweeping information portion of the study, Dr. Neely Law, offers an insight into the issue of "pickup efficiency" – over 90% for new generation air sweepers – vs. the much lower values typically assigned as "pollutant removal efficiency" for sweeping as a BMP.
Article links include a 20-minute audio interview with Dr. Law, as well as two sweeper efficiency studies in addition to the overall James River Basin study that provides BMP assessment information derived for a variety of runoff reduction practices.
Read the article, access the studies.
---
English Sweeping Company Gleaning Precious Metals From Street Sweepings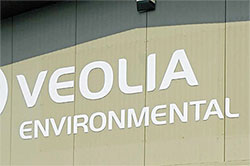 Veolia Environmental – which currently has contracts to sweep streets in about 40 towns and cities around the U.K. and collects up to 165,000 tons of sweepings a year – believes it can find at least £1 million (US $1.3 million) worth of materials including gold, platinum, palladium and rhodium from the rubbish it sweeps from Britain's streets each year.
These metals are commonly used in catalytic converters and tiny amounts can be thrown out by car exhaust. The materials then go on to settle on street surfaces. The company believes it may even find traces of gold and silver in the sweepings, as tiny fragments can rub off clothes, shoes and jewelry.
Check out the complete article.
---

Reminder: WSA Scholarship Applications Due August 1st
There are only a few more days for students of sweeping company employees to apply for the first ever scholarships offered in the power sweeping industry. The World Sweeping Association is offering two scholarships – one each named for the late Dale McCaskill, Sr. and for the late Carl J. Austin.
To be eligible, applicants must have a parent or legal guardian that is employed by a power sweeping company. Each scholarship is for the amount of $1,000; however, if the sweeping company that the parent works for is a member of WSA the scholarship amount will be increased to $2,000.
Use the link shown below to get complete information about the WSA Scholarship Program. The page on the WSA website includes full eligibility requirement details, application forms and an informational poster you can print out to place onto your company bulletin board. But hurry: Applications must be postmarked by August 1, 2013!
---
New Green Sweep Tow-Behind Offers All-Electric Operation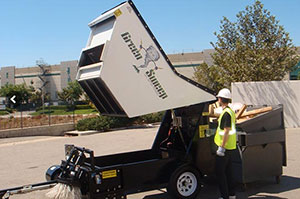 The Green Sweep is a tow-behind sweeper that its designers believe can fill the void between push broom and diesel- or gas-powered street sweeping trucks and parking lot sweepers. The machine is a battery-powered, all-electric street sweeper that can be used during school or business hours without disrupting students, staff, visitors or shoppers.
The sweeper has been designed so it can be towed by almost any vehicle, including maintenance carts, small cars or light trucks. Green Sweep also has a built-in inverter so you can also plug in electric leaf blowers, hedge trimmers, weed trimmers, battery packs for hand tools, lighting – or anything else that runs on AC.
---
How to Legally Handle a Violent Employee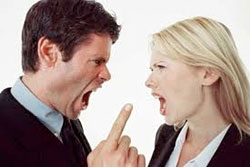 Legally, employees are entitled to a safe work environment. This includes a workplace free from violence. Although there are no guarantees that an employer can stop all acts of violence, the best an employer can do is to create a policy and implement it as clearly and consistently as possible to ensure an early warning system for addressing potential threats of violence in the workplace.
Workplace violence is any act or threat of physical violence, harassment, intimidation, or other threatening disruptive behavior that occurs at the work site. It ranges from threats and verbal abuse to physical assaults and even homicide. It can affect and involve employees, clients, customers and visitors. Homicide is currently the fourth-leading cause of fatal occupational injuries in the United States.
This article offers guidelines about dealing with violent employees, starting with a discussion of the policies and practices a company should have in place in its Employee Handbook. As with many workplace situations, prevention is by far the best way to deal with workplace violence. However, you also want to have solid guidelines in place in the event that workplace violence does occur.
---
Practice Safe Offloading of Rake-Out Hoppers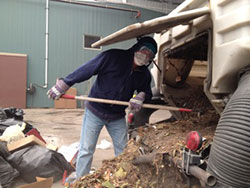 It is vitally important to practice BSP – Best Safety Practices – in all aspects of your power sweeping business. One area that might be easy to overlook is how to be safe during the unloading of any type of rake-out or low-dump sweeper.
This can and usually is a dusty procedure, and it is important to remember that what you're unloading is not ordinary, house-type dust. Rather, it is material that has been on the ground and which potentially has any number of toxic additives that might have gotten into it. Kris Drake, of Drake's Services in Burlington, Washington, knows first-hand what can happen.
---
Featured Contractor: Quality 800 Asphalt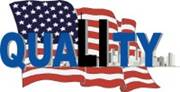 This article on Quality 800 Asphalt was posted on July 4, 2013 because the owner, Ted "Cousin Vinnie" Albanese, is a highly patriotic American. He was also about three blocks from the twin towers on 9/11, and was one of the first responders on the scene. He and two workers immediately took the rubber tire loader he had on the company's nearby paving job down to the twin towers location. Later, his late wife also designed the logo you see to the right, which would commemorate what occurred that fateful day.
In 1970, Albanese had been out of the service for a few years and was looking for opportunity. He saw it in the construction field and, after buying a dump truck and a bulldozer, he founded the Staten Island, NY, company known today as Quality 800 Asphalt in April of that year.
For the first eight years, business was plentiful, says Albanese. Then, there was a spike in gas prices and a mini recession hit the area. Looking around for a service to add, Albanese came up with power sweeping. "There was only one other guy that was sweeping," said Albanese. "He was buying broom sweepers and wasn't doing a very good job on any of his parking lot work. I saw the opportunity, and bought my first Schwarze air sweeper. The service was an immediate success. Within three years I owned three sweepers and had 42 stops.
---

Japan's Road Construction Signs are Cute Animals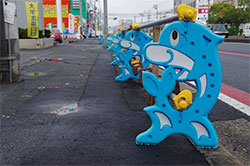 Our friends at Better Roads magazine offer this post about a different and adorable kind of innovation that is showing up at Japanese highway construction sites.
Road construction crews in Japan have begun using animal-shaped barricades, which are also being used as traffic signs, that look like they belong on a playground instead of a construction site. According to Kotaku, the "character barricades," collaboratively designed by Asahiyama Zoo in Hokkaido and rental company Sendaimeiban, started making appearances in 2006 and have since become popular on job sites across Japan.