by Ranger Kidwell-Ross, editor
WorldSweeper.com

Happy New Year; New Opportunities; New Challenges
The start of a new year is historically a time of promise; a sort of re-birth to the possibilities the future can hold. At the same time, it is an inevitably stressful time of catching up, on both a personal and a business level, from the many obligations of the Holidays.
For me, this new year has been especially hectic with the many tasks needing attention for our new affiliated organization, World Sweeping Association. However, I am excited about this step out into the future. Since our existing 40+ Contractor Locator customers are becoming automatic Founding Members, this has also been an opportunity to speak personally with many of them. Thank you to all for the many expressions of support that have been offered. I will do my best to live up to your expectations as we move forward.
On January 23rd I'll be flying to the National Pavement Expo to bring back our usual yearly coverage of seminars, sweeper walkarounds, vendor interviews and whatever else I can unearth of value to our readership. At the NPE Sweepers' Roundtable I will also be presenting our annual Award of Excellence in Power Sweeping to an expecially deserving recipient.
If you're headed to NPE, I'm sure I'll see you there. If not, I suggest you consider signing up for the free American Management Association webcast that's happening that day at noon, Eastern. It's entitled: "Reenergize Your Best Employees Before They Leave You." Since getting and keeping good employees is probably the largest single complaint I hear from both municipal managers and contractors, learning on this topic might be a great way to start the new year.
We have an exceptional selection of stories this issue; I especially enjoyed many aspects of our lead article about sweeping New York in 1877. Adapting and re-purposing the phrase introduced in 1968 by the makers of Virginia Slims cigarettes, "We've come a long way, baby."
Good Sweeping,
Ranger
---
January Newsletter Contents
(Scroll down to read stories or click on links.)
---
How the Streets of New York are Cleaned – in 1877

We offer a verbatim transcript from the pages of Harper's Weekly, November 24, 1877. WorldSweeper purchased a montage page of the drawings done for the article by noted artist, W. P. Snyder.
We scanned the graphics page and segmented the one-piece montage into individual images to better adapt them for viewing online. For this project to be completed, the former owners were good enough to find the article information for us to include, as well.
Have a sweeper operator who's complaining about something – anything – about his or her job? How about a customer complaining about debris build-up or how clean the street is after the sweeper goes by? You may want to suggest they read this article...
Read about 'the good old days' of street sweeping.
---
Update on WSA's Dale McCaskill Sr. Memorial Scholarship Fund

As was announced in the last newsletter, the new WorldSweeper affiliate, World Sweeping Association (WSA) has initiated a scholarship fund dedicated to the late president of Southco Sweeping, Dale McCaskill Sr.
As part of the Association's inauguration, through the end of this February $25 of each new enrollee's membership fee of $325 will be donated to the scholarship fund. We also challenged industry contractors and vendors to match our donation for each new WSA member.
We are pleased to report that the following contractors have all agreed to do so:

David Ross, President of Millennium Maintenance and Power Sweeping
Karl Stauty, President of Commercial Power Sweeping & Services
Gale Holsman, President of American Sweeping, Inc.
David McCaskill, President of AccuSweep Services, Inc.
Derek Grieco and the Team at Immaculate Power Sweeping, LLC
Tom and Lisa Kuhns, at Capitol Sweeping, LLC (are donating $500)
In addition, Keystone Plastics and Schwarze Industries, Inc. have joined in the program. At press time we were also working with Victory Sweepers, Inc. on the final details of a very special contribution.

Won't you join in on this first-of-its-kind sweeping industry effort? One way is to have your company enroll in WSA prior to the end of February. You will be designated as a Founding Member, as well as receive a host of other great benefits – and $25 of your membership fee will go into the Fund. We also invite you to let us know you want to participate in the matching program. Learn more by clicking on the graphic to the right.
Get more info at the WSA website.
---
NY Contractor Provides 'Christmas' for Underprivileged Families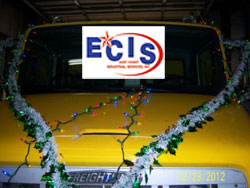 "In wake of the Newtown, Connecticut, shooting tragedy it pushed us from just thinking about a plan we had been discussing to give back to one or more families in our area to actually making it happen.
"On the Sunday before Christmas we decorated our sweepers and loaded them with Christmas gifts and Christmas dinner, then 'swept' our way with Santa to deliver over $2,000 worth of presents to families in our area. Looking back, there's no question that the recipients enjoyed a Christmas they otherwise would not have. In a sense, so did we."
The above words are those of Jay Presutti, Vice-President of Pine Bush, NY-based, East Coast Industrial Services Inc. Jay and his wife, Laurie, who own the company, covered the entire cost of the event. Their employees donated their time for preparation and delivery. The success in what the response was by all concerned – from employees to management to grateful recipients – was so positive that the Presutti say they plan to make this an annual event.
Check out the feel-good story.
---
Pavement Magazine Bringing Back "Top Contractor" List

Pavement Maintenance & Reconstruction magazine is resurrecting its "Top Contractor Listing" program, which it published annually until 2003.
Editor Allan Heydorn in his January Editorial says the Top Contractor lists were "the single effort we've undertaken that has gotten the most response from readers."
Heydorn says the magazine is bringing the ranking back with an added level of third-party verification of each company's annual gross sales, which is the basis for list qualification.
Pavement magazine will develop Top Contractor lists in each of four industry segments: Paving, sealcoating, striping and sweeping. To see the procedure for applying, qualifying and to be considered for a list, use the link shown. Applications must be received by April 1, 2013 and awards will be made in the publication's June issue.
---
Kansas City's Moonlight Sweeping Emphasizes Responsiveness, Thoroughness and Customer Communication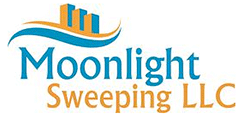 In the late 1990s, Ryan Bertholdi found himself learning about the sweeping industry as a result of a somewhat unlikely occurrence: His mother, an accountant with a large company called Brothers, suggested he would be a good fit to help with that company's sweeping program, among other duties.
After two years of learning experience via Brother's sweeping program, Bertholdi founded a company called Star Sweeping in 2000. Then, with partner, Anthony Bova, he transitioned to Moonlight Sweeping, LLC in 2008. Today, Bova handles night routing and working with sweeper operators, with Bertholdi taking on the rest. The interview, which includes a 40-minute audio podcast, provides a host of tips about GPC, dealing with third part vendors and more.
Check out the article.
---
Walmart Contracts Reportedly Getting Worse for Contractors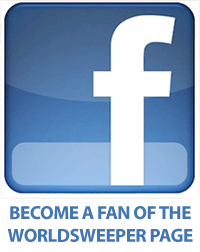 Posted to us via WorldSweeper's Facebook message system by a veteran sweeping contractor who requested publishing anonymity. He said: "It appears that Walmart is getting out of the being sued business. You should warn all your sweeping contractors that the new contracts that they are now receiving have specific wording in them to make the vender accept all responsibilities concerning any damages or accidents that occur in the lots...
In the contract wording the contractor is signing that they "...agree to hold harmless and defend Walmart from any and all responsibilities as a result from any and all claims. ...if they keep reading, they are agreeing to have their case decided in the Bentonville Arkansas courts and if any items are not covered under the insurance, the vender (is agreeing they) will take on the responsibilities of the suit, personally.
"I hate to say it, but I feel that most of our fellow venders are so excited about getting the business, that they never read the fine print. But I do. Seen it, read it, refused it, trashed it."
If you have comments, verification or other, use the link below to let us know.
Provide your comments and/or info.
---
Street Sweeping Song Laments Alternate Side Parking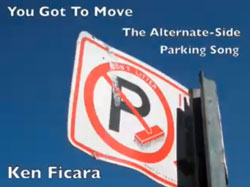 Thanks to Albert Price for letting us know about this humorous YouTube video / song by New Yorker, Ken Ficara. In his explanation of the song, Ficara says "If you're a New York City car owner, this song needs no explanation.
"Otherwise, you need to know that we have 'alternate-side parking' rules, which forbid parking on one side or the street or the other on certain days, so the streets can be cleaned. The elaborate dance of moving the car, double-parking, and moving back, are deeply ingrained in NYC car culture."
To view the video in your web browser, click here or on the image above.
---