by Ranger Kidwell-Ross, editor
WorldSweeper.com

Oxford Default Illustrates Vulnerability of U.S. Retail Service Contractor Industry – Again
As a general rule, the rise of third party vendors has offered nothing but negatives for sweeping and other service contractors. They have spawned accounts that typically feature unsustainably low margins, onerous paperwork requirements, invoice disputes, questionable management and slow-to-no payment. Plus, several third party vendors have now failed, defaulting on money owed to contractors for services already provided.
In 2003, Target Stores' vendor company, NLS, closed shop without paying for sweeping and other services already rendered; at the time, this created many months of zero payment and confusion. Initially, the management stance of Target Stores was that, since the company had paid NLS in good faith, it had fulfilled its obligation. In part due to the furor created, which was poised to tarnish its image, Target eventually made good on the majority of the money owed.
More recently, in early 2011, WalMart and Best Buy terminated their third party vendor agreement with US Maintenance, creating a huge shake-up for myriad sweeping and pavement maintenance contractors around the U.S. Contractors caught up in the mess endured significant financial hardship. Astonishingly, at the time Best Buy wouldn't even confirm or deny to the contractors doing the work that US Maintenance had been sacked.
---

Reminder: Founding Memberships in the World Sweeping Association will be offered only until March 1st. You only have one more week to take advantage of this one-time opportunity.
---
This time, DDR's third party vendor, Oxford Property Services, appears to no longer answer its phone or email. This is affecting a number of sweeping contractors, as well as those in other service industries, with some in sweeping reportedly left with unpaid receivables in excess of six figures.

When the apparent failure of Oxford was first reported, I spoke on the telephone with David Favorite, DDR's Executive VP of Property Management. However, when I asked him to provide solid information about whether contractors – both sweeping and otherwise – would be paid for work that had been done through Oxford on DDR properties, Favorite said he would "call me back."

As of two weeks later Mr. Favorite has not done so. Since then, it has been reported that to keep their DDR accounts, contractors are being asked to sign a statement that they won't go after DDR for the money already earned sweeping DDR properties. How shameful is that?! On February 14th, as Executive Director of the World Sweeping Association, I sent him this letter. Perhaps not surprisingly, there has been no response to it, either.

We will continue to monitor this situation and, behind the scenes, work to develop standards for third party vendors, ones designed to protect sweeping and other contractors in the event these types of middle-man companies default – again.

Good Sweeping,
Ranger
---
February Newsletter Contents
(Scroll down to read stories or click on links.)
---
Winner of WorldSweeper's 2013 Award of Excellence in Power Sweeping Announced at NPE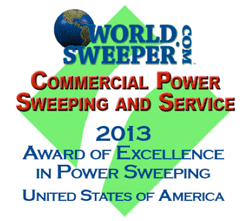 One of the highlights of this year's National Pavement Expo was the awarding of WorldSweeper's 2013 Award of Excellence in Power Sweeping. Winner this year was Karl Stauty, President of Virginia-based Commercial Power Sweeping & Services.
Karl Stauty started into the power sweeping business in 1986. He had been a salesman for the Solo Company, a maker of backpack blowers. Over time, he got to know a man who came into the store to get blowers and parts on a regular basis. Eventually, he learned that the equipment was for the man's sweeping company.
When a shake-up occurred at Solo, Karl became dissatisfied with his work there and became interested in knowing more about sweeping. The sweeping company operator just had a few accounts and not much in the way of sweepers, so was interested in having a go-getter kid of 22 come to work for him. Stauty had the good sense to not want to get another job; rather, he expressed interest in buying out the man's accounts, which is what eventually occurred.
Did it work out? Today, Stauty's company runs 17 sweepers and another seven other vehicles in its fleet. And, he's become professional and involved enough in the power sweeping that he just received the top award in the power sweeping industry, WorldSweeper's Award of Excellence in Power Sweeping.
Read about the award.
---
Oxford Property Services in Apparent Default on DDR Accounts; Contractors Owed Big $$

Thanks to a tip from a WSA member, the World Sweeping Association was the first pavement- or snow-related organization to break the news about the apparent demise of Oxford Property Services, the third party vendor used by DDR real estate management group.
So far, the outlook is bleak for the affected sweeping contractors, some of whom are owed as much as $100,000+ by Oxford, which in recent months has been stretching its accounts payable timeframe to in excess of 90 days.
Because of the severity of the situation, the World Sweeping Association article is being made available to the entire industry, not just to WSA members. The article is being updated as new information comes in, so if you have additional info on the topic be sure to use the form at the bottom of the article to provide it. This may be done anonymously.
Read about Oxford and DDR's apparent default.
---
City of Tucson Creates Recognition Video for Sweeper Operator's Innovative Idea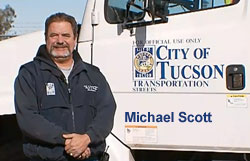 City of Tucson sweeper operator, Michael Scott, had an innovative, money-saving idea. The city operates 14 sweepers, cleaning over 27,000 road miles yearly. As all readers can attest, the cost of replacing wear items on sweepers is a significant expense. If a way can be found to reduce the expense, it's definitely a plus.
Scott's idea had to do with the bracket that holds the skid plate onto the side of the main broom on the city's Broom Bear sweeper fleet. In the past, when the bolts on the bracket would wear out, the entire bracket would be replace, at an expense of $1200. What Michael Scott suggested was to braze new studs into place on the existing skid plates.
According to Paul Rosenboom, Tucson's Streets Maintenance Supervisor, Scott's idea will save the city $31,000 per year. This frees up additional budget, says Rosenboom for the city to allocate to other projects. For this employee spotlight, the City of Tucson partnered with a local television station, which shot the video and then aired it on local TV. This provided local citizens with more knowledge about the city's sweeping program, as well as cast a good light on the Tucson DOT.
"It's good to recognize employees' actions," said Scott. "A lot of employees with the city do care about their equipment and what they do. I think it's great for employee morale; it certainly helped mine."
Check out the 2-minute YouTube video linked below, which illustrates an inexpensive, high-profile way to put a spotlight on employees who are innovative in some way within an organization. Thanks to Keystone Plastics' Jack Moran for the info on this story!
---
Victory Sweepers Donates T600 Sweeper to Dale McCaskill Memorial Scholarship Fund + Announces WSA Member Discount Program

Victory Sweepers' president, Mark Schwarze, has announced his company will be donating a Victory T600 sweeper to World Sweeping Association. The intent is for the sweeper to be auctioned off, with proceeds going to WSA's Dale McCaskill Memorial Scholarship Fund. Victory also unveiled a discount structure for WSA members on Victory Sweeper products.
"When we heard about the formation of World Sweeping Association's scholarship fund named after the late Dale McCaskill, we knew immediately we wanted to get involved," said Mark Schwarze, president of Victory Sweepers, Inc. In the event the winning bidder would prefer, if they are a WSA member Victory will allow 150% of the purchase price to be used to offset any new sweeper purchase from the Victory Sweepers' line. For non-WSA members, the percentage will be 125%, both limited to a maximum of $10,000.
The company also announced a discount structure for WSA members of between $500 and $1,000 off on new Victory sweepers, depending upon model, as well as a 20% discount on new Victory parts.
---
Wanted: Name for Schwarze Industries' Lake Oswego, Oregon, Sweeper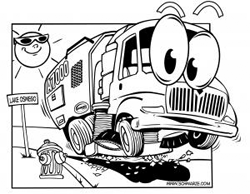 Lake Oswego's newest street sweeper needs a name. Currently, one is called 4411. Another goes by 4405. However, Lake Oswego's newest street sweeper will be known by a name rather than a number.
The city has launched a contest for citizens to help dub the new piece of heavy-duty equipment, purchased with money set aside in this year's budget. There's a coloring contest, too. Officials said the idea is to "give the sweepers a 'voice' and some personality." They also hope to "open a window into the public services the vehicles' giant brooms and vacuum action provides."
---
Elgin Sweeper Introduces Crosswind Specialty Track Sweeper for Racetrack Sweeping and Maintenance Applications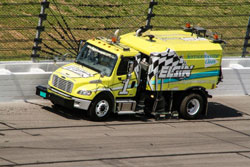 Elgin Sweeper has introduced a modified Crosswind® Specialty Track Sweeper that is set to make its debut at NASCAR racetracks around the country this racing season, beginning with the Daytona 500 on February 24th. Elgin's Crosswind Track Sweeper plays a supporting role in a new racetrack drying initiative that features a combination of air power and vacuum suction to dry rain-soaked racetracks.
During track testing conducted in conjunction with NASCAR last November in Daytona, this same vacuum technology proved to efficiently vacuum water from the pores of the racetrack, and worked even better with the new track-drying technology designed by the NASCAR Research and Development Center. Developed as a more effective alternative to the current track-drying method the system, featuring the Crosswind Track Sweeper, is expected to expedite the process.
---
Advance Launches First-Of-Its-Kind Fuel Cell-Powered Industrial Floor Cleaning Machine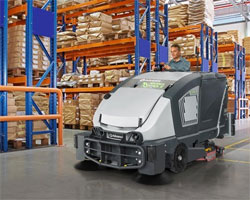 The Advance CS7000TM Combination Sweeper-Scrubber Fuel Cell unit was unveiled by Nilfisk-Advance's U.S. President & General Manager Jeff Barna at the ProMat 2013 Expo in Chicago.
This first-of-its-kind fuel cell-powered unit provides a sweeper-scrubber solution for customers who have already invested in fuel cell technology, allowing them to further leverage their fuel cell investment and infrastructure," said Barna.
Operating solely on hydrogen, Barna says the innovative fuel cell-powered Advance CS7000 provides enhanced efficiency, productivity and reliability, as well as simplified maintenance and 100% indoor emission-free operation.
Check out the full story.
---

Robot Snowplow Video Shows Easier Way to Plow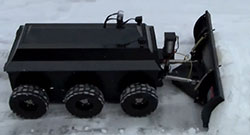 With all the snow in the NE, I thought this video of what is purportedly a robot snowplow might appeal to readers for our 'Not Exactly Sweeping' section. Sure looked like it was better than a shovel, but no doubt more pricey, as well. After all, the onboard battery system claims to sport 660 amps of power. However, as might be said for much of what is found on the internet, no telling if the robot snowplow actually exists...
Thanks to WorldSweeper follower, Janet Needler, for the tip on the snowplow link!
To view the video in your web browser, click here or on the image above.
---
WORLDSWEEPER'S FREE WEBINAR LINKS
To Sell Is Human
FREE: Presented by American Management Association
Wednesday, February 27th; 12:00 – 1:00 pm EST

Announcement reads: This webcast offers you a fresh look at the art and science of selling. Join Daniel H. Pink as he draws on a rich trove of social science for counterintuitive insights on:

Why extraverts don't make the best salespeople
Six successors to the elevator pitch
Three rules for understanding another's perspective
Presenter is Daniel H. Pink, author of "To Sell is Human." His articles on business and technology appear in many publications, including the New York Times, Harvard Business Review, Fast Company, and Wired, where he is a contributing editor.
---
HAVING IT ALL: Mobile communications PLUS safety and compliance–it can be done.
FREE: Presented by Fleet Owner and Motorola
Wednesday, February 27th; 2:00 – 3:00 pm EST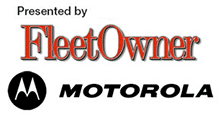 Announcement reads: There are more than a million handheld communication devices already in service in the trucking industry today according to some estimates. They have largely been deployed by carriers, not because of regulations, but in order to improve productivity and reduce costs.
This fast-moving trend has left federal and state highway safety regulators in hot pursuit, racing to get ahead of the tide of technological change that is bringing challenges as well as enormous benefits with it. Learn about:
Current distracted driving regulations
What to expect next from DOT and/or the states
The critical importance of good policies, procedures, monitoring and enforcement of mobile device use by fleets
Technologies available now to help fleets take advantage of the benefits of mobile communications without compromising safety & compliance
A special checklist for helping fleets to make the best mobile communications choices for their specific operations
Presenters are:
Annette M. Sandberg, Esq., CEO TransSafe Consulting, LLC and former FMCSA Administrator
Paul Menig, CEO of Tech I-M and former head of the Mechatronics Group at Daimler Trucks North America