by Ranger Kidwell-Ross, editor
WorldSweeper.com

'Tis the Season for... What?
Feedback from my November 'fish story' editorial was more prolific than usual, so I thought it made sense to follow-up with the information that was transmitted to me by the outdoor store's manager after the newsletter was sent. If you'd like to read the rest of the story, check it out here in my 'alternate editorial.'
The Christmas Season is more difficult than most for those in sweeping, especially for sweeping contractors. Added to the usual issues about employee stress and safe protocols for holiday parties, the trash load during this time of year can require extra shifts and alternate disposal choices. These days, there is even the decision about whether you wish your customers a 'Merry Christmas,' 'Happy Holidays' or, this year, a 'Joyous Chrismukkah!'
The deeper meaning of the origins surrounding this Season are what I encourage you to keep in mind. For me, it's the time to reflect upon all I have in my life, the many blessings available to me as an American living a life that to much of the rest of the world can perhaps best be characterized as 'living in Disneyland.'
In this issue we report on two organizations in sweeping that are giving back to others. As you will read below, NiteHawk Sweepers has dedicated 2014 to offering special sweeper models and commemorative swag that will benefit the U.S. disabled veterans' community through the Disabled American Veterans organization.
Our own World Sweeping Association will be, once again, donating $25 to the WSA Scholarship Fund for every new WSA Member sweeping contractor that signs up between now and February 1st. WSA has also begun offering a free 60-day trial in the Association, so all sweeping contractors can see first-hand the advanced benefits the organization is offering. If anyone reading this would like to make an additional donation to the WSA's Scholarship Fund, please let me know.
As we head into 2014, perhaps the largest issue facing municipal sweeping professionals surrounds finding ways to better keep small-micron particles from impervious surfaces like roads from polluting American waterways. They will no doubt get a chuckle out of what is my personal favorite story of this issue, which documents the astounding ability of the Waycleanse Sweeper to completely solve that problem – back in 1920!
On behalf of all of us at the World Sweeping Companies, we wish our readers all the best as we close out 2013 and head into the promising new year. No matter how or what you choose to celebrate, we wish for you the joy of good health and family closeness that truly characterize the best that life has to offer.
If you attend NPE, be sure to stop by booth 1013. Remember that any time you have sweeping-related questions of any kind, you can let me know and we'll do the best we can to assist. After 25 years of writing and consulting for the power sweeping industry, chances are we've already covered the topic somewhere along the way.
Good Sweeping,



Editor, WorldSweeper.com
Executive Director, World Sweeping Association
PS If you haven't 'liked' our WorldSweeper Facebook page, what are you waiting for? That's where we offer industry previews and updates on an ongoing basis.
---
December Newsletter Contents
(Scroll down to read stories or click on links.)
---
Is Characterizing 'Street Dirt' a Key to Better Stormwater Pollution Reduction?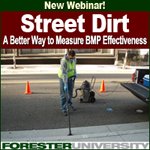 International stormwater quality expert, Roger Sutherland, recently recorded a webinar that explores a radically different and more effective means to measure BMP effect and progress. He calls it 'street dirt.'
In his webcast, Sutherland discusses how studying the change in street dirt chemistry is more effective in measuring BMP effectiveness than is outfall monitoring. Beginning his discussion with the material itself – including its physical and chemical characteristics, its sources, and its source controls – Sutherland then discusses the traditional challenges and shortcomings of discharge outfall monitoring. He also compares the study of the change in street dirt chemistry in terms of effectiveness, limitations, cost and complexity.
The webinar additionally explores street dirt monitoring, sampling and analysis; how easy and inexpensive it is; and, identifies the best management practices for progress monitoring via street dirt collection, including the necessary equipment. Finally, Sutherland explores the growing body of evidence that demonstrates that street dirt (not outfall monitoring) is the better way of measuring BMP effectiveness.
For those involved in meeting local and EPA pollution reduction mandates that involve impervious surface runoff this webinar, which is conducted through Forester University, is a 'don't miss.' Investment per agency location is $79, more than a bargain given the content and potential for cost-savings and compliance.
Check out the details and sign up.
---
TYMCO Announces Full Availability of Interim Tier 4 Model 500x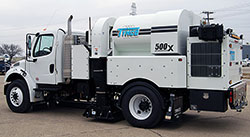 TYMCO® has announced the full availability of Interim Tier 4 (iT4) auxiliary engines for the Model 500x High Side Dump Regenerative Air Street Sweeper. For the past several years, the Model 500x has been powered by a John Deere Tier 3 auxiliary engine. John Deere iT4 engines in the horsepower class required by the Model 500x have recently become available and TYMCO is now offering full availability of the 115 hp Interim Tier 4 engine.
In order to accommodate iT4 auxiliary engine requirements, TYMCO redesigned the engine compartment and, in the process, engineered a very service-friendly compartment. This compartment allows for a larger hydraulic oil cooler combined with several other hydraulic system modifications that have improved overall hydraulic performance in extreme applications.
---
1920 Waycleanse Sweeper in History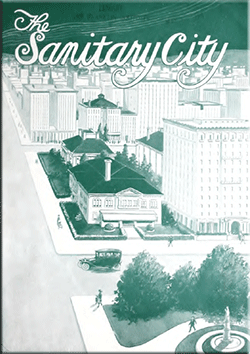 "It is a remarkable fact that very little real progress has been made in the cleaning of city streets. Practically the same methods are used today that were in vogue a decade ago. Numerous inventors have tried to solve the street-cleaning problem with a huge vacuum cleaner, but with little success because of the great difficulty in separating the dust from the large volume of air that has to be handled."
As the editor of the linked article continues, "This new sweeper not only removes all the kinds of debris collected by the earlier types of cleaning appliances but, in addition, removes the fine densely germ-laden dust. It remained for Mr. Bernard Kern to evolve a final design of suction street-sweeper that really works under all operating conditions. After many years of experimenting he has succeeded in solving all the problems pertaining to this type of machine, such as dust separation, gutter sweeping, and ease of control; and, he now has in successful operation machines that are practical in every respect."
So reads the 1920 description of the 'WayCleanse Sweeper,' as taken from the linked article, entitled "The Gas-Electric Suction Street Sweeper." The story appeared in the magazine, The Sanitary City. Some great photos of the Waycleanse Gas-Electric Street Sweeper are included in the entertaining and instructive article that discusses how the problems still plaguing the stormwater runoff community today have been solved! The linked article includes excerpts plus a link to a PDF file of the complete Sanitary City article.
---
World Sweeping Association Announces Renewed Scholarship Funding + FREE 60-Day Trial Memberships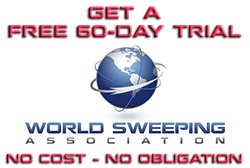 "I get more information from one of the World Sweeping Association's bi-monthly news bulletins than I've ever gotten total from any of the other industry associations I've belonged to." So says Jay Presutti, president of New York-based East Coast Industrial Services. His sentiments have also been echoed by a number of other sweeping contractors who are current WSA Members.
"Every sweeping contractor should belong to the World Sweeping Association, given the kind of support, benefits and member interaction we're receiving," echoes Michael Nawa, WSA Advisory Board Member and owner of Pennsylvania-based Custom Maintenance. As a result of this type of input from current Members, the World Sweeping Association is now offering a FREE 60-day WSA Trial Membership to sweeping contractors everywhere.
In addition, the Association will be donating $25 from each new Membership between now and next February 1st to the WSA's Memorial Scholarship Fund. Use the link below for more information.
---
In Time For Christmas: NiteHawk Sweepers' Offers Activity Book Designed for Kids 5-12 and Sweeper Drivers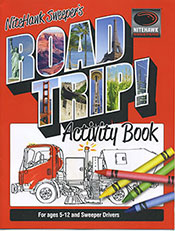 NiteHawk Sweepers has unveiled a new sweeper-based activity book for kids called 'Road Trip!' The 12-page book offers a variety of activities to keep kids occupied on long drives or anytime. As it says on the cover, the activity book is designed for "ages 5-12 and sweeper drivers."
To request copies of the NiteHawk Sweeper Activity Book, call NiteHawk Sweepers at 1-800-448-9364. You will find a long-term link to the Activity Book at WorldSweeper's home page for sweeper toys.
Call NiteHawk Sweepers or send email using this link.
---
Mystic Washer® Now Offering Indoor/Outdoor and Water Reclamation Models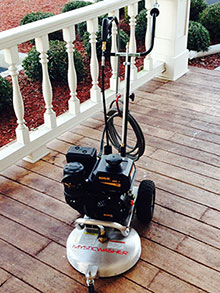 Mystic Washer has announced several additions to its line of all-in-one pressure washers designed for more efficient and cost-effective flat surface cleaning. "In our five years of operation," said Clayton Boyd, inventor and manufacturer of the machines, "contractors and end-users alike have documented the time-savings and superior cleaning ability of our outdoor Mystic Washer line. However, in that time we have had many requests to bring the technology indoors. To meet that need, we have now engineered several indoor Mystic Washer configurations and the results are game-changing."
In addition to its standard 24" and 30" all-in-one flat surface cleaners and 24" recapture model, the company is now offering a 16" model in both gas- and electric-powered configurations. Two electric 15" wastewater recapture models have also been introduced. The electric models operate on 115-volt, single-phase power and the latter are designed for both indoor and outdoor cleaning.
All Mystic Washer units are 'standalone' cleaners, meaning they are self-contained cleaners that need no external power module. In addition to their rated psi, all offer standard psi reduction systems to allow for cleaning of softer surfaces like wood, bricks and pavers.
Learn more about Mystic Washers.
---
NiteHawk Sweepers Raising Money for Disabled Veterans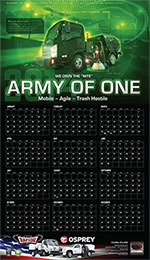 For the 2014 year, NiteHawk Sweepers has decided to 'step outside the box' with a host of promotional projects designed to raise money for disabled veterans.
NiteHawk Sweepers has created a wide variety of "Military Special Ops" gear as part of its 2014 program designed to benefit disabled U.S. veterans. These include calendars, tshirts – even sweeper trucks and more – to help raise money for the Disabled American Veterans group.
Donation collection will take place at the upcoming National Pavement Expo and throughout the year via the company's website.
Check out the complete details.
---
WSA Featured Contractor: Jack Davenport Sweeping Services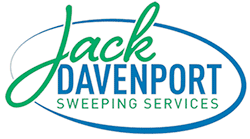 Jack Davenport and his wife, Shirlyn, started Jack Davenport Sweeping Services in Bakersfield, California, over 30 years ago. Their story was a typical one: Looking for a way to supplement his income from working at Sears, Jack got into sweeping with a single sweeper. From there, the family-run company has gradually worked its way into becoming a powerhouse in the Southern California region, boasting a 25-sweeper fleet with an additional office in Salinas and a new location now being developed in San Diego.
The sweeping company has always been pro-active in all parts of its operation, which is one of the reasons Jack Davenport was so successful throughout the past three decades. He has long stressed looking ahead and staying on top of any emerging legislation, changes in equipment and whatever else might affect the business. Today, though, the company has had to take that to an entirely new level.
Check out the article at the World Sweeping Association website.
---

What I Discovered in New York City Trash

At about 10 years old Robin Nagle went camping in the Adirondacks of New York with her dad. That's the age when she discovered a mound of 'camper trash' that had been dumped over the edge of the hill where her otherwise pristine campsite was located. Now, later in life, that made her wonder about trash in a larger sense: What was it; who cleaned it up; how was it disposed of?
In the course of her investigation, reporter Nagle went on to perform many of the trash collection-oriented jobs with the City of New York, including garbage truck operation, sweeper operation and snow plowing. Her TED talk on this topic is thought-provoking while, at the same time, puts the job of trash removal into a unique perspective. "I learned about the relentlessness of trash... Sanitation work is one of the ten top most dangerous jobs. Trash is like a form of nature unto itself; it never stops coming..."
Click to view the brief video of Nagle's TED Talk on this topic.