by Ranger Kidwell-Ross, editor
WorldSweeper.com

Alternate Fueled Sweepers: Future Growth Seems Assured
The increase of buzz surrounding alternative fuels has been tremendous as of late. In the first half of 2013 I've heard more questions about alternate fuel sweeper availability and demand than in all the other years combined. Funny thing is, questions are coming in from contractors, municipalities and manufacturers alike. The former two want to know what's available and if it's dependable; the manufacturer inquiries have been to assess where I predict the sweeping industry is heading in that regard.
One enormous factor driving the alternative fuels' revolution is that the U.S. has taken a leading role in natural gas production via new horizontal drilling techniques, also known as 'fracking.' As a result of this emerging technology, the U.S. is considered to have more natural gas than any other country in the world. Natural gas products are reported to burn 30% cleaner than diesel and is currently cheaper by two dollars a gallon.
"The heavy-duty truck industry is on the verge of making the switch from gasoline to natural gas now that companies have developed the necessary 12-liter engines," said Andrew Littlefair, CEO of Clean Energy Fuels, the largest provider of natural gas fuel for transportation in North America. A report by Citigroup opines that about 25% of the truck market could convert to natural gas by 2020. One reason is the expectation that there will be a widening price gap between natural gas and oil-based fuels.
ClearView Energy Partners' managing director of research, Kevin Book, says the best starting point for compressed natural gas are "the defined route vehicles that have point-to-point paths – where they start and end at the same place." That's because the infrastructure for fueling is currently seen as one of the largest obstacles for widespread adoption. Sweepers, of course, fit into that catagory.
Buses and garbage trucks are reportedly already well down the path to adoption; eight in 10 new trucks Waste Management bought in 2012 were powered by natural gas. Why wouldn't municipal-class sweepers be next? To support that prediction, the largest sweeper manufacturers in the U.S. all have at least one municipal sweeper now available with either natural gas (LNG) or propane (CNG). And, alternate fuel has long been mandated in smog-prone Southern California.
There may be an increasing array of other incentives on the horizon, as well. Just this month, New York Governor, Andrew Cuomo, announced a $19 million truck voucher incentive program to encourage the purchase of battery-electric commercial trucks as well as other energy-efficient transportation, including hybrid and compressed natural gas trucks.
In this issue we offer a variety of information about alternative fuels. As you will read, in addition to an overview on what alternative-fueled sweeper makes and models are now available, we have articles and links to aftermarket retrofitting info, safety and infrastructure training needs, and more. As for the question "Do we think there will be increasing interest in moving to alternate fuels?": This month we have added a new Alternate Fuels category to the WorldSweeper.com website.
Remember that any time you have sweeping-related questions of any kind, you can let me know and we'll do the best we can to assist. After almost 25 years of writing and consulting for the power sweeping industry, chances are we've already covered the topic somewhere along the way.
Good Sweeping,



Editor, WorldSweeper.com
Executive Director, World Sweeping Association
PS If you haven't 'liked' our WorldSweeper Facebook page, what are you waiting for? That's where we offer industry previews and updates on an ongoing basis.
---
August Newsletter Contents
(Scroll down to read stories or click on links.)
---
Current List of Alternative Fuel-Powered Sweeper Makes and Models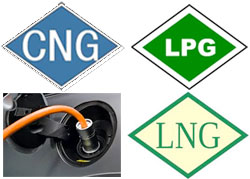 We have received a number of requests about what makes and models of U.S. power sweepers are able to operate on an alternative to gasoline or diesel. As you will discover, most major sweeper manufacturers now offer some type of alternative-fuel sweeper models that may be powered via CNG, LPG or LNG. For the smaller units, primarily used indoors and in parking areas, several electric models are available to choose from, as well.
After polling the different U.S. sweeper manufacturers, members of the WorldSweeper Team have developed an exclusive chart showing all the makes and models of alternative-powered sweepers.
Read the article, access the chart.
---
What Contractors Need to Know About CNG and LNG
When people refer to compressed natural gas (CNG) or liquefied natural gas (LNG), they are really describing the state in which the natural gas is stored. A natural gas engine is not specific to a particular gas type. It doesn't care whether fuel is being supplied by a CNG or LNG tank.
There are benefits and drawbacks to both storage solutions, particularly when discussing mobile equipment. CNG is stored as a gas at 2,900 to 3,600 psi, while LNG is stored as a liquid at a very low cryogenic temperature. With CNG, the compressed gas travels through a series of highly pressurized stainless steel lines until it reaches the regulator, where the pressure is reduced to around 115 psi to match the amount needed by the fuel injection system. If you want all the details, take a look at the linked article by our friends at Cygnus' Equipment Today.
Check out the complete article.
---
World Sweeping Association Awards Carl J. Austin and Dale McCaskill, Sr. Memorial Scholarships

The World Sweeping Association has awarded the first-ever sweeping industry scholarships. The two scholarships are named for the late Dale McCaskill, Sr. and for the late Carl J. Austin.
To be eligible, applicants must have had a parent or legal guardian who was employed by a power sweeping company. Each scholarship was for a minimum amount of $1,000; however, if the sweeping company that the parent works for is a member of WSA the scholarship amount was to be increased to $2,000. In the inaugural year, both students were employed by WSA Member companies.
Winner of the Carl J. Austin Memorial Scholarship is Austin Moore, son of C&J Parking Lot Sweeping's general manager, Rod Moore. Winner of the Dale McCaskill, Sr. Memorial Scholarship is Seth Rhoden. Seth's mother, Mary, is the office manager for South Carolina-based, Accusweep.
The World Sweeping Association's Executive Director, Ranger Kidwell-Ross, has announced that WSA will continue its Scholarship Program in the 2014-2015 academic year. For more information, use the link shown below.
---
Debating the Potential for Natural Gas in Trucking

While the price of natural gas relative to diesel may be low – and drastically so – the cost to acquire and maintain trucks configured to operate on natural gas is high; creating a significant fiscal hurdle for fleets to surmount before their bottom lines can benefit from the cheaper gaseous fuel.
During the second annual Fleet Forum hosted at the 2013 Mid America Trucking Show (MATS), the Editor-in-Chief of Fleet Owner magazine, Jim Mele, hosted a panel entitled "The Blue Fleet." The discussion explored both the drawbacks and opportunities natural gas presents for trucking companies large and small.
---
WorldSweeper.com and World Sweeping Association Win National APEX Awards for Publication Excellence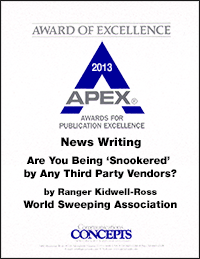 We are pleased to announce that the WorldSweeper.com Team won its 6th consecutive APEX Award for Publication Excellence for the 'quality, design and content' of this WorldSweeper.com website.
In addition, WorldSweeper.com's editor, Ranger Kidwell-Ross, also won an APEX Award for a feature news story written for our sister company, the World Sweeping Association, where he serves as Executive Director. This story, which is entitled "Are You Being 'Snookered' by Any Third Party Vendors?", discusses the many problems that have been associated with sweeping contractors agreeing to provide services via third party vendors (sometimes also called 'national service providers'). Although the latter article was archived for access only by WSA Members, due to the award the article has been made available for access by non-members, as well.
This marks the 19th year that one or more projects headed by Kidwell-Ross have won an APEX Award, going back to 1994 when he won for the first-ever magazine produced for the general power sweeping industry, American Sweeper. No other person or organization in the history of the contest matches that unbroken record of accomplishment. Other APEX Award winners this year included The Walt Disney Company, Wall Street Journal, AARP and Lockheed Martin.
---
Why CNG Station Performance Specifications Are Critical for Maintenance Technicians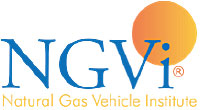 The information contained in performance specifications will become the basis of an effective Operation and Maintenance (O&M) program for any compressed natural gas (CNG) fueling station. Therefore it is essential that CNG fueling station maintenance technicians understand what performance levels are required of the equipment. These performance specifications should have been established when the station was designed.
The CNG fueling station maintenance technician has a huge responsibility. He or she is, by default, in charge of safety for station users and the general public, ensuring the highest station reliability possible, maintaining environmental and regulatory compliance, managing operating costs, and protecting the long-term capital investment.
While stations vary widely and not all of the following may apply, the linked article offers seven areas of specifications to which the O&M technician must have access to effectively perform his or her job:
---
Schwarze® Industries introduces cutting-edge enhancements on the Schwarze M6 AvalancheTM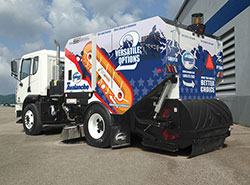 Schwarze Industries has re-designed its M6 AvalancheTM sweeper in a variety of ways. According to the company, attention was not only given to performance and ease of operation, but also the ease of general maintenance has been vastly improved. "Service tasks that may have taken hours before," said Greg Heyer, the company's VP of Marketing, "now can be done in mere minutes. The M6 now offers the versatility of a belt conveyer, or squeegee conveyer, that can be changed out in approximately 2 hours.
"The console system on the M6 AvalancheTM has received dramatic enhancements, as well. Bright color-coded LED switches, with easy to read icons and text, control the sweeper's engine, lights, conveyer, water system, hopper, main broom, gutter brooms (including down pressure), and the switches now change color to show activity."
The company also introduced what it calls "Six Sense Controls"TM on the M6's console system. This is a brighter, user-friendlier, informative control system that is a first-time innovation for any sweeper. "If you can switch to your favorite pre-set radio station," said Heyer, "you can now switch to your favorite pre-set sweeping settings. And we have added a stand-by mode so you are ready to sweep at any moment."
---
Featured Contractor: Great Western Sweeping, Inc.

In 1977 Daniel Dodson started helping out from time-to-time in his parents sweeping company, Mid-State Industrial, Inc. Daniel recalls that, at the time, he was certain that being in the sweeping industry wasn't something he wanted to pursue as a career. However, the part-time work got him familiar with both the operation and the maintenance of the equipment.
And in 1980 he was looking for full-time work when his dad had a situation where he was short a man on his day crew. Daniel agreed to fill in full-time until he found something better to do. Five years later he started and managed a new branch office located an hour-and-a-half away.
Then, ten years later, purchased the branch office from his parents and re-named the company Great Western Sweeping, Inc. As you will read, Daniel still hasn't found another occupation he likes as well.
---

The Path to a Super Truck
The government has tasked the truck manufacturing industry to develop high-efficiency vehicles of the future, but some of the technological improvements accomplished through the "SuperTruck" program are here now.
When the U.S. Dept. of Energy handed out $187 million in grants to several key truck, trailer, engine and other component suppliers to create what it's calling the "SuperTruck," the goals it set were lofty. The SuperTruck program charges the truck manufacturing industry to significantly improve fuel efficiency for heavy trucks, all while maintaining current exhaust emissions levels while also demonstrating a 50% improvement in overall freight efficiency on a heavy-duty Class 8 tractor-trailer measured in ton-miles per gallon.
---
Green Power: Expert Advice on Alternative Fuels

Presented by FleetOwner and Ryder
Free and On Demand; Sign up and listen to the webinar anytime you want.
We announced this as a live webinar in a previous issue of the WorldSweeper newsletter. Now, it is available in 'on demand' format. Here's the information about the topic covered:
Faced with the high cost of diesel and gasoline, plus new environmental regulations, more and more fleet owners are considering their options – and alternative fuels top the list. The big question is: What makes sense for your fleet? Natural gas? How about propane? Or maybe hybrid trucks? And, is there a 'tipping point,' when you know it's time to at least give alternative power a try?
If you're exploring alternative fuel options, register today for this special webinar and get some solid answers from one of the industry's leading independent consultants on alternative power, Erik Neandross, CEO of Gladstein Neandross and Associates, the producer of Alternative Clean Transportation Expo (ACT).
Where natural gas, hybrid and propane technology is today and where it's going
The operating characteristics of various alternative fuel/power options
The questions you should ask before adding alternative fuel vehicles to your fleet
Purchasing rationale and realistic ROI expectations