by Ranger Kidwell-Ross, editor
WorldSweeper.com

Post Boston Marathon Era Calls for Increased Sweeping Industry Integration at American Events
Like all Americans who are reading this, I will long remember where I was during the Boston Marathon terrorist attack. The bombing found me visiting my sister where she lives on Mexico's Baja. There's no question that the fact I was out of the country added an additional twist to my perspective. Although the bombing was the immediate topic of interest for the local Anglo community, the Mexican nationals I spoke to were generally unaware of what had occurred, let alone the enormity of the impact on the U.S.
The coverage I was able to see in Mexico came from FOX News, and from the first speculative coverage I started wondering how Boston's sweeping department would fare in the ultimate analysis. Initial speculation by newscasters centered around how the city had decided to handle debris cleanup at the Marathon. As one analyst speculated: "Were garbage cans – a known place where bombs could be placed – left on the streets? Or, were people told to throw trash into the street so the cans would be unavailable for having explosives placed into them?"
As has been learned by the time I'm writing this several days later, no trash cans were used as a container for the explosives. However, I believe this still signals a sea change in how many such future events in the U.S. should and will be handled. All protocols now in place for similar high profile events need to be re-evaluated in light of the man-made tragedy in Boston.
Trash cans will increasingly be seen as items that shouldn't be present at highly attended outdoor events. If so, municipal sweeping departments and/or contractors will need to work closely with event planners, and others, to come up with cost-effective solutions that maximize public safety. At the same time, guidelines for debris removal also need to allow event cleanup to be accomplished efficiently by whatever agency handles event sweeping.
Although the Boston Marathon bombing made all the headlines, another incident occurred during the same timeframe but, because of what was occurring in Boston, it received much less press coverage. Here is what reportedly happened in Cedar Rapids, Iowa: Public works employees using a sweeper's suction hose to clean out catchbasins apparently discovered a pipe bomb in the receptacle. Reports are that the workers placed the device on a nearby lawn, then the city's bomb squad came and disposed of it.
Read the whole editorial.
---
April Newsletter Contents
(Scroll down to read stories or click on links.)
---
Remembering Industry Leader Carl Austin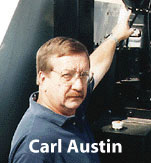 Carl (Julian) Austin, who passed away on Feb 22, 2013 at the age of 64, was involved in the power sweeping industry for half of his lifetime. Most will remember him from Schwarze Industries, Inc., where he was a 'fixture' for two decades.
What you may not know is that Carl Austin's first involvement in sweeping was as a banker for the Schwarze family's fledgling manufacturing company. Or, that he was a Founding Member and one of the initial organizers for the Contract Sweeping Institute, the power sweeping industry's first-ever membership organization for power sweeping contractors.
"The feature about Carl that I believe best described him on a day-in and day-out basis is that he was 'the voice of reason,'" says Tommy Allen, of Used Sweepers of America, LLC, who also calls Carl a 'father figure in his life.' "Carl was a stabilizing influence for all of us; for me, for Mark and Bob Schwarze, and for others in the company. He was a mentor to countless individuals throughout his lifetime."
While working at Schwarze for over two decades, Carl pioneered a number of value-added programs. He brokered scrap sales and worked on expanding into foreign markets, where he negotiated deals that resulted in Schwarze sweepers being sold to Saudi Arabia, Egypt, Australia, Japan and China. Carl also coordinated large truck purchases and, as needed, worked direct sales' positions and dealer sales' positions depending upon where extra effort was required. Carl also coordinated several of the legendary Schwarze Roundups.
To read about what industry insiders have to say about the late Carl Austin – and to add your own comments – use the link below to access the story. It is located on the World Sweeping Association website, where Carl Austin has been made a Lifetime Achievement Member.
Read about Carl Austin.
---
Last Opportunity to Complete WSA's Third Party Vendor Survey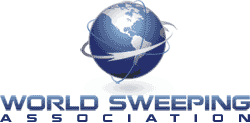 The World Sweeping Association's survey of third party vendors (also called national service providers) will be left available until May 10th in order to allow all contractors a full opportunity to complete it. The survey, which was developed to provide an insight into the experience of contractors with the various third party service providers, provides an opportunity to rate a total of 22 different providers. You are not required to be a WSA member in order to fill out the survey.
If you represent a sweeping contractor that has worked with one or more of these national service providers, please take the few minutes necessary to add your company's experience with those providers. However, please do not provide information on any third party vendor you do not have first-person experience with.
---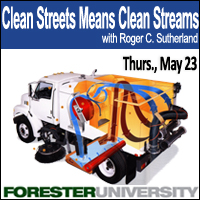 Webinar: Clean Streets Means Clean Streams
Thursday, May 23rd @ 2 p.m. EDT / 11 a.m. PDT
Length: 1-1.5 hrs – 1 PDH / 0.1 CEU – $79.00
Improve your street cleaning and stormwater quality program by joining internationally renowned sweeping expert, Roger Sutherland, as he explores the science behind the relationship between an effective street sweeping program and its ability to significantly reduce pollutants found in stormwater.
In the seminar, which requires a modest investment of $79, Sutherland will start at the source of the problem – "Street Dirt" – with an exploration of the contaminated sediment-like material that accumulates on urban streets and highways. He will discuss the pollutants it contains, as well as the chemical and physical characteristics of street dirt that influence the effectiveness of a cleaning program.
Sutherland will also discuss the influence of street dirt on urban runoff pollution and why the quality of street runoff is important to an effective stormwater management program. Additionally, the webinar will include a review of the essential elements required in a street sweeping program designed for maximum pollutant removal effectiveness, plus an outline of the appropriate way to manage these elements and how to identify the associated program and water quality benefits.
In the webinar Sutherland will also introduce and discuss the various types of street cleaners exploring both their advantages and disadvantages. And, attendees will learn how to test street sweeper pickup performance, how to evaluate the results – and why both matter.
---
CEKSAN Sweepers is Turkey's Leading Sweeper Manufacturer

CEKSAN Sweepers is the biggest road sweeper vehicles' manufacturer in Turkey. The firm was established in 1989 in Izmir, Turkey. The company began by importing street cleaning machines from Europe.

After investigating the requirements and needs in a range of international environments, CEKSAN management decided the company should produce its own sweepers in order to be able to give the ultimate sweeping solutions to its customers. In this article about CEKSAN, the company's international agent, Serdar Durur, provides information about the company, along with links to various models on the CEKSAN Sweepers website.
---
Giving Safety Feedback That Motivates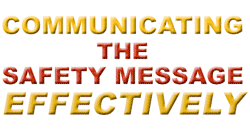 Thomas E. Boyce, Ph.D., offers advice based upon his many years of experience assisting companies in developing leaders and reducing injury rates – along with 120 years of behavioral science. These have taught him there is no need to "over justify" safety with promises of rewards and trinkets.
Rather, he has learned – and teaches – there is a much better way to visibly demonstrate that safety is a value in your organization: You walk the talk by giving safety feedback effectively. With this approach, Boyce teaches, you will see visible improvements in safety on a day-to-day basis and also in your key safety performance measures (e.g., recordable injury rate). You are also likely to see improved production, a better "bottom line" and a high likelihood of improved employee morale.
---
Street Sweeping Employee Hits Homeless Man in Effort to Chase Him Away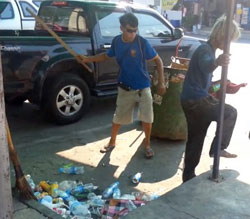 A YouTube video uploaded earlier this month shows two street sweeping employees in Bangkok, Thailand, resorting to violence in their attempts to chase away a homeless man from a parking lot. The moment was captured in a YouTube video.
The video shows a homeless man sitting on the floor with a pair of street sweeping employees cleaning around him. Apparently regarding the homeless man as a nuisance, the male employee grabs a stick and hits the helpless man from the back.
This video, now being publicized here on a U.S.-based sweeping industry news website, shows how the advent of smart phones have made the probability of photography and videography likely today on a 24-hour basis. Almost instantly, any situation involving a municipality's or company's employees can be put online for the world to see, negatively affecting an organization at a speed unthought of just a few years ago.
This new availability of photos and video covering most any occurrence underscores the value of employee training that covers all manner of situations. As you watch the video, we encourage you to consider how your own employee training covers any similar type of situation.
Read and see video about what occurred.
---

WSA's Dale McCaskill, Sr. Scholarship Program Update
The results of World Sweeping Association's drive to fund its Dale McCaskill, Sr. Scholarship Program was deemed a rousing success. To 'get the ball rolling,' $25 was donated to the scholarship fund for each new member who enrolled with WSA as a Founding Member for the yearly membership rate of $325 between December 2012 and February 2013. The total Founding Members who joined during this timeframe numbered 32, which led to an $800 contribution directly from WSA.
A request was also placed asking others in the industry to get involved. The following leading industry suppliers and contractors also contributed:
David McCaskill, President of AccuSweep Services, Inc. contributed $800
Karl Stauty, President of Commercial Power Sweeping & Services contributed $800
Eric and Derek Grieco and the Team at Immaculate Power Sweeping, LLC contributed $800
David Ross, President of Millennium Maintenance and Power Sweeping contributed $800
Keystone Plastics contributed $700
Schwarze Industries, Inc. contributed $600
Gale Holsman, President of American Sweeping, Inc. contributed $500
Tom Kuhns, President of Capitol Sweeping, Inc. contributed $500
This provided WSA with a total starting amount of $5,500 to get the program rolling. In addition, Mark Schwarze, President of Victory Sweepers, Inc., is donating one of his company's T600 sweepers, which are valued at approximately $15,000. This will be auctioned off starting in May, with the proceeds going to the Scholarship Fund. In light of the recent passing of long-time industry leader, Carl Austin, a portion of the money donated overall will be used to fund an additional scholarship in his name, as well.
Guidelines for student/recipient eligibility are now being developed; however, we do know that the availability will be for sons or daughters of sweeping company employees (not principals) who are pursuing a higher education either at a university or technical school. If you would like to donate to the WSA Scholarship Fund, or to get any questions answered, please call the World Sweeping Association at 866.635.2205.
Get more info at the World Sweeping Association website.
---
Featured Contractor: Sooner Sweeping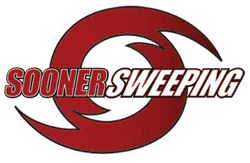 When Gene Terronez sold out his half of several automobile sales locations to his partner in 2007, his intent was to build another company that he would own in its entirety. The next question: What type of business should it be?"
"I remembered an article I'd read in Entrepreneur Magazine about someone in Louisiana who'd become successful in the sweeping industry," recalls Terronez, "and I liked what I'd read. I'd never worked nights before and thought it was worth looking into." Five years later, Terronez is at the helm of a growing sweeping and maintenance company that has found success in his Tulsa, Oklahoma, marketplace.
Check out the Sooner Sweeping article and audio interview.
---

Sweeper Toy: The Trash Pack Trashies Sweeper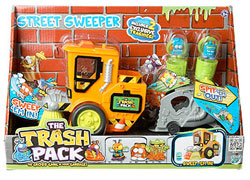 Clean up the streets of Trash Town with The Trash Pack Street Sweeper, which features a bin to catch the trash and includes two exclusive Trashies. Watch the Street Sweeper scoop up then spit them out when it crashes!
Includes a container to catch trash
Scoop up your Trashies
Release the trash when you crash (crash?!)
Check out this and other sweeper toys.
---
WORLDSWEEPER'S FREE WEBINAR LINKS
To Sell Is Human
FREE: Presented by American Management Association
Wednesday, April 27th; 12:00 – 1:00 pm EST

Announcement reads: This webcast offers you a fresh look at the art and science of selling. Join Daniel H. Pink as he draws on a rich trove of social science for counterintuitive insights on:

Why extraverts don't make the best salespeople
Six successors to the elevator pitch
Three rules for understanding another's perspective
Presenter is Daniel H. Pink, author of "To Sell is Human." His articles on business and technology appear in many publications, including the New York Times, Harvard Business Review, Fast Company, and Wired, where he is a contributing editor.