by Ranger Kidwell-Ross, editor
WorldSweeper.com

Safety: Keeping it at the Top of the List
This past September 14th was not a good day for the power sweeping industry. In two separate incidents, which took place in Florida and Louisiana, three power sweeping employees lost their lives.

In the Louisiana incident, a sweeper operator and passenger in a Schwarze 335 struck the back of an 18-wheel car hauler at high speed. The semi was stopped to assist with an accident that had just occurred. Whether from inattention while driving or some other cause, the sweeper operator appears not to have been paying attention to the road ahead.

In the other incident, which took place in the Jacksonville, Florida, area, the operator of a Nitehawk 400DX sweeper was crushed to death. It appears that s/he was clearing a jam in the sweeper's air system. Available information only lists that the operator was crushed by the hopper when it came down unexpectedly.

These incidents would seem to have little similarity, other than they and involved sweeper operators and both resulted in death. However, at least on the face of it, both appear to have been potentially preventable if more attention had been paid to safety.

Was the driver of the sweeper who died in the rear-end collision going too fast; on his/her cell phone; conversing with his/her passenger; rummaging for a sandwich or drink bottle with his/her eyes off the road "just for a second?"

If the cause is determined to be either going too fast or being on a cell phone, chances are the investigation will uncover it. The same will be the case for the operator who died in the crushing incident: Did s/he insert a safety prop, as should be standard safety protocol?

Then, the questions for the sweeping companies involved will be: What safety protocols were in the respective companies' employee manuals? Were those areas covered sufficiently during training? Will the sweeping company ownership be able to prove, via the late employees' signatures, that they were sufficiently briefed on the dangers of whatever caused these deaths if, in fact, they were caused by something preventable?

There is no escaping the tragedy of these two accidents. They will forever impact at least three families and two power sweeping companies. Because everyone reading this editorial is involved in the industry, in some way it is impacting each of us, as well.

Read the rest of the editorial.
---
September Newsletter Contents
(Scroll down to read stories or click on links.)
---
Sweeper Buying and Selling Best Practices

When it comes to knowledge about buying and selling sweepers and other rolling stock, Mark Boyer is perhaps the top expert in America. The editor of both SweeperMarket and PaverMarket magazines, Boyer has been the conduit for many millions of dollars of equipment sales.
The intent of this article used to provide you with information that will assist you in both buying and selling a used sweeper or other vehicles. The coverage includes an approximately 17-minute audio podcast interview with Mark Boyer, which is separated into two parts. The first covers best practices when you sell your sweeper; the second discusses best practices to utilize when you buy a used sweeper.
---
Victory Sweepers' New Liberator Model Targets Shrinking Contractor Margins Situation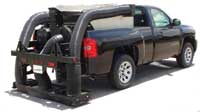 Victory Sweepers' has introduced a new pickup-mounted model called the "Liberator." The low cost machine is designed to primarily be an inexpensive 'paper chaser' sweeper to allow profitable sweeping on low margin parking lot sweeping accounts.
The Liberator, which can be mounted on any standard-sized, 1/2 or 3/4 ton pickup chassis, may be removed from the chassis in about an hour's time. The machine has a 1.7 cubic yard, high dumping hopper. Perhaps the most unique aspect of the center pickup machine is that all debris goes through the fan.
"The Liberator has center suction," said Mark Schwarze, Victory's president, in the 24-minute audio podcast with him that accompanies the article. "Everything that is sucked up goes through the fan, is ground-up and then blown into the hopper. This creates pressure in the hopper; two 8" tubes transfer the air back down to the sweeping head, which regenerates the air and re-creates the suction for pickup. We have found that to be a surprisingly effective, relatively dust-free sweeping method.
Read about it and listen to interview with Mark Schwarze.
---
Elgin Sweepers Introduces Product Line With 'Eco-Infused'TM Technology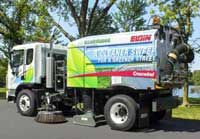 An array of new and ongoing product features announced by Federal Signal Group, dubbed "Eco-Infused"TM technology," will be designed to increase fuel efficiency, reduce CO2 emissions and reduce noise. The new term describes an initiative by the company to develop and deploy environmentally-sustainable products that will have the potential to increase energy efficiency and enhance air and water quality in communities around the world.
For example, a new configuration of the Elgin Crosswind regenerative air sweeper now features a patent-pending shared power system. This configuration allows power to be transferred from the chassis to the auxiliary engine. The power can come from the chassis engine or from vehicle momentum as regenerative braking. The power normally lost to heat by braking can be directed to the auxiliary engine, resulting in improved performance and reduced fuel consumption.
Learn more.
---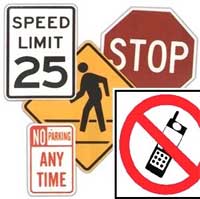 Top Ten Defensive Driving Tips For Contractors
The fact is, many driving and other operational accidents can be avoided with training and good practices. As a result of the accidents referenced in our September Editorial, above, we are including in this issue an article written by frequent WorldSweeper contributor, John Meola. In this instance, the article was written for the Cygnus' publication, For Construction Pros.
We encourage you to use this past month's tragic and fatal industry accidents to re-enforce the importance of good driving and other jobsite safety practices. This article, which lists Meola's top 10 defensive driving tips for contractors, provides an excellent starting point.
---
TYMCO Introduces Conventional Truck Package for the Model 435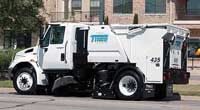 TYMCO® has introduced a conventional truck package for the TYMCO Model 435® based on the International® DuraStar®. The chassis provides all of the advantages of a conventional truck while maintaining features existing TYMCO owners with cabover trucks expect. The package delivers operator-friendly ergonomics and easy truck engine serviceability, as well as excellent maneuverability and visibility.
"With the conventional truck package for the Model 435, we can offer improved operator and service technician ergonomics as well as an excellent turning diameter," said Bobby Johnson, TYMCO's Vice President, Marketing. "The DuraStar gives Model 435 owners more choice so they can get exactly what they are looking for in a mid-sized sweeper."
---
Custom Maintenance Services' Michael Nawa Helped Define America's Contract Sweeping Industry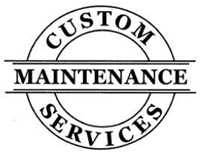 Michael Nawa has been involved in the parking lot sweeping industry almost since its inception. In 1976, Nawa founded Industrial Grounds Maintenance (IGM) with his father, Andrew. He ran that operation until 2002, when he quit over differences of opinion with his dad on the directions the firm should take.
"When I started Industrial Grounds Maintenance back in 1976," said Nawa, "there was no power sweeping industry as we'd think of it today. Although debris was seen as a problem that stores didn't know what to do with, there wasn't an industry that had grown around doing that portion only.
Our feature story with Michael Nawa includes an 86-minute audio interview with him that will be of interest to every power sweeping contractor in America. The article and its accompanying audio interview cover information from Nawa's philosophy of doing business to the 'nuts and bolts' of running a successful, do-everything sweeping and exterior maintenance company.
---
An Explanation of WalMart's New Financial Disclosure Requirements for Contractors

We received a call from a NE contractor who recently lost their company's WalMart accounts as a result of a 'recertification requirement process' they declined to go through.
Specifically, Walmart is now requiring financials for sweeping companies that want to continue doing sweeping on Walmart accounts. Although the contractor requested more information about the new requirement, the company spokespeople would provide no reason why the financial statements (preferably audited) were being requested or how the information would be safeguarded, if provided.
Although not able to speak on the record about this topic, a relatively senior professional within Walmart corporate provided me with a statement on this issue to share.
Read more.
---