by Ranger Kidwell-Ross, editor
WorldSweeper.com

Are Your Procedures Great – or for the Birds?
If you have listened to any of the many WorldSweeper podcasts, then at some point you have probably heard a bit of bird song in the background. As many already know, my office contains an aviary that is home to several canaries. Thanks for the info, you may be thinking, but what does that have to do with power sweeping...

A couple weeks ago I tried a new kind of bedding material for the floor of the aviary. It's lasted well; it wasn't until this morning that my nose suggested it was time to vacuum the material, which looks about like cat litter, from the bottom of the large cage.

Though my shopvac initially made short work of the stuff, toward the last of it the machine clearly started to lose some of its suction. I soldiered on, though, thinking I could just clear whatever obstruction was in the hose after I finished the job.

Since, for me, that was a poor choice – and since this editorial is really about sweeping – let me ask this question: What do you do – or instruct your sweeper operators to do – when a suction loss occurs with their air sweeper when they're on a route?

My bird cage experience suggests they should not delay, like I did, in checking out what was causing the suction loss. Before explaining what happened with my situation, though, let's talk about protocol in terms of power sweeping.

Read the rest of the editorial.
---
October Newsletter Contents
(Scroll down to read stories or click on links.)
---
Sweeping Industry Loses Two Icons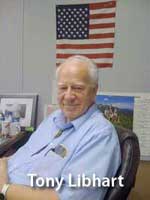 We are sad to report on the loss of two men who helped shape the power sweeping industry, Tony Libhart and Richard Grassey.
Tony Libhart, who passed away on the morning of October 23rd, made his mark in the sweeping world early on as the principal designer of one of the most successful air sweeper designs ever, the TYMCO model 210. Tony later founded AAPLEX Sweepers, before selling that company to Schwarze Industries in 1988. At that point Tony became Schwarze's Chief Engineer, a position he held at the time of his death. We will have a reminiscence about Tony Libhart and his impact on power sweeping in our November newsletter.

Richard "Dick" Grassey passed away this past September 19th at the age of 81. He was President of NJ-based Grassey Equipment Co., which was one of the first dealers ever established by TYMCO. Grassey was also instrumental in helping to organize the first power sweeping organizations in America.
We invite you to read about the life of Dick Grassey, as provided by Kenneth and Gary Young, members of the founding family of TYMCO. Thank you to Doug and Rick Grassey for providing background information for the story.
---
Johnston North America Debuts VS650 CNG Sweeper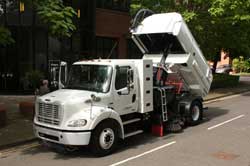 The management team of Johnston North America tout the company's new VS650 CNG as a high-performance, environmentally-friendly CNG sweeper they say is equally at home on municipal street cleaning or extreme, heavy duty work sites. "Users will find that the VS650 CNG consistently delivers high pick-up performance – even on contractor duties such as road planing and dirt pick-up around construction sites and access roads," said Frank Balogh, Marketing Director for the company. "Plus, everything is all packed into one powerful package."
The single-engined VS650 CNG utilizes Johnston's hydrodrive gearbox, which provides infinitely variable forward speed control and hydrodynamic braking. The sweeper body is mounted onto a heavy-duty, corrosion-resistant NIROSTA® stainless steel body. Available in dual- or single-sweep configuration, the maximum sweeping path is 11.8-feet. To find out all the details, including the ability to download two different spec sheets on the new VS650 CNG, check out the link below.
---
Preparing for and Conducting Difficult Conversations With Employees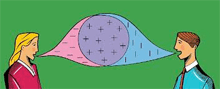 In every organization there are times when difficult conversations must be held with those working for you. Whether it is a discussion about an employee's poor performance, job restructuring, or many other topics, it is important that you conduct each conversation professionally and with advanced thought about the best outcome.
Before you conduct difficult conversations with your management staff and/or employees, take time to prepare correctly in order to maximize the possibility that the outcome will be the one you want. This article by WorldSweeper's editor provides information designed to help you conduct difficult conversations with your management or employee team in a manner that maximizes the best possible outcome.
Read the information.
---
Best Practices for Dealing With Insurance Adjusters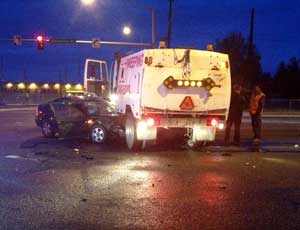 In most sweeping organizations, sooner or later a sweeper accident will occur. You will then be dealing with one or more insurance representatives and/or adjusters. How you handle yourself and the information you provide can have an impact on the eventual outcome.
To bring our readers insight into the adjustment process followed by insurance companies and the adjustment personnel they hire to investigate and settle claims, we spoke to an industry professional. The linked story offers a number of tips gleaned from a conversation with an independent insurance claims adjuster, Kevin McNamara, owner of Chugiak, Alaska-based Denali Adjusters.
---
Navistar Announces Timeline for SCR Implementation

In our July newsletter we announced that Navistar would be switching to SCR technology in order to meet 2010 EPA emissions regulations of 0.2 grams of NOx. This aligns the company with the other major truck chassis manufacturers in that regard. After that, the only question left unanswered was when the changeover would occur.
A recent announcement in FleetOwner laid out the details, noting the company announced it would begin offering the Cummins ISX 15 in January 2013 in select models and would have a MaxxForce 13L engine with SCR available early next year. To read more on this topic, use the link below.
---
Arizona's Agua Trucks Combines Sweeping With Water Flushing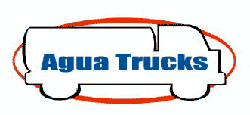 Scott Duscher started in business as a construction contractor. In Maricopa County, Arizona, where the business was located, someone's name had to be on a sign out in front of each project so they could be contacted if there was a dust or trackout problem. Scott was that person.
As an investment, the company bought a water truck to handle the needs of a community they were building. When the building economy tanked, they started expanding into the water trucking business as an alternative. The only problem with the water trucks, though, is that when it rains they don't work. And, when there is mud trackout from a job site that is leaving muddy tracks, the best solution is a broom-type street sweeper.
That conclusion led him to the purchase of a Sweeprite sweeper, since the two business types dovetailed with each other. Today, Agua Trucks has 8 employees that operate the company's three sweepers and three water trucks. Our feature story with Scott Duscher includes a 40-minute audio interview with him that offers a number of tips on how integration between water trucks and sweepers is good for business.
---
FREE Webinar #1: Conversations in Leadership
Event will be held November 6, 2012 from 1-2 pm EST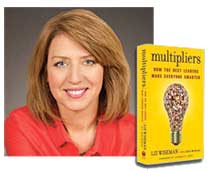 Shawn Hunter, Executive Producer of Skillsoft's Leadership Development ChannelTM and "50 Lessons," hosts a Q & A session with Liz Wiseman on the topics of her Wall Street Journal best-selling book, "Multipliers: How the Best Leaders Make Everyone Smarter."
Liz Wiseman teaches leadership to executives around the world. She is the President of the Wiseman Group, a leadership research and development firm headquartered in Silicon Valley, California. A former executive at Oracle Corporation, she worked as the Vice President of Oracle University and the global leader for Human Resource Development. She is a frequent guest lecturer and has taught at Stanford, Yale, BYU, and the Naval Academy.
Although this webinar is free, you must use the link below to register prior to the event.
Check it out and/or register.
---
FREE Webinar #2: Keep Your Fleet on the Road to EFFICIENCY
Event will be held November 6, 2012 from 2-3 pm EST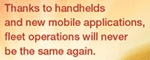 An estimated 90 percent of commercial drivers already use smartphones, tablets or notebooks in their day-to-day activities. Now you can harness advances in machine-to-machine (M2M) technology and mobile devices to empower your on-the-go workers to get more done, whether they're in the office or on the road.
Attend this webcast hosted by Verizon to learn how you can leverage technology to unite a mobile workforce, streamline business operations and offset rising fuel costs. You'll discover new ways to:
Effortlessly manage mandatory reporting and audit requirements
Save time and paperwork with automated processes
Track the real-time movement, location and state of your fleet, cargo and drivers
Simplify commercial trucking routes with turn-by-turn directions
Streamline vehicle inspection and weigh station pass-through
Optimize safety and performance with electronic driver scorecards and alerts
Although this webinar is free, you must use the link below to register prior to the event.
Check it out and/or register.
---
FREE Webinar #3: OSHA Inspection Readiness: Best Practices for Compliance
Event will be held October 25, 2012 from 11-12 am EST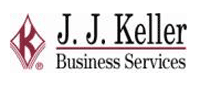 OSHA has increased enforcement and more companies will be subject to inspections. Attend this free webcast hosted by J. J. Keller & Associates, Inc. and U.S. Compliance Corporation to learn about the inspection process and how companies reduce risk, improve safety, and become more compliant by being proactive and organized.
You will also gain a great understanding of what you can specifically do to mitigate your risk and run a safer operation. Although this webinar is free, you must use the link below to register prior to the event.
Check it out and/or register.
---
FREE Webinar #4: Year-End Secrets That Strengthen New Year Start-Up

Event will be held November 8, 2012 starting at 5:30 am EST
Presenter Brad Humphrey worked on construction's front line as well as at the senior leadership level, before launching his successful consulting business in 1998. He writes numerous business columns, works privately with dozens of contractor clients worldwide, and is in demand as a speaker/educator for national construction trade events.
In this exclusive one-hour webinar, Brad Humphrey helps you close down 2012 with the right decisions that make it easier to "Spring" forward just a few months later.
In this complimentary webinar, Brad addresses:
How to maximize the last weeks before shut-down
What smart contractors do for the Fall "wind down"
"Spring" boarding from this year's result
Check it out and/or register.
---
Stormwater Magazine Offers Sweeping Article as a Way to Keep Stormwater Cleaner

The role that street sweeping can play in reducing storm water runoff pollutants has long been a moving target for the sweeping industry. Although data show that sweeping is much more cost effective then pollutant removal from catch basins and other end of the pipe solutions, many city officials still do not recognize that fact by increasing their sweeping frequency accordingly.
In the article we link below, Keeping Stormwater CLEANER, which was featured in the latest edition of Stormwater Magazine, the author documents what forward-thinking officials are doing in several venues around the country. If you are involved with the street sweeping portion of this industry you will want to read the article.