by Ranger Kidwell-Ross, editor
WorldSweeper.com

Introducing World Sweeping Association
Almost exactly one year ago, I wrote two articles about the apparent conflict of interest issues that spurred NAPSA's then-President, Kevin Kroeger, to resign. His basic issue was that a number of his fellow NAPSA Officers and Board Members were undisclosed Founding Members of the 1800SWEEPER organization.
Despite those reports and further discussions we have tried to instigate behind the scenes, in the intervening year the NAPSA organization has made no effort to mitigate the conflict of interest issues brought to light. At present, all contractor members of NAPSA's Executive Committee are members, or Founding Members, of 1800SWEEPER.
Further, of the 10 contractors currently on NAPSA's Board, seven of them own 1800SWEEPER area codes. Although the 1800SWEEPER organization itself appears to be a positive concept for the industry contractors who belong, its members should not be running NAPSA. Here's why that matters:
Precisely because 1800SWEEPER is well-funded, professional – and available to only one sweeping contractor per area code – it ranks along with third-party vendors as arguably the biggest threat to surface in recent times for sweeping contractors. Yet, I am told that the topic of the impact of 1800SWEEPER on sweeping contractors who do not belong to it has not even been brought up during NAPSA's monthly board meetings.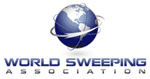 As a result of this inexplicable 'disconnect' with NAPSA rank-and-file members, the decision has been made here at WorldSweeper to form an alternative membership organization for power sweeping. The World Sweeping Association will begin operations on January 1st.

Read the rest of the editorial.
---
November Newsletter Contents
(Scroll down to read stories or click on links.)
---
Tony Libhart's Impact on Power Sweeping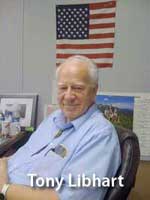 Long-time sweeper engineer extraordinaire, Tony Libhart, passed away on the morning of October 23rd, 2012. Tony made his mark in the sweeping world early on as a principal designer of one of the most successful air sweeper designs ever, the TYMCO model 210.
Tony later founded Aaplex Sweepers, before selling that company to Schwarze Industries in early 1988. At that point, Tony also became Schwarze's Chief Engineer, a position he held at the time of his death.
Our look back on Tony Libhart is also a reminiscence about the earlier days of the power sweeping industry. Included in our story is how WorldSweeper's editor met Tony on his very first day of sweeping industry involvement. We also offer a 31-minute combined audio interview with Kenneth Young, president of TYMCO and Mark Schwarze, president of Victory Sweepers, Inc. Read and listen about Tony Libhart's life and impact on the sweeping industry.
---
Ground Zero Contractors at Hurricane Sandy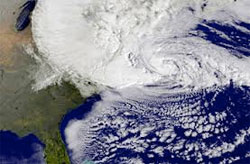 In the midst of cleanup and assessment of Hurricane Sandy, a Boston- and a New York-based contractor provided audio interviews with how they prepared for, prepared their customers for, and are now coping with cleanup assistance resulting from the disaster. These interviews were held on October 30, 2012.
Included are several of the email notices that one of the companies sent to its customers to assist them prior to the storm hitting.
Read and listen to the information.
---
Is Your Company Ready for a 'Superstorm Event?'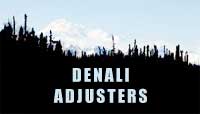 In the aftermath of one of the most devastating "Tropical Storms" to hit the Eastern Seaboard there now begins the push to make contact with your insurance company so as to begin the recovery process.
Sandy offered a multitude of challenges as widespread as the storm itself. Some sites were completely washed away, some were covered with several feet of sand and/or water, some burned, some were smashed by trees and/or buried in snow. Yes, it's a lot to have your company and family prepared for.
If you were fortunate enough to be left with the "remains" of your property the challenge of submitting a claim is made much easier. For those less fortunate and not having anything left – or at least not where it was the day before the storm – the task of submitting a claim becomes much more challenging.
For those folks whose inventory was swept away never to be recovered, your offsite records are now the only supports you have of proving you suffered a loss. Without such, how do you know what is gone, how much missing and, most importantly, how do you document to "prove" to your insurance company what you had...
Following are a host of helpful hints by independent insurance adjuster, Kevin McNamara, of Denali Adjusters. These include a number of proactive steps you should take to safeguard your business before you have the need.
---
XPERT HR Offers Articles on Employer Requirements in Emergency Situations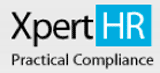 At the XPERT HR website a free subscriber in the organization's system may download and read up to three articles per month. Just subscribe in XPERT HR's free service, confirm your request via an email link and you have instant access to up to three of the following articles, or different ones if you choose.
The website, which is a part of LexisNexis, offers a wide variety of targeted HR information for the business community, so you may well choose to become a subscriber. However, in keeping with this month's theme of disaster preparation, we are offering links to several articles specifically tailored to disaster preparation for your business.
Use the following links to read the articles; however, keep in mind that you will have to sign up for your free account prior to reading the full article(s) on the following topics: How to Create an Emergency Plan Family and Medical Leave Policy Employee Assistance Programs Employee Communications
Any contractor actually involved in the recent Hurricane Sandy cleanup effort is being offered ClickSafety's "Safety and Health During Disaster Recovery" course for free. Here's the link.
---
Contractor Offers Disaster Cleanup Advice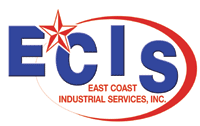 In the midst of the 2012 "Superstorm Sandy" cleanup, a New York contractor offers some observations and advice for others in the industry, especially those that offer property maintenance services in addition to power sweeping.
Seeing an influx of inexperienced people posing as contractors, Jay Presutti shares his ideas for educating businesses and homeowners alike of the pitfalls in choosing someone to do cleanup work who is not a legitimate contractor.
---
Schwarze Industries Makes Branding and Personnel Changes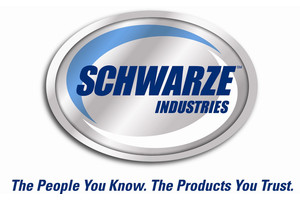 The Schwarze Industries organization has announced a number of significant changes. These include both the addition of engineering personnel and what might be called a 'comprehensive branding makeover.'

On the personnel side, the company has added a Design Engineering Manager with an emphasis on alternative fuel, as well as a new Human Resources Manager. The re-branding effort includes a newly redesigned logo and website. However, perhaps most significantly, the entire Schwarze product line has been renamed.
---
Elgin Air Sweeper Manager Interviewed on Company's New Eco-InfusedTM Technology Initiative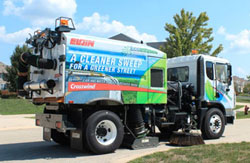 Last August, when Federal Signal Corporation's Environmental Solutions Group announced its EcoInfusedTM Technology Initiative, we wanted to know more about how that might affect future sweepers made by the company. In this article, we offer a more detailed overview on the initiative, in combination with a 10-minute audio interview with James Crockett, the Air Sweeper Product Manager for Elgin.
Check it out.
---
Texas Contractor Perseveres Through Recession Via Extraordinary Service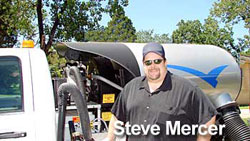 This story isn't so much about an instant, overnight success; in fact, it's more about the many different trials and tribulations that a sweeping contracting company that was started in the last quarter of 2008 could face.
"I guess if you were to hire an artist to paint a picture of a 4-year-old sweeping business that has managed to survive some pretty tough times," said Steve Mercer, "he would simply hand you one of our business cards... and say 'Here ya go, thanks for your business!'"
Read for yourself this sweeping contractor's story of grit and determination to survive – and thrive.
---
FREE Webinar: How to Get Leads from Search Advertising
Tuesday, December 4th; 1:00 – 2:00 pm EST

This is advertised as an interactive Webinar that will teach various tactics that can be used to increase your online presence and build new business, including:
How to use PPC Pay Per Click advertising
How to develop a key phrase list
How to develop paid search adverts
What is SEO ( Search Engine Optimization ) and what do I need to know about it?
How to develop landing pages to generate leads
How to track results
Presenters are:
Jeff Werlwas, Senior Product Manager for Search Engine Optimization and Marketing for Deluxe Corporation.
Andrew Patricio, founder of BizLaunch and an internationally recognized small business expert who has trained small business owners around the world.