by Ranger Kidwell-Ross, editor
WorldSweeper.com

If You're Not Moving Forward,
You May Find You're Moving Backwards
Today marks the seven-year anniversary of WorldSweeper.com, and is my 24th year of involvement with the power sweeping industry. During that time I am proud of my efforts to elevate the knowledge and professionalism of pavement sweeping and those who perform the task.

Accomplishments during this time include creating both the first newsletter (The Supervac Quarterly) and the initial magazine (American Sweeper Magazine) for the industry. I also built the first sweeper manufacturer website, which was done for Schwarze Industries, Inc.

I initiated negotiations with the IRS that resulted in the first confirmation that the excise tax on auxiliary engine fuel could be rebated. And, along the way, these magazines, websites and other work have received at least one national APEX Award for Publication Excellence every year since 1994, something no other U.S. individual or company can claim.

Still, as they say in the music business, you're only as good as your last album. So, I'm taking this opportunity to announce to our readers where we're headed in the upcoming months. First, the WorldSweeper.com website is in the process of receiving a major upgrade to become a full-fledged content management system. This will allow better searching for past articles as well as faster, more timely posting of current news bulletins and other information. We will also be able to provide our advertisers with targeted placement throughout the site.

Secondly, we will soon unveil an e-commerce site designed to assist contractors in making good decisions when they branch out into performance of other services in addition to sweeping parking lots. In today's economy, with its shrunken margins and rising costs, it is more important than ever to become a "one call does it" contractor. The upcoming Worldsweeper online shopping site will showcase a wide variety of products that will help contractors do more for their customers. We'll also offer some fun products and wearable gear that will make you proud to be involved with power sweeping.

Perhaps the biggest news is that we are founding the World Sweeper Association. This will incorporate a variety of content designed to keep sweeping contractors on the leading edge of industry knowledge and ideas. It will also allow access to benefits not available elsewhere, as well as to industry insiders and pros.

Read the rest of the editorial.
---
June Newsletter Contents
(Scroll down to read stories or click on links.)
---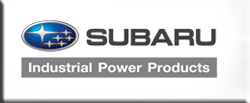 Engine Upkeep: Tips to Keep Power Sweeper Engines Operating Efficiently
As most in the sweeping business know, a good equipment maintenance program is crucial to the longevity and performance quality of any machine. While the concept is clearly understood, unfortunately maintenance programs often fall by the wayside as a result of busy schedules, looming deadlines and the constant pressure to do more with less.
Brad Murphy, COO and Executive Vice-President, Subaru Industrial Power Products, wrote this article for the WorldSweeper reading audience. It provides a number of basic engine maintenance tips and a few troubleshooting tricks that will help in creating a sufficient preventative maintenance program. Check out the details.
---
Elgin Sweeper To Represent Challenger Brand in North America Through Sales and Support of Mechanical Sweeper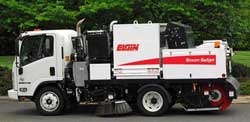 On June 4th, Elgin Sweeper Company announced it has entered into a marketing agreement with Challenger Manufacturing Ltd. to market and distribute a mechanical broom sweeper under the Elgin Sweeper brand name in North America. The machine will be called the "Elgin Broom Badger,"TM and is a dual-engine sweeper mounted on an Isuzu NRR 19,500 lb. Class 5 cabover chassis. This size doesn not require a commercial driver's license (CDL) to operate.
"This agreement allows Elgin Sweeper to further extend our street sweeper product offering in North America and provide our municipal and contractor customers with more options to meet their sweeping needs," said Brian Giles, sweeper products manager, Elgin Sweeper. Read the details.
---

Courtesy of Xpert HR, an organization that works with attorneys to provide information on a wide variety of topics dear to any manager's heart, we offer a PDF white paper on the topic of improving and documenting employee attendance.
The four-page paper, which is in PDF format, covers topics that include:
adopting, publishing and distributing an attendance policy;
implementing the policy and record-keeping;
how to spot trends in absences;
discussing absenteeism;
and, rewarding those with good attendance records.
Thanks to Dave Ross, of Millennium Maintenance, for sending this info for availability to our readers!
Access the information.
---
Court Case Illustrates Confidentiality and Non-Compete Issues; Offers Guidelines for Contractors
Many savvy sweeping companies choose to have employees sign a non-compete, non-solicitation and/or a confidentiality agreement upon employment. These are designed to preclude the employee from going to work for a competitor and/or disclosing any confidential information once they leave the company's employ.
It's easy to see why: Contractors are understandably loathe to train someone to run a sweeper – let alone to become a manager in the firm – and then have them leave to work for a competitor. Further, no business wants have confidential company information like its customer list, pricing, etc. fall into the hands of a competitor.
We offer a case law example written by Daniel Burnick, an employment law attorney with Alabama-based Sirote & Permutt. In it, he provides an overview, a case study, and recommendations for steps to take to minimize the possibility that a former employee will leave you for a competitor and/or that your confidential information will fall into the hands of a competitor. Article also includes a link to a story at Entrepreneur.com that offers additional tips. Read the information.
---
Superior Property Maintenance Service, Inc.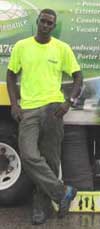 Ethics; Perseverance; Honesty: These are all traits that describe Leon Nelson, owner of Superior Property Maintenance, Inc. A native Jamaican, Nelson's first job when he came to Florida in 1997 was as a sweeper operator.
After working for two different sweeping companies over the course of the next six years, Nelson then went into the sweeping business with a co-worker partner. However, as you will read, it wasn't an easy road after that, either.
We received tremendous feedback from our early posting of the story of Leon Nelson and his Florida-based company. There is no question you will be inspired by the tenacity and belief portrayed in the featured article. Go there.
---

Fleet Owner Webinar Entitled "How to Drive What Matters in Your Fleet Maintenance Decisions"
Good vehicle maintenance has never been more critical to fleets or more complex and expensive. As a result, many companies are once again weighing the benefits of outsourcing maintenance. Attend this free, must-see Webcast presented by Fleet Owner and sponsored by Ryder to learn from maintenance experts and fleet executives about the key factors impacting fleet maintenance operations today.
Whether you decide to outsource maintenance or handle it in-house, this information is intended to help you identify maintenance issues that are important to consider now – and for your future. Presenters include fleet managers for top U.S. companies DWS Fleet Management, Coca-Cola and Gold Medal Bakery.
Registration is free, but you must register to reserve your spot. Register and download by clicking on this link.
---

In 2001, the EPA enacted a rule requiring a 95 percent reduction in emissions of nitrogen oxide from heavy-duty diesel engines, delaying its effective date until 2010 to allow the industry to create the necessary technologies, according to the three-judge panel's decision written by Judge Janice Rogers Brown. Mack Trucks and Volvo Group North America brought the lawsuit that resulted in the decision.
Navistar adopted a different technology from its competitors and was able to keep selling its engines by using so-called banked emission credits, according to the decision. In October, Navistar told the EPA it would run out of credits in 2012, and on January 31 the EPA issued the rule allowing the company instead to pay fines known as non-conformance penalties.
In January, when the EPA issued the interim final rule for Navistar, it proposed a similar set of standards for the final rule that would continue allowing noncompliant engines to be sold as long as fines were paid. Volvo, Mack and Cummins Inc. have objected that the proposed rule gives Navistar an unfair advantage. The EPA hasn't said when it will issue the final regulations, or if it will modify its proposal.
Read more about this issue at TruckingInfo.com.
---
Bonus 'Coffee Break' Photo Montage: The Latest in Broom Sweeping Technology... Somewhere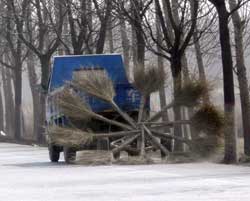 You know that old adage about what happens when you have "all work and no play?" (No, not what your boss says...) Well, here's your opportunity to get a chuckle and, at the same time, realize how good you have things.
Alert WorldSweeper reader, Janet Needler, spotted the sweeper shown above in one of the frames of an internet photo series showing a number of wacky ways to do things. We liked the grouping so well that we decided to provide a link to the whole series. We put it into PDF form for easy access.
One caution: Be sure you've clocked out before you go through these if there's even the remotest chance your boss might look over your shoulder! (However, if s/he does, try telling them you're looking for the picture of a sweeper. You never know, that might work.) Get a chuckle.