by Ranger Kidwell-Ross, editor
WorldSweeper.com

As a 'World Sweeper,' What's Your Commitment to Cleanliness?
As a result of the nearly 25 years I've been involved with power sweeping, I've gained a somewhat non-standard perspective on debris. Unlike most of the population, many of you readers probably share my recognition of littered areas when you see them. However, the fact is that many people simply do not recognize the ugliness of debris on the ground or even notice when – often after a sweeper has been by – an area is once again clean.
Personally, I take my commitment to helping the world become a cleaner place to a level that surprises many who observe it. When I travel, for example, I often take a few minutes to clean up around a rest area, campground, state park, etc. When I hike, I have a plastic bag along I can put trailside litter into for proper disposal. Some people, including a few of my friends, don't initially understand why I'd 'waste my time' on such an activity.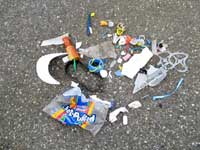 My long run experience, though, has shown the dividends. For example, the debris collection you see to the left I gathered up recently while waiting for a Washington State ferry to arrive. Sad to say, all this was within a single step to my right or to my left as I went from the waterline straight through the log stacks toward the shore.

When I got back to the edge of the parking area where others were waiting for the ferry, I put it all on the ground to take the photo you see. This prompted several other people to come over to find out what I was up to. I told them, including the fact I was editor of WorldSweeper.com, a website dedicated to making the world a cleaner place to live.

Right then and there, two in the assemblage decided they'd like to do some cleanup themselves since the ferry wasn't due for another half hour. They soon headed toward the beach, one with a plastic litter collection bag and the other with a small backpack.

Later, I posted the collection of debris photo on my personal Facebook site. It spurred a number of comments, including several people who said they were inspired to do some cleanup activities – including involving their kids – next time they were at the beach or other recreational area that had litter. So, the way I see it, a little time invested personally resulted in an expanding number of people becoming more aware of debris and the clutter it causes, as well as a willingness to do something about it.

One logical conclusion might be that these 'litter aware' people will be more likely to notice debris left in parking areas and, as a result, choose to shop where the management prioritizes keeping their center exteriors clean. And, when the streets in their neighborhood and town need swept, they'll be more likely to call their town officials and ask for a sweep.

Read the rest of the editorial.
---
August Newsletter Contents
(Scroll down to read stories or click on links.)
---
WorldSweeper.com Team Wins Two U.S. APEX Awards for Publication Excellence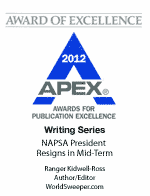 We're pleased to report that one of the two 2012 APEX Awards for Publication Excellence we recently received, for projects completed in 2011, was for the 'quality, design and content' of this WorldSweeper.com website.
In addition, we won an additional APEX for our series of two investigative journalism articles that documented the initially undisclosed membership connection with 1800SWEEPER by some Board members of the North American Power Sweeping Association (NAPSA) – as well as by the majority of the organization's Executive Board.
As you may recall, when the relationship was finally disclosed many months after the fact NAPSA's then-President, Kevin Kroeger, chose to resign from his position after alleging that his fellow officers had an undisclosed conflict of interest.
This year nearly 3,400 entries were evaluated, with 1,027 of those winning an APEX Award of Excellence in one of 130 subcategories. Other APEX Award winners for 2012 included:
Harvard University
Ernst & Young, LLC
Lockheed Martin
American Cancer Society
Ford Motor Company
American Airlines Publishing
WorldSweeper's editor, Ranger Kidwell-Ross, has won an APEX Award of Excellence for one or more of his projects for a nationally record-setting 17 years in a row. In the history of this national competition, no other individual or organization in the U.S. has ever won an APEX that many years in a row. See this and previous award info.
---
NiteHawk Sweepers' New Website Offers Features & Prizes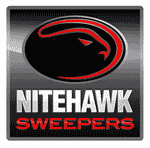 NiteHawk has announced that it has unveiled a completely new company website. "Through our website and newly integrated blog, we hope to provide sweeping companies with the tools and information necessary to be a successful business," said Tracy Day, NiteHawk's President.
As part of the new website launch, the Team at NiteHawk has incorporated a couple "virtual easter eggs" into the site. These are unique links (they could be an out of place picture or image... hint, hint) that, if clicked on, will award you some new free clothing or gear.
The NiteHawk Team invites you to take a look at all of the innovative things they are doing in the sweeping industry. You will find them at www.nitehawksweepers.com.
---
Tax Payment Organizational Ideas You Can Bank On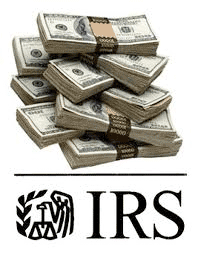 For many power sweeping contractors the most difficult part of the business is not performing the necessary work. Rather, it is dealing with the regulatory and accounting aspects of running the company. Keeping track of tax liability can be especially difficult for the small contractor who does not have an in-house financial manager.
As with many other parts of running a business, early and effective preparation is the key to not being caught by surprise or finding that you have been penalized by the IRS. Here are some ideas from WorldSweeper's editor that make setting aside money for your tax liability and payments as painless as possible. Access the information.
---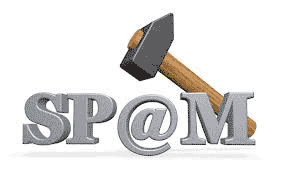 Whitelist Trusted Email Addresses to Keep Out of Spam Filters
With so much spam being sent these days, the automatic filtering by email providers has become increasingly tight. However, when someone you know and trust sends you an email you want to make sure you get it. Adding trusted email addresses to your 'whitelist' is the way to ensure you get those emails.
The whitelist instructions in this article provide detailed information for many of the top service providers, as well as general instructions. Read the information.
---
Crown Property Maintenance has Cleaned Commercial Properties for 8 Years – Without Sweepers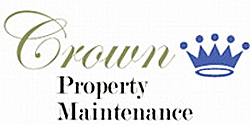 Through the years, we have showcased many dozens of sweeping contractors. The sweeper machines in their businesses have run from the largest street and municipal machines to the smallest of tow-behind and slide-in units.
Our featured contractor this month breaks new ground: Although the owner has been successful in running a parking lot sweeping operation for the last eight years, his company doesn't have any machine sweepers machines whatsoever. Zero, zip, nada.
Go there.
---
Veri Makes Business Learning Enjoyable

The internet provides many new opportunities for learning. A website that caught our eye is called Veri, which is a site dedicated to both the learning and sharing of knowledge.
How it works is that 'experts' devise a series of questions that comprise a 'course.' Since anyone can sign up to 'teach' a course, the topics are very wide-ranging. However, there are a number of business-oriented ones that sweeping contractors might find useful. Check out our article on the site to see what some of these are and to link to the Veri site. Check it out.
---
Webcast: Managing Fuel Costs in a Volatile Market
Thursday, August 16th, 2012 • 2 p.m. ET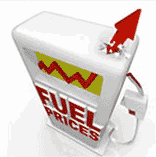 Supply disruptions in the Gulf of Mexico, lower output from the North Sea and disappointing data from China all pointed to a significant upswing in fuel prices before the recent fire at the California refinery.
The timing of this webcast on how to best manage fuel costs couldn't be better. The webcast is FREE and features Tom Kloza, senior oil analyst for Oil Price Information Service (OPIS). Kloza has covered downstream oil markets for over 35 years. He provides unbiased and expert commentary, especially during times of oil volatility, and is regularly quoted in U.S. and international periodicals.
Hear for yourself what forces are in play that could significantly impact fuel costs for your company. Knowledge of what's coming down the pike is key to planning on what action to take before you are negatively affected by it. This webinar, sponsored by Fleet Owner and Zonar, should be informative on the topic. Find out more and register.
---