by Ranger Kidwell-Ross, editor
WorldSweeper.com

'Above and Beyond' Customer Service:
How Far Would You Go to Help Your Customer?
The recent tornadoes in Alabama spawned extreme destruction – as well as a story about how far a sweeper manufacturer employee was willing to go to help a customer.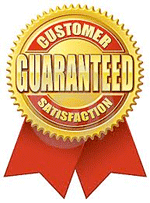 I lived in Huntsville, Alabama between about 1980 and 1989. I still have a number of friends there, so was especially concerned when I heard about the tornadoes that had cut huge swaths through the area.
Although I'm grateful that none of my close friends was badly hurt or killed during the storms, the tragedy stories ran deep and affected virtually everyone in the region. The audio interview I taped with Mark Schwarze, President of Madison, Alabama-based Victory Sweepers, Inc. after the storms provided a first-person insight into the damage and destruction wrought in the area.
However, the topic for this editorial actually stems from a more chance conversation I had with long-time associate, David Crews, who is also Victory's National Sales Manager. We spoke on the phone about three days after the storm – well before power had been restored to either his home or to the Victory or Schwarze factories.
The story was told as a way to relate to me how bad the roads were in the area. Crews used as an example the difficulty he'd had in going from devastated Alabama to relatively undamaged Tennessee in order to do what was necessary to provide a new sweeper to a waiting customer. In my estimation, a more important part of the tale turned out to be what extreme lengths he was willing to go to in order to "keep the customer satisfied."
Read the whole editorial.
---
May Newsletter Contents
(Scroll down to read stories or click on links.)
---

EMCOR Group is Purchasing USM: What Does That Portend?
On May 18th the Fortune 500 company, EMCOR Group, Inc. announced that it had entered into a definitive agreement to acquire beleagured national service provider USM Services Holdings, Inc. (USM).
Since then, WorldSweeper.com's editor, Ranger Kidwell-Ross, has exchanged several emails with company representatives. He has also requested an interview with an appropriate person at EMCOR in order to find out what the sale requirements contain in regard to paying contractors currently owed money by USM.
You may read the exchange of information that has taken place between WorldSweeper.com's editor and EMCOR Group, Inc. by using the link below to download the PDF archive of it. Read the email exchange.
---

Kimberley Schmitt, Assistant Editor of PAVEMENT magazine, has written an article with information gleaned from WorldSweeper's February 24th webinar on National Service Providers (NSPs). The article, entitled "The Good, the Bad & the Ugly of National Service Providers," appears in the May issue of the magazine. However, you can also read it online using the link shown below. this location.
In addition to highlighting the positives and pitfalls of working with NSPs, Schmitt also compiled a list of ideas about ways to work with these types of aggregation companies. The article, entitled "10 Tips to Achieving Success with National Service Providers," is linked below, as well.
WorldSweeper continues to offer a verbatim audio file of the Arlington seminar – which includes a downloadable copy of Richard Arlington's PowerPoint presentation in PDF format – for just $50. Click here for more information and to access it. To read the PAVEMENT articles, use the links shown below.

The Good, the Bad & the Ugly. – 10 Tips to Achieving Success
---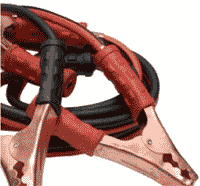 Sweeper batteries, like the ones in the rest of your fleet, show the big three warning signs of impending failure: slow cranking in cold weather; noticeable dimming of headlights when the engine is shut off; and, reaching the manufacturer's stated service cycle as shown on their label. However, when it's time for a new work truck battery, should you go with an OEM replacement – or shoot for something bigger and better?
Fortunately, you can get all of your questions on this topic answered in one place in this article from Better Roads magazine. The article covers the topic in a comprehensive fashion, including what you can expect from non-OEM upgrades, what to look for in terms of specs, and the use of volt limiters and battery isolators. A 'cheat sheet' that translates battery sizes into their respective Group rating is also included, as well as the contact information for America's leading battery manufacturers. Check it out.
---

Doing an Internet search on job candidates can be considered the same as interviewing them, legal experts say. That's why making hiring decisions based on a person's photo or blog, for example, can lead to charges of bias or privacy violations, they say. They advise employers to establish policies on social media use for all employees to avoid litigation.
"A lot of employers are Googling away on their applicants. They just want to see what they can find on candidates," said Tamara Russell, an attorney at Barran Liebman L.L.P. in Portland, Oregon. "But performing an Internet search on a job applicant is akin to interviewing them."
Our link is to an article at the BusinessInsurance.com website that catalogs the recommendations compiled at a session on social media at the recent Risk & Insurance Management Society Inc. conference.
Read the article.
---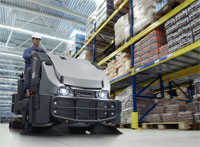 Advance claims the energy-efficient Advance CS7000 doubles operating run time while virtually eliminating 98-percent of high-maintenance hydraulic systems.
"The CS7000 is a huge advance in the future of sustainable cleaning, offering less mechanical complexity while still adhering to high productivity expectations," said Mike Kanitz, Product Manager for Advance. "We have bridged the gap with the CS7000, offering machines with unparalleled energy efficient electric motor technology at the lowest cost of ownership for industrial floor cleaning."
Advance offers three models built on the innovative CS7000 high-efficiency electric drive system, with two Hybrid drive models and one ePowerTM battery model. The Hybrid models are available in LP or diesel. Take a look.
---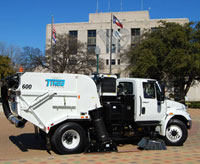 TYMCO's® new COMDEX® package for its Model 600® fits the International® DuraStar® conventional truck chassis. It allows TYMCO owners to have all the extra water and storage capacity of having their Model 600 mounted on a cabover truck without giving up the advantages of a conventional truck.
COMDEX (Compact Design Extra Water) delivers 330 gallons of water capacity, operator-friendly ergonomics, easier engine accessibility and serviceability, a curbside storage box, excellent maneuverability and improved visibility.
"COMDEX is a great package for the Model 600, adding additional functionality to our conventional truck," said Bobby Johnson, TYMCO's Vice President, Marketing. "COMDEX gives TYMCO owners more while remaining sensitive to price." Read about it.
---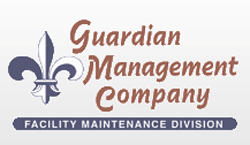 Ross and Tina Barton, owners of Guardian Management Company, have been serving Idaho's western Treasure Valley for a decade. More recently, they have expanded their services into adjacent areas of Oregon. Today, the company specializes in parking lot sweeping and landscape maintenance for both commercial and residential properties.
As items of pride they cite two major accomplishments: being able to exceed their customers' expectations while maintaining an outstanding level of customer service; and, providing an enriching, fulfilling and rewarding environment for their employees, one that results in long-term relationships. Check it out.
---

---
The American Management Association will be offering several FREE webcasts of potential interest to those in power sweeping, both contractors and public works' managers. The topics of these are shown below. Each webcast title is linked to the information and signup page for that particular webcast.
Attend to discover a unique, cost-effective "self-coaching" approach designed to help you create your own performance breakthroughs without outside help.
---
Boost your management success with strategies that individual employees can use to become more engaged and to measure their own increase in engagement.
---
This Webcast explores the essential factors that lead to the creation of successful innovations and the leaders who champion them. Using stories and specific case examples, you'll hear about the essential framework of innovation leadership.
---
This program examines 5 new levers for managing responsibility in the context of developing collaborative work environments that drive engagement, innovation, and business success.
---
Drawing from their new book, "Lead with LUV," two legendary leaders will explain what this all means, why it works and how it can help you achieve unprecedented business performance.

Although attending these programs is FREE, reservations are required.