by Ranger Kidwell-Ross, editor
WorldSweeper.com

How's Your Customer Service Quotient?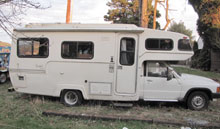 I recently had an interesting experience courtesy of my first outing in a new (to me) vintage 1985 motorhome mounted onto Toyota's venerable extended cab pickup chassis. First off, when I showed a larger version of the photo you see to several industry friends at the recent 2012 NPE in Memphis, I received a gratifying reminder of how dependable that chassis had proven to be to those in power sweeping.
Uniformly, the contractor responses affirmed that Toyota had provided what they considered the most dependable sweeper chassis ever built. Several reminisced about the service life they'd received from their Aaplex 2010/2020 and Schwarze 220/222 sweeper models, as well as the mileage and long-lasting service the units had provided. (The latter items are a big reason I chose this particular camper type.)
For a shakedown cruise I met a Seattle-based friend, who has a Volkswagen camper, at a state park located about halfway between our houses at a place called Camano Island State Park. We had researched the state park's amenities online to confirm that the two items at the top of our list were available: nearby clam digging for the season's first minus low tides; and, electrical hookups so we could stay warm in the 40-degree weather that forecasters promised would include plenty of rain or snow along with high winds.
Unfortunately, when we arrived at the beautiful park we got a lesson in how not to provide good customer service. As we came in, a passing ranger told us to pick any campsite from the essentially vacant park and place our $21 apiece in the box provided. "We'll be paying $28 each," we told him, "because we want electrical hookup sites."
"We don't have electrical sites at this park," the ranger told us. "But the website about the park says you have electrical hookups available," we answered back. "Yes, we hear that alot," replied the park ranger. That's when the interesting part started. Read the rest of the editorial.
---
March Newsletter Contents
(Scroll down to read stories or click on links.)
---
WorldSweeper's Editor Announces 2012 Winner of Award of Excellence in Power Sweeping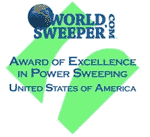 Extending a tradition begun in 1995 with the precursor to WorldSweeper, American Sweeper Magazine, the founder and editor of both enterprises, Ranger Kidwell-Ross, announced at the winner of this year's Award of Excellence in Power Sweeping at the Sweeper's Roundtable at the 2012 National Pavement Expo.
This year's winner is a man known to many throughout the industry. In addition to being a founding member of NAPSA, he is widely seen as the inventor of the Broom Bear sweeper and was subsequently a principal in the SK Sweeper line. Our coverage includes a 44-minute audio interview that discusses his beginnings in the sweeping industry in 1975, as well as his take on how the power sweeping industry has changed in the 25+ years since then. Check out the winner.
---

2012 NPE in Memphis Offered Mixture of Fun and Learning Opportunities
If you weren't there you simply don't know the fun – and learning opportunities – you missed. This year's National Pavement Expo was a clear indication the economy is getting better. Attendance appeared to be up, both in terms of attendees and exhibitors.
An interesting aspect of this year's show was the number of contractors attending who had never been before. It was refreshing seeing more than the usual 50 sweeping contractors that are at a typical NPE event.
Our coverage this year consists of a number of videos shot with vendors on location at their respective booths; a montage of photos taken throughout the NPE; and, a feature article that encompasses the six different topics covered at the Best Practices Workshop. Take a look.
---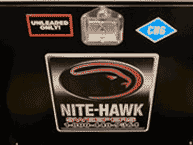 The biggest news in parking area sweepers at the 2012 NPE was captured by Nite-Hawk Sweepers, which unveiled a new 'concept sweeper' powered by either gasoline or compressed natural gas (CNG).
The sweeper, which is being produced on the company's well-regarded Raptor platform, is not yet available for sale. However, according to Tracy Day, Nite-Hawk's president, the company currently has several dual-fuel Raptors in testing at various locations around the U.S. Testing is being done via an EPA waiver, which allows a company to test concept vehicles prior to gaining final EPA certification. However, according to Day, the current configuration meets all EPA requirements for eventual public sale.
Although CNG street sweepers have been in operation for several years, especially in California where they are mandated in some geographical locations, the new Raptor by Nite-Hawk marks the first CNG entrant into the parking area sweeping arena. Read about it.
---

Service Channel: The Survey Results
In February's e-Newsletter we invited readers who use ServiceChannel, which now hosts WalMart's required contractor reporting system. The survey results provide a snapshot of the satisfaction level of current sweeping contractors.
As you will see – although with some exceptions – those contractors responding to the WorldSweeper survey show that ServiceMaster is providing an increasingly better reporting experience. Whether this is as a result of contractors learning to better use the system, ServiceMaster becoming more responsive or a combination of the two, the bottom line is clearly a marked improvement over the likes of USM and others. Check out the survey results.
---

"We are proud to announce a newly designed and informative website," said Frank Chulick, Stewart-Amos Sweeper Company president. "There are many new product photos, as well as complete literature on all of our sweeper models. In addition, those not familiar with the Stewart-Amos organization can learn about our company's strong roots in the heavy equipment industry."
Although relatively new to street sweeper manufacturing, since the company started making sweepers only eight years ago in 2004, Stewart-Amos has been a fixture in the road building equipment industry since 1947. "We know that many in the industry are unaware of the storied past of Stewart-Amos," said Chulick, "and are proud that we now have a website that tells the Stewart-Amos story.
Take a look.
---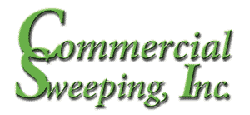 It's quite a stretch from being a wholesale mortgage broker in Nevada to running a sweeping contracting business in Oregon, but that's how Eddie Hamilton got his start in the industry.
Soon after having surgery for skin cancer he got a call asking him to come to Oregon to 'package up' a business so it could be sold. Knowing nothing about sweeping – but figuring that business was business – Hamilton saw the opportunity as something he could do and a way to get out of the mortgage business. Two years later, Hamilton decided to buy the company he'd made a success. Read about Commercial Sweeping.
---

Scheduled for April 25th (2pm to 3pm ET)

The California Air Resources Board (CARB) has begun implementation of the On-Road Truck and Bus Regulation, which impacts the owners, operators, businesses, and municipalities in the street sweeping industry. In this session the CARB manager of this regulation, Beth White, will outline the basic regulatory requirements; discuss reporting, registration and permitting requirements; provide compliance deadlines; discuss funding opportunities; and provide an enforcement update.

The On-Road and Off-Road regulations, and the Portable equipment regulations and program, apply to both single-engine and two-engine sweepers. A 'must' session for contract sweepers in California – and of significant interest to other contractors in states such as NY, NJ, MA, ME, CT, RI, PA, VT, NM, OR, WA, MD, FL and several others who are on the fast track to adopt this legislation.

Pricing is $49 for NAPSA members and $99 for non-members. Register by clicking on this link.
---