by Ranger Kidwell-Ross, editor
WorldSweeper.com

Happy Anniversary to WorldSweeper.com!

Celebrating Six Years –or is it 23 – of Leadership in the Power Sweeping Industry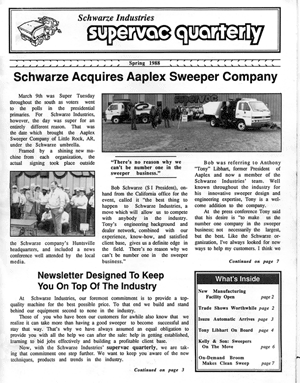 In the spring of 1988 I started producing the first-ever newsletter for the sweeping industry, the Supervac Quarterly. Today, after an interim that included 10 successful years of producing American Sweeper magazine, marks the six-year anniversary of the founding of WorldSweeper.com.
Back in 1988 I was a business consultant married to a wife who was an award-winning rocket scientist. Her work with NASA required that we live in Huntsville, Alabama, home of Marshall Space Flight Center and the Army's Redstone Arsenal. My own client list included a number of high-tech companies, all of whom sold to either NASA or the Army.
Then, early in 1988 I responded to an ad from a person named Mark Schwarze. He was looking for someone to produce a company video showing his parking lot sweepers in action. By the time I interviewed for the project, though, he confessed that he'd already picked someone else for the job. However, impressed with my writing credentials, he said he would call on me in a few months to produce a quarterly newsletter for his clients. Right. To be honest, although I wrote a thank you note I then forgot all about it.
A couple of months later, though, Mark Schwarze called to ask me to come to his manufacturing plant for a ceremony marking the purchase of a street sweeping manufacturer called Aaplex. "What we would like," said Schwarze – who was company vice-president and the son of Schwarze Industries' founder, Robert Schwarze – "is for you to write an article on the acquisition. Then, make that the headline story for the first of a series of quarterly newsletters. You'll have to figure out what the other stories could be."
The rest, as is said, is now history. We decided to name the newsletter after the company's main line of parking lot sweepers, at the time called 'Supervacs.' I produced the newsletters for several years, as well as all the Schwarze company's owners manuals, specification sheets, brochures, press releases, marketing letters and other material needed by a growing manufacturer. Along the way, I learned much about an industry that most people, even today, don't even know exists.
Read the whole editorial.
---
June Newsletter Contents
(Scroll down to read stories or click on links.)
---

Street Cleaning Simulator 2011
"Brush off the dirt and make a clean sweep as you embark on a career to become an accomplished street cleaner. Use your highly detailed sweeping machines to roam the city in search of muck. As your experience grows so will the tasks you have to deal with!" Get swept up into fighting the flotsam and jetsam of city life with Street Cleaning Simulator!"
So starts the info page for the PC program called "Street Cleaning Simulator." The program, which is due out July 1st, 2011, is the first entrant into the PC realm of sweeper operation simulation. Current pricing for the program is about $40 U.S. Thanks to Albert Price for alerting us about this new program. Take a look.
---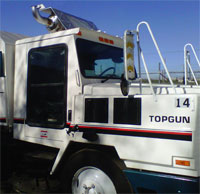 The Athey Mobil Street Sweeper is still considered by many as the flagship of their street sweeping fleet. They are a well built, highly functionable sweeper that can tackle many of the jobs newer sweepers still have trouble with. Unfortunately, Athey, the manufacturer of Mobil, went out of business many years ago. This has left little to no support in retrofitting or modifying this equipment.
When the California Air Resources Board (C.A.R.B.) enacted its regulations for On-Road Diesel trucks, the Mobil immediately came into question. The conversion pioneered by Wells Sweeping is a feasible solution to continued Mobil operation where C.A.R.B. rules must be followed. Read about it and see photos.
---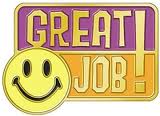 There is no question that the lifeblood of any organization is its employees. Unless you have a dedicated, well-trained and motivated team – whether in the public or private sector – there is no way to survive, let alone thrive.
Although money is a factor, getting a raise in pay is rarely the only reason for an employee to leave. The fact is, there are a variety of other reasons that often have a larger influence on a worker seeking new horizons. In order to keep the best of your workforce from heading to the door, you need to understand some of the causes of employee turnover that are not related to money. Check it out.
---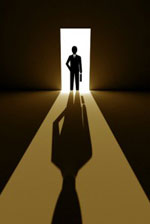 Even when you've done everything possible to reduce turnover, a fact of business life is that you will have employees leaving your company. It is important that you have a standard procedure in place for when an employee leaves your employ, what is known as an 'exit interview.'
A wide array of value can be obtained during the exit interview process. This article, also written for WorldSweeper readers by our editor, catalogs why a solid, professional exit program is important both for your company and for your departing employees.
This process should include, in addition to a verbal, face-to-face interview with your departing employee, some sort of 'Exit Questionnaire.' You will find one linked at the bottom of the article. Read the article.
---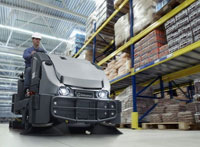 Advance claims the energy-efficient Advance CS7000 doubles operating run time while virtually eliminating 98-percent of high-maintenance hydraulic systems.
"The CS7000 is a huge advance in the future of sustainable cleaning, offering less mechanical complexity while still adhering to high productivity expectations," said Mike Kanitz, Product Manager for Advance. "We have bridged the gap with the CS7000, offering machines with unparalleled energy efficient electric motor technology at the lowest cost of ownership for industrial floor cleaning."
Advance offers three models built on the innovative CS7000 high-efficiency electric drive system, with two Hybrid drive models and one ePowerTM battery model. The Hybrid models are available in LP or diesel. Take a look.
---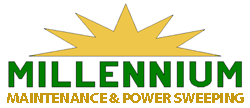 David Ross, owner of Millennium Maintenance & Power Sweeping, Inc. (MMPS) has become a sweeping and maintenance leader in the New England area. Beginning at the bottom and working his way to the top, he has established one of the New England area's largest power sweeping and exterior facility maintenance companies.
Before establishing MMPS, Ross founded and owned a successful vending business in the Boston area, Ross Food Services. In 1999, Ross had the vision for developing a sweeping and full service maintenance firm. A true entrepreneur, he invested profits from his concession business into his new idea. Our feature article on the company discusses how David Ross has developed his company into one of the powerhouse sweeping and maintenance companies in the NE. Read about the company.
---

National Pavement Expo West, which has been held in Las Vegas for the last 10 years, will undergo a major overhaul for the 2011 show, according to Amy Schwandt, publisher of Pavement Maintenance & Reconstruction.
In addition to a move to San Diego's Town & Country Resort, NPE West also will be extended one day and will include an opportunity for exhibitors to conduct live demonstrations of their equipment. The 2011 event will be held Wednesday, Nov. 30 – Saturday, Dec. 3. Read the whole story.
---

---
The American Management Association is offering a FREE webcast on risk management, which should be of interest to those in power sweeping, both contractors and public works' managers. While attending this program is FREE, reservations are required.
One ongoing project management debate concerns whether risks can really be "managed" at all. Assuming that project business risk can be managed, the question is "should it be, and if so, when?" In this Webcast you'll discover ways to understand when it's a good idea to manage a risk and when it may not be.
It's obvious that doing something about a risk that actually occurs makes sense. Doing nothing for a risk that does not happen is also sensible (or perhaps just lucky). However, some risk management we undertake will ultimately prove to be unnecessary and some risks we choose to accept may lead to disaster.
What you will learn...
How to identify key criteria to use in determining which risks to manage
Tips for determining when it is prudent to manage what appear to be mid-range severity risks
Advice for justifying project schedule and budget reserves for use in dealing with risks lacking explicit risk responses
The presenter, Tom Kendrick, PMP, is Program Director for the University of California Berkeley Extension Project Management curriculum. He is author of Identifying and Managing Project Risk, Project Management Tool Kit, and 101 Project Management Problems and How to Solve Them.