by Ranger Kidwell-Ross, editor
WorldSweeper.com

WorldSweeper Wins Two National APEX Awards of Excellence for 2011
Recognition for doing a good job is always nice to receive, especially when it's from 'professional critics.' It's even nicer when there are other organizations of stature sharing the podium!
Although we are proud of winning an APEX Award for Website Excellence again this year – our third for the WorldSweeper website in the last four years – a great byproduct is that it brings the sweeping industry further into the forefront of the minds of people outside our industry.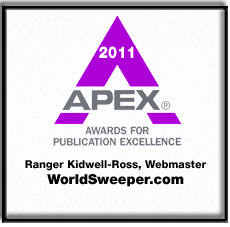 I also won a personal APEX Award this year as author of a feature article that was debuted on WorldSweeper.com. The article covered the Black Rock City Public Works Department's cleanup of the yearly event known to most as 'Burning Man.'
"The Cleanup of Black Rock City: It's All About the MOOP" caught the judge's eye for its comprehensive, behind the scenes coverage of how the United States' largest gathering on public lands is cleaned up to 'no trace left behind' standards.
For 2011, a total of 3,000 entries were evaluated, with 957 of those winning an APEX Award of Excellence in one of 130 subcategories. Other APEX Award winners for 2011 included:
AARP
American Journal of Nursing
American Red Cross
National Association of REALTORS
Bank of America
Boeing Commercial Airplanes
My first project for APEX Award consideration, the then-fledgling American Sweeper magazine, was submitted in 1994. Not only did it win, but at least one of my projects has won an APEX Award in each year since then, something that no one else in the history of the long-running national contest can say. And, most of these have been for a project somehow connected with the power sweeping industry.
I appreciate the recognition that winning the two APEX Awards this year brings. However, what I want to form as a response is to find ways for WorldSweeper.com to become an even better worldwide resource for the power sweeping industry. Read the whole editorial.
---
July Newsletter Contents
(Scroll down to read stories or click on links.)
---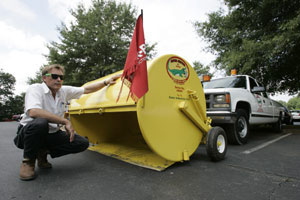 Highway Large Debris Removal Machine Introduced by Gator Industries, Inc.
In his 33 years of manufacturing, Walt 'Gator' Hopkins has made a number of items designed to address particular issues. His favorite, he says, is making equipment designed to improve safety. With his latest product, the "Gator Getter," Hopkins claims he can provide a safe, in-cab method for removing large items of debris from highways. Speeds are high enough to not require attenuator vehicles, let alone exiting the cab.
Hopkins touts his patented Gator Getter as being able to pick up such items as animal carcasses and tire casings at road speed, without the need of slowing down. If the apparatus proves out, which according to Missouri DOT Maintenance Supervisor, Bill Billings, it has so far for MODOT, it may gain widespread usage for removing the large items that traditional highway sweepers can't handle.
The Gator Getter should also be ideal for contractors and jurisdictions that are on-call for roadway cleanup. However, usage of the Gator Getter in advance of highway sweeping may mean that air sweepers – with their ability to pick up more pollutants but not being able to handle items larger than about 10" in diameter – could be utilized to a greater degree in highway sweeping. Take a look.
---

As we reported this past April, a group of former Allianz employees has formed a new company to continue support for the the Madvac and certain Allianz models of sweepers. Initially called 'Madvac Products,' this organization is now moving forward under the new name 'Exprolink, Inc.'
The new company has purchased the rights to some of the former Allianz/Madvac product line and is currently processing orders for the former Allianz/Madvac model numbers LN50, LR50, PS300 and SKID61. These are being manufactured now for delivery during the month of September, 2011.
Company management is also in the process of actively gauging the market's needs for the CN100, LX300, LT500 and MS/MT350 models, so if you have an interest in keeping and of these latter models in the marketplace, here's a link so you can let them know via email. Read about it.
---
In addition, Exprolink has formed a partnership with Global Sweeping Solutions to provide OEM spare parts for the Allianz MS/MT350 Truck-Mounted Mechanical Sweeper to the U.S. and Canadian markets. Read the details.
---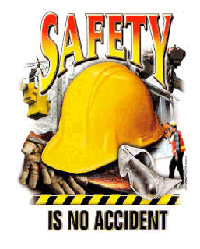 Ongoing safety relies on involvement by everyone in your organization, from the top manager to the newest employee. The impetus for this article is a fatal accident that occurred in New Hampshire on July 5, 2011. It is dedicated to the memory of Patrick J. MacDonald, who was killed after getting trapped in an Elgin Pelican while performing maintenance on the machine. Mr. MacDonald apparently became somehow entangled in the Pelican's hopper while working on it.
Whatever job you or one of your employees is performing in or around a sweeper, the fact is that danger exists. That's why it is extremely important – no, make that mandatory – that anyone who is working on or around a particular sweeper has at the very least read the safety section of the operators manual and verifiably understood every part of it. Check it out.
---
On July 25th Johnston North America and Global Environmental Products, Inc. (GEP) announced a partnership to continue offering Johnston's sweeper line to the Boroughs of New York City.
Since New York City was, in all likelihood, the now bankrupt, Canadian-based Allianz Sweeper Company's largest single contract, this news will no doubt be received with chagrin by U.S. sweeper manufacturers. The Boroughs of New York have long been the terrain of Johnston- and Allianz-produced sweepers and no doubt were on the radar of the other industry sweeper makers.
Walter Pusic, former Allianz VP and liaison with New York officials for that company's sweeper line, is now President of GEP, which was founded in March of this year. Pusic, who emerged seemingly above the fray during the Allianz debacle, expressed complete confidence his organization will be up to the task before it.
The General Manager for Johnston North America, Bob O'Hara, says of the newly formed arrangement: "Given Walter's long-term, proven track record of sales and service in this industry, we are delighted to have him on board to service the five Boroughs of New York. His thirty-plus year relationship with the city is second-to-none and we are pleased that he is going to represent the Johnston line in the Boroughs." Read the Global press release.
---


Ron Roberts, who operates The Contractors' Business Coach with partner, Guy Gruenberg, offers this article on how to address an issue that every small business owner struggles with... having enough time.
Time to work on the business. Time to spend on tasks that make money. Time to meet with valued customers. Your goal, of course, is to free up more of it.

Roberts shares with us the not-so-obvious cause of many small business owner's lack of time. If what he describes is a problem in your business, perhaps it will convince you to stop procrastinating and address the problem head on. Read it.
---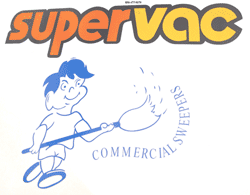 Larry Morton got into the sweeping business because he had a mobile home park that had lots of trees. The leaves were a perpetual problem and he needed a way to keep it looking nice. When he saw an ad for a Schwarze sweeper, he got the idea that if he bought a sweeper – and then got another customer or two to help pay for it – he could justify the expense.
At the time, total cost for a sweeper was about $15,000. His initial goal was to get enough business to operate the machine three nights a week, since he had a full-time job. In time, Morton grew his Supervac of Pensacola (a division of L.T.D. Enterprises) fleet to a 16-sweeper operation. Read about the company.
---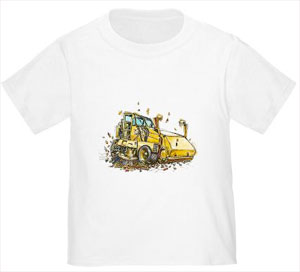 We get calls each year, especially around Christmastime, for places to go for sweeper-related gifts. One place where a few of these items is located is CafePress, one of the Internet's largest giftware areas.
Most all of the items at CafePress are offered by the individuals who make them, so you never know quite what you'll find. Use the link shown to see what's at CafePress with the search term "street sweeper" at the moment. (You'll have to ignore the several items that are designed for the term when it describes a type of gun called a "street sweeper..." Read the whole story.
---

If you're in the market for a used sweeper, or just want to see the latest sweeper-related ads, SweeperMarket magazine is the "Bible" publication for our industry. And, as a WorldSweeper exclusive, you can view each month's issue at least 10 days before it arrives in the mail!
For example, WorldSweeper's exclusive early link to the latest issue was posted yesterday, July 27th. Mark Boyer, the magazine's editor, said the magazine won't be mailed for about a week – somewhat later than usual since their printer's location was struck by a tornado recently.
Here is the link to our advanced view page for SweeperMarket. To receive your free monthly copy of the SweeperMarket magazine, go to SweeperMarket.com and use the 'subscription link' shown on the left side of the page.
---