by Ranger Kidwell-Ross, editor
WorldSweeper.com

Website Host Outage Shows Various Levels of "Internet Involvement" by Sweeping Contractors
The recent daylong service outage by one of the largest website hosting companies in America, Knownhost, provided a number of business-related insights.
These days, it's safe to say that the vast majority of businesses are connected to the internet and have a company website and e-mail. You do, or you couldn't be reading these words. What I learned recently, however, was that only a relatively small percentage of contractors may be checking their e-mail and websites as often as they should.
A couple of weeks ago, the web hosting company used by WorldSweeper for both our website and the approximately 75 sweeping contractors and others whose sites we host went off-line without notice for almost an entire day. Since our hosting company is one of America's largest – and advertises that it has the best uptime percentage of any such firm in the industry – this was quite a surprising event. (The outage turned out to be due to a widespread power failure in the Dallas area where the servers are located.)
As you might imagine, a number of contractors called our office to find out what the problem was. What I found surprising, though, is that I didn't hear from the majority of our web-hosted clients. I found this both surprising and alarming – for the success of their businesses.
I first got onto the internet back in the '80s and designed the first corporate website for the power sweeping industry, www.Schwarze.com. At the time, there were 'only' about 100,000 websites in existence. This seemed like a large number then; however, today there are well over 1 billion websites. Since I have been online for so long, I take it for granted that other business owners realize the implied commitment that an online presence creates.
For whatever reason, people who contact you via your website or business e-mail address expect a response even faster than if they leave you a voicemail message. Your e-mail link on your website, especially, needs to be checked at least once a day and ideally even more often. When you do get business inquiries you need to respond quickly.
Surprising to me, two thirds of our web hosting customers apparently didn't notice their website and e-mail were down all day; or, they were unconcerned about their web access being down. Either one is a mistake. Read the whole editorial.
---
August Newsletter Contents
(Scroll down to read stories or click on links.)
---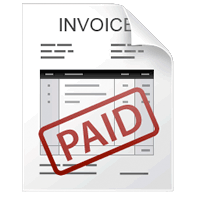 Contractor's Tips to Get Aggregator Companies to Pay Up
Contractors throughout the United States have reported difficulties in getting paid by the so called "Third Party Aggregators." This has reportedly been especially true concerning US Maintenance since WalMart cancelled its contract with that company in April of 2011. Many months later sweeping and other contractors reported they still hadn't received payment due to them under the previous contract. Go to the story.
---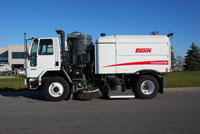 The push for an industry-wide street sweeper testing protocol received a boost via a recent round of testing financed by the cities of Glendale and Burbank, California. The principal organization hired to coordinate the process was Larry Walker Associates.
In turn, that company subcontracted with noted sweeper testing authority, Roger Sutherland, Principal Water Resources Engineer with AMEC Environment And Infrastructure, Inc., to design and implement the test.
The regulatory driver for this testing is a Total Daily Maximum Load (TMDL) for the Los Angeles River that requires the Cities to reduce metals' concentrations in storm water. In addition to those two jurisdictions, many others in California will be examining the test results in order to determine if sweeping enhancements also make sense for them.
An odd twist is that the testing is being performed on existing sweepers in the respective cities' fleets, not on new machines. Although ideally testing will also take place on new sweepers from all the manufacturers, as well, at the moment no other manufacturers have committed to test their machines. Read about it.
---

In the past month the WorldSweeper office has fielded calls and emails from contractors on two distinct, yet related, topics. Perhaps not coincidentally, both regard the company that used to be known as "US Maintenance" and which now goes by simply the letters "USM."
One topic is the difficulty in getting paid by USM for work previously done under USM's WalMart contract. This we addressed in our lead newsletter story. The other input we have received that concerns USM is that company's latest round of contract solicitations to sweeping contractors, this time representing the drugstore chain, Rite Aid.
Two different contractors have provided me with Excel spreadsheet files that USM sent to them. These detail the pricing structure USM suggests it will pay for sweeping at Rite Aid stores. These prices range as low as $17 per sweep for a twice-per-month sweeping regime. Our in-depth article on the Rite Aid solicitation covers both the suggested pricing and the specifications/contract being tendered by USM on Rite Aid's behalf. Check it out.
---

On August 4th, we received an email from a sweeping contractor located in the southern part of the U.S. about WalMart's new requirement to use Service Channel for reporting each sweep done for that company.
In the linked article, we provide a copy of the notice he received. In addition, WorldSweeper's Editor conducted an approximately 18-minute audio interview with a long-time sweeping contractor who has gone through the ServiceChannel videos. The contractor, who is located in the Southern part of the U.S., was interviewed anonymously about what he learned about the required system that WalMart is rolling out.
Take a look and listen.
---

Although the issue came out of the Alabama Court of Civil Appeals, the following court case may have implications for contractors and other businesses throughout the U.S.
In a nutshell, a Mr. Cascaden was injured on company time in 2001 and underwent medical treatment for serious injuries to his back and neck. He voluntarily left the company in 2002. Then, he was rehired by the company in 2007.
However, during the hiring process Cascaden completed a written medical questionnaire in which he answered "no" to several questions about whether he had experienced prior back injuries or had undergone medical treatment for prior back and neck injuries. He answered no because, he later said, he needed the job.
In 2009, Cascaden re-injured his back and filed for Workers' Compensation Benefits. The court held he was not eligible since he had knowingly misrepresented the situation in writing. The article spells out the details, as well as the very specific language that must be in bold print on the employment documents.
Read it.
---

Jeff Lindhout purchased Valley Power Sweep in 1998 during an economic downturn. Plus, his purchase only included a single sweeper and a 1-ton truck.
Since then, he has slowly built the company through doing a good job for customers and responding to their requests and a growing clientele. Today, he operates three Schwarze sweepers, an S-348 and two A4000 machines, as well as an assortment of smaller, trailer-mounted sweepers and scrubbers. Read about the company.
---


Good vehicle maintenance practices are still founded on the same common sense basics that they always have been. Today, however, new technologies are making it possible for fleets to dramatically reduce maintenance costs and related problems like never before, including reducing the risk of maintenance-related CSA issues.
If you haven't taken an in-depth look at what technology has added to the maintenance toolbox lately, this free online event is for you. Learn from industry experts Bruce Stockton, formerly vice president of maintenance and asset management for Con-way and now president of consulting firm Stockton Solutions.
Learn:

Improved diagnostic and repair assistance tools to reduce shop time and improve results
On board diagnostic and communication systems that feed critical information to the back office to help meet preventive maintenance schedules and identify potential break downs before they occur
Easy-to-use and query maintenance management solutions to show you where your costs are really coming from
Vehicle inspection tools that can automatically create work orders and track them through completion

The information about this webinar, which is presented by FleetOwner Magazine and sponsored by Zonar, is being presented as a courtesy by WorldSweeper. Use the link button shown to the right register for this FREE webinar and/or get more information. Learn more and sign up.
---