by Ranger Kidwell-Ross, editor
WorldSweeper.com

The Challenge of Keeping Current in an Ever-Quickening World
With all the new directions the business world is stretching into, I'm finding it ever harder to keep up, keep track, keep my eye on "the overall ball," and still keep my sanity. What I'm referring to, in large part, are all the social media linkups that are occurring that connect us together more tightly than ever before.
Just today I received several Facebook 'friend requests,' two emails asking for me to connect on Grouply, and another two from acquaintances who wanted to be part of my Linked-in network of business contacts. Plus a number of client emails, several of which were action items of the type that actually keep food on the table.
At the same time, the world of power sweeping is expanding ever faster, as well. In the last month we've seen Victory Sweepers and Stewart-Amos enter into a marketing partnership, Allianz introduce the industry's first purpose-built electric hybrid sweeper, and Elgin's introduction of a Crosswind specially designed for racetracks. Those are more industry changes than I recall used to occur in a typical 6-month period.
All that said, the unprecedented expansion of social media enhances our ability to stay connected with both friends and customers, which is not necessarily a bad thing. The internet, including social media sites, allows me to better understand the particular situations and needs of both friends and clients like never before in history. We can transmit ideas back and forth with unprecedented speed and clarity. Here's how. Read the rest.
---
September Newsletter Contents (Click on link or scroll down to read stories.)
---

Developing and Documenting Your Sweeping Company's Philosophy
There is much value in developing and documenting the 'philosophy' of your company. In addition to providing a goal to attain, doing so can empower employees and provide guidelines for their behavior.
Our editor recently assisted WorldSweeper client, Bob Stumpf, Jr., whose sweeping company was our Contractor of the Month for January 2010, with two 'belief statements' for his company, BZ & Sons, Inc. Stumpf had never set his company mission down on paper for all to see, and he found it a process of revelation. "I knew, in general terms, what I wanted to say," says Stumpf. "Getting it down just right, though, was an interesting process." Read about the process.
---
Ways You Can Generate LOCAL Web Traffic For Free!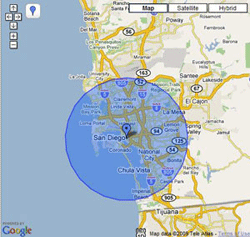 Do you have a Local Search listing on major search engines like Google? It has long been important to create a local listing to go along with your website. Now, with increased search being done for local companies like power sweeping contrators, this has become a necessity!
Our editor provides an overview on this topic, then provides a list of links to dedicated search engines and other companies that are currently providing FREE localized web linking for businesses. Go there.
---
Put out by the IRS itself, "Your Guide to an IRS Audit" is a sort of slideshow/video series that starts with a welcome and then moves on to ten different lessons. These cover everything from "What is an IRS audit?" to "What happens when you disagree with the audit findings?"
Then a lesson called "If you owe, what are your payment options?" caps off the series.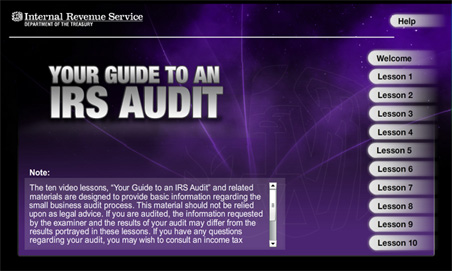 All in all, the series is "designed to provide basic information regarding the small business audit process," according to the IRS.
The video series includes theoretical businesses and situations set up so that small business owners can see how the lessons apply in real life. However, even after watching the series we don't blame you if you still cross your fingers in hope that a tax audit isn't in your near future.
---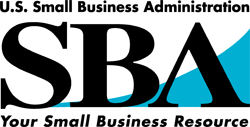 The Small Business Administration's website is a treasure trove of information for anyone running a business. The problem the SBA website faces is that the site's enormous scope sometimes makes it difficult to find exactly what one is looking for.
One such 'tucked away archive' are all the expert web chats that have occurred since the SBA started it's web chat program in 2005. The good news is that each program is archived in a written format that includes all the answers given to the questions asked by those who took part in the initial web chat. That makes it quick and easy to skim through to check out the content of each.
You are encouraged to check out the link and see if there are topics you find of interest. Several of the more likely topics are directly linked in the list below. To see the entire archive, which dates back to 2005, use this link.
---
When we were sent a video of someone singing about sweepers and using a TYMCO 435 as a backdrop, we decided to see what else was out there on YouTube. The resulting 'starter collection' of sweeper-related videos is now part of WorldSweeper's 'It's a Funny Business' area.
Not surprisingly, sweepers show up around the world as the backdrop for a number of internet videos. All of them contain either a mechanized or human sweeper as part of their content. Or, in one case, a mechanized robot taking care of someone littering in a parking lot. No promo videos by sweeper companies are included, though we found quite a few of those available. Have a little time available in a coffee break? Take a look.
---

Ten years ago Albert and Janee Rodriguez started City Wide Pressure Washers. The goal: Operate with such impeccable ethics and customer service that their clients would have no clue the couple operated the company out of their garage. They were so successful at it that today the company offers an exhaustive list of services, and has operational offices in Sacramento, San Jose, Fresno, Modesto and Los Angeles.

City Wide's long-term growth has continued to come from the same source, which is customers who appreciate the approach the Rodriguez team have in handling their particular needs. Expansion became a two-way street: On the one side, Janee and Albert were attuned to learning what additional services might be helpful to their existing customers. On the other, customers who liked the business ethics they saw from their pressure washing company wanted to extend that same value to other areas of their facility maintenance.

The article includes an audio interview with Albert Rodriguez that offers a number of insights, tips and techniques that any sweeping contractor will find of interest. Check out the contractor profile story.
---

Clayton Boyd was a Chicago sweeping and pressure washing contractor known as "the Sweeping Doctor" for almost three decades. Several years back he moved to Florida. Boyd was attending last year's National Pavement Expo show when WorldSweeper.com's editor, Ranger Kidwell-Ross, ran into him. As they renewed their acquaintance, Boyd revealed he had begun making an innovative flat surface pressure washer he called "The Mystic Washer®."
Recently, Boyd called Kidwell-Ross to ask if he would conduct some objective audio interviews of current Mystic Washer® users who were also in the sweeping business, in order to get testimonials for the company's website. Ranger agreed to do so and the results were so outstandingly positive that he ended up inquiring about having WorldSweeper become the Mystic Washer® dealer for the sweeping industry.
The Mystic Washer®, which is a contractor-grade machine made in the USA, was designed to be the best flat surface cleaner on the market. However, because the machine also has an attached wand it works great for horizontal surface cleaning. One of the sweeping contractors says that because it's so maneuverable he even prefers his Mystic Washer® to his traditional pressure washer for washing down the hoppers on his sweepers every night.
If you're looking for an additional profit center for your business, we suggest you consider the idea of pressure cleaning sidewalks, driveways, warehouse floors and other flat surface areas. You can read all about the machine, see videos of the machine in action, and listen to audio interviews from a number of sweeping contractors who have purchased one or more Mystic Washers, at www.TheMysticWasher.com.
"I continually preach in my editorials about the value of finding additional profit centers sweeping contractors can develop for their existing customers," says Kidwell-Ross. "To me, the Mystic Washer® is an ideal machine for that. For about $3,000 a contractor can be very efficient in cleaning all types of horizontal pavement, which allows them to quickly make back their investment. Best of all, it's a service that most all of their existing customers have a need for. That makes for a win/win all around." Learn more.
---
Allianz Introduces World's First Purpose-Built Electric Hybrid Sweeper: The Allianz 4000 Electric Hybrid
Allianz Sweeper Company introduced the world's first purpose-built electric hybrid street sweeper – the Allianz 4000 Electric Hybrid. Read about it.
---
Elgin Sweeper Introduces Crosswind Specialty Sweeper For Racetrack Sweeping And Maintenance Applications
The new Crosswind Specialty Track Sweeper from Elgin Sweeper is making its debut at NASCAR racetracks around the country this racing season. The new sweeper ideal for vacuuming water off track surface and picking up debris and oil-dry. Read about it.