by Ranger Kidwell-Ross, editor
WorldSweeper.com

A (Chinese) Sign of the Times
In a speech on April 12, 1959, John F. Kennedy is first reported to have said "When written in Chinese the word 'crisis' is composed of two characters. One represents danger, and the other represents opportunity."
The line met with such success that Kennedy ended up using it routinely in subsequent speeches. Later, president Richard Nixon was prone to the phrase. More recently, the line has been repeated by other American politocos, including Al Gore and Condolezza Rice. None-the-less, scholars say it isn't true.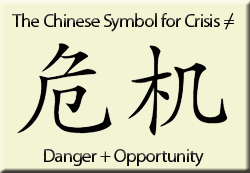 Though the connection has gained somewhat widespread usage through the years, and is now employed by motivational speakers, business consultants and the popular press, many linguists consider the idea to be fanciful folklore. That's because it's a real stretch to make the second Chinese character mean "opportunity;" more realistically, it means something with quite a different nuance.
Although my initial intent with this article was to discuss the popularized version, pre-editorial research has, to me, made for a more interesting and thought-provoking editorial. According to the Wikipedia entry on the topic and elsewhere, it turns out that scholars say "crucial point" is actually the better interpretation, and should be substituted for the word "opportunity." Read the rest.
---
October Newsletter Contents (Click on link or scroll down to read stories.)
---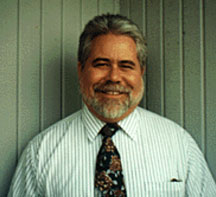 10 Tips for Ensuring a More Environmental and Cost-Effective Street Sweeping Program
Our editor asked Roger Sutherland, arguably the world's top expert on street sweeper testing and deployment, to provide five ideas for what a sweeping program might do to increase its effectiveness. Sutherland took it one step further: He offered five ideas that could be immediately implemented into a sweeping program, then added another five that should be strongly considered.
Kidwell-Ross then expanded upon Sutherland's 10 items and they went back and forth from there. The result is a "must read" article for everyone involved in sweeping streets. Whether you are a street sweeping contractor, or a municipal manager or similar, you'll want to take a look at all 10. Then, consider implementing the offered suggestions as soon as possible. Read the article.
---
Asking Questions to Ensure Ongoing Customer Satisfaction

One of the best ways to make sure your current customers want to stay with your company is to provide excellent follow-up whenever they have a problem or a perceived problem. In business management books and elsewhere one of the common phrases used is that it you should have a goal of "WOW"ing the customer.
iContact, the company WorldSweeper uses for group e-mails like the WorldSweeper.com newsletter, provides an excellent role model for this concept. Go there.
---
If you are classifying workers as independent contractors, be sure you meet all the criteria required for legal independent contractors, as opposed to employees. An attorney who specializes in employee-related law provides the latest.
Includes an IRS website link that provides a thorough discussion on the topic, along with structured, objective considerations that allow designation as either an employee or as an independent contractor. Take a look.
---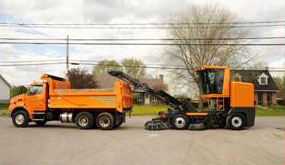 TANGUAY Machinery is introducing a new high performance broom sweeper by second quarter of 2011. The company claims unique operation will save users between 50% and 75% in operating costs on highway sweeping projects. TANGUAY management offered WorldSweeper.com readers an exclusive sneak preview of the machine.
TANGUAY representatives emphasize the ability of their upcoming ARSENO M300 front-offload broom machine to sweep more quickly than others currently in the market. Plus, it is continuously offloading into a dump truck during operation, so there's no downtime for dumping or transport. As a result, says TANGUAY's Sales and Marketing Manager Jean Pelletier, users can expect a measurable productivity increase on highway and other major street sweeping projects. Read about it.
---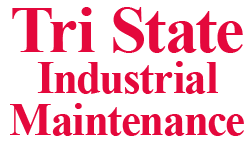 John Dubbioso, known as "Johnny D" throughout the power sweeping industry, has been involved with sweeping for many decades. Among other credits, he was one of the people behind the original Broom Bear sweeper now owned by Elgin.

When it comes to power sweeping and the sweepers that do the job, John Dubbioso has probably forgotten more than many sweeping company owners ever learn. A true generalist, Dubbioso began in 1975 by founding Three-D Industrial Maintenance in a garage in Elmsford, NY. From those humble beginnings, the organization has grown to six offices and maintenance facilities, with two affiliated companies that have combined revenues in excess of $10,000,000.

One of those companies, Dubbioso's Connecticut-based Tri State Industrial Maintenance, offers a variety of municipal-oriented maintenance services, including sweeping, throughout that state. You will definately want to listen to what this industry veteran has to say about operating a business. Check out the contractor profile story.
---
Wayne Sweepers Unveils New Truck at International Trade Show
Wayne Sweepers, LLC unveiled an adaptation of its Gladiator mechanical broom sweeper at IFAT ENTSORGA in September. Read about it.
---
Elgin Sweeper Introduces Crosswind Glycol Recovery Sweeper
Elgin Sweeper recently introduced a glycol recovery sweeper (GRS) option for the Crosswind® high-performance regenerative air sweeper. The optional model includes all the sweeping performance, maintenance and design features of the Crosswind sweeper, but offers a glycol recovery system. Read about it.
---

Mike Jeffries, one of the most popular speakers at Construction Programs & Results, Inc. (CPR), is offering a free one-hour webinar on "How to Profit from your Most Important Brand... Yourself."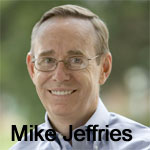 In the seminar, Jeffries will show you how to build your unique brand by:
Communicating powerfully in all of your marketing.
Leveraging what you are already doing right to separate and distinguish your business in the sea of competitors.
Raising your visibility so you become the gold standard in your market... the standard by which all of your competitors will be judged.
Standing out from the crowd even with a very small budget.
We contacted the managers of CPR to find out suitability for sweeping contractors, and were told the seminar has been of benefit to all specialty fields in the construction industry. We were told our audience would definitely find value in the information to be presented. The free online webinar will be October 28 at 5 pm Pacific (6 pm Mountain, 7 pm Central, 8 pm Eastern). You must register to attend. More Info and to Register.