by Ranger Kidwell-Ross, editor
WorldSweeper.com

The Cleanup of Black Rock City: It's All About the "MOOP"
Over time, I have traveled extensively to bring our readers information about unusual cleanup efforts and methods in a wide variety of places around the world. The sweepers used to clean hay from the roads in Switzerland and the underground, storage-based cleaning methods in the walled city of Evora, Portugal come immediately to mind. To say nothing of cleaning up after Mardi Gras or New Years at Times Square.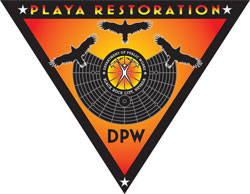 However, perhaps the most astounding cleanup effort I've covered to date is the total restoration that takes place at Nevada's Black Rock City, site of the annual 'Burning Man' event.
The challenge for Black Rock City DPW's Playa Restoration Team is to remove all Matter Out Of Place – widely known as "MOOP" – so as to restore a large expanse of Nevada desert to 'Leave No Trace' standards. This is accomplished after 50,000+ people 'move in' for a week and build an astonishing array of structures onto a dry lakebed – a number of which are artistically burned to the ground. Then, attendees theoretically take away all their garbage, including gray water, when they leave again. Oh, and did I mention that although there are porta-potties onsite, there are no garbage cans, or available water, food, or purchases of supplies available?
As this month's Editor's Overview, I invite you to read my first-person feature article about the event, which details the total restoration effort of Black Rock City, which the U.S. Bureau of Land Management cites as the most thorough cleanup and restoration done at any public lands' event in America. Read the feature article.
---
November Newsletter Contents (Click on link or scroll down to read stories.)
---
Taking Leads, Tracking Sales

Many contractors are reporting that business is picking up. Virtually all of these are using a strong advertising campaign to help them busy. This article, written by Michael Stone, publisher of Construction Programs & Results, discusses how many sales you should be getting per how many leads you receive.
Stone discusses the standard ratios considered attainable throughout the construction industry, as well as provides tips designed to get you on the right track with selling your services and managing your sales personnel. The information is a good reminder for even seasoned contractors. Go there.
---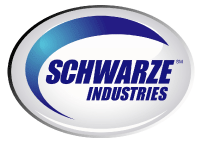 Schwarze Industries has partnered with Enova Systems, a leading innovator of electric vehicle and hybrid electric vehicle solutions for medium and heavy-duty trucks and buses, to develop a fully electric green sweeper for the United States Air Force (USAF).
The fully electric green sweeper will be powered by the Enova 120kW all-electric drive system coupled with a hydraulic pump, and will use hydrogen produced by a solar electric array.
This advanced drive system will be paired with Schwarze's proven regenerative air sweeper design. Production will take place at the Joint Base Pearl Harbor-Hickam in Honolulu, Hawaii, where it will be the first advanced sweeper technology used by the USAF. The link is to the press release in its entirety. Take a look.
---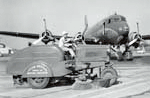 WorldSweeper.com contains over 4,000 photos and files. Here's an article that is designed to help you use one of our exclusive areas better, our email postcard sending module.
In the WorldSweeper.com postcard module you will find dozens of vintage sweepers you can use for the 'front' of your postcard. Once you have chosen the photo or drawing of your choice, the easy-to-use software makes it a snap to write your message and then email the combination. One of the ways the site is being used successfully by contractors is as an 'electronic thank you note' sent by contractor sales personnel after meeting with prospects for sweeping services.
I suggest that users write a brief thank you for the prospects time, tell them that they look forward to working with the company for many years, and then, as though an afterthought, "And, you'll be glad to know our sweepers are even newer than the one in the photo!" Reports back confirm that sending the cards allows the contractor to stand out from the other bidders, and that the prospects like seeing the vintage sweeper unit. Use the link to so to our postcard site. The first time, I suggest you email a postcard to yourself so you can see how the system works. Give it a try.
---


In its 38th year, Oregon-based Brothers Cleaning Services, Inc. has garnered a positive reputation in a variety of service areas in addition to parking area sweeping. In part because the company's president handles much of outside sales, the company has successfully kept in touch with its customer base through the years.

It was about 1979 that fate put them into the parking lot sweeping business. A friend of theirs named Mike Dyck decided to quit being a parking lot sweeping contractor and join his brother's California-based sweeper manufacturing business, Mr. Air (now MASCO). Today, the organization boasts an inside service team of over 100 in a relatively small market, so the company is clearly doing many things right. Check out the contractor profile story.
---

Clayton Boyd was a Chicago sweeping and pressure washing contractor known as "the Sweeping Doctor" for almost three decades. Several years back he moved to Florida. Boyd was attending last year's National Pavement Expo show when WorldSweeper.com's editor, Ranger Kidwell-Ross, ran into him. As they renewed their acquaintance, Boyd revealed he had begun making an innovative flat surface pressure washer he called the "Mystic Washer®."
Recently, Boyd called WorldSweeper to ask if Ranger would conduct some objective audio interviews of current Mystic Washer® users who were also in the sweeping business, in order to get testimonials for the company's website. Ranger agreed to do so and the results were so outstandingly positive that he ended up inquiring about having WorldSweeper get involved further with expanding the reach of the Mystic Washer®.
The Mystic Washer®, which is a contractor-grade machine made in the USA, was designed to be the best flat surface cleaner on the market. However, because the machine also has an attached wand it works great for horizontal surface cleaning. One of the sweeping contractors says that because it's so maneuverable he even prefers his Mystic Washer® to his traditional pressure washer for washing down the hoppers on his sweepers every night.
If you're looking for an additional profit center for your business, we suggest you consider the idea of pressure cleaning sidewalks, driveways, warehouse floors and other flat surface areas. You can read all about the machine, see videos of the machine in action, and listen to audio interviews from a number of sweeping contractors who have already purchased one or more Mystic Washers, at www.MysticWasher.com.
"I continually preach in my editorials and articles about the value to sweeping contractors of finding additional profit centers they can develop for their existing customers," says Kidwell-Ross. "To me, the Mystic Washer® is ideal machine for that. For a relatively minor investment a contractor can become very efficient in cleaning all types of horizontal and vertical surfaces. The payback on these machines appears to be excellent, with profit margins that appear to average better than in sweeping but with a much smaller machine cost. Best of all, it's a service that most all existing sweeping customers have a need for. That makes for a win/win all around." Learn more.
---

You will never really work for your company until your company really works for you.
Any manager can appear fully productive and enthusiastic simply because he or she is intellectually and financially committed. But if you've ever witnessed a human being emotionally committed to a cause, you know there's a big difference. Achieving ferocious cultural commitment is the focus of this webcast program, whose primary sponsor is the American Management Association.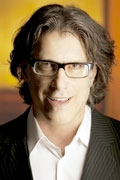 In the seminar, you will learn:
The importance of emotional commitment to managers and their companies
How real leadership starts and exactly what it looks like when it's done right
The one thing even more important than how to be a leader
While attending this program is FREE, reservations are required.
Stan Slap has a history of accomplishments as a CEO with as many as 5,000 employees reporting to him and has served as a director of several companies with their CEOs reporting to him, which he prefers a whole lot more.
Slap has directed the successful expansion for companies ranging from Patagonia to Pennzoil. He has created winning brand strategies for companies from Deloitte to Black Entertainment Television and has invented many successful advertising campaigns, consulted to leading advertising agencies and personally written slogans for companies from Coca-Cola to Checkpoint Software. You must register to attend. More Info and to Register.