by Ranger Kidwell-Ross, editor
WorldSweeper.com

Recently there was an article in my local paper about a man, Mark Clawson, who has found success in an even smaller niche than power sweeping. Over the past 25 years, Clawson has built a successful and creative career restoring and recreating the dashboard instruments in classic and antique boats and automobiles.

It's not what Clawson does for a business that has me include him in this month's editorial, though. Rather, it's how he has approached his business. First off, it's clear that Clawson truly loves what he does for a living. His love of his craft has led him to continuously keep learning a variety of skills and techniques, through trial and error, research and borrowing from a wide variety of outside sources.
Clawson has gone to great lengths to perfect his processes – the quality of his work product, if you will. You see, when it comes to improving his business, Clawson is dialed in to the details. Read more.
---
May Newsletter Contents
---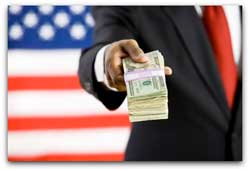 The President signed into law HR 2847, the Hiring Incentives to Restore Employment (HIRE) Act on March 18, 2010. The primary focus of this new law is to provide a tax incentive to employers hiring certain new employees.
The legislation signed into law also includes depreciation incentives for small businesses purchasing equipment and puts an additional $20 billion into highway spending.
For more details, read the entire story.
---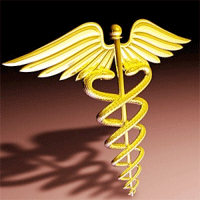 The Patient Protection and Affordable Care Act, approved by Congress in March and now signed into law by President Obama, is one of the first health care reform provisions to go into effect. The Act designates a small business health care tax credit, which takes effect this year, that is designed to encourage small employers to offer health insurance coverage for the first time or maintain coverage they already have.
In general, the credit is available to small employers that pay at least half the cost of single coverage for their employees in 2010. The credit is specifically targeted to help small businesses and tax-exempt organizations that primarily employ low- and moderate-income workers. Sweeping contractors are prime examples of the types of businesses that will gain from the Act. Continue to get all the details.
---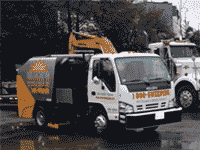 Want more calls per dollar spent on advertising? David Ross, president of Millennium Maintenance and Sweeping, says promoting his company via signage on his sweepers and other vehicles is best advertising possible.
"Put easy-to-read reflective signage onto all your rolling stock," says Ross. "It's the best money you can spend for getting referral calls. There are also some other advantages."
"Remember there are a lot of guys that don't want you to know who they are. Most of them have no disposal costs because they dump their unmarked sweeper truck into any unlocked dumpster they can find. Then the property manger gets a call from the tenant saying they saw a sweeper dumping into their dumpster. Of course, it's always assumed the debris came from the sweeper company servicing the property. Continue reading.
---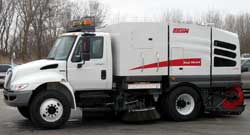 Federal Signal, parent company of Elgin Sweeper, purchased Wittke Waste back in 2004. The acquisition included Wittke's Road Wizard mechanical sweeper. Although the rest of Wittke was subsequently re-sold, the Road Wizard became included in the Elgin Sweeper model lineup.
The Wittke Road Wizard design was widely regarded as a sturdy, very heavy duty machine, Elgin engineers have come up with a re-design that addresses a few issues with the original Wittke design. After 6 months in the testing process, Elgin is now ready to offer the newly updated Road Wizard as a standard production unit. For more details, read the entire story.
---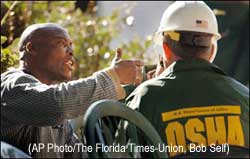 According to a blog article in The Daily Reporter, company executives, project managers and safety directors could face up to 20 years in prison for work site accidents if a federal bill becomes law.
The Protecting America's Workers Act, introduced by Congresswoman Lynn Woolsey, D-California, would let the Occupational Safety and Health Administration enforce stiffer penalties for willful safety violations that result in serious injury or death.
The bill is drawing fire from the construction industry, which argues increasing penalties undermines efforts to improve safety. "It creates financial and legal disincentives to find and fix problems before they occur," said Brian Turmail, spokesman for the Associated General Contractors of America. "If I know I'm going to be fined or at risk because I know there's a problem on site, I think it would actually drive safety concerns underground because I'm going to keep quiet."
Kim Stille, area director for Madison's OSHA office, said the bill would set intent as the difference between criminal charges and standard fees. For example, she said, if a backhoe operator backs over and crushes a co-worker's leg, criminal charges would follow if the project manager, CEO or safety director knew the backhoe had service issues and instructed the worker to use it anyway.
Under current rules, Stille said, the company would face a maximum penalty of $70,000 for that kind of willful violation. If the federal bill passes, the penalty could be $120,000 or 10 years in prison. Read the entire article.
---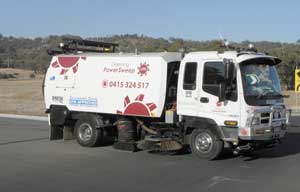 Geelong, Australia, is a regional center only about 50km from Melbourne. An old port town that served the rural industry for 100 years with shipping of wheat and wool, today this city of about 200,000 has enlivened the docks and waterfront area into a tourist haven replete with museums, shops and restaurants.
Fourteen years ago, fed up with his work as a long distance truck driver, Australian contractor Glenn Laybourne bought a couple of PowerBoss sweeper scrubbers and used them to clean factories and warehouses. Laybourne, who combines energy with technology to keep on top of his market area, traces his ancestors to Lord William Laybourne, First Sea Admiral of England.
The company has 4 Schwarze A6500XL units, which are the Australian version of the Schwarze A7000, although with quite a few variations. The company's regular business is sweeping main roads and motorways. Using a combination of innovation, GPS and personalized service, Laybourne's Geelong Power Sweep provides roadway and construction sweeping throughout his Greater Melbourne market area.
We were impressed enough by Geelong Power Sweep's story to also make the company our Contractor of the Month for May. However, even if you've already read that article, we suggest you read the original, another in the series penned by our world travelling correspondent, Phileas Fogg. Check out Phileas' version.
---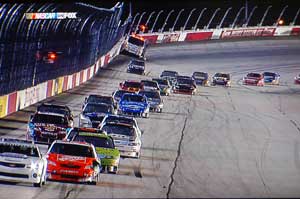 An alert sweeping contractor and WorldSweeper.com reader sent a picture of a sweeper they'd never seen before on the track cleaning during the recent Showtime Southern 500 at Darlington Raceway. Although there is no way to tell from the photo he provided, the contractor insisted it looked to him like Victory Sweepers, which only builds parking lot sweepers, was making a road sweeper.
Just because a sweeper has a right-side gutter broom doesn't mean it's a road sweeper. Still, the tip seemed worth investigating. Knowing that Dale McCaskill, NAPSA past president and president of Southco Sweeping and Maintenance, has long arranged for sweeping at Darlington, we gave him a call.
Our investigation revealed that Victory Sweepers, Inc. has developed both a 4-yard and a 6-yard air sweeper for road sweeping applications. The new Victory R4 was one of the sweepers the contractor – and 30 million television viewers – saw cleaning at Darlington during the Southern 500. Read the story.