Welcome to our new monthly newsletter format! Our new monthly schedule offers twin advantages: For one, the amount of news won't be as overwhelming. Secondly, we'll have the ability to get the information to you in a more timely manner.
Our intent is to bring you the most usable information from the world power sweeping industry. If there is an event you'd like us to cover, please let me know.
Although it's only January, there is plenty to talk about. And, I'm now working on a host of NPE information we'll soon have posted. Click here to read my Editor's Overview article in its entirety.
Ranger Kidwell-Ross, editor
WorldSweeper.com
January Newsletter Contents
Free Webinars:

---
To access WorldSweeper.com's Twitter and/or Facebook pages, click their respective logos shown above.
If you have a Twitter or Facebook account, you will probably want to start following WorldSweeper.com on one or both of them. Starting this past January 1st, we have announced all updates to WorldSweeper.com on those sites. In addition, however, we have provided brief 'snippets' of sweeping-related news that doesn't make it to the pages of WorldSweeper.com.
For example, we recently upgraded our assessment of the viability of mall management giant, General Growth, which is working its way through Chapter 11 bankruptcy proceedings. We announced this on Facebook and updated our complete listing of suspected chain store companies in financial trouble.
---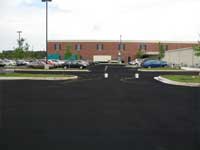 A recent U.S. Geological Survey study found that apartments adjacent to coal-tar-sealcoated parking lots contained concentrations of the contaminants polycyclic aromatic hydrocarbons (PAHs). The concentrations of PAHs in the dust of those houses were discovered to be 25 times higher than in house dust of apartments with concrete, asphalt, or asphalt-based sealcoated parking lot surfaces.
The study also found that dust taken directly from the coal-tar-sealcoated parking lots had PAH concentrations that were 530 times higher than in dust on the parking lots without coal-tar sealcoat. This finding may well have enormous implications for the parking lot sweeping industry. Read the entire story.
---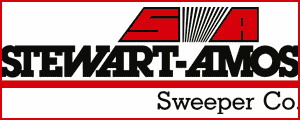 In 1938, Al Amos founded what is today called the Stewart-Amos Company, maker of the Starfire line of mechanical broom sweepers. Initially, the firm was a distributor of mineral processing and aggregate production equipment for the limestone quarries located in Pennsylvania.
Since 2004, Stewart-Amos has been building heavy duty mechanical broom sweepers. Although this move was initially to support the company's extensive rental fleet needs in its core aggregate industry, the simple design and beefy construction has won converts across the U.S. sweeper marketplace.
Currently the company's 'Starfire' product line includes 4, 5, and 6 cubic yard capacity broom sweepers. The two larger machines are available in single- or twin-engine configuration, and the 4-yard sweeper does not require a CDL. Read more.
---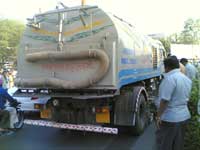 Manish Chandra is the Business Development Manager, Infrastructure, for Eureka Forbes Limited. Eureka Forbes represents Bucher Schoerling road sweeping machines through its more than 180 offices located throughout India.
In this candid interview with WorldSweeper.com's editor, Mr. Chandra provides an overview of how sweeping is done in India, both currently and historically. He also provided the variety of photos that accompany the article. Read the entire story.
---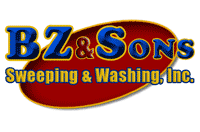 In 1986 Bob and Zuella Stumpf decided parking area sweeping was a good type of business to start. For the next 17 years they operated their company with diligence and hard work, becoming a force to reckon with in and around their Paris, Texas, location.
In 2003 their son, Bob Jr., retired from the military and came back home. Before long, he and his wife, Connie, got back into the business Bob had grown up in. In the interim, Bob Jr.'s vision for what his customers want—coupled with a seemingly insatiable desire to do whatever he can to assist them with any property needs that arise—has moved BZ and Sons into a three-state operation. Read the entire story.
---

WorldSweeper.com readers are invited to join in the first of a two-part webcast series designed to help you improve fleet safety and manage risk—while still taking full advantage of all the benefits in-cab communication systems deliver to your customers and the bottom line.
Part One of the series will feature three experts on distracted driving: Steve Keppler, interim head of the Commercial Vehicle Safety Alliance; Dr. Shlomo Breznitz, president and founder of CogniFit and an international authority on the problem of distracted driving; and David Money, technical director of transportation training for Liberty Mutual Insurance.
Together, these speakers will share information, research and practical suggestions about:
The current and pending regulations concerning distracted driving, how they are being enforced and the implications for your business.
Surprising facts about using cell phones, whether handheld, hands-free or for texting.
What being distracted really means and what humans are actually doing when they think they are "multi-tasking."
How to keep drivers safe on the road without sacrificing the mission-critical benefits of in-cab communications.

There is no charge for WorldSweeper.com readers to take this seminar. However, reservations are required. For more details or to register, click on the 'Register Now' button shown. Feel free to share this offer with a friend, co-worker or your management team.
This webcast will be held on Wednesday, February 9, 2010. Scheduled time is 2:00 p.m. Eastern.
---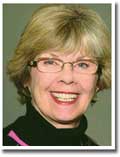 Here's a way to get 60 minutes of sage advice for successfully developing your staff when you have absolutely no training background. You'll gain simple yet effective methods for developing and delivering training to your employees, including:
What you need to know about how people learn, so you can develop their skills.
How to determine what your staff needs to know to improve their performance.
How to measure if your training efforts are successful.

There is no charge for WorldSweeper.com readers to take this seminar. However, reservations are required. For more details or to register, click on the 'Register Now' button shown, or call the AMA at 1-877-566-9441 to sign up. Please mention code DV2 when you do. Also, feel free to share this offer with a friend, co-worker or your management team.
Presenter is Margaret S. Pettingell, Instructional Designer for the American Management Association. The AMA webcast will be Wednesday, February 10, 2010. Time is 12:00-1:00 p.m. Eastern. The meeting number is: 17282-00001
---

Looking for a good used sweeper? Want a headstart on the rest of the industry? Now you can get a jump on those who wait to get their SweeperMarket Magazine in the mail, with the new preview of each issue at WorldSweeper.com.
Now, when the latest issue goes to press—at least 7 days before you'd expect to receive it in your mailbox—an electronic version of the latest issue of SweeperMarket Magazine is posted at the WorldSweeper.com website. We'll also announce that the latest issue is posted via Facebook, Twitter, and on the WorldSweeper.com home page. Be sure to bookmark the SweeperMarket Magazine preview page in your web browser!