OSHA is here to help YOU!
by Barbara Hudson

For both municipal organizations and those who operate their own businesses, the term OSHA is definitely a four-letter word. Yet, the goal of OSHA programs is to ensure workplace safety, and no one wants to deal with a work-related accident that might have been avoided. The fact is, an OSHA inspection can occur at any time. And, the resulting feedback you receive may actually save you time and money in the long run.

A visit to the OSHA website produced a list of the most recent 100 OSHA visits to those organizations with the Standard Industrial Classification (SIC) code 4959, which includes sweeping. We contacted four sweeping contractors on the list, and they agreed to be interviewed about their OSHA visits. Of these, two were contacted by OSHA as the result of spot-checks, one was due to a complaint follow-up, and the other was initiated by a workplace accident. The goal of this article is to acquaint those in sweeping with the types of items OSHA inspectors are looking for. By reading about these contractors' experiences, perhaps you can take the necessary steps to ensure that your own facility is in compliance before you get a surprise visit.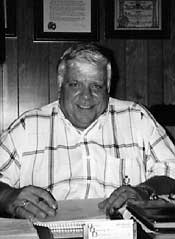 Bob Keeter, owner of North Carolina-based Tarheel Sweeping and Services
An OSHA representative showed up unannounced at North Carolina-based Tarheel Sweeping and Services. Tarheel's owner, Bob Keeter, related the incident. "He sat in the parking lot and watched us for an hour or two before he came in," Keeter explained. "Then he came in and showed me his credentials."
Keeter worked with the representative for the next two hours as the OSHA agent checked over the contractor's operation. Two main areas of concern emerged: the company's Material Safety Data Sheets (MSDS) needed to be updated, and there was a lack of correct signage.
"We are supposed to keep a book with all the MSDS sheets describing the chemicals and ingredients contained in any products we use, like solvents, hydraulic fluid and fertilizer. Anything, really, that could potentially cause any problems. Actually, what you need to have are two books, one for the office and one your employees can get to quickly in case of an accident."
The companies that manufacture the products are required to supply the MSDS sheets, so OSHA makes sure each business has the books, and that they are current. Keeter was also directed to install two, lighted, exit signs to show how to get out of the building in case of fire.
"The agency seemed pretty sticky about having all the materials in the shop labeled, and also in having the data sheets on hand," Keeter said. "But, I'm glad to report that the OSHA representative was pretty nice about the way he audited me. He told me what I needed to do to correct each problem as well as what I didn't need to correct."
For example, one small problem was a covered storage area Keeter had inside of his shop with some items stored on top. There wasn't a sign there stating how much weight the roof would hold. OSHA required that he put up a sign displaying the weight-bearing capacity for that roof.
The OSHA representative also interviewed Keeter's employees, asking about safety classes, other instruction they'd received, and whether they had any complaints they wanted to report. "All you need is a disgruntled employee to say something negative," Keeter added, "but, on the other hand, I suspect they can pretty well tell if those types of complaints are legitimate."
Another North Carolina-based sweeping contractor agreed to an interview, however asked to remain anonymous. This contractor, who we'll call Jack Johnson, also had a surprise site visit. "North Carolina is a little different than other states," Johnson explained, "because the state runs its own OSHA program; it's not federal. The inspectors were still looking for anything that might affect workers' safety.
"There was a drill press that needed a steel cage around it, in case of flying debris. They also looked at any kind of fuel storage or combustible materials to make sure they were stored in proper containers." The inspectors required Johnson to label a cold tar storage tank he had in his yard and mark it as a 'confined space.' Because the tanks have to be cleaned periodically, they made sure people were trained in the proper use of respirators, and that the respirators were in serviceable condition.
"Primarily, they were looking for any safety hazards that could be dangerous to the health of one of our employees, which I think is a good thing. And, they were very fair about it." Jackson explained. "We recently got finished with the whole process, and we certainly didn't experience a horror story like you hear about OSHA."
The OSHA representative could tell we were being straight up about how we were dealing with the situation, and in return he treated us the same way. They didn't 'nitpick.'
Any business can call OSHA for a voluntary inspection to improve workplace safety. Johnson hadn't used that program, but did use an insurance carrier whose representative had been OSHA trained. "He gave us a mock inspection identifying things he thought OSHA would be looking for if we ever had a real inspection. That may be why we didn't have any major problems. It probably cost us a little over $3,000 to get our shop into compliance after the inspection. The most expensive item was a $1600 oxygen sensor we needed for a confined space. However, our total fine was just $160, and I ended up with a good feeling about the whole process. The OSHA representative could tell we were being straight up about how we were dealing with the situation and, in return, he treated us the same way. They didn't 'nitpick.'
"Here are some examples of what we received write-ups for: 'flammable or liquid not stored in approved containers' was one, and 'suitable fire control devices not available in a storage area that had flammable or combustible materials' was another. We also needed to have a written respiratory protection and confined space entry program in place for the herbicide spraying that we offer our customers, and we didn't have these. As far as I'm concerned, these are all common sense items that we should have been doing all along. I'm glad to know that we're doing the right things in our shop now, because that's the way to ensure our workers are safe. And, as far as I'm concerned, I'd be comfortable in calling OSHA to take advantage of their free inspection. Sure, you'd have to actually make the changes they suggest, but that's better than someone being hurt needlessly or getting slapped with a big fine."
Best Parking Lot Cleaning, located in Washington state, had been in operation for 22 years without an OSHA inspection. Their OSHA visit was triggered by a complaint. Rebecca Hamilton Varelmann, who operates the company along with her brother, Jason Hamilton, handled the OSHA contact for their company. "In our case," explained Varelmann, "OSHA sent us a letter stating that a complaint had been registered against us. They didn't say who the complaint was from, and they advised us that an agency representative would be coming out in a couple of days."
The complaint turned out to involve possible exhaust fumes at the front of a Mobile sweeper. "The complainant apparently said that exhaust might be flowing back into the cab during sweeping," Varelmann said. "The OSHA representative used a monitor of some type to measure the buildup of exhaust fumes in the cab, so he could determine what a long exposure to them might mean, etc."
The tests showed that fume levels were not reaching a level of toxicity that would be hazardous for the operators. However, after doing the specific testing on the complaint issue, the entire facility was then inspected. "For us it wasn't a negative experience," said Varelmann. "We felt they were here to educate us. The inspector recognized that we are in business, and are trying our best to make a living and still comply with their rules. The OSHA visit turned out to be helpful for us."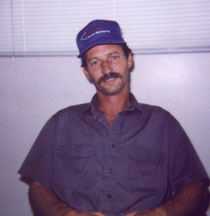 Rick Voce, of California-based Arrow Power Sweeping

But would this be the attitude of an OSHA representative - and you - if OSHA came to your door because one of your employees was injured on the job? We interviewed Rick Voce, of California-based Arrow Power Sweeping, whose company was visited by OSHA following an industrial accident.
One of his employees was running a backpack blower and somehow gas was spilled on his backside. "It didn't ignite or anything," Voce explained, "and the employee never said anything at work, but when he was off the next weekend he decided that the gas burn was too uncomfortable, so he went to the emergency room."
For Arrow, there was no advance warning; OSHA just came in and conducted an inspection. Like Keeter, Voce had problems with his MSDS sheets. "Ours weren't up to date," Voce said. "Basically, if you change brands of oil, you're supposed to change the data sheet. This can get time consuming."
Voce saw the situation as a chance to 'clean house.' He decided that materials the company no longer used should be removed from the premises. Then, they wouldn't need MSDS sheets for those products. He also discovered that sometimes the rules from one agency might differ from those of another. The local fire department had approved his fire extinguishers, but OSHA ruled they weren't in compliance - even though they were brand new and of an otherwise approved type - because the extinguishers weren't outfitted with yearly inspection tags.
"We were also told that we had to post injury logs once a year. The upshot was that we received a small fine, and I think the injury that sparked the complaint was probably the last one we've had." Voce acknowledges that it is difficult to keep up with all the rules and regulations you face as a business owner. "It would be nice if all the agencies would send new businesses the information they need to be in compliance. Instead, in our case, we found out 16 years later."
In Voce's opinion, OSHA's safety standards assume that no one has basic common sense. "We have to warn employees about everything. It isn't enough to provide safety glasses or gloves; you have to make sure the employees actually wear them."
When Voce told the OSHA inspector he sometimes had problems getting his employees to use the safety equipment, the inspector told him to explain that the rules are for their protection and they need to follow them or look for work elsewhere.
Perhaps this is a good time to review your company's safety requirements with your employees, check your MSDS sheets and signage, and have someone look around your facility with an eye for safety. You may want to utilize OSHA's free inspection program, or see if your insurance company offers such a service [see side-bar article entitled "Assure Your OSHA Compliance"]. Then you will be ready for that surprise OSHA visit.
---
[Top]
---
by Al Gonzales
California Southwestern Insurance Agency
A surprise visit from an OSHA inspector is every employer's nightmare. However, an OSHA inspection is conducted solely to ensure the safety of the workers, as well as to safeguard employers from future financial catastrophe.
According to the Occupational Safety and Health Act of 1970, OSHA is authorized to conduct workplace inspections to enforce its safety and health standards. OSHA may conduct inspections without advance notice. Citations are not given to employees, however their safety performance on the job greatly affects the outcome of an inspection.
Here are the steps I recommend to clients to keep their workplace safe, as well as to ensure they are ready for a surprise OSHA inspection:
Make sure you comply with OSHA rules and regulations that apply to you and your industry.
Become aware of, and follow, all of OSHA's employer safety and health rules and regulations.
Instruct all employees to report hazardous conditions to their supervisor.
Instruct all employees to report any job-related injury or illness to their supervisor and to seek treatment immediately.
Cooperate with the OSHA compliance officers whenever they conduct an inspection in the workplace.
To prevent any OSHA citations of health and safety violations in the workplace, you can tap into several resources. As an insurance agent, I routinely refer my clients to these types of resources to alleviate their financial risk. For one, OSHA offers a voluntary consulting service. As a part of the program, if you request a complimentary visit by an OSHA officer, you won't be cited for any noncompliance issues they discover. However, you will be required to bring your company into compliance in terms of whatever the OSHA representative discovers. For that reason, many choose to seek an outside opinion instead. For more information on the OSHA voluntary consulting service, call your state OSHA office or go to http://www.osha.gov/dcsp/smallbusiness/consult.html on the Internet.
One of the most popular ways to obtain a workplace safety review is to use a Risk Management Company. These companies specialize in conducting onsite assessments. They provide employers with an analysis of current practices and a recommendation for any changes that need to be made. Typically, they examine a workplace and its employees' on-the-job performance. Then, they inspect for OSHA compliance, and offer advice and solutions to problem areas before an OSHA compliance officer's surprise visit.
Another resource is safety videos and manuals. These are readily available, and allow employers to conduct their own health and safety training.
These resources are cost-effective solutions for education and awareness of workplace safety and health conditions. Contact your insurance agent for information on what types of these resources he or she can provide for you.
Al Gonzales is the director of the pavement maintenance program for California Southwestern Insurance Agency. You may reach him by calling 1-800-848-5882, or via email sent to agonzales@csia-ins.com.
---
[Top]
This article is reprinted from American Sweeper magazine, Volume 7 Number 2, 1999.