Recover Loss of Revenue – and More – After "Not-at-Fault" Accidents

by Brian J. Ludlow and Ranger Kidwell-Ross
When your vehicles get hit by a third party, their insurance is liable not only for the physical damage, but also the lost revenue and use while the unit is being repaired.

Many fleet owners and managers may not know this recovery is available, have great difficulty recovering it, or are otherwise not able to recover what they are equitably entitled to. This article will help you understand the who, what, why and when for not at fault accidents.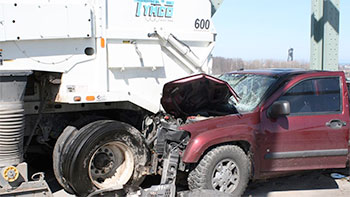 Let's begin with the steps that should be taken to help recover the maximum from your not-at-fault accidents when one occurs.
1. Taking lots of pictures is the single best advice we can give. A picture may be worth 1,000 words, but when it comes to accidents, a picture can be worth thousands of dollars. Take pictures of the accident scene, damage to both units, license plates, skid marks, debris, path of final resting place of the vehicle, third-party driver's license and insurance information.

2. Gather as many witnesses as possible and statements from both drivers.

3. Get an accurate and thorough estimate. Why: Because insurance adjusters are motivated to pay out the least amount possible and are typically not trained to accurately determine the damage to specialty vehicles. Using a damage recovery expert with strong commercial fleet experience is critical for accurate damage assessment.
4. In most states, you ARE NOT required to use the repair facility your insurance company recommends.

What Am I Entitled to From a "Not-at-Fault" Accident?
Although some states have specific language on what is recoverable, essentially you are entitled to your physical damage, cost for transporting the damaged unit, Loss of Revenue (LOR) or Loss of Use (LOU) and Diminution of Value (DV). How much you are entitled to depends on several factors and are the subjective negotiations that damage recovery firms engage in hundreds of times each day.
You can typically pursue claims up to six years old, although this depends on your state statute of limitations, in order to recover Loss of Revenue/Use on old claims.
Pursuing Loss of Revenue or Loss of Use
The following are steps you can take to help maximize recovery:
1. Pursue all possible recovery sources. Besides the at fault driver's primary policy, there may be other coverage from an umbrella policy, a secondary policy by the vehicle owner, a company policy, or personal assets.

2. Know your opponent. Understanding insurance regulations, standards, and the law are key to move the carriers to action.

3. Mitigate your losses. You have an obligation to mitigate your losses. So even if the insurance carrier is dragging their feet, you must do what you can to keep the process going and not incur more costs, such as storage.

4. Generate and provide supporting income records. Loss of Revenue is the hardest item to recover. Proper documentation supporting the income that the unit generated prior to the accident in a format that satisfies the insurance companies, is critical.

5. Buckle up for a long ride. Even after the carrier has accepted liability and you have provided them all the information they requested, be prepared to make a lot of follow-up calls, emails and leave dozens of voicemails. Carriers often drag out the claim hoping you will either give up or accept less; essentially wearing you down. What we see most often with new clients is they had other essential priorities, such as running their business, so the claim fell off the radar along with their reimbursement.

Diminution of Value (DV), is the loss of market value a vehicle suffers even after it is repaired. The age of the vehicle, miles, condition and other factors determine this amount. The key here is strong data which supports your valuation or using a firm that has extensive experience and a successful track record for recovering DV.

Getting accurate value when a vehicle is a total loss.
The term "Total Loss" is an insurance term lacking legal definition. Carriers have often used title branding laws to determine if a vehicle is a "Total Loss." While each state has different criteria for "branding" titles, vehicles can and have been paid as total losses with damage percentages well below the title branding statutes.
Carriers often tout statements such as "Federal Guidelines" or "State Statutes" when attempting to settle claims. More accurately, legal entitlements are based upon what is called the Restatement of Torts and defined by case law in each state. Engaging a firm that specializes in commercial fleet claims can provide an arm's length transaction necessary to be proactive on the front side in setting the claim up properly, which usually results in a higher recovery.
So how do you win at the recovery game? Unfortunately, you are in a game where the opponent is motivated to deny or delay your claim and defend their insured. Persistence, knowledge of the law and industry, plus proper supporting documentation is key to winning.
There are essentially three routes for recovering "not-at-fault claims".
1. Handle the claims yourself. Unless you have extensive knowledge of the law and insurance industry, plus have ample time to talk to the voicemails of insurance carriers this option may not be ideal and detract from your core business.

2. Let your insurance company handle the claim. They will pay your Physical Damage, less your deductible, but they can only recover what they pay out and is on the policy. Therefore, LOR, LOU and DV are typically not recovered.

3. Hire a Damage Recovery Firm to handle the claims for you. If this is the route you select, look for a with a long track record, experience with specialty vehicles, advanced technology, legal resources, and specializes in Loss of Revenue/Use recovery. Their fees should be performance-based, so they only win if you do.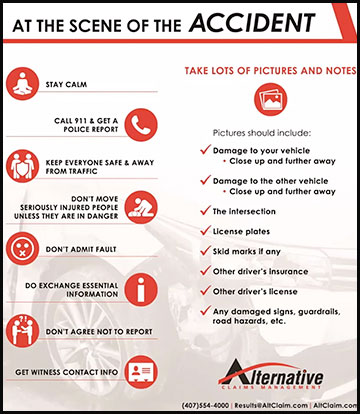 Keep This Form in Your Company Vehicles
The form you see to the right provides handy access to what your operator needs to know – and remember to do – whenever an accident occurs. Although the advice used to be to put a camera into each vehicle, today everyone has a cell phone that can be used to take the needed photos, including of the other party's driver's license, insurance card, etc.
Click onto the small image to access a PDF file of the same information in a format that is suitable for printing onto card stock so as to have the info placed into your vehicles.
The following 40-minute Zoomcast seminar by Brian Ludlow discusses the above concepts in detail. Click on the image below to access; we highly recommend watching it.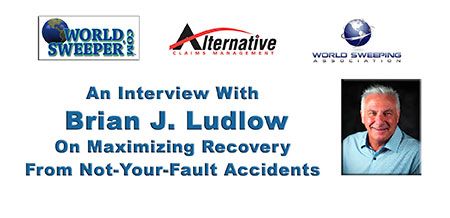 Brian J. Ludlow is Executive Vice President for Alternative Claims Management. He was the former president of an insurance company and is now a consultant to the insurance, financial and transportation industries, including power sweeping and pavement management. His goal has been to transform the fleet damage recovery process.

Ludlow is not an attorney and this is not intended to provide legal advice.

You may reach Ludlow by sending email to bludlow@@AltClaim.com or by calling 231-330-0515.

If you have questions or comments about this article, please send an email to editor@worldsweeper.com.