Elgin Announces Electric-Powered Broom Bear Model
Elgin, IL – March 2023
Elgin Sweeper unveiled America's first of its kind truck-mounted sweeper utilizing an all-electric chassis.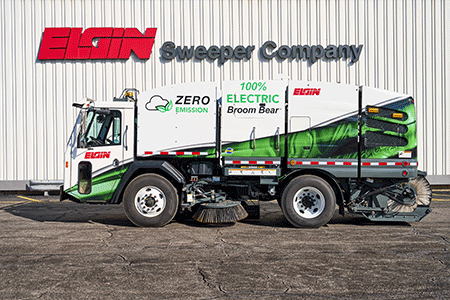 Elgin Sweeper made a big splash at CONEXPO when it unveiled its all-Electric Broom Bear – a first of its kind truck-mounted sweeper utilizing an all-electric chassis. As the leading U.S. manufacturer of street sweepers, Elgin offers a range of sweepers including single-engine, hybrid and more to fit customers' specific needs for various applications. The newest configuration of the Broom Bear as fully electric is Elgin's latest innovation offering uncompromised performance.
"Customers were wowed by the Electric Broom Bear at CONEXPO," said Tim Letts, Product Manager, Elgin Sweeper. "We're excited to debut it at this iconic show. The Electric Broom Bear accomplishes the same workload and delivers the performance the Broom Bear is popular for."
With electric vehicles becoming a reality to meet ZEV targets and stricter emissions standards, the Electric Broom Bear delivers another option for customers to achieve their sweeping and sustainability goals.
"We've taken today's modern propulsion system and incorporated it with Elgin's 100+ year history of sweeper innovations," said Letts. "We're using modern technology to meet the modern demands and sustainability goals of our customers."
In addition to all the benefits of an electric vehicle including noise reduction and lower maintenance costs, the Electric Broom Bear has plenty of energy onboard, so customers can sweep and run their regular routes without worrying about getting home. It has enough energy for a full workload and some leftover for operators' peace-of-mind.
"We've engineered the Electric Broom Bear to meet customer sweeping demands and then some," said Ron Schmidt, VP Technology Development, Elgin Sweeper. "Customers have come to expect a certain level of performance, and with the Electric Broom Bear, they're going to get the Elgin sweeper they've come to know."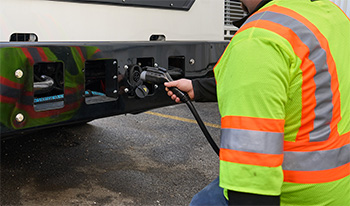 The charging port on the Electric Broom Bear is a standard SAE J1772 CCS, compatible with both level 2 or level 3 chargers. Level 2 AC charging will enable overnight charging while Level 3 DC-DC charging will enable fast charging, if needed.
Developed specifically for vocational use, the electric chassis is from Battle Motors, formerly Crane Carrier Company, which has a 75-year history of providing heavy duty trucks and has an extensive and highly trained dealer network for service and support. The additional weight of the electric chassis was taken into consideration when developing the Electric Broom Bear, and customers can rest at ease knowing payload capacity is the same as a standard Broom Bear. As with all of its diesel and CNG truck-mounted sweepers, Elgin customers will be able to choose electric chassis from other major chassis OEMs when they meet the performance and aftermarket support needs of its customers.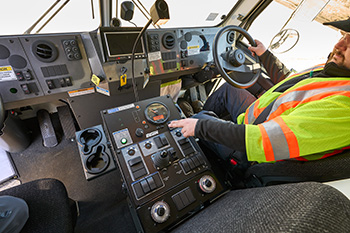 The Electric Broom Bear joins the Broom Bear family, which includes the single-engine Broom Bear and Hybrid Broom Bear; both of which are available with either a diesel or CNG engine. As part of the Broom Bear family, the Electric Broom Bear will deliver the same durability and ease of service customers have come to expect from Elgin's line of sweepers. It will also pick up the same debris, have the same loading rate and share the many features of the Broom Bear product line.
"It's an exciting time for Elgin," said Letts. "The Electric Broom Bear joins the diesel, CNG, and plug-in Hybrid portfolio and we're excited for customers to check it out."
To request a demo of the Electric Broom Bear or make an order, visit ElginSweeper.com.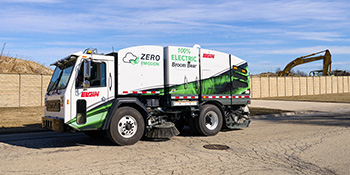 ---
To view a 22-minute video of the conversation on the EV Broom Bear held between Tim Letts and WorldSweeper's Editor, Ranger Kidwell-Ross, access the link below.


---
About Elgin Sweeper Company
Sold and serviced through a network of more than 100 dealer locations worldwide, Elgin Sweeper products are the sweepers of choice for a variety of general street maintenance, special industrial and airport applications. With more than 100 years of experience, Elgin Sweeper offers municipalities, contractors and industries the most sweeper options in the country, using the latest sweeping technologies – mechanical, pure vacuum, regenerative air, alternative fuel and waterless dust control. Elgin Sweeper is a subsidiary of Federal Signal Corporation's Environmental Solutions Group. For more information, visit www.elginsweeper.com.
About Parent Company Federal Signal
Elgin Sweeper is a subsidiary of Federal Signal Corporation's Environmental Solutions Group. Headquartered in Oak Brook, Illinois, with manufacturing facilities worldwide, the Company operates two groups: Environmental Solutions and Safety and Security Systems. For more information on Federal Signal, visit www.federalsignal.com.
Federal Signal builds and delivers quality equipment that moves material, cleans infrastructure and protects the communities where we work and live. Founded in 1901, Federal Signal is a leading global designer, manufacturer and supplier of products and total solutions that serve municipal, governmental, industrial and commercial customers.