Private Equity Company, Broadtree Partners, Announces Purchase of Szeremi Sweeping Service, LLC
November 2021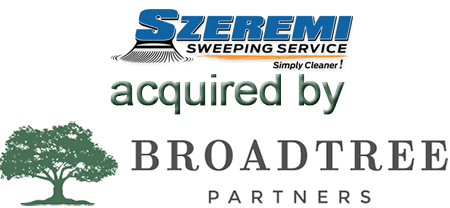 West Sweeping Services Holdings, LLC (West Sweeping), a division of Broadtree Partners, LLC ("Broadtree"), has announced the purchase of Sacramento, CA-based Szeremi Sweeping Service, LLC.

This past April, West/Broadtree purchased two of California's largest sweeping contractors, Contract Sweeping and Statewide Sweeping. Both of those companies originated as sister companies to Universal Site Services, Inc., a full-site service maintenance company that was founded in 1958.
West Sweeping Services Holdings, LLC ("West Sweeping), a portfolio company of a mid-market private equity fund, Broadtree Partners, has acquired Szeremi Sweeping Service, LLC ("Szeremi Sweeping"). Bank Prov provided senior debt and True West Capital Partners ("True West") provided subordinated debt to support Broadtree's acquisition of the companies.
Szeremi Sweeping, a Sacramento-based company, is one of Northern California's largest construction sweeping companies. It provides sweeping services for construction, residential and municipality customers. Bryan and Andrea Szeremi, the founders, will be equity holders of West Sweeping and will continue to support the operations of Szeremi Sweeping and provide meaningful support to West Sweeping.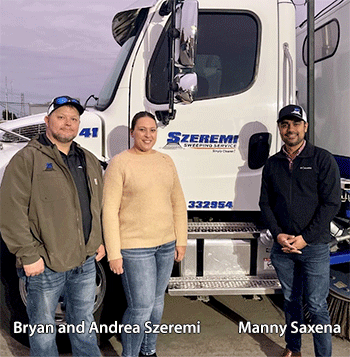 "Szeremi Sweeping is synonymous with high quality operators, equipment and customer service in the market. I couldn't be more excited to bring Szeremi Sweeping in the West Sweeping family and take the platform to new heights." said Manvendra "Manny" Saxena, President and CEO of West Sweeping.
"We are also actively looking to add other companies to our family via acquisition and partnership with organizations that share our ethos of quality of service, culture of safety and hard work in a family environment."
"We are very excited to be part of this experience during this next phase of Szeremi Sweeping. This partnership will allow Szeremi Sweeping to advance to new unimagined levels within the sweeping industry. We believe that Manny Saxena and Broadtree have seen our vision and will continue to keep the core values we have created within the company, employees, and customers. We look forward to the future and are glad to be a part of the next chapter." said Bryan and Andrea Szeremi, the Founders of Szeremi Sweeping.
"Broadtree is extremely excited to welcome the Szeremi family and team into the West Sweeping family of companies. Bryan and Andrea built a fantastic business and a competitor that we have admired for multiple years now. We are excited to partner with them and believe the combination of West Sweeping and Szeremi Sweeping will create a powerful regional competitor. Importantly, our shared values and focus on quality of service and a culture of safety will make for a synergistic combination." said Brad Batten, Managing Partner at Broadtree.
"True West is excited to support the team at West Sweeping and Broadtree in this transaction which greatly enhances its position as the dominant commercial sweeping company in the region." Said Brian Hayden, Managing Director at True West." said Brian Hayden, Managing Director, True West Capital Partners.
Moore & VanAllen served as legal advisor to Broadtree and WKBK&Y LLP served as the legal advisor to Szeremi Sweeping.
---
About West Sweeping
West Sweeping is a platform holding company created to acquire power sweeping companies that perform street, highway, construction, parking lot and industrial power sweeping to private and government entities. Apart from Szeremi Sweeping, West Sweeping currently owns Contract Sweeping Services, LLC ("Contract Sweeping") and Statewide Construction Sweeping, LLC ("Statewide). Contract Sweeping is one of California's largest municipal street sweeping service providers to California's largest municipalities, cities, and waste management companies. Statewide Construction Sweeping, LLC is the largest construction sweeper in Northern California and provides regulatory required sweeping services for General Contractors mainly involved in highway and road improvement projects.
---
Broadtree Partners, headquartered in Charlotte, North Carolina, is a lower-middle market Private Equity firm with an operator-centric model. Broadtree's unique executive-in-residence approach provides both institutional capital as well as sophisticated operating resources to transform and grow founder-owned businesses in the lower-middle market. Broadtree's team of operators and entrepreneurs transition to running the day-to-day operations after an acquisition which allows owners to smoothly exit their companies and seamlessly change leadership while preserving their legacy; or to partner with founder-led teams to further accelerate growth. Broadtree's goal is to fuel stable, long-term growth while preserving the company's core values. Learn more at www.broadtreepartners.com.
---
True West Capital Partners is a West Coast-based investment firm that provides flexible and creative growth capital to middle-market companies in the Western U.S. True West Capital Partners typically makes investments from $5 to $25 million in businesses with proven management teams, strong barriers to entry, sustainable competitive advantages, and high free cash flows. See more at: www.truewestcp.com.
---
Bank Prov. is a direct lender headquartered in Amesbury, Massachusetts. Serving local communities for over 200 years, Bank Prov is an innovative commercial bank that finds solutions for business and private clients. Bank Prov is committed to strengthening the economic development of the region it serves. Learn more at: www.bankprov.com.
---