FOR IMMEDIATE DISTRIBUTION

April 1, 2010
Cape Kennedy, Florida –


NASA Announces Power Sweeper for Spaceflight Mission
New NASA program will send suction-based power sweeper to the space station.

The following is the complete text of today's announcement by Charles F. Bolden, Jr., NASA Administrator, in which he announces NASA's new Industrial Spaceflight Initiative and explains the rationale for his agency's bold move:

"NASA intends to move the U.S. space program back to the forefront of our national consciousness through what we are calling our new 'Industrial Spaceflight Initiative.' This Initiative will involve a series of launches that will include a broad spectrum of what I'd call 'real America.' To that end, the first in the series of launches will feature a segment of American industry that does not currently receive the widespread recognition it deserves.
"For our first launch, we intend to put a street sweeper into orbit. Street sweeping clearly represents the United States first line of defense for keeping pollution from fouling our nation's waterways. Yet, too many Americans fail to realize this fact. Sending a sweeper into outer space will, in our estimation, provide the average American citizen with a better understanding of street sweeping's enormous contribution to our environment.
"To provide additional value to the project, the sweeper we choose will be required to be mounted onto an American-built, standard production truck chassis. So, at the same time we will be showcasing a vehicle from our beleagured automotive industry.
"Some Americans may still ask, "Why a street sweeper?" As an answer, I will read to you the stirring words of Dr. Martin Luther King, Jr. The late Dr. King once said, and I quote:
'If a man is called to be a street sweeper, he should sweep streets even as Michelangelo painted, or Beethoven composed music, or Shakespeare wrote poetry.
'He should sweep streets so well that all the hosts of heaven and earth will pause to say, here lived a great street sweeper who did his job well.'
"NASA, as well as every other government agency, could well benefit by incorporating that exemplary work ethic throughout their organizations. Decades ago, that is what carried America to the moon. Unfortunately, this 'can do' attitude has been severely lacking in recent years.
"In these difficult budgetary times we must weigh the costs versus the benefits for all new programs. Fortunately, the launch of a street sweeper has another significant additional value. The following information has never before been released to the media and so, as a result, is not widely recognized: the fact is that the space station is currently – let us speak plainly – 'trashed.'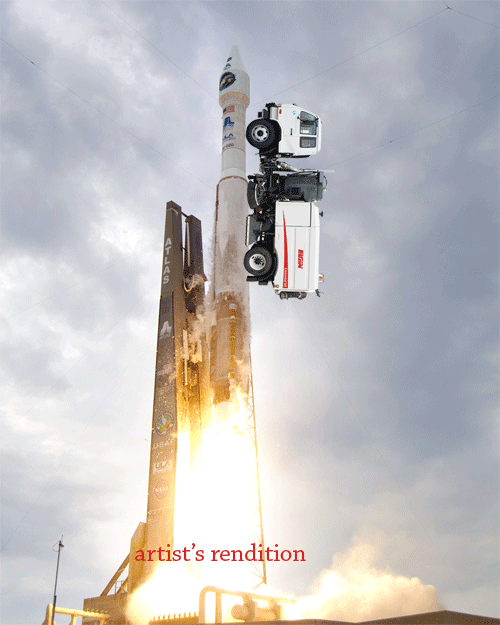 "In preliminary discussions, all the sweeper vendors have agreed that, if one of their models is chosen, it will be equipped with a hand hose attachment of at least 50-feet in length. This add-on will allow the interior of the space station to receive a thorough cleaning while the sweeper is docked.
"To provide even more value to the American people, whatever model is chosen will also be outfitted with what is called a 'curb broom.' This will do what no other type of broom can, which is to provide a good scrubbing to the space station's exterior during the mission.
"As sweeper manufacturers vie to be chosen, certain competitive advantages have begun to surface. The Elgin Sweeper Company has proposed its Crosswind model, which is a totally vacuum-based air sweeper. According to Elgin officials, this would provide a research boon since the Crosswind model could collect and contain up to 8 cubic yards of the vacuum of space for transport back to earth in the Crosswind's containment hopper.
"Other manufacturers, notably TYMCO and Schwarze Industries, claim a different competitive advantage. These manufacturers propose sending their '435' and 'A4000' sweeper models, respectively. Although powerful, because these particular sweepers are under 26,000 lbs. GVW they will not require our astronauts to get a Commercial Drivers' License, or CDL, which is required for operating larger sweepers. Given the busy training schedule of our astronaut corps this could become the winning factor.
"MASCO Sweepers has proposed sending a sweeper that offers a unique, rear-mounted sweeping hood. MASCO officials claim this rear mounting provides their company with a unique advantage: if the sweeper is operated during launch, by reverse-adjusting the sweeper's airflow the machine will allegedly offer a significant propulsion boost to our Aries carrier rocket.
"Victory Sweepers offers the most patriotic branding for the project should we choose that company's 'Liberty Series' sweeper line. In addition, Victory has other models that are outfitted with a two-piece sweeping hood instead of the one-piece hood offered by other the manufacturers.
"This would provide NASA with a potential budgetary windfall, since Victory could provide a lower cost replacement should the installed hood be bent during the space mission. The company's 'special government replacement pricing' is just $191,000 – significantly less than the $300,000+ quoted by other manufacturers for a one-piece hood replacement. Plus, as some long-time followers of the space agency might attest, NASA could well benefit from beginning this Initiative with a built-in 'Victory.'
"Because single-engine sweepers allegedly use less fuel during operation, the proposed Nite-Hawk and SK Sweepers' models may actually cost less to send into orbit. Due to their breakthrough single-engine technology, Nite-Hawk and SK Sweepers' machines could be launched with considerably less onboard fuel and still be able to clean the space station effectively.
"Finally, we are also considering a special 'Allianz' with our northern neighbors, Canada. Choosing a Canadian-built Allianz sweeper for the mission would likely increase the popularity of this new NASA Initiative throughout North America.
"NASA promises to utilize an entirely open procedure for determining the winning sweeper. To ensure complete transparency, we will combine the processes the Air Force uses for its tanker bidding along with those of the recently completed American health care initiative.
"In closing, NASA is proud of the many air sweepers available in the U.S. marketplace. We look for this joint effort by NASA and the power sweeping industry to raise recognition of the value that street sweeping provides throughout this great land.
"In my estimation – and this sentiment is echoed by NASA's entire management team – street sweeping is deserving of this choice because of the enormous positive impact the power sweeping industry has on America's precious surface and ground water supplies.
Anything NASA can do to raise the awareness of what street sweeping accomplishes in that regard can only help to ensure the health and overall safety of America's future generations. Thank you, and God bless the American space program."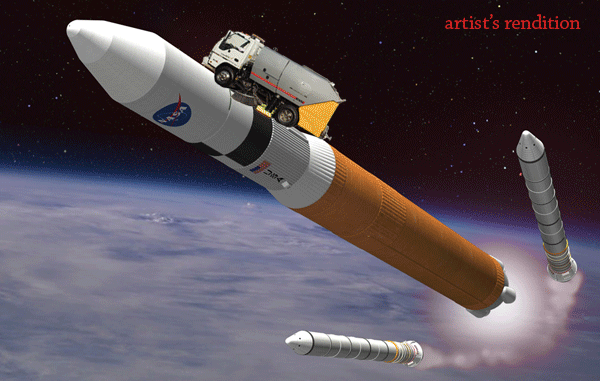 ---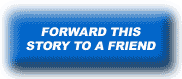 ---
For more information about this or any other NASA programs, we suggest you visit www.nasa.gov/.
You may reach WorldSweeper.com by sending email to editor@worldsweeper.com.
---
Fact turns out to be stranger than fiction: On April 1st of 2010, WorldSweeper's editor offered the above story about NASA sending a sweeper into space to clean it up. The story ended up winning a national award. As it turned out later in the year, that wasn't such a joke after all.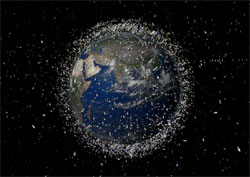 In November of that year alert WorldSweeper.com reader, Albert Price, sent an email that provided the link to an article about Russia's planned effort to "build a $2 billion orbital 'pod' that would sweep up satellite debris from space around the Earth. According to a post on the Russian Federal Space Agency, Roscosmos, Facebook site, the cleaning satellite would work on nuclear power and be operational for about 15 years.
The Russian rocket company, Energia proposes that they would complete the cleaning satellite assembly by 2020 and test the device no later than in 2023." Note that all the little white flecks in the photo to the right are space junk.
The story went on to quote the company's representative, Victor Sinyavsky, as saying: "The corporation promises to clean up the space in 10 years by collecting about 600 defunct satellites on the same geosynchronous orbit and sinking them into the oceans subsequently." Sinyavsky said Energia was also in the process of designing a space interceptor that would to destroy dangerous space objects heading towards the Earth.
No word on exactly how the space debris cleaner would work, of how it would push dead satellites and other debris into a decaying orbit so that objects would burn up in the atmosphere, or if it might somehow gather up or "vacuum" debris. But at least someone is thinking about space debris and asteroid deflection and putting more than just a few rubles (60 billion of 'em!) toward these concepts. Take a look at the article.