NiteHawk Sweepers Pioneers Alternative Fuel Parking Area Sweepers
by Ranger Kidwell-Ross
posted January 2016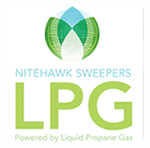 NiteHawk's single-engine alternative fuel sweepers offer a number of advantages that have made them an attractive option for sweeping contractors and municipalities alike.
For sweeping contractors, the only choice in parking area sweeper fuel has long been gasoline or diesel. Now, though, two new alternative fuel sources, liquefied petroleum gas (LPG, more commonly known as propane) and compressed natural gas (CNG) are available choices on NiteHawk's single-engine sweepers.
In the case of CNG, the sweepers are primarily built to run entirely on that fuel source, since that allows C.A.R.B. certification. This is a significant point with many municipalities, which are the primary buyers of the CNG NiteHawk machines. However, by contrast, the LPG NiteHawk sweepers are outfitted with dual fuel tanks which allow the driver to switch between LPG and gasoline at will. Startup is done using gasoline and then the system switches to the LPG when the engine reaches operating temperature. However, the idea is to utilize the LPG as the primary fuel. For users of the dual-fuel sweepers the gasoline source is considered a secondary fuel source, rather than the primary propulsion fuel.
Which is better? According to Tracy Day, president of NiteHawk Sweepers, that primarily depends upon the purchaser, whose decision is typically driven by the availability of the fuel sources in their area. "Propane (LPG) filling stations are much more prevalent in most urban areas than are CNG fueling stations," said Day. "That, combined with the fact that standard production gasoline engines will run on propane without significant prior modification, often make LPG a more popular choice."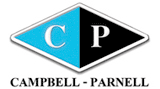 The alternative fuel vehicles were designed in collaboration with, and modifications done by, Arizona-based Campbell Parnell. The organization, which has been in business since 2002, is the only one in the U.S. that has been certified by C.A.R.B. for the LPG/gasoline dual-fuel system on Isuzu NPR HD power sweepers. The company became certified in 2014, and although their current certification is through 2016 machines they already have pre-approval for the 2017 model year.
"The level of cooperation we've been able to develop with NiteHawk is absolutely seamless," said company principal, Tom Campbell, who has 27 years of automotive experience. "When someone purchases one of NiteHawk's alternative fuel sweepers we then work with the company directly to ensure a completely positive outcome. We're proud to be the only alternative fuel modification company that literally trains end-users on how to maintain/service.
We train drivers; educate the service department on maintenance and service; and, provide them with our diagnosis software. Via our software link we can even do a remote check of their vehicles if ever needed. We're available every day for service and usually answer questions in real time, or at the worst call back within 24 hours.
"Our company has been laser focused on developing an outstanding multi-port vapor injection system. When we do pre-installs and ship to a customer they can count on their vehicle being ready to go. Another advantage the operators all like with the alternative fuel NiteHawk sweepers is that they don't have to fuel as often since the sweepers are outfitted with 60-gallon tanks instead of the around 30-gallon diesel or gasoline tank capacity.
"As part of our training, we emphasize purchasing quality fuel, as well. With both LPG and CNG, it's vitally important that end-users work with reputable suppliers who have top-rate equipment. You don't want to purchase from someone who fills your tank from an old, rusty tanker that might deliver contaminants along with the fuel. That's because with alternative fuel, you end up burning 99.9% of the fuels. Unlike with gasoline, there are also no additives and no carbon buildup. The results speak for themselves. We tell end-users to expect twice the usable lifetime on their engines; the EPA actually cites on its website that LPG engines will last two-and-a-half times as long."
The NiteHawk organization does make several modifications to the design and mounting of their sweepers when alternative fuels are being used. The fuel tanks are center-mounted, between the cab and the sweeper fan, with the fill nozzle located directly behind the driver's side door. The mounting system includes removable shrouds that protect the tank. Dust suppression water tanks are then mounted on top of the LPG or CNG fuel tank.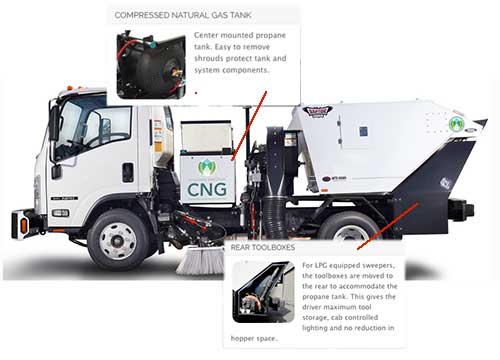 For the dual-fuel sweepers, the toolboxes are moved to the rear in order to accommodate the propane tank. This gives the driver maximum tool storage with no reduction in hopper space. An in-cab controller and display unit keeps the driver informed of the status of the fuel usage. "Our Raptor Edge LPG, for example, has a large, 60-gallon tank for the propane, with a reserve gasoline tank that also provides fuel for starting," said Day. "The truck engine is started using gasoline and the system automatically switches to propane when minimum operating temperatures are reached."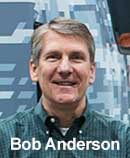 Bob Anderson owns Seattle-based Davidson-Macri Sweeping, as well as the Sweeper Market/Paver Market publication. He purchased his first NiteHawk alternative fuel sweeper last year, during NiteHawk's open house event. The company's camouflage logo sweeper also benefited the Disabled American Veterans organization.

"We opted for LPG/propane," said Anderson. "I thought it would be easier to get the LPG in our area and I like how easy it is to go back to gas if we need to do so. Flip of a switch and that's it. With CNG/gas more engine modification is needed. Availability of fuel was the primary factor for us choosing LPG/gas, though, since there aren't as many CNG fueling facilities nearby.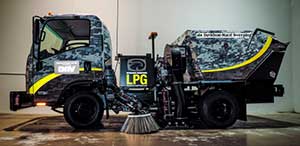 "Our last bill for LPG was $1.18/gallon, as compared to over $2 for a gallon of gasoline. I know the two fuels don't equate exactly in terms of miles to the gallon, but they're not that far off. And, what really makes it work is that we also receive a 50-cents per gallon tax credit, as well. Our propane provider gets the tax credit and they then take the 50-cents/gallon off our bill."
"It is true that we don't get quite as good a mileage with our propane/gasoline fleet," continued Anderson. "We don't get a true 1:1 miles per gallon, but the difference isn't too great. We also can't go quite as far on a single fill-up, but we're in a major metropolitan area so that doesn't really matter. The important part is that we see significant savings, enough that it pretty much makes our sweeper payment.
The drive train is also quite powerful; if we have the same experience with our second alternative fuel NiteHawk, which we expect, we plan to turn over the whole fleet to propane units. Here in the Pacific Northwest we also have environmental pressure to use a cleaner burning fuel, which this certainly seems to be. Time will tell, but we believe our engines will last longer as a result."
There are, indeed, environmental pluses to using the alternative fuels. According to a U.S. Department of Energy (DOE) website, these include the fact that propane/LPG, although a fossil fuel, is cleaner burning. The site verifies that LPG-fueled vehicles can produce significantly lower amounts of some harmful emissions and the greenhouse gas carbon dioxide (CO2). The DOE also cites LPG as typically being less expensive than gasoline; that it can be used without degrading vehicle performance; and, that most LPG used in U.S. comes from domestic sources.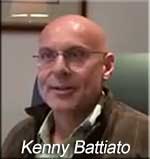 Kenny Battiato is CEO of New Jersey-based sweeping contractor, TSS Facility Services, Inc., which is celebrating its 30-year anniversary this August. The company owns 18 of NiteHawk's dual fuel sweepers, also LPG machines.
"Our fuel company set up our tanks at our location at their cost," said Battiato. "We just poured a concrete pad and put up some barrier posts to keep the tanks from getting hit. For them to do that we agreed to purchase from them for our first three years. They come and fill our two 1,000 tanks about every other day at a cost of about 80-cents/gallon. With our 50-cent/gallon tax credit, we see a real cost of around 30-cents/gallon. That's a significant savings even with fuel prices dropping as they have recently.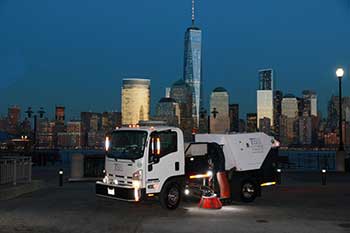 "Our analysis shows that the engines burn cleaner, too, with almost no carbon emission. We're noticing a better performance and the lifespan of the machines is longer. Although using LPG is relatively new in the United States, they've been using this fuel source in Europe over the last 30+ years. Usually we trade in our sweepers at 60 months but we're at that point now and have decided to go for another year. We have about 100,000 miles on the engines and are getting to the point to where we may need to replace injectors, but that's not like buying a new sweeper by any means."
"NiteHawk's single-engine sweepers also do what we need them to do. Although our friends at NiteHawk don't want to hear it, I sometimes think they sweep too well. Because they pick up so much grit we have to dump more often than we'd like. We partner with a company that does broom sweeping if we need to for spring cleanup, though now that salt is used rather than sand and cinders, most of the time we can just use our NiteHawks. I'd also like to say that we've found NiteHawk a great company to work with. We had such a good experience with making our sweepers LPG-burning that we had Campbell Parnell convert our around 20 support vehicles, as well."
According to data published by the Excise Tax Branch of the U.S. Internal Revenue Service the tax credit is based on the gasoline gallon equivalent (GGE) or diesel gallon equivalent (DGE). For propane, CNG, and LNG sold after December 31, 2015, for taxation purposes, one GGE is equal to 5.75 lbs. of propane and 5.66 lbs. of CNG. One DGE is equal to 6.06 lbs. of LNG. The incentive must first be taken as a credit against the using entity's alternative fuel tax liability although any excess over the fuel tax liability may be claimed as a direct payment from the IRS.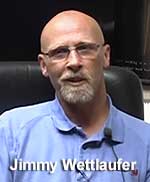 Jimmy Wettlaufer is president of Atlanta Sweeping, Inc. His company purchased two LPG units from NiteHawk in September of 2013. "We initially looked into using CNG, not LPG," said Wettlaufer, "but found it wasn't feasible to install our own fueling station. However, as we discussed the possibilities with Tracy Day, at NiteHawk, we moved toward the idea of LPG. Then, when we contacted Georgia Gas, they said they'd put in fueling station at no charge if we committed to purchasing from them.
"We typically rotate our fleet every three years and when the initial LPG sweepers had so many advantages we ended up switching to LPG for our entire fleet. Today we have 14 LPG NiteHawk units. After our fuel rebate (tax credit) we end up paying about $1.19/gallon for our LPG, delivered to our location. We estimate that, just on fuel costs, we're saving about 20% and purchase around 90,000 gallons of LPG per year.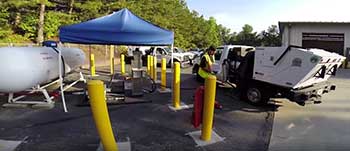 "A lot of our customers are looking for a green company and the use of LPG satisfies that requirement with most of them. We use this information in marketing our environmentalism on our website, in our email signature files and in conversations with prospects and clients. The customer response to our use of LPG has been completely positive.
"Each year, at which point we've put about 60,000 miles on the sweepers, we have had a technician from Campbell Parnell – which is a great organization, by the way – come to our location and rebuild the rails and regulators; change out the fuel filters; and, spark plugs and reset our engine programming. I was initially skeptical about having to do this but the system has worked out well. Also, it's clear from what we've learned from our oil change personnel that using propane is keeping the engines internally cleaner. Overall, we couldn't be happier about our decision."
Davidson-Macri's first LPG/gasoline NiteHawk sweeper worked out well enough that the company recently took delivery of a second machine. "Our first dual-fuel sweeper has worked very well for us and we've seen significant savings in operating it," said Anderson. "If this second machine performs like the first one, we anticipate moving to alternative fuel for our entire parking lot sweeper fleet. We're even looking into installing our own large propane tank onsite and may even go through the regulations that will allow us to sell propane to the public, given that our location is suitable for that."
According to NiteHawk's Tracy Day, the company has well over 100 dual-fuel sweepers in the marketplace and believe the demand for them will continue to increase no matter what gas or diesel prices do in the future. "Alternative fueled vehicles represent the future of our industry," opined Day, "and we're glad to be the company that introduced them to this segment of power sweeping first."
You may find out more about the NiteHawk Sweepers product line at the company's website, www.NiteHawkSweepers.com. Or, take a look at the company's website dedicated to their alternative fuel sweeper line, located at www.buyaltfuels.com/. Campbell Parnell's website is located at: www.usealtfuels.com.