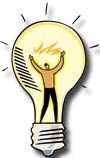 Mark Schwarze Offers 27 Tips to Improve Your Sweeping Business
Note from the Editor: Back when I was editor of American Sweeper magazine I talked with Mark Schwarze prior to sharing a speaker's podium with him at a sweeping function. At the time, Mark was president of Schwarze Industries, Inc. I asked if he'd provide 10 things a contractor could do to improve his or her business.

He quickly agreed, and said he'd think about it and email them to me. To my surprise, he emailed me a total of 27! Along with his list was a note that said "Sorry, I got carried away." So here, direct from someone who literally grew up in the sweeping business are close to 30 new Tips you can use to improve your contract sweeping business. The first one isn't surprising, although now my guess is he'd transfer his feelings over to his new sweeping manufacturing firm.

Reprinted from American Sweeper, Volume 8 - 2000
---
Tip 59. Get involved with others in sweeping. The best way to do this is through the tradeshows and via membership in naPSa.
---
Tip 60. Routinely call on each and every customer, just to say hi and to check on their happiness with your services. They'll be surprised that you're not trying to sell them something. (Though you might mention that you provide a free sweep for each referral customer you bring in)
---
Tip 61. Do something for your customers that is 'free and extra.' Call them when a parking light's out, or when someone has dropped some large debris behind the store. (You might want to have a way to get the light fixed for them, too, or know who to call to get the debris carted off. If you arrange for another company to perform that service, you should be able to earn a fee for your referral.)
---
Tip 62. Develop a "WOW" program company-wide. Who's got the best WOW for the week, or month, wins a night or week operating the newest sweeper!
---
Tip 63. Make work as fun as possible. Think of what you can do to make your operators happy. (It costs much more to run your business when you have a high turnover. You want all of your team members to be as happy as possible.)
---
Tip 64. Speaking of which, call your employees 'team members.' It's a more inclusive type of word, and you'll be surprised at the long-term benefits. We'd all rather work on the same team, for the same goals, than to work for somebody.
---
Tip 65. Provide all employees with uniform shirts and require them to wear clean jeans (or whatever pants you deem appropriate). LOOK Professional! Require safety glasses, safety shoes, etc. (This will also pay dividends in terms of your work quality and reducing L&I claims.)
---
Tip 66. Keep your vehicles clean! There's nothing worse than poor appearance, especially in an industry where we're providing our customers with clean property. It also encourages your operators to do a better job and have more pride in their work. For example, UPS trucks are washed every day!
---
Tip 67. Work toward invoicing your customers at the beginning of the month for work that's provided during the month. This allows your customer a full 30 days prior to paying. You will want to accompany this with a satisfaction guarantee; good service or they don't pay. This is easier to implement with new accounts. A satisfaction guarantee is important, though, because you want to find out about any dissatisfaction as soon as possible. If you don't have a reason for an unhappy customer to let you know, they may just move to another contractor.
---
Tip 68. Raise prices and make money! Don't give your work away. Make what you provide worth more, due to your superior service. (Editor's Note: At the National Pavement Exposition last year, when we took a poll of the sweeping contractors who tend to be among the most successful in the industry all of them said they were in the top 10% of their market area in terms of cost of service.)
---
Tip 69. Try to eliminate competitive price-cutting. Modify or increase your services and features rather than cut prices. Price cutting must always be a last resort. Remember, if your company really is better, clients get more value even though they're paying (a little) extra.
---
Tip 70. Use 'Post-it' notes or some form of communication to the store manager to let him or her know you were there. Some folks worry about telling the store manager about how long they took to clean the lot. If you're really keeping in touch with your managers, they will care only about their lot's appearance. (Sometimes, customers want to pay less during the cleaner time of the year. If so, be amenable to that, however tell them that the reason you average it out over the entire year is to make your service be a known cost throughout the year. If managers want to pay less during the easy cleanup months, they must also understand that the 30 days prior to Thanksgiving and Christmas, as well as Labor day, Memorial day, Fourth of July, etc., are going to be expensive!)
---
Tip 71. Don't build your company's attitude and direction around a handful of bad or mean customers. Just because a few customers seem like they're out to get you at every turn, don't focus on these 'exceptions.' And, if they're costing you more, charge them more. Sometimes, you can increase your profits by getting rid of a few high maintenance customers.
---
Tip 72. Log all times that any special circumstances occur for each lot and each job. One large contractor in Pennsylvania I know has log sheets that tell him exactly what's happened during the prior night's sweeping. For example, he had a complaint about a lot being dirty and, when he checked his previous night's log sheet from the driver he saw there was a special event going on at the neighboring bar, one that lasted past their normal sweeping time. In addition, the crowd was so big they were parking on the complaining customer's parking lot. The contractor explained to the complaining customer and, at no charge, gave his customer a free extra sweep. The contractor got a chance to give his customer a WOW, and the customer won't soon forget it! Everybody wins!
---
Tip 73. Put reflective decals and logos on your truck. Your sweeper can be a big selling tool, and putting your company information on the truck/sweeper increases safety while selling your professionalism. (If you use 3M-type decals, you can remove them after 3 years before you sell your sweeper. This will help you get a higher trade-in/sale. If you know that your manufacturer's sweeper model decals will be in the way of your signage, ask them to leave them off when you order your sweeper.)
---
Tip 74. Have a professional brochure and other marketing materials. Look professional or you won't have a chance to provide your professional level of service.
---
Tip 75. Hire someone to search for new sweeping business outside of the normal parking lots. Look for the new frontiers of sweeping, where the other contractors aren't. This is where the highest profits lie.
---
Tip 76. Be a problem-solver for your customers. Help them with their businesses and it will flow back to you. I think you'll find that once you get to know your customer, he'll sincerely answer your questions. Ask him what his main problems are. Now he's given you an opportunity to help him! Who would you do business with, someone who helps you or someone who you only hear from when it's time to get some money?
---
Tip 77. Inspect what you expect! Walk the talk! Let your team members know you mean what you say and will not tolerate attitudes or performance to the contrary.
---
Tip 78. Provide a newsletter to your customers telling them about your latest piece of equipment, or a new quiet backpack blower, etc. If you just got a new sweeper, take it around to show off to customers. If you belong to the Chamber of Commerce, Rotary, etc., offer to have a 'sweeper show-off and explanation of what we do' at a meeting. Toot your horn! Communicate! Communicate!! Communicate!!!
---
Tip 79. Know your costs. It doesn't even make sense to work without knowing, and calculating into your price of service, all of your costs! If you don't know your costs, you can't control your costs. Without control you are what's known as 'out of control.' That's certainly not a smart way to run a business.
---
Tip 80. Develop a 3-5-10-15-25+ year business plan, including growth and profit goals, and at the same time design an exit strategy. Do you want your son or daughter to buy you out? If you died unexpectedly would the company transition happen the way you want it to? Would you ultimately like to merge with your competitors? Sell out? What are potential buyers looking for, and are you doing whatever you can to maximize the value of your business? Are you creating a paper trail that showcases it?
---
Tip 81. Develop a REAL working budget! Know what's coming, and plan, Plan, PLAN!
---
Tip 82. Develop a reputation for quick response and 100% customer satisfaction. It's worth its weight in gold and customer retention.
---
Tip 83. Use two-person operation teams. It's safer and more cost-effective, because you're not having your sweeper sitting waiting for your operator-turned-backpacker to return to it. I assure you that you'll have better, more profitable results provided that you lay out the rules. Make it clear that the backpack operator must clean the sidewalks, islands, etc., before returning to the sweeper. No rules, and he'll sleep while the operator drives. Tie some sort of training compensation to the driver. Again, inspect what you expect, and train, Train, TRAIN! (Editor's note: It's said that Knute Rockne didn't really say "Practice makes perfect." He actually said "Perfect practice makes perfect.")
---
Tip 84. Read the book the E Myth. It explains what I think plagues the sweeping industry the most. All owners tend to do a good job sweeping and they think that's their job. It's not! Their job is to manage, lead, train and promote their business. If you're like every other human being, you can't do this too well after the sixth day of 14 hours of sweeping. You sure won't be effective when you're out soliciting new accounts then.
---
Tip 85. Call your manufacturer if you have any questions you can't figure out. If they can't get answers to your questions, ask them to do whatever it takes to find them for you.
---
Many thanks to Mark Schwarze for taking the time to compile the information above!
If you have ideas or information that might make a good Tip, please let us know by sending email to editor@worldsweeper.com.