Elgin Sweepers Clean Up Streets World Wide
The following is from material provided for the naPSa newsletter, December 2005.
Elgin sweepers have been cleaning roadways since 1914. It all began at the turn of the century with inventor John Murphy of Elgin, Illinois. Mr. Murphy recognized the serious health hazards caused by polluted streets and invented the world's first machine that automatically picked up street debris. This remarkable piece of equipment eliminated the need for a man with a shovel and helped solve the sanitation problems of the day.
As times changed so did Elgin Sweeper Company, and for over 90 years Elgin products have delivered superior performance. Today, Elgin sweepers are used around the world and backed by the industry's most respected dealers, who provide quality sales, service, warranty and parts support.
Elgin continues its sweeper leadership by evolving its products and creating new ones. We pride ourselves on the quality, innovation, and reliability that is built into each and every product. Elgin equipment utilizes all variations of today's sweeping technology: mechanical, pure vacuum, regenerative air; and now waterless dust control, to offer customers the sweeper that matches their needs.
Models such as the Broom Bear, Crosswind and now the Road Wizard provide exceptional performance in their sweeping applications and have been favorites among sweeping contractors throughout North America. Elgin Sweeper is pleased to present additional information on these three popular models.
Crosswind J Plus
Elgin first introduced the Crosswind in 1983. Over 20 years later, the Elgin Crosswind J Plus sweeper combines superior performance with a low maintenance, simplified design.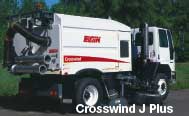 The extra-wide sweep path of 12 feet and an ergonomic design allow the operator to sweep in a safe, productive manner.
Mounted on either a Sterling SC8000 cabover chassis or the new Freightliner Business Class M2 chassis, the Crosswind J Plus is operated by simple rocker switches and includes full auxiliary engine instruments. A large capacity hopper and water tank deliver long sweeping times between dumping and refilling the water tank.
The sweeper features a powerful 115 hp auxiliary engine. Optional equipment includes several versions of wandering hose, additional spray water capacity and a full complement of other productivity-enhancing tools.
Broom Bear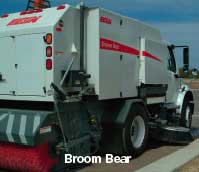 The Elgin Broom Bear is one of the most rugged and efficient mechanical sweepers on the market today. Its intelligent design provides greater water and hopper capacity, requiring fewer scheduled stops. Sweeper operators will enjoy the cleaner dumping action made possible by the Broom Bear's variable dumping height and 11 inches of hopper side-shift capability.
The straightforward, single-engine design optimizes operator efficiency and requires only a short time to learn. The Broom Bear's basic maintenance is simple and economical.
Road Wizard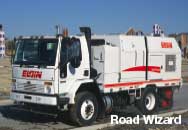 For outstanding performance sweeping millings and other road construction debris, the Road Wizard is the sweeper of choice.
The innovative design features a powerful 80 hp John Deere sweeper engine, automatic adjusting, free-floating main and side brooms that adjust to varying surfaces, and a large capacity hopper and water tank for extended operation.
Unique features include a simplified, dual-engine design for increased operator efficiency and productivity, along with the latest technology for superior results. The Road Wizard is built for the most demanding jobs, but designed to be the least demanding to operate.
For more information on Elgin's product line, contact your local Elgin dealer, or call (847) 741-5370. You may also take a look at the company's website at www.elginsweeper.com.
Crosswind, Broom Bear and Road Wizard are registered trademarks of Elgin Sweeper Company. Sterling & Freightliner are registered trademarks of DaimlerChrysler Company.