Hopper Coatings
What, why, and how much it'll cost you.
by Ranger Kidwell-Ross

The hopper represents one of the greatest potential wear items in sweeping. The worst problem, rust, can be stopped by the use of stainless steel construction. Although such high-grade hoppers are popular in some parts of the world, many users in America question whether these are worth the significantly higher capital outlay.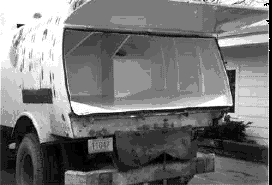 Hopper coating advocates claim that the new polyurethane or epoxy coatings represent a technology that can stop rust-outs, provide for a more complete and cleaner dumping of debris, make washouts a breeze and provide the average hopper with many extra years of service life. Here is the scoop on 3 coatings which are currently on the market.
Hopper Cleaning Tips
It is very important to clean hoppers daily. No buildup should be allowed in corners or on the screen, since that will trap water underneath and allow rust to accumulate. Screen buildup also reduces sweeper performance, because the air no longer can freely circulate within the hopper. The hopper is also much harder to clean after staying dirty for several days.
Keep an eye on inspection doors and top doors to make sure the seals stay firm. When cleaning, take a look at these. If there are any tears and gaps, repair them immediately because these will cause a significant reduction in performance.
When you see rust on the hopper clean it well, then sandblast the rusted area and re-coat the affected spot with epoxy paint. If you re-coat over any rust whatsoever, then it will become even worse since it will return under the epoxy and can now spread sideways without being visible.
Operators sometimes don't use the dust suppression system because they think debris will stick to the wet sides of the hopper, making extra work in cleaning. It is true that when sweeping dry the debris dumps easier and cleaner, and it may appear that pressure-washing is not necessary. However, time saved in the short run damages the hopper in the long run. Sweeping without water allows sand-laden air to recirculate throughout the system, effectively sandblasting the fan and fan housing. When water is used, the only hopper part that is still sandblasted severely is the intake reflector (which is a bolt-on replaceable part). Using water will also minimize wear on this part.
Dairyland Coating
Dairyland Coating, Inc., is based in Richfield, WI, and has 25 dealers. According to Robert Ziebell, company president and the man behind the expansion, his dealers are currently "mostly centered around the Midwest, and are increasing at the rate of about 8 per month. Our product really got its start as a coating for the face of snowplow blades, at many airports around the country. The usage has expanded from there."
Ziebell described his company's Ura-Slide coating, nicknamed 'Truck Glove,' as "...a two part high-build urethane aromatic. This means it dries despite the moisture content of the air. It is extremely abrasion-resistant and nonstick, excellent for applications like sweeper hoppers where sticking is a problem. The formula also stops corrosion effectively, and can be tinted to any desired color. We have put this coating on many air sweepers with excellent results. It also works well in many other applications where wear is a problem, such as dump trucks and salt spreaders."
Although application through someone in his dealership network is still somewhat limited, Ziebell asserts that the product is so easy to apply that they have had success in selling the coating directly to end users. They can either apply it themselves with an inexpensively rented airless sprayer, or have it put on by a local body shop. The final coating is about 1/8" on the sidewalls and 1/4" on the floor. It dries to the touch in less than 15 minutes, is usable within 24 hours and is completely cured within 5 days.
If applied by one of his dealers, the cost is about $6.50 per square foot, which includes the an average amount of prep work on the hopper interior. Dairyland sells just the compound for $75 per gallon, plus shipping.
John Cailey, Shop Foreman for the Village of Schaumberg, IL, Department of Public Works Service Division, said that Dairyland coating has been on two of their Tymco 600's for about 3 years. "Their coating seems to work quite well. The only place it has failed is in the extremely high abrasive area that takes the blast of the fan." In that spot they use a factory-supplied replaceable rubber panel designed to bolt over the heavy wear area.
"We chose to have ours tinted white, which helps the operators when they wash down the hopper. With white, any debris left behind is very easy to see. The slickness of the surface definitely makes for a cleaner dump. This model of sweeper has a slide on the hopper bottom that is designed to help push out the debris when the dump door opens. So far, it appears that the coating easily handles that abrasiveness, too."
Cailey recommends removing all the rubber seals from around any inspection doors, as well as from the main hopper door, prior to preparatory sandblasting of the interior. After the coating was applied, they reinstalled the seals. One of their sweepers was coated while new, and one had already been in use. For a hopper that has already seen use, he suggested that the preparatory work plays an important part in how well the product handles the job. For more information about the Dairyland hopper coating, call 1-800-569-2171.
Ziebart International
Ziebart International Corporation produces a hopper coating made from an epoxy-based compound, rather than a urethane. David Vegh, Ph.D., President of Ziebart Products Group, Inc. (a subsidiary of Ziebart International Corporation), told us that theirs "is a two-component epoxy material. It cures into a material that is very hard, durable and highly resistant to corrosion, chemicals and abrasion.
"The finish also has a very tight surface structure, which makes it easy to wash dirt off of it. It is so corrosion-resistant that its protection will last for thousands of hours in a salt fog cabinet, which is more abusive than a salt environment. The standard colors are gray or black but we formulate special colors for customers. Someone can get white if they want. It's good for operators who actually go and clean out their units every day like they should.
"Cost per square foot depends totally on the thickness. For this application we recommend a thickness of approximately 25-30 mils [thousandths of an inch]. We recommend going up to 50 or 60 thousandths of an inch on high abuse areas. Our customers, Schwarze Industries, Elgin and Tymco, have conducted in-house and field tests to confirm that this amount provides superior protection. Their customers agree."
For a professional application, which gives a textured surface like an orange peel, a two-component spray system is required to automatically mix the two parts right at the spray gun. Vegh said
that at a minimum their product "can be applied with a body Schutz gun, a very crude spray gun that dispenses one quart at a time. The unit and special nozzle cost about $40.00. Most body shops also have one. The product itself costs from $1.75 to $2.00 per square foot. There is no need to prime an older hopper, just get the interior clean, dry and oil-free.
"Or a Ziebart franchise dealer can put on almost the same product. There are 300 who will quote a price for the total job. The amount of prep work needed will affect the cost.
"The material is field repairable, so if there is enough abrasion over time to wear down the coating, it can be reapplied without taking everything off."
Don Harvey, long a salesperson for the Schwarze sweeper line, confirms that the Ziebart product does a very good job of extending hopper life. "Most of our customers who have chosen that option highly recommend it. It's a cost-effective option." For information about Ziebart, call 1-800-653-6116.
Rhino Linings
Rhino Linings, of San Diego, CA, began in the spray-on truck liner business about eight years ago. They call their current dealership network, which totals 200+ worldwide, the largest in the U.S. for their type of product line. Lou Frank, vice-president of marketing, said that their dealers have had great success with sweeper hoppers.
Frank said their hopper product "is tradenamed Tuff Stuff™, which is a 100% solid polyurethane elastomer. It has a high tensile strength, great elongation and an abrasion-resistance greater than that of steel. We have combined these properties and performance with a fast curing system, so it can be sprayed to any needed thickness in one operation.
"Typical thickness varies from 1/8" to 1/2", depending upon the abrasion factor. It should be thickest across from the fan blast area, for example, and yet 1/8" on the rest of the hopper sidewalls is about right. The product sets up within 30 seconds of being sprayed on, and conforms to the shape of the object onto which it is applied.
"Necessary surface preparation includes sandblasting, then application of a corrosion-resistant primer. Cost for a hopper runs from $4.50 to $8.00 per square foot depending upon the thickness desired. Warranty and product support is supplied through individual independent dealers, hence they can vary depending upon both the dealer and the application. For more information, or the name of the dealer nearest your location, call 1-800-447-1471.
This article is reprinted from American Sweeper magazine, v4n1.