Chain Store Chapter 11 and Closure Updates
In the current business climate, it's more important than ever to keep tabs on your customers in terms of their financial status. Don't keep sweeping for free!
by Ranger Kidwell-Ross (Special thanks to Dave Ross, president of Millennium Maintenance and Power Sweeping, Inc., for this article idea and info link.)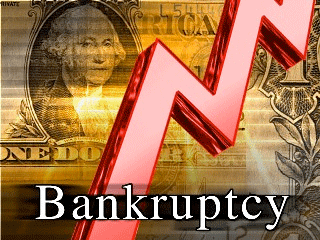 Chapter 11 bankruptcies are on the rise, and expected to get more frequent before things settle down. The intent of this article is to provide a way for sweeping companies to share information about their own situations in order to help others in the industry be more aware and cautious.
For example, one contractor reports that, as a result of the company's Chapter 11 bankruptcy filing, National Warehouse Liquidators has stopped paying its bills in his locale. Before he discovered what was going on with what had to that point been a top level customer, his sweeping company appears to be out about $7,000.
The following is a list of national or regional business entities that have announced either bankruptcy filing or store closings. If you know of others that should be added to the list, please let us know and we will add them to the list.
Likewise, please also let us know if there are any discrepancies in the information shown below. Note that you may also want to consider this list when buying store brand gift cards for holidays.

This list is in alphabetical order:

• Ann Taylor: closing 117 stores nationwide. The company hasn't revealed which stores will be shuttered.

• Cache: women's retailer announced that it is closing 20 to 23 stores this year.

• Circuit City stores: 155 stores will be closed.

• CompUSA: initially closed 126 stores nationwide in 2007. There were more closures, so there are now only 23 outlets nationally.

• Dillard's Inc.: has closed 21 stores in 2008 with additional store closings expected in 2009.

• Disney Store: owner has the right to close 98 stores. The Walt Disney Company announced it acquired about 220 Disney Stores from subsidiaries of The Children's Place Retail Stores. The exact number of stores acquired will depend on negotiations with landlords. Those subsidiaries of Children's Place filed for bankruptcy protection in late March.

• Eddie Bauer: has already closed 27 shops and a contractor report in June of 2009 said they appear to be in the process of filing for bankruptcy protection.

• Ethan Allen Interiors: the company announced plans to close at least 12 of 300+ stores in an effort to cut costs.

• Footlocker: has closed 334 stores since 2007 with additional closings expected in 2009.

• Gap Inc. (also owns Old Navy and Banana Republic): closing 85 stores. Closures, many of which have occurred, will be weighted toward the Gap brand. Has closed several poor performing stores while opening up new ones. The company plans to close down additional poor performing stores in 2009 while moving forward with plans to open up new stores.

• General Growth (Malls): Short of cash and unable to make debt payments, General Growth filed for Chapter 11 bankruptcy on April 16, 2009. However, as of January 2010 they appear to be re-surfacing just fine, with a stock price that has risen from under $1/share to the current $11+/share. Analysts say the company appears to have survived via use of Chapter 11 proceedings.

• Global Property Management, Inc.: Located in Wyandotte, MI. Firm handled sweeping for many area Olive Garden Restaurants, among others. Contractor reported in mid-January, 2010, they hadn't been paid in 5 months and GPM's phones have been turned off.

• Home Depot: store closings in Atlanta - Nearly 7+ months after its chief executive said there were no plans To cut the number of its core retail stores, The Home Depot Inc. announced Thursday that it is shuttering 15 of them amid a slumping U.S. economy and Housing market. The move will affect 1,300 employees. It is the first time the world's largest home improvement store chain has ever closed a flagship Store for performance reasons.

• J. C. Penney: has announced plans to scale back stores.

• J. Jill (owned by Talbots): Owner Talbots has J. Jill up for sale.

• KB Toys: posted a list of 356 stores that it is closing around the United States as part of its bankruptcy reorganization. To see the list of store closings, go here.

• Kirkland (home decor): expects to close 130 of its 335 stores in 2009.

• Lane Bryant, Fashion Bug, Catherines: closing 150 stores nationwide.

• Levitz: closing down remaining stores.

• Linens and Things: under liquidation and closing all stores by year end.

• Lowe's: has closed down a few stores, but opened up far more in 2008 with additional expansion expected in 2009. A Houston-area contractor reported in January, 2009, the following: "Maybe this is just regional - but all the Houston Lowe's are paying ontime and Lowe's is opening new stores in the Houston area."

• Macy's: closed 11 stores in 2008.

• Movie Gallery: closed 160 stores as part of reorganization plan to exit bankruptcy. Plans to close 400 of 3,500 Movie Gallery and Hollywood Video stores in addition to the 520 locations the video rental chain closed last fall.

• National Liquidators: stopped paying bills and has left at least one sweeping contractor with unpaid debt.

• Office Depot: has announced plans to scale back stores.

• PC Club: closed all stores - 13 in all in 2008.

• Pacific Sunware: closing its 154 demo stores after a review of strategic alternatives for the urban-apparel brand. Seventy-four under performing demo stores closed last May.

• Piercing Pagoda: closing many stores.

• Sharper Image: company recently filed for bankruptcy protection and announced that 90 of its 184 stores are closing. The retailer will still operate 94 stores to pay off debts, but 90 of these stores have performed poorly and also may close.

• Sprint/ Nextel: has closed or is in the process of closing 125 stores.

• Sportsmans Warehouse: Sweeping contractor reports the company location in his area has quit paying its bills and has filed Chapter 11.

• Talbots: the company says it will close about 100 underperforming stores. Seeking to sell off its J. Jill subsidiary.

• Tribune, Inc.: newspaper conglomerate has filed for Chapter 11 protection.

• Wickes: going out of business. Wickes Furniture is closing all of its stores.

• Wilsons the Leather Experts: closing 158 stores.

• Zales (also owns Piercing Pagoda): closing stores. A total of 105 locations planned for closure, 50 are kiosks and 55 are stores.

Have other closures, bankruptcies or 'no pays' to tell us about? Please let us know so we can add the information to this list.