Our Editor Offers Snapshot of European Sweeping
by Ranger Kidwell-Ross

If you've ever wondered about how sweeping is done in other countries, here's your chance to find out. Last summer, I had the opportunity to visit with an interesting cross-section of European sweeping professionals to see how sweeping was conducted in their locale. It was a diverse 6-week trip that generated over 30 stories spanning 8 countries.

These included reviews of European makes of sweepers, interviews with major city sweeping managers, a trip to a Scottish public works show and a number of personal observations and anecdotal stories picked up along the way. All were reported almost as they occurred at our website. In case you haven't yet read any of our stories that document sweeping in other countries, we decided to provide you with an overview of the trip here in the Operations category. If you'd like to read the articles in their entirety, visit the website and look for our world sweeping section.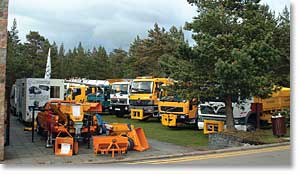 Aviemore, Scotland, site of the annual Association for Public Service Excellence trade show.
Although the odyssey began with my arrival at London's Heathrow Airport, the next morning I was on the road to Aviemore, Scotland, en route to the annual Association for Public Service Excellence trade show. This primarily outdoor event, held in the northern Scottish Highlands, offered a host of equipment new to these American eyes.
In addition to reviews of two sweepers little known in the U.S. -- the venerable Scarab Minor and a first look at the new, innovative Hako Citymaster 300 -- I wrote about taking part in a presentation by Scotland's EPA. The discussion centered on the European Union's new and challenging plan requiring drastic reductions in the waste stream of all the EU member countries. As an example, 91% of municipal waste in Scotland is now landfilled; by 2020 this must be reduced to 31%. I also had an opportunity to interview 'members of council' -- the equivalent of our public works directors -- about what they look for when purchasing a sweeper. Some of their answers may come as a surprise.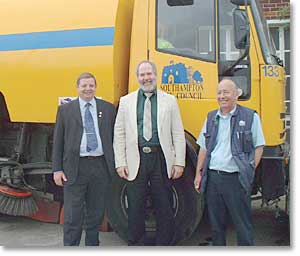 Ranger poses between Southampton city employees John Garnham (right) and John Martin.
The next major stop was Southampton, U.K., a city that mixes old and new as a result of the devastating bombing it experienced during World War II. As a well-known seaport, the city faces the additional challenges associated with docks and shipping. The streets are narrow and there's no place to relocate cars during sweeping, so those, too, add some unusual twists to their sweeping program.
Small sweepers are the rule in mid-city, as they are in many parts of Europe. Southampton's monumental leaf pickup creates another layer of problems in the fall. One of Southampton's most forward-reaching programs is how they handle graffiti removal. They are achieving rapid contractor response and an upswing in 'tagger' convictions through use of GPS-enabled cameras, combined with great data collection. Finally, the way the city involves its sweeper operators in the sweeper selection process is a methodology that U.S. municipalities might do well to emulate.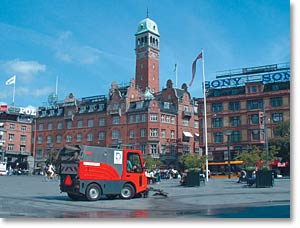 Copenhagen
The next major city interview was with the sweeping managers of Copenhagen, Denmark. Their challenge centers around keeping this seacoast gem clean for the millions of visitors it receives each summer. On the day of my interview there were 5 huge cruise ships in port and dozens of tour buses arriving and departing throughout the day. Even so, of all the cities I visited, Copenhagen was the cleanest, and it was also the clear leader in providing innovative leadership in the public works arena.
The overall Danish tax rate is very high, approaching 50%, so citizens have tremendous expectations for the level of service they will receive. It also has more bicycles per capita than anyplace I've seen except for Beijing, China - not surprising since an initial automobile driver's license costs around $1,000 US, and renewals are over $100 per year. Copenhagen even sponsors a free bicycle use program for citizens and tourists alike, with take-and-return racks located throughout the city.
Sweeping is competitively bid between the public and private sectors, with bids based on a general cleanliness level rather than a set amount of sweeping. If the target cleanliness level is attained, as a reward there are fewer inspections by city management. Copenhagen's many other innovative programs included non-chemical weed removal, a yearly city-wide promotion of the street sweeping program, use of rigid plastic reusable garbage bag liners and stickers on the city's waste cans with a hotline number for citizens to call when cans become full. Denmark is considered a world leader in environmental issues and Copenhagen is a leading part of that effort. If you are involved in municipal sweeping in the U.S., be sure to read about Copenhagen's efforts.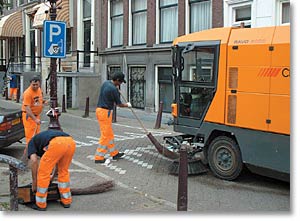 Amsterdam
My next stop was with sweeping officials in Amsterdam. Although much like Copenhagen, with its canals and waterways, Amsterdam faces greater challenges due to the fact that in the last few years Holland has opened its borders to many third world immigrants. Perhaps also because Amsterdam is considered a European party city, given its acceptance of soft drugs, sex and outdoor alcohol consumption, it's naturally assumed that throwing litter onto the ground is okay, too. Dog 'debris' is everywhere. These factors combine to pose a high level of difficulty for the city's sweeping corps.
Throughout the cobblestone-paved city, workers with quaint hand-wrapped brooms walk ahead of the sweepers to brush material from between parked cars into the sweepers' paths. Unfortunately, I spotted more than one of these workers brooming debris into the nearby canal because it was closer than the sweeper's path. The remote handhoses on the small, motorized sweepers are used to remove garbage from city receptacles, but most of the containers still seemed overfull much of the time.
Unlike in Denmark, which has a hefty deposit on glass bottles, broken glass appears to be everywhere. So much debris, including broken appliances of all kinds, is thrown into the canals that a full-time 'canal sweeper' is on the job dredging the material up. Our online coverage includes an analysis by noted U.S. sweeping contractor, Kelly Barker, president of Michigan-based Metrosweep Environmental. Kelly, who had spent some time in Amsterdam for a non-sweeping client, happened to be there during my stay. She accompanied me on the municipal interview and agreed to write her analysis of the sweeping job being done. Whether you're a contractor or a municipal sweeping manager, you're sure to gain something from her critique of the job being done by Amsterdam officials.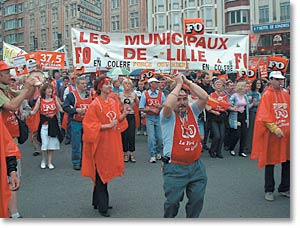 The municipal workers strike parade in Lille.
From Holland I traveled south to France, which at the time was caught in the throes of a crippling municipal workers' strike. Although, as you'll read, we had a hard time even finding a sweeper, let alone a municipal sweeping manager to talk to, we did find lots of places that needed to be swept. Stories include coverage of the municipal workers' strike parade held in France's 4th largest city, Lille. Thousands of workers, including those from public works departments throughout France, paraded for better benefits.
There is also a story detailing how the French deal with recycling, gleaned from stopping at one of the remote recycling centers located throughout the countryside. Another article became a primer on proper sweeper maintenance, using a contractor's sweeper I spotted in the outskirts of Bordeaux. As it happened, this particular sweeper set an extremely poor example for that topic. In the condition it was in, I'd be surprised if it was sweeping at 60% of its potential.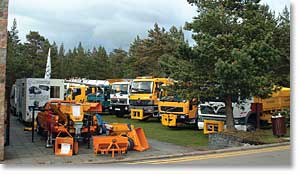 Ranger 'on the job' in Évora
The ancient walled city of Évora, Portugal, the next stop, offered a huge logistical challenge for its sweeping department. Imagine trying to match today's technology with an infrastructure that, in some parts, dates back to the first century AD, is filled with many thousands of tourists each and every day, and has streets made entirely of cobblestone bricks! Using an innovative mixture of hand sweeping, underground recycling storage vaults and small Piquersa-brand sweepers, the city managers definitely get the job done in fine style. And, it was in one of Évora's seven churches, Sao Francisco, that I saw wall coverings like none I'd ever even imagined before. If you're like me, you'll be amazed at the material used for making the most unusual mosaic wall treatment I've ever encountered.
Switzerland's remote mountain towns of Murren and Gimmerwald brought another new discovery, in the form of an entirely different type of sweeper. The scenery is remarkable, the air quite thin, and the terrain so steep that you'd think the cows would have grown shorter legs on one side than the other by now. Here, the challenge is picking up the harvests of hay that are pulled up, or raked down, to the nearest road. Then, using a sweeper invented just for this process, the innovative Swiss farmers quickly and efficiently sweep up every speck of hay from the roads, hardly disturbing passersby in the process.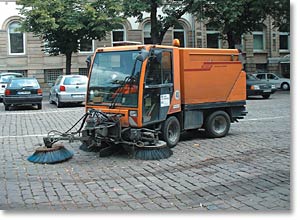 Heidelberg
Our final sweeping coverage destination brought us to Heidelberg, Germany, one of the few German cities not destroyed by war. Another gem of the European continent's sweeping programs visited, the Heidelberg street cleaning program does a fine job for its 140,000 year round residents and the estimated 3 million tourists who visit each year.
The program's emphasis was underscored by the card offered to me by Heidelberg's sweeping manager. It identified Juergen Lang as 'Head of the Division of City Cleaning,' not, as he emphasized to me, 'Street Cleaning.' Even the job descriptions of individual sweepers is 'city cleaner,' not 'street cleaner.' With a mandate to keep its 580 kilometers of city streets clean, Heidelberg workers use mostly small Hako and Schmidt-brand sweepers, bolstered by a number of hand sweeping teams. All tourism areas are cleaned every day, and other main streets 3 and 5 times per week. It's all done without the use of backpack blowers, which are thought to generate too much dust and raise health concerns.
Making the job even more difficult is that all sweeping of the inner city tourism areas ends at 3pm, with other routes being shut down at 11pm. The city sweeping department is also responsible for sweeping the U.S. military compound, with a population 20,000, and the U.S. officer they report to used nothing but superlatives to describe the job being done.
An estimated 40% of Germans are smokers, so discarded cigarette butts creates one of the biggest headaches. This and other littering is addressed through an award-winning citywide awareness campaign that includes thousands of posters featuring actual city workers, not models. All let people know they shouldn't litter, that they, too, can pick up any debris they see on the streets, and each includes the hotline number to call if an area needs cleaned. The Heidelberg story also offers a number of other tips and ideas that have contributed to the city's receipt of a Certification of Distinction in the area of waste management, as well as being honored by the European Commission as recipient of its European Sustainable City Award for 2003.
The final stop on the odyssey was a personalized factory tour of Germany's biggest sweeping manufacturer, Hako-Werke GmbH. Hako's state-of-the-art facility not only makes sweepers and other equipment, but offers approximately 21,000 different spare parts and has 98% of them in stock at any given time. Hako started as an agricultural equipment builder, and didn't build its first sweeper until 1961. Currently the company builds 3 models of outdoor sweeper, and has the distinction of having built the world's first autonomous cleaning robot in 1994. The latter project is still ongoing, however has yet to become cost-effective. If you want a first-hand look at one of the world's most innovative sweeper organizations, be sure to check out the Hako factory tour we have posted online.

Ranger 'sweeping' in Evora, Portugal
As you have seen, there was much to see in this whirlwind 6-week trip. However, you have the luxury of reading the entire award-winning saga at your own pace, online here at the WorldSweeper.com website. On behalf of all of us involved in the project, we hope you enjoy this look into how our industry is conducted across the Atlantic.
This article is reprinted from American Sweeper magazine, Volume 9 Number 1, 2004.