Broom Value - Fundamentals of Filament Content
---
The true quality of a broom has its foundation in filament content. Regardless of the style of broom: tube broom, strip broom, wafer broom, gutter broom; filament content ultimately affects sweeping effectiveness and broom life. The lowest price broom is not necessarily the best value! Examining random field samples, we have found an almost 40% difference in filament content from some broom manufacturers.
When it comes to gutter brooms it is important to contrast bristle density and the number of wires per hole, as well as comparing the value inherent in oil-tempered versus cold-drawn wire. The oil tempering process can provide a gutter broom wire that will provide you with a 40% longer life than is typical with oil-coated gutter brooms. For example, we have documented instances where the true oil-tempered wire we were providing to our customers offered a 25% better recovery than other types of "oil-quenched" gutter brooms.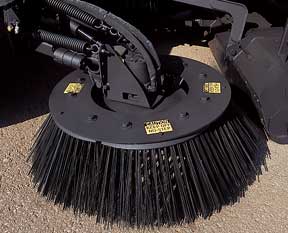 It is also very important to confirm how many wires per hole your broom manufacturer is providing. There are wide variations between manufacturers in the number of wires per hole. This factor alone can provide you with a broom that will deliver as much as 60% more wear.
Another area of importance when choosing your gutter broom replacments is to make sure you have the correct filament for the job at hand. For instance, when sweeping caked-on mud an all-poly broom may require multiple passes, while a poly-and-wire combo or all-wire broom may get the job done in one pass.
On the other hand, an all-wire broom is not as effective as an all-poly broom when sweeping loose debris. This is because poly offers more flicking action, whereas the aggressiveness of wire provides better cutting action.
Just because two products may look similar, they are not. When you choose your replacement brooms, be sure you are aware of the specifications required by both the equipment and the type of jobs the broom will be used on, as well as what any difference in specifications can actually mean to performance and life. Broom replacements are definitely an area where 'cheapest' will not translate to 'cost-effective.'
---
The information above was adapted by permission from the United Rotary Brush website. United Rotary has been providing brooms to the sweeping industry for more than two decades. If you have any questions about curb or main broom adjustments, quality, etc., feel free to call the broom professionals at United Rotary Brush, toll free, at 800-543-3515.