Comerica Provides Soundcore's Sweeping Corp. With $60,000,000 Credit Facility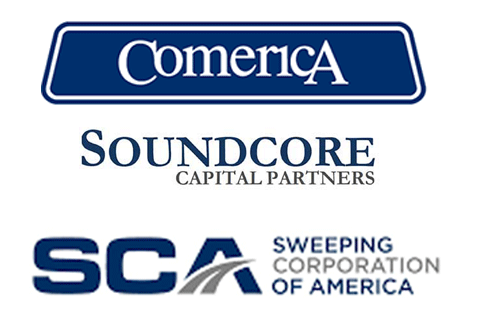 NEW YORK, Feb. 8, 2018 –
Soundcore Capital Partners' portfolio company, Sweeping Corporation of America, Inc. ("SCA" or "Sweeping Corp."), announced that it has entered into a $60,000,000 credit facility with Comerica Incorporated ("Comerica"). Comerica served as the sole lead arranger and administrative agent for the facility which will support upcoming add-on acquisitions and growth initiatives of the business.

Headquartered in Cleveland, OH, SCA is the largest self-performing power sweeping company in the United States. SCA's customer-focused employees service municipalities, departments of transportation, road and paving contractors, retail and commercial parking lots, and industrial complexes. Today, SCA utilizes more than 350 state-of-the art street & parking lot sweepers, jet-vac sweepers, and other support equipment through its 21 locations.

"Securing this credit facility is an important milestone for SCA, allowing us to continue our growth in key markets, both acquisitively and organically," said John Landefeld, Chief Financial Officer of SCA. "We are looking forward to working with the team at Comerica."

In January of this year, For Construction Pros' Allan Heydorn wrote an article that details the progress that Soundcore's Sweeping Corporation of America is making toward developing a national sweeping company. This began about a year ago when Soundcore Capital Partners purchased Nashville, TN-based Sweeping Corporation of America (SCA) as the platform on which to build the company. Following the purchase of its first privately held company, the new company began operating under the SCA umbrella, with headquarters in Cleveland, OH. If you'd like to know more, here is a link to that article.
About Soundcore Capital Partners
Soundcore Capital Partners is a New York City-based private investment firm specializing in control equity investments and leveraged buyouts of lower middle market North American (US or Canada) headquartered businesses. The firm partners with exceptional management teams and creates long-term value for investors through a combination of operational improvements, internal growth initiatives, and strategic acquisitions. Soundcore primarily focuses on finding businesses through proprietary deal sourcing that have recurring revenues and are in fragmented industries with multiple acquisition roll-up opportunities. Since inception, Soundcore has acquired 26 companies. For additional information on Soundcore Capital Partners, please visit www.soundcorecap.com.
About Comerica Incorporated
Comerica Incorporated (NYSE: CMA) is a financial services company headquartered in Dallas, Texas, and strategically aligned by three business segments: The Business Bank, The Retail Bank, and Wealth Management. Comerica focuses on relationships, and helping people and businesses be successful. In addition to Texas, Comerica Bank locations can be found in Arizona, California, Florida and Michigan, with select businesses operating in several other states, as well as in Canada and Mexico.
Kirkland & Ellis LLP served as legal counsel for SCA for this transaction.
---