How to Specify an Industrial Sweeper
Here's how to determine which type of smaller sweeper will best fit your needs.
by Joel Crenshaw
Industrial Product Manager
Advance and American-Lincoln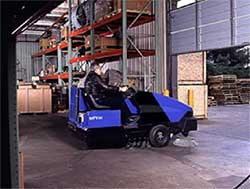 Today's modern walk-behind and ride-on sweepers not only reduce the amount of labor involved in keeping a facility clean, but they do a significantly better cleaning job than an army of workers with push-brooms. And, although large ride-on sweepers may cost in excess of $20,000 to purchase, this investment pales in comparison to the cost of labor to do the same job manually or with inadequate or antiquated equipment.
Over time, a new machine will pay for itself many times over in labor savings alone. A modern power sweeper cleans faster and more aggressively. It also collects fugitive dust that would otherwise become airborne and be breathed in by employees with possible health consequences or settle on cars, shrubbery and equipment where it affects appearances and operation. In order to select a sweeper that is best suited to your facility, you will need to evaluate your sweeping needs.
Purchasing equipment vs. contract cleaning One of the first decisions to make after identifying that you have a sweeping need is whether to purchase equipment for employee use or hire a contract cleaning service. If you buy a sweeper and operate it with in-house personnel, you will have the initial equipment costs plus maintenance and the cost of keeping trained personnel on staff.
However, you will also have the flexibility to clean whenever you need to. On the other hand, if you contract for services, the contractor bears the equipment costs and has trained operators who know how to clean. But, if you contract to have the sweeping done every Friday evening and your facility is dirty on Tuesday, you still have to wait until Friday night to get it cleaned.
If you only need to sweep your facility two or three times a year (say, in the fall and in the spring), then contract cleaning may be the economical choice. However, if you have to sweep your facility four or more times a year, then owning your own sweeping equipment is likely to make economic sense.
If your parking lots get a fair amount of car and truck traffic year-round, then sweeping four times a year is typically a minimal schedule. In the snowy northern areas of the country, many facilities only sweep their parking lots twice a year Ð once in the spring to get the sand, salt and gravel, and once in the fall to pick up leaves. In areas where it snows and then melts off and on during the winter, parking lot sweeping must be done much more often to eliminate the possibility of slips on loose sand and gravel.
Some facilities have a greater need for sweeping – both indoors and out. A parks department or a sports stadium usually sweeps after every event. A large parking garage in a major city may be sweeping every day due to the constant in-and-out traffic. Certain industrial facilities require near-constant sweeping – such as food processing plants, cement batch plants, and dry industrial materials processing plants.
Fugitive dust needs to be controlled so that it doesn't drift onto adjacent property or roads or get into groundwater or sewers. Many industrial plants are monitored by the Environmental Protection Agency (EPA) to make sure they keep hazardous dust under control – and frequent sweeping with good dust control is a key to staying in compliance.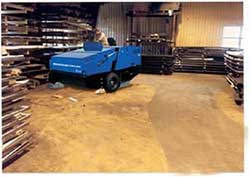 Surveying your sweeping needs The process of specifying and purchasing a sweeper begins with identifying your cleaning demands. Some sweeper manufacturers or local distributors will conduct a formal cleaning survey to assess your cleaning needs. This survey asks specific questions about your facility and its use in order to recommend the most efficient equipment for the job. Typical topics covered in this survey include:
Square footage to be cleaned
Indoor and outdoor surface types
Type of debris
Steepest grades to be swept or traversed
Equipment maneuverability requirements
Estimated cleaning schedule and daily run time
Current cleaning practices, problems, issues
Number of operators, training requirements
Debris disposal issues
Equipment maintenance issues
Square footage to be swept
The primary factor in determining whether you purchase a walk-behind or a ride-on sweeper is the size of the area to be swept. For example, if the area is 50,000 square feet or less, then a walk-behind sweeper with a 36-inch wide sweeping path may be a good choice. If the area is between 50,000 and 75,000 square feet, a compact ride-on sweeper with a 50-inch sweeping path is suitable.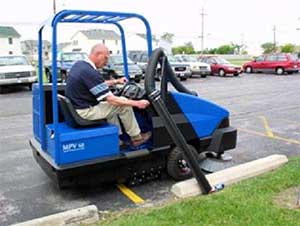 From 75,000 to 130,000 square feet, a mid-size sweeper with a 60-inch sweeping path is appropriate. Finally, areas over 130,000 square feet require the largest ride-on sweepers with a 66-inch sweeping path. (See Figure 1.) These large sweepers are often used by facilities such as big-box retail distribution centers and large automotive manufacturing plants.
About 70 percent of all sweepers are purchased for sweeping outdoors. If sweeping needs are primarily indoors, companies often buy a combination sweeper-scrubber machine that sweeps up debris and scrubs and dries the floor in a single pass. If you have both indoor and outdoor sweeping needs, you need to find a machine that meets both needs or purchase two different machines.
Figure 1 – Recommended sweeper sizes based on square footage
| | |
| --- | --- |
| Less than 50,000 square feet | Walk-behind sweeper with 36-inch path |
| 50,000 to 75,000 square feet | Compact ride-on sweeper with 50-inch path |
| 75,000 to 130,000 square feet | Mid-size ride-on sweeper with 60-inch path |
| Over 130,000 square feet | Large ride-on sweeper with 66-inch path |
Surface types
Typical surface types include asphalt, bare concrete, coated concrete and tile. The type of surface primarily affects the choice of broom to be mounted on your sweeper, with the roughest surfaces requiring the most aggressive bristle material.

For example, asphalt parking lots require regular sweeping in order to prolong their useful surface life. Constant traffic presses sand and gravel into the asphalt surface, creating holes and wearing away the seal coating. Once that happens, water can get under the surface and begin to break down its structure.
Type of debris
The type of debris can vary with the type of facility, the industry, the seasons and the geography. Debris can include dust, sand, gravel, leaves, dry chemicals, dirt, small construction or manufacturing scrap, paper, soft drink cans and drink cups, packing materials, etc. The type and volume of debris affects the choice of sweeper, brooms and the capacity of hoppers, as well as air filters and dumping capabilities.
Grades and maneuverability
Another important consideration in the sizing of a sweeper is the steepness of the grades that need to be swept or simply traversed. A parking garage, for example, needs a sweeper with a powerful enough engine to easily handle the ramps. In outdoor applications, consideration must be given to the difference in levels between adjacent areas and the grades that the sweeper will have to sweep or traverse. Areas with tight corners or dead-end aisles will require a sweeper with good maneuverability, and that will often affect the overall size of the unit.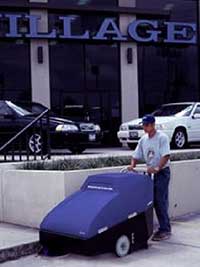 Power source
Sweepers are available with engines powered by batteries, gasoline, LP or diesel. Gasoline- or diesel-powered units are usually meant for outdoor use, and battery- or LP-powered units are better suited for indoor use because of noise and air-quality issues. However, another consideration is the fuel source used for other facility equipment – forklifts, small utility vehicles, walk-behind or ride-on scrubbers. Some battery packs may be inter-changeable between equipment, and refueling sweepers or forklifts is more convenient when they both use the same type of fuel. In addition, storage space for fuel and/or batteries is minimized.
Current practices, problems, issues
New sweeping solutions are often sought when current cleaning practices are not working as well as you would like. Often, a company may want to move away from a small walk-behind sweeper to a ride-on sweeper because its needs have changed – the facility has expanded, cleaning time is too long, labor costs are high.

Or, maybe the equipment you're using is getting old and no longer performs up to specifications. In either of these cases, investing in larger and more efficient sweeping equipment will help reduce labor costs, which usually represents over 90 percent of the costs to clean. These changes in needs or deficiencies often form the basis for specifying new equipment to solve problems that current practices can't handle.
Number of operators, skill level
If there will be more than one operator of the sweeper, or if the operator's skill level is limited, you should look for equipment that has intuitive controls, pre-set sweeping parameters and is easy to operate. Operators have to be familiar enough with the equipment to do routine inspections for brush wear, engine oil level, coolant level on a daily or weekly basis. Look for equipment with good accessibility for maintenance and with brushes that can be inspected or changed without tools.
Debris dumping and disposal issues
Depending on the type and quantity of debris, dumping and disposal can be issues that affect a sweeper purchase. For maximum convenience, look for sweepers that can raise the dump hopper high enough to clear the lip of a typical dumpster – usually about 60 inches. Machines that have high-capacity dump hoppers will minimize the unproductive time spent dumping debris and maximize productive sweeping time.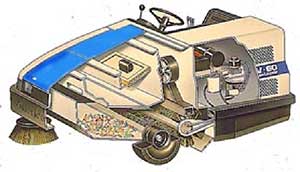 Equipment Maintenance
When a company owns and operates a sweeper, provisions need to be made for maintaining it. For long-term performance, invest in equipment that is rugged, powerful and designed to meet the harsh demands of industrial and manufacturing applications. Also, look for equipment that offers easy routine maintenance and no-tool access to brooms, filters, engine and other parts. Regular maintenance by an authorized dealer is often a wise investment in equipment longevity and reliability.
Local dealer support
Support from a local equipment dealer can be critical in getting maximum performance from your new sweeper. In addition to providing equipment training, parts, service and maintenance, a local dealer will have a good understanding of the demands of your environment. In many cases, the local distributor will also be your supplier for lift trucks or other equipment and can be of particular help answering your equipment questions because he knows your operation.
Conclusion
Once you've decided you need to purchase a sweeper for your facility, it's important to clearly define the nature of your cleaning tasks. You can do this based on your own experience, or you can enlist the professional assistance of a local dealer who sells and services name-brand sweeping equipment. Together you will be able to select the sweeper that is best suited to your particular cleaning needs, one that will provide years of trouble-free operation and deliver superior sweeping performance.

Advance and American-Lincoln produce a variety of floor cleaning equipment. For more information, go to www.advance-us.com. To reach the company by phone, in the U.S. call 800-214-7700; the toll free number in Canada is 800-668-8400.