Street Cleaning in Teaneck, NJ, 1930s
This information reprinted courtesy of the Teaneck Public Library. To see their original page, go here. You may also download the original page as a pdf file.

Editor's Note: Today, we take it for granted that our city streets are swept on a routine basis with a machine designed for that purpose. That has not always been the case. Here, from the archives of the Teaneck, NJ, Public Library, is a glimpse into a time when the movement from hand sweeping of streets to a whiz-bang new machine was a big deal. Here's a little of what was said about that transition at the time.

An important revision in the system of street cleaning took place during May of 1931. At that time the Township purchased an Elgin Motor Street Sweeper (1931 model) which immediately demonstrated its general superiority over the hand labor methods formerly in effect, and which had required the constant labor of four men, each of whom was responsible for an assigned section of the Township. Under the hand sweeping system, the yearly cost of street cleaning amounted to approximately $4,000, and, of course, the results were limited. Since the introduction of the motor sweeper, the cost has been reduced by about 25%, the Township streets are swept more often, and are uniformly clean.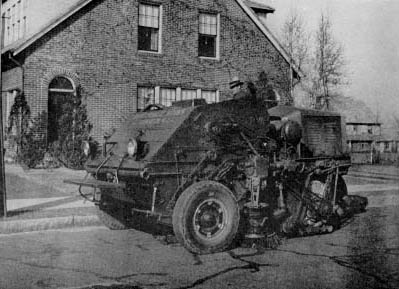 There are approximately 40 miles of curbed streets in Teaneck, and as the sweeper must clean along both curb lines, it consequently covers twice that distance in completing one round of the Township. Department records sh4ow that t-he sweeper averages 18 curb miles per day of operation, and that this provides a weekly sweeping of 80 miles of curb line, including an extra cleaning in the business sections. The six years of hard service have taken their toll, and a new sweeper must be purchased this year; the old machine will then be used as an auxiliary.
The sweeper automatically performs three functions: It dampens the pavement, gathers dust and refuse, and carries its load to a designated point where the Operator deposits the contents to be later picked up by a Department truck, and carted away for disposal.
The record of motor sweeper service for the past three years, is as follows:
| | | |
| --- | --- | --- |
| Year | Days in Service | Curb Miles Swept |
| 1934 | 1935 | 1936 |
| 175 | 188 | 166 |
| 3,185 | 3,390 | 2,940 |
Aside from the major work of operating the sweeper, the Operator takes care of its overhauling and repairs, and makes new sweeper brooms during times when weather conditions preclude use of the apparatus.
Also, we're always on the lookout for more sweeper-oriented information we can add to the website, so let us know if you find interesting information about the history of sweeping.