For 30 years Allan Heydorn provided educational and ground-breaking information to the sweeping and pavement maintenance industries as Editor of PAVEMENT magazine and Conference Manager for the National Pavement Exposition
by Ranger Kidwell-Ross
In 1990, armed with a journalism degree but knowing almost nothing about the industry he would go on to lead, Allan Heydorn took the helm as Editor of PAVEMENT magazine. In fact, the weekend before he started the job he sealcoated his own driveway with much mess and hassle, not realizing he could have a much better job done by hiring a sealcoating contractor.
"This involved something like 13 five-gallon cans of sealcoat," recalled Heydorn. "It took all day and it was just a back-breaking project. I later learned, of course, that I could have hired a seal-coating contractor and had a much better job done for less money."
Allan also became Conference Manager for the National Pavement Expo and, in the intervening years, did a tremendous job at both positions. This led to him becoming the recipient of WorldSweeper's Award of Excellence in Power Sweeping in 2010.
The hour-long Zoomcast interview between Allan and Ranger Kidwell-Ross, Editor of WorldSweeper, provides a host of information on the topic of pavement maintenance and sweeping, both historic and timely. We know you'll find it to be both an enjoyable look-back at the history of the pavement industry and an educational conversation covering information of value to those in the industry.
---
Click below to access the Zoom-based conversation, which is hosted on YouTube.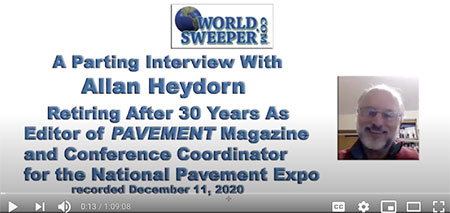 ---
If you have questions for Kidwell-Ross, you may reach him at editor@ worldsweeper.com. Allan Heydorn may be contacted via email sent to: Allan.Heydorn@gmail.com.

In the event you can't view the presentation below in this venue, or would prefer to view it at its YouTube location, the YouTube link is: https://youtu.be/P5td0EQAKS4

---

If you have questions or comments about this article, please let us know. If appropriate, we will also append them to this article.